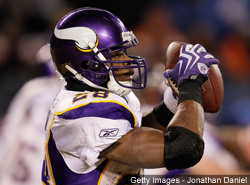 There have been indications this offseason that Vikings running back Adrian Peterson would like to parlay three seasons of strong performances into a new contract.
And for good reason.  Peterson runs like a bull with immediate need for a bathroom, and eventually he won't be able to run that way.  So he needs to get paid, sooner rather than later.
Though he remains under contract for two more years, his agents at CAA have secured a long-term contract for 49ers linebacker Patrick Willis, picked only a few spots after Peterson in the 2007 draft.  And we've picked up some indications that, at a minimum, an effort was going to be made to get a new deal for Peterson.
Peterson's possibly passive-aggressive pass on a mandatory minicamp, which he missed because it conflicted with the fourth annual East Palestine, Texas parade in his name, caused some to wonder whether he's taking a stand without taking a stand.  At the ESPYs, Peterson was asked point blank by a reporter from NFL Network regarding rumors that he's not happy with his deal.  Peterson said, per Judd Zulgad of the Minneapolis Star Tribune, "You can put them to rest."
But shed no tears of Peterson just yet.  Given his draft position (seventh overall) and his production level to date, he has unlocked sufficient escalators to push his base salary to $3.64 million in 2010 and a whopping $10.72 million in 2011, according to NFLPA records.  Based on his performance in 2010, the number for next year could go even higher.
If the franchise tag as currently constituted survives into the next labor deal, holding Peterson's rights for 2012 would cost, at a minimum, $12.864 million.
Still, he's getting no younger and his knees are growing no new cartilage.  Though he'll be handsomely compensated the next two (and possibly three) years, it's unclear when or if he'll ever cash in with a long-term, big-money deal.