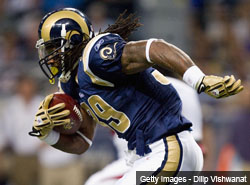 Some (including us) have argued in the past that the Rams should consider trading running back Steven Jackson.  After all, by the time the Rams put a team around Jackson, he may have nothing left.
The Rams have opted to hold firm, and Jackson isn't complaining.  "I understand I'm taking a huge amount of abuse right now, but it's
funny, I don't feel like my career's wasting away," Jackson told Michael Silver of Yahoo! Sports.  "I
find inspiration from [Chiefs running back] Thomas Jones.  To see him still putting up 1,400 yards rushing at 31, that's tremendous.  So I'm not in panic mode."
Still, Jackson isn't coasting, either.  He wants to win sooner rather than later, and if it means rookie quarterback Sam Bradford starting as a rookie, then so be it.
"I could see why they'd want to protect their $50 million investment
and wait until the offensive line has jelled," Jackson said of the dilemma the coaching staff faces.  "But I'm going to be
selfish right now, with me being in year seven.  If he's the best guy, he
needs to play now.  I don't want to wait four years like the Packers did
with Aaron Rodgers.  I don't know if he'll be the best guy, but if he is, I want him in
there now."
Jackson is optimistic about the team's passing game, even though Torry Holt and Isaac Bruce are long gone.  Jackson specifically likes the talents of two of the team's young wideouts.
Who are they?  "[B]elieve it or not, I don't know," Jackson said.  "I just know their numbers: No. 15 and
No. 83."
It's fitting, given that most people don't know the names of many Rams beside Jackson and Bradford.  The real question is whether, by the time we know who more of the Rams are, will anyone still know who Jackson is?