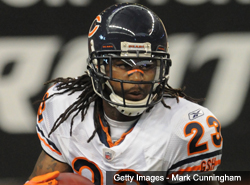 Chicago's hire of Mike Martz as offensive coordinator was seen by many as a desperation move, a choice of last resort for a dying coaching staff that couldn't get their first (or second) choice for the job.
On the other hand, the Bears should be more interesting on offense than anytime since 1995, when Erik Kramer had a quietly amazing season.  Martz comes with flaws, but also some unexpected benefits.
Isaac Bruce and Devin Hester both live in South Florida, and the recently retired wide receiver has shown Hester the ropes during the offseason.
"I asked coach Martz if I could get in touch with Isaac since he was
down there already and we hooked up and the guy is amazing," Hester told Neil Hayes of the Chicago Sun-Times on Sunday. "He's one of those guys who takes the
time and has fun doing it. He has a passion for it. He takes time out of
every day to work with me and spend time with me. It's been a big help
in my life."
Martz's system requires great precision from wideouts, so any help from the prototype "X" receiver for the offense qualifies as a nice bonus.   This work is for free, but could develop into a career.  Bruce expressed interest in coaching the Rams receivers earlier this offseason.