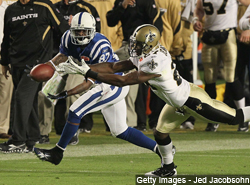 It looks like we need to add another player to our periodic Holdout Watch.
Colts receiver Reggie Wayne, who has stayed away from the team in the offseason, wouldn't commit to showing up for training camp.  Via StampedeBlue.com, Wells spoke to WISH-TV in Indy after his charity basketball game at Conseco Fieldhouse.
"I guess it's like LeBron James," Wayne said, laughing.  "Like the Decision.  I guess we gotta see. . . .  An hour special coming up.  Decision Part 2."
He later turned a bit more serious.  "We have to see," Wayne said.  "We're just gonna take it day by day.  I would love to see Anderson [University, the new location of the team's training camp].  I never been there.  When that day comes, we'll see what's up."
He then seemed to suggest he'll show up, even if there isn't a new deal.  "We've been talking.  A guess you could say that.  But we're just gonna let them do their thing.  I'm just gonna come and play football.  When that phone rings with the good news, I'll be excited."
The phone may never ring.  Colts president Bill Polian has said that neither Wayne nor defensive end Robert Mathis will be getting new contracts to replace deals that have two years left on them, respectively.  Per NFLPA records, Wayne is due to earn base salaries of $5.47 million in 2010 and $5.95 million in 2011. 
Indeed, if quarterback Peyton Manning, who has one year remaining on his contract, won't be getting paid until the labor situation has resolved, there's no way any other player with one year or more on his contract will be getting another cent.  
But if/when that new contract comes, Reggie, just make sure you sign the thing before Tracy Porter grabs it and runs the other way.