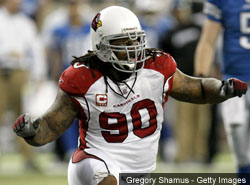 The Arizona Cardinals have taken distinctly different approaches when it comes to signing, or not signing, key players.
More than two years ago, receiver Larry Fitzgerald got paid.  In significant fashion.
The four-year, $40 million deal prompted receiver Anquan Boldin to ask for a raise.  Repeatedly.  Two years later, the Cardinals shipped him to a team that would give him one, the Ravens.
Linebacker Karlos Dansby, after two seasons of playing under the franchise tag, walked away and signed with the Dolphins.  Ditto for Antrel Rolle, who was cut in lieu of being paid a huge amount in 2010 and then signed with the Giants.
When it comes to defensive tackle Darnell Dockett, however, it appears that the Cardinals will choose to take a crow bar to the coffers.
"We're going to get it done," coach Ken Whisenhunt recently told Bickey and MJ of Xtra Sports 910 in Phoenix.  "I have such great respect for Darnell and what he does."
Still, it's unclear when a deal will get done.  Like many other teams, it could be that the Cardinals will wait for the next labor deal to be finalized before extending Dockett's deal.  "It's a different economy in the NFL right now," Whisenhunt said, "there's a lot of things that are unsettled that are facing us in the future. . . .  We're trying to work through those things."
At one point, Dockett had been clamoring loudly for a new deal.  Eventually, however, he accepted the fact that the Cardinals do what they damn well please when they damn well please to do it, and it has put him in line to get paid.
That said, he's still under contract for two more years, at salaries of $3.75 million and $4 million.  So the Cardinals can force him to bear for two more years the risk of serious injury, and then they can give him a big raise once he emerges from the other side of the next 32 regular-season games unscathed.