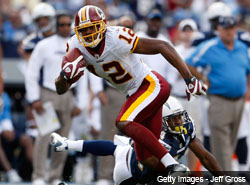 Back in March of 2009, Albert Haynesworth was asked to explain why his agent met with Redskins owner Dan Snyder at the NFL Scouting Combine, which appeared to be a crystal clear case of tampering.
The official explanation at the time: Haynesworth's agent Chad Speck and Snyder were discussing wide receiver Malcolm Kelly.
"Chad told me he met with the Redskins at the Combine," Haynesworth said. "But they were
talking about Malcolm [Kelly] and how he could become the next Andre Johnson and stuff like that."
Well, the rest of the NFL may get the chance to sign the next Andre Johnson shortly.  Ryan O'Halloran of Comcast Sportsnet Washington predicted on Wednesday Kelly won't even make the team because of his injury issues and lack of special teams value.
That information makes it all the more ridiculous the Redskins got off the hook for tampering using the Kelly excuse.  It also points out how Washington bungled the second round of that draft.
The team selected Devin Thomas 15 spots ahead of DeSean Jackson, and tight end Fred Davis one spot ahead of Jackson before grabbing Kelly three picks later.  (We like Davis plenty, but they still passed on Jackson twice.)
Vinny Cerrato may be gone, but his legacy continues to live on.