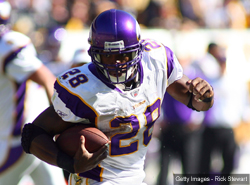 Adrian Peterson's absence from the Vikings facility wasn't all about "Adrian Peterson Day."  The Pro Bowl running back barely practiced with the team the entire offseason, wondering many to wonder if there was a larger issue at play.
Vikings coach Brad Childress, who wasn't shy expressing his displeasure when Peterson skipped mandatory minicamp, says he's moving on.
"I had a good talk with him. . . . You let bygones be bygones," Childress said on KFAN on Friday.  "I told him how I felt, he told me how he felt. You can agree to disagree and you move forward."
When pressed on the issue of minicamp, Childress shut the questioning down, a rare occurrence in a genial and relatively open segment appearance. 
Childress can only Peterson's fumbling problems and third down play can be taken care of so easily.