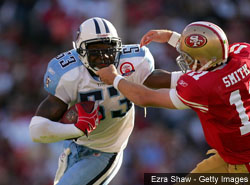 Keith Bulluck is coming home.
Adam Schein of FOX reports and PFT has confirmed that the longtime Titans linebacker and New York native has agreed to terms on a one-year deal with the New York Giants. Bulluck can make up $2.5 million this season.
The deal came together after Bulluck worked out for the Giants last week and "blew them away" because he looked so good only seven months removed from ACL surgery.
The Cardinals also made a late push to sign Bulluck after Gerald Hayes' recent surgery, but the lure of New York was too difficult for Bulluck to avoid. Bulluck was All State at Clarkstown High School in nearby New City
Bulluck played on the weak side in Tennessee, but Mike Garafolo of the Newark Star-Ledger reports he will move to middle linebacker in New York. The Giants only have untested players Jonathan Goff and Phillip Dillard there, so Bulluck could wind up starting sooner than later.
The Giants may also want Bulluck to help fill a leadership void in New York, while working into the mix as he recovers from surgery.