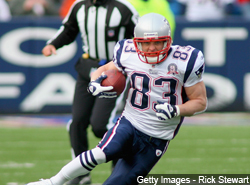 We've wasted a lot of energy over the last week focusing on whether Patriots wide receiver Wes Welker will start training camp on the active/PUP list or not.
Ultimately, his designation during the first few days of training camp is incidental compared to the Patriots' plan for him. Albert Breer of the Boston Globe writes that Welker could be cleared to play in a game tomorrow, and he's expected to get some preseason action.
In the meantime, the team will try to exercise caution and try to save Welker from himself. Once they set Welker free, it will be hard to get him to slow down.
The bottom line is that the Patriots and Welker plan for him to be available for the season opener against Terrell Owens and the Bengals.