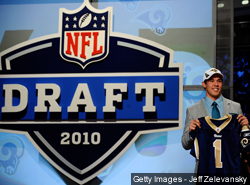 If ridiculous rookie contracts are going away in 2011, they sure went out with a bang.
The Rams reached agreement on Friday night with quarterback Sam Bradford on a six-year, $78 million contract that reportedly has $50 million guaranteed, according to multiple reports from Jay Glazer at FOX, and the Schefter/Mortensen bus buddies at ESPN.  The deal has a max value of $86 million. 
Bradford, who probably has about a 50% chance of ever becoming a Pro Bowler, becomes the first NFL player to break the $50 million guaranteed barrier.
The Rams' goal was to get Bradford signed by tonight when veterans reported to camp, and they've reached it.  To get the deal done, they hit the upper range of what observers expected Bradford to see in guaranteed money.
Like all contracts, the devil will be in the details.  We'll see down the road if any of the "guaranteed" money is phony.
No matter what the details say, it just became a little harder to sign Tom Brady, Peyton Manning, and Drew Brees.
And it became a little easier to dial back rookie deals in 2011 once and for all.