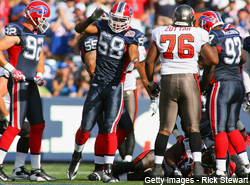 Bills 2009 first-round pick Aaron Maybin held out of training camp last year and never made much of an impact as a rookie. Now playing outside linebacker in Buffalo's new 3-4 scheme, Maybin opened camp as a backup behind journeyman Reggie Torbor.
His first noteworthy moment in camp, according to ESPN's Tim Graham, came when he shoved running back Fred Jackson to the ground from behind at the end of a play, with Jackson yelling, "Come on man" as he fell.
Maybin and an offensive lineman did the usual camp grappling, and got back to work. But Bills guard Eric Wood, a fellow 2009 first-rounder, remained unhappy a few snaps later.
"Give back some of that money you ain't [expletive] earned!" Wood screamed at Maybin.
It's not a huge story, and Wood's defense of his running back is to be expected. But Wood's words serve as a good reminder.
Maybin really does need to start earning his money soon.