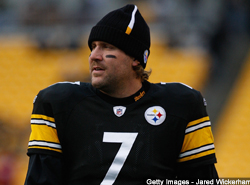 Call it symbolic, but don't call it a surprise.
Ben Roethlisberger took the first snap of training camp as the starting quarterback, according to dueling Tweeters Judy Battista of the NY Times and Scott Hanson of NFL Network.
There has been a lot of discussion regarding how the Steelers will prepare Roethlisberger for the season when the team plans to start Byron Leftwich for the first 4-6 games. On Saturday, Leftwich took some snaps with the first-team offensive line, but Roethlisberger was consistently with the first-team offense.
We suspect the rotation will change plenty depending on the practice, but Steelers coach Mike Tomlin is setting a tone on day one.
Roethlisberger is still The Man and the Steelers season will truly be decided when Roethlisberger is under center.