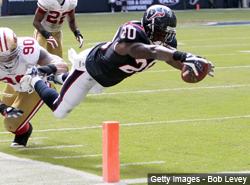 Cervical fusion neck surgery just sounds terribly wrong.
When Texans running back Steve Slaton underwent the procedure this offseason, no one exactly knew what the future held. The Texans didn't want to take any chances, selecting Ben Tate in the second round of the draft.
Slaton was medically cleared to return to the field for training camp, and so far he's impressed with his health and renewed quickness. (Slaton bulked up last year, which didn't work.)
The Texans won't ask Slaton to gain 1,658 yards from scrimmage again like he did as a rookie, but they'd love to see his 4.8 yards-per-carry come back. Instead of being The Guy, Slaton looks slated to be a backup and passing down specialist. He's also worked on kick returns in practice.
Thus far, Slaton's camp has been a pleasant surprise. But the bigger surprise is who he's backing up.
2009 undrafted free agent Arian Foster has taken hold of the starting job with a strong start to camp, while Tate looks to be third, still working to catch up on time missed during the offseason. (And yeah, we've downgraded Tate in our latest Rotoworld draft guide rankings.)
No matter who gets the ball, we feel safe in saying the Texans running game should bounce back from a miserable 2009 campaign.