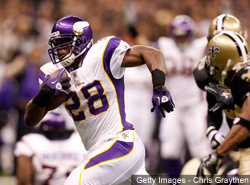 Last month, Vikings running back Adrian Peterson that talk regarding unhappiness with his contract can be "put to rest."
Well, it now can be exhumed.
Appearing Wednesday with our main man Paul Allen of KFAN in Minneapolis, Peterson admitted that he wants "to at least talk about" a new contract.
But he made it clear that he relies on his agents to handle those discussions.  Besides, Peterson won't go hungry.  He'll get $3.64 million in 2010, and at least $10.72 million in 2011.
That said, he wants to "talk about" something more.