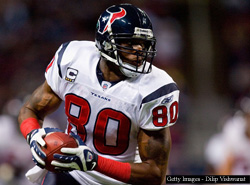 Earlier this year, Texans receiver Andre Johnson made some noise about his current contract. Eventually, he hired a new agent. And it appears that the new agent will be getting a new deal for Johnson.
John McClain of the Houston Chronicle reports that the team and the player are close to an agreement that "could" make Johnson the highest-paid player at the receiver position.
Owner Bob McNair had hoped to get the deal done within two weeks, but McClain reports that it won't take that long.
Johnson is due to earn a base salary of $5.8 million in 2010. To get to the top of the market at the position, he'd need to surpass Cardinals receiver Larry Fitzgerald's average of $10 million per year.