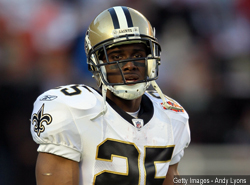 From our friends, Romans, and/or countrymen at CFT comes the latest tale of a former Trojan who saw fit to get paid while still playing football at a level that, in theory, involves no compensation, apart from an "education."
And it's a doozy.
New USC G.M. Pat Haden tells USA Today that Bush has apologized privately for conduct that, previously, Bush has insisted entailed no wrongdoing.
"He's really contrite," Haden said.  "He knows he made a series of mistakes.  It wasn't just one mistake.  It was a series of mistakes.
Here's the money quote from the Notre Dame analyst turned USC sports czar.
"He told me, 'If I could turn the clock back, I would. 
If I could give the Heisman Trophy back, I would
."
So what's the impediment to giving back the Heisman, Reggie?  Have you sold it?  Broken it?  Carved "619" under each of the eyes?
We've got a feeling that, first and foremost, Bush will deny saying that he'd give the Heisman back "if he could."  But if he said it, and if he meant it, why doesn't he just give it back?
Either way, if should make for some interesting discussion the next time Reggie meets the media.