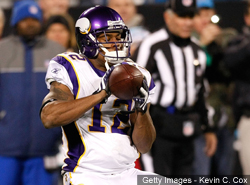 The mysterious absence of Vikings receiver Percy Harvin doesn't appear to be ending anytime soon.
The Vikings received a roster exemption for Harvin with the rare designation of "left squad," according to Judd Zulgad of the Minneapolis Star-Tribune.  He no longer counts on the Vikings roster, which is a sign the Vikings truly have no clue when he'll return to the team.
Harvin left the Vikings when his grandmother passed away in late July, and another series of migraines have kept him away from camp since.  Harvin is back home in the Twin Cities, and the team will be headed there soon from Mankato, where camp started.  ESPN's Kevin Seifert says there's been "little communication" between Harvin and the team. 
At first, we didn't think Harvin's absence was that a big deal.  It grows more worrisome for the Vikings each day.