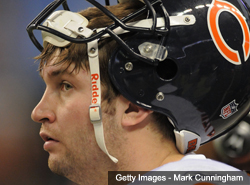 The Bears searched in the offseason for a veteran backup to starting quarterback Jay Cutler.  A perfect candidate — Marc Bulger — was available for weeks, but the team never made a serious push for him, possibly because Bears G.M. Jerry Angelo doesn't want to be pressured to bench Cutler if the team doesn't win enough games in September and October.  If the No. 2 option is no one that anyone thinks would be any good, there will be no calls for the backup to supplant a struggling starter.
But now that Caleb Hanie is out with a shoulder injury, the Bears have no choice.  As Rosenthal pointed out last night, they've again tried to persuade Trent Green to put himself in line for yet another concussion, and Green's battered brain remains smart enough to stay retired.
Brad Biggs of the Chicago Tribune has reported that Todd Collins, 38, has become the team's next target.  We've heard rumblings that Josh McCown has been considered, but we're told that McCown won't be joining the Bears.
Beyond Green, Collins, and McCown, there aren't a ton of options — especially since the Bears don't intend to pay very much.
"Part of it has to do with the money," Angelo said when training camp opened, per Biggs.
"Usually when you pay your starter the kind of money that we paid Jay,
the backups don't make a lot of money."
Still, it's clear that something needs to be done.  Rookie Dan LeFevour threw five interceptions in practice on Monday.
Regardless of whether the Bears dust off Collins or McCown or Green or Jeff Garcia or Jeff George or Jeff Blake or Jeff Hostetler, it's clear that, for 2010, they'll be pinning their entire hopes on Jay Cutler not only staying healthy, but also being effective in his first season operating under the Mike Martz offense.