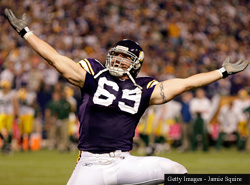 Exactly 52 weeks ago today, quarterback Brett Favre ended his second annual retirement, flying to Minnesota, reenacting the slow-speed O.J. Simpson chase, and signing with the Vikings.
With Favre showing no signs of doing the same thing today, a trio of Vikings reportedly have made the trek to Mississippi in the hopes of bringing him back.
According to Judd Zulgad of the Minneapolis Star-Tribune, kicker Ryan Longwell, guard Steve Hutchinson, and defensive end Jared Allen flew to Hattiesburg to meet with Favre.
Maybe Allen, who is known for pretending to tie up a hog or a calf or whatever it is that gets tied up in a rodeo after notching a sack, will be charged with knocking Favre down, binding Favre's limbs, and then tying him to the front of the airplane for the flight back to Minnesota.