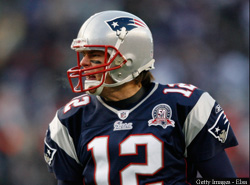 The great George Costanza once explained that the perception of hard work will arise from the constant projection of annoyance.
Maybe Pats quarterback Tom Brady is giving Costanza's approach a try.
As our pal Tom Curran of CSNNE.com explains it, Brady says he has become more impatient in 2010 because somebody has to show impatience on the team.
"If the quarterback won't do it, then who will do it?" Brady said.  "That's how I always think about. So, if it's like, 'Hey guys,
it's all right.  It was a [shoddy] play, but we'll get the next one.'  That's not the way it works."
In a joint practice with the Falcons, Brady showed his frustration by letting coach Rex Ryan's favorite word fly. 
Brady presumably hopes that others will follow his lead, and not simply by persuading them to refer to everyone as sons of bitches, or to call babies "cute little bastards."