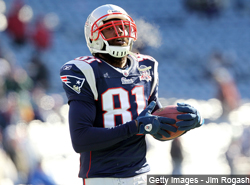 It's hard to believe that Randy Moss is already entering his fourth season with the Patriots.
The first year, a true honeymoon affair, Moss helped re-write the record books.   Moss played well overall in 2008, but he saw fewer deep balls because Matt Cassel was at quarterback.  In 2009, Moss was less consistently dominating, and "provoked internal skepticism about his effort and attitude," according Michael Silver of Yahoo! Sports.
Entering the final year of his contract, a lot of folks in New England wondered what Randy Moss they would see in 2010.  The early indications have been exceedingly positive.
Every other day, we see a report saying that Moss looks lighter, quicker, and more explosive. Moss put on a show against the Falcons secondary during joint practices Tuesday.  He's healthy and hasn't skipped practices for "veteran days" like years past. ESPNBoston.com's Mike Reiss said Moss has been "magnificent" with "several highlight-reel plays." 
Moss hasn't spoken to reporters, but has let his play do the talking.  Old PFT pal Tom Curran said Tuesday Moss wouldn't "pee on [the media] if we were on fire" but pointed out that Moss is a legitimately great teammate, always firing guys up.
Moss appears to be gearing up for one final huge contract push. The Patriots should enjoy this 2010 version of Moss plenty.