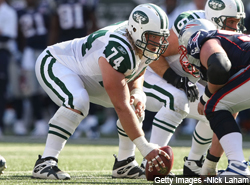 With Tim Cowlishaw continuing to insist that the Jets could be getting a deal done with cornerback Darrelle Revis, we can now say with a very high if not absolute degree of certainty that Cowlishaw is in the right church, but that he's perched in the wrong pew.
No progress has been made between the Jets and Revis.  Andrea Kremer of NBC reports from the pre-game sidelines in San Francisco that, indeed, there is no truth to the Internet chatter of Revis getting a new deal this week.  (We've separately confirmed that nothing is going on right now between the Jets and Revis, not that Andrea's report needed confirmation.)
The progress is being made, we're told by multiple sources, between the Jets and center Nick Mangold.
Mangold is one of the so-called "Core Four" players who, according to Revis, believe they were promised new deals.  So far, only left tackle D'Brickashaw Ferguson has gotten one.  (The other is linebacker David Harris, who has to be feeling a little like Shemp Howard right now.)
Revis held out, and Mangold opted not to do so.  He said earlier this month that he's "not happy about" his situation, but that he decided to play out the final year of his rookie contract, at a base salary $3.3 million.
It doesn't mean a new deal will be done this week, or for that matter this year.  But progress is being made between the Jets and Mangold, and the Jets apparently are motivated to make something happen before the next episode of Hard Knocks.
To find out whether it all happens, stay tuned.  To PFT.  Or NBC.  Or HBO.  Or all three.
UPDATE:  Multiple other outlets are now reporting the news, and none of them have given us credit.  Even though most of them started chasing it when they saw our report.