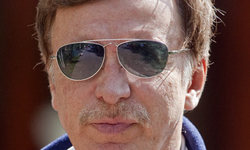 Just in time for the peanut butter sandwiches to be served at a one-day business meeting in Atlanta, NFL owners have approved the acquisition of the St. Louis Rams by Stan Kroenke.
Word of the vote comes from Steve Wyche of NFL Network, via Jason La Canfora of NFL Network, via Twitter.
The vote was unanimous. Of course, it's possible that the unanimous vote was the second vote that came after the vote in which some of the owners voted, "No."
Kroenke already owns 40 percent of the team. He will acquire the 60-percent share held by Chip Rosenbloom and Lucia Rodriguez, presumably via a two-tiered process that will result in Rosenbloom and Rodriguez, who are siblings, continuing for some period of time to retain an interest in the club.
As part of the transaction, Kroenke will have to relinquish ownership of the NBA's Denver Nuggets and the NHL's Colorado Avalanche. It's believed that the basketball and hockey teams will be "sold" to his children.
UPDATE: The Rams have announced the sale to Kroenke, via press release. "Stan has been a familiar and respected figure in the National Football League for more than 15 years," Commissioner Roger Goodell said in the release. "He is a proven businessman and has experienced success in all of his sports franchises, as well as serving as a responsible community leader. We look forward to him continuing to uphold the goals and values of the NFL as he becomes the majority owner of the St. Louis Rams." The release mentions that Kroenke owns the Nuggets and the Avalanche, but it says nothing about his plans for selling the properties, which is required by the league's cross-ownership rules.