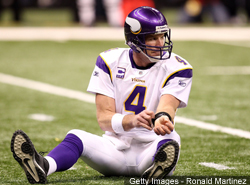 As Vikings quarterback Brett Favre prepares for his 20th and final NFL season (unless it isn't), he's already getting the Tin Man treatment in order to ensure that his ankle will operate properly.
Per Peter King of SI.com, Favre has received lubricant injections into the joint. 
Favre called it a "grease fitting."  (Once his birthday comes around, we'll have to start calling him "WD-41.")
Favre also told King that, when Dr. James Andrews operated on the ankle in May, "[t]hey took out a cup full of stuff — bone and all these other loose
bodies." 
Favre's wife observed the proceedings from a Junior Mint-free zone in the gallery.  "Deanna watched and told me,
'If you don't feel a lot better, I'll be shocked,'" Favre said.
So will he feel a lot better all year?
"I don't know.  I have no idea, really," Favre told King.  "My ankle just
seems to get easier to sprain. I know everyone thinks the New Orleans
game  killed me, but it was bad before then. 
Now we'll see if I can make it.  My mind's telling me one thing, but my
body's telling me something else."
Regardless of how it plays out, he has set the table either to be a hero, or to be heroic.