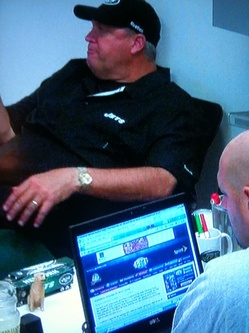 I won't see this week's edition of Hard Knocks until the FedEx truck arrives tomorrow morning. But MDS is watching the show as it airs, and he has shared with me an interesting observation.
The Jets read PFT.
There we were, on a computer screen with logo and headline in plain sight. Apparently, the discussion centered on last week's reporting from Tim Cowlishaw of ESPN and the Dallas Morning News regarding the supposedly impending agreement between the Jets and cornerback Darelle Revis.
We don't expect this to make those of you who already hate us decide that you suddenly like us; though we don't share Rex Ryan's desire to be hated, we realize that being hated goes with the territory of expressing strong opinions about teams and players that you happen to love. But at least you now know that you're reading something that at least one NFL team reads.
Actually, the other 31 do, too.