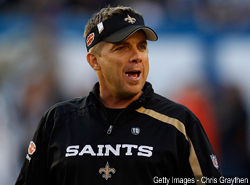 Though tales of alleged Vicodin abuse have largely faded from view, thanks to a mandatory arbitration clause that forced a lawsuit from former Saints director of security Geoffrey Santini out of the court system, Saints coach Sean Payton has a somewhat different vice.
He habitually chews Juicy Fruit gum during games.
Jeff Duncan of the New Orleans Times-Picayune delves into Payton's penchant for tearing through sticks of the stuff on game day. 
As Duncan explains it, Payton pops a fresh stick into his mouth at the start of each offensive drive, and he lines up before each game two stacks of five sticks — one for each half.
During the 2009 NFC title game against the Vikings, Payton's supply became exhausted in the second half and he yelled for a new piece.  So assistant strength and conditioning coach Adam Bailey retrieved one.
Per Duncan, the team's overall gum supply has gotten jumbled before the game.  And so Bailey gave Payton something other than Juicy Fruit.
"Can you get me Juicy Fruit — not f–king Spearmint, " Payton said to Bailey.  "Get me a piece of
Juicy Fruit gum!  Tell [assistant equipment manager John Baumgartner] I want f–king Juicy Fruit!"  (In somewhat related news, Qantas never crashed.) 
The scene has made its way into the latest America's Game feature from NFL Films, and it has been used in commercials to promote the September 8 debut of the show.
Because word of Payton's passion for Juicy Fruit has leaked out of the organization, Payton regularly receives a box of it from a fan or a friend.  And if he ever spills one, we've got a feeling that he can instantly count the number of sticks that landed on the ground.