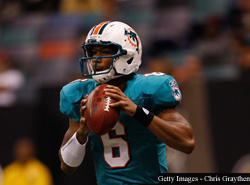 Cut on Saturday and unclaimed on waivers by Sunday at noon, former West Virginia University quarterback Pat White is a man without an NFL team.
Per a source with knowledge of the situation, no one is interested in White. No visits, no negotiations, no offers, nothing.
It's a stunning fall for the 44th overall pick in the 2009 draft. And so the question becomes whether he'll give up on his NFL career, whether he'll wait until 2011 to try to get back in, whether he'll change to a new position, whether he'll try to play in a different pro football league, and whether he'll return to baseball.
White isn't eligible to join a practice squad because he appeared in 13 games last year.
Still, White possibly can find a new home in the NFL. "I'd be surprised if he wasn't in the league at some point," said one league source whose responsibilities include the selection of free agents. The challenge will be devising a strategy for ensuring that White can secure a spot on the game-day roster, possibly through a combination of skill sets.
In the wake of White's time in Miami, concerns have emerged regarding his size and strength. Teams wonder whether he can withstand the physical beating that comes with being an NFL player.
If he still wants to play quarterback only, White ultimately may be best served by getting live reps in the UFL or the CFL. It's also possible that White will need a full offseason with an NFL team in order to have the best chance of making the final roster.
Regardless of how it all turns out, nothing is happening now. Perhaps after a couple of weeks of the regular season someone will decide to give him another shot.
And maybe White eventually will abandon on his own a reluctance to player other positions. In the end, versatility could be White's best bet for having an NFL career — assuming White still wants one.