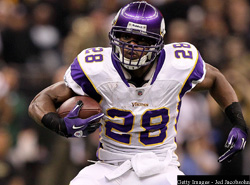 On Thursday night, Vikings running back Adrian Peterson returns to the scene of one of his most frustrating performances. Peterson fumbled twice in the NFC title game (both were recovered), and he caused a fumble on an exchange with quarterback Brett Favre that prevented the Vikings from taking a 21-14 halftime leads following a muffed punt by Reggie Bush late in the second quarter.
Peterson believes he has corrected his fumbling problem, based on studying film of his past performances. "I found out at times by studying myself that when I'm going down, I
kind of brace myself with the hand that I'm carrying the ball in and
that's leaving opportunities for those guys that are in there scraping
and punching for that ball, gives those guys opportunities to make big
plays," Peterson said recently, per the Minneapolis Star-Tribune. "I'm a pretty tough guy, so I just [need to] keep the
ball high and just fall down. It is instincts, but when that becomes a
problem you're able to sit there and say, 'Hey, I've got to eliminate
doing this.'"
But it's far easier said than done, especially since correcting the problem will force Peterson to alter instincts formed through years of playing football.
The real problem, in our view, is that Peterson lacks the instinct to cover up and protect the ball when he encounters a defender in close quarters. Peterson's admirable desire to gain every last inch causes him to be reckless with the ball, not realizing that even the man with the Kung Fu Grip isn't strong enough to hold a ball against only his forearm when other players are trying to punch it out.
So it's not about falling down. It's about maintaining at all times an awareness of the fact that the ball is in his hands — and that other players are trying to pry it loose. To anyone who will continue an approach that has been effective, Peterson offers a warning: "I look forward for guys to try and tackle me and tackle the ball. They might not be on the field too long if they continue to do
that."
But continue it they will, because there isn't anything Peterson can do about it if he fails to take steps to protect the ball when contact is imminent.