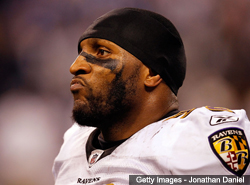 In New York, the talk coming from the Jets ends on Monday night, when they host the Ravens.
Before then, Ravens linebacker Ray Lewis got his own licks in, during a conference call with the New York media.
"The bottom line is — and I'm going to be very careful with this —
we're talking about the Jets like we're talking about the Saints," Lewis
said, per MASN.com.  "That's the Super Bowl champs.  Until they play tonight, that's
the only people that can be dethroned — Drew Brees and the Saints, not
Mark Sanchez and the Jets.
"All of this 'We're the Miami Heat of football.'  If you're the Miami
Heat, we got to be the Lakers.  We're aiming for multiple rings.  But you
listen to all this yap, yap, yap, the bottom line is you got to buckle
up your chin straps."
A reader captured, and uploaded to YouTube, a portion of the remarks.  And Ray's voice oozes with passion.
"The game ain't played through tongues," Lewis said.  "The game is played when you buckle up your chin strap.  So all this pressure that [coach Rex Ryan] put on his team?  I hope they can cash the check that he's writing. . . .  [T]he bottom line is there ain't no man over there that's just gonna flat-out whoop me, so I'm good with that part of it.
UPDATE:  The Jets have circulated a lengthy transcript of the Ray Lewis conference call.  And the transcript circulated by the Jets strangely omits the quotes set forth above.
SECOND UPDATE:  As it turns out, some of Lewis' comments were made to the New York media and some were made to the Baltimore media.