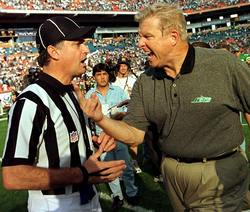 Former NFL V.P. of officiating Mike Pereira exhibited candor during his time as a league employee.  Now that he's a former league employee (and current employee of FOX), he's even more candid.
As to the rule that has come to be known as (at least here) as the Calvin Johnson rule, Pereira talked at length about the situation with Dan Patrick on Tuesday, and Pereira admitted that "the rule is certainly suspect."  Pereira also said that the ruling that robbed the Lions of a win "doesn't pass the smell test," but that Pereira's "not sure how to make it smell better."
Pereira also acknowledged that, even though last year's experiences with the rules (including application of the technically non-existent "second act" exception to award the Saints a key two-pointer in the Super Bowl) did not prompt a change to the rule, momentum could build for a revision or clarification or explanation in the offseason.
"This is gonna happen 15 more time this year," Pereira said.  "Maybe this play on top of the big play last year — maybe this tips the scale."  Though he expressed concern that it may be too difficult to improve a complicated rule, he recognized that "50 guys in a bar" would likely conclude the Johnson play should have been ruled a touchdown.
We know it won't be an easy fix.  For starters, though, the league needs to either kill or codify the "second act" exception.  It's currently not in the rules, and as a result we think that some of the part-time officials charged with applying the rules aren't sure when to look for a second act — and what a second act exactly is.