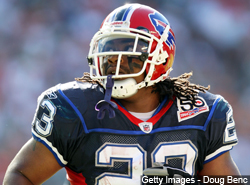 Packers G.M. Ted Thompson isn't into splashy moves.  That doesn't stop speculation about them in Green Bay.
Aaron Rodgers was asked about the possibility of the Packers trading for his old college teammate Marshawn Lynch following Ryan Grant's season-ending injury.
"Bring him on," Rodgers said, via Greg Bedard of the Milwaukee Journal-Sentinel.  "He's a great player."
In a shocking development, Michael Silver of Yahoo! Sports has been stumping for the Packers to rescue Lynch, his beloved former Cal Bear.  The move makes sense on many levels until you read Buffalo's asking price.
Silver reports the Bills turned down a third-round pick and a player for Lynch in the offseason and showed no interest when a team called about Lynch as recently as last week.  I don't need sources in Green Bay to know Thompson would rather talk about his personal life in a press conference than give up a third-round pick for Lynch.  It won't happen.
The Bills seem determined to keep Lynch, so he can compete with Tashard Choice to be the best No. 3 running back in football.