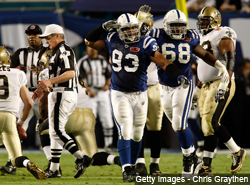 There was a time in Colts defensive end Dwight Freeney's career that it looked like he was slowing down.  Bothered by injuries, Freeney only had nine sacks in two seasons.
That lull is over.  Freeney has 13.5 sacks last year.  FootballOutsiders' numbers indicated Freeney led the NFL in hurries.
Freeney has started out fast this year with three sacks.   He appeared unblockable against the Giants.  At 30, Freeney still appears to have peak years left.  That's why he can't understand why SI.com's Peter King didn't include Freeney on his "top-five most fearsome pass rushers for 2010 and beyond."
"Who is this?" Freeney asked to Philip B. Wilson of the Indianapolis Star, pointing to Brian Orakpo's name.  "When
you put Brian Orakpo — and nothing against the guy, he is 24 — but
mention him over me, that hurts your credibility as an analyst. I know who Peter King is. But to mention [Orakpo] over me? For
him not to mention me in the top five, that is an insult."
Freeney wants to ask defenders: "Would you rather see [Orakpo] or would you rather see me?"
In King's defense, the article was about guys he'd take for the next five years.  So Freeney's age was likely a factor.
"So I guess it's over?" Freeney said.
He even gives King an idea: Ask every offensive coordinator and tackle who would be in their top five. We wouldn't be surprised if Peter takes Freeney up on the offer.