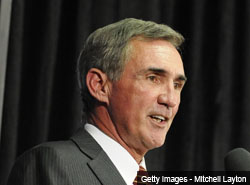 Florio has noted the last few weeks how the Redskins abuse the "questionable" tag on the weekly injury report, in an effort to obfuscate (thanks, Tiki) the truth.
It's not a new trick.  The Colts, for instance, have long loved to use the "Q" tag liberally.  The integrity of the injury report is such a joke, in fact, that Redskins coach Mike Shanahan isn't afraid to make light of it.
Shanahan said Friday that some teams are more honest than others when reporting injuries. Asked if the Redskins fit into the honest category, Shanahan responded, "No."
In related news, someone inside the league office just made an epic facepalm.