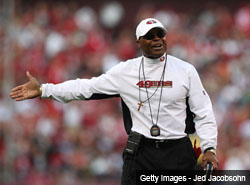 On Sunday, the 49ers built a 14-0 lead over the Falcons. Eventually, the Falcons erased the deficit and won the game.
After the game, 49ers coach Mike Singletary skipped the traditional handshake with the other coach.
On Wednesday, he admitted that he had dissed Smith. "That was poor sportsmanship on my behalf," Singletary said, according to David White of the San Francisco Chronicle.
But Singletary didn't apologize for the situation, and he hasn't contacted Smith to discuss it.