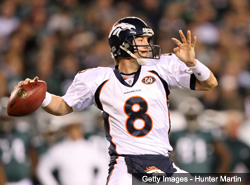 By now, you've probably heard the stat.  Kyle Orton has thrown for the second most passing yards through four weeks of anyone in NFL history.
The stat seems so ridiculous that we you almost can't take it seriously, especially in a season where Michael Vick is reborn and Randy Moss is traded to the Vikings.  If you predicted any of this two months ago, people would have said you were insane.  (Kyle Orton's top receiver is Brandon freaking Lloyd!)
Orton is easily on pace to break Dan Marino's passing record through four games, but it's worth noting he's not the only one.  Peyton Manning and Philip Rivers are both on pace for over 5,300 yards — more than 200 more than Marino finished with.
Now, of course it's unlikely all three players will make a serious run at the record.  They are only forced to throw because of weak defenses and running games.
"I
would definitely trade in passing yards for offensive balance, no
question about it," Broncos coach Josh McDaniels said on Friday. "You do have to
give [Orton] credit for what he has done. He's really executed our
offense, executed our game plan — under difficult circumstances."
Those circumstances include a 2.2 average on rushing attempts and a shady defense.  Manning's big start comes alongside an uncharacteristically poor Colts pass defense and a now-typically inept running game.

While Orton is helping my wife's fantasy football team, the Broncos know they need to improve the rest of their team to get where they want.
"It's only four games!" receiver Eddie Royal told Mike Klis the
Denver Post
with a laugh. "I don't think we care about any of that. The only record we care about is wins and losses."