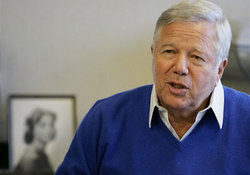 In Monday's 10-pack, we addressed the NFLPA's strategy for dealing with the owners.  First, the union tried to persuade the league that the current labor deal isn't as bad as the league thinks it is.  Next, the union has tried to place as much pressure as possible on the owners to come to the table before March 1, 2011, when the current deal expires.
We also reported that the union believes the strategy, which includes a plan to file a collusion case within a month, is working.
And the union apparently is right.
At Tuesday's ownership meeting in Chicago, Patriots owner Robert Kraft said that a new deal could come before the end of the 2010 season.
According to Barry Wilner of the Associated Press, Kraft said "we're moving ahead," and that he'd "like to see this get done before the
season ends."  He also acknowledged that, in his view, the objective is realistic.
It's a significant statement, given that Kraft remains one of the league's most influential owners.  And it fairly can be interpreted as a subtle indication that the league prefers not to face the potential fallout of a collusion case.
So maybe we'll all be finding under our Christmas trees, if not sooner, a guarantee that we'll have another five or six years of unfettered football.