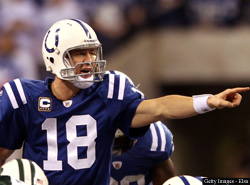 Indianapolis Colts president Bill Polian repeatedly has said that a new contract with quarterback Peyton Manning can't be finalized until a new labor agreement has been struck between the NFL and the players' union.
Apparently, that line of thinking no longer applies.
On Tuesday, Colts owner Jim Irsay indicated that negotiations are occurring quietly behind the scenes.
"It's kind of like the Get Smart cone of silence," Irsay said, per Sean Leahy of USA Today.  "That's
when you kind of get things done.  So I think you get things done when
it's quiet, and it's been quiet.  So that's the way we want to move
forward."
Irsay acknowledged that the contract given to Patriots quarterback Tom Brady helps set the stage for Manning's deal.
"All deals that are signed, it creates frameworks," Irsay said.  "But
like I said it's something that we're working on it, and can't really
comment on anything else except, you know, markets get established by
those sort of things.
"Those two guys have been tied together, no
doubt, 1A-1B as the greatest players in the game.  You know they'll
probably be compared for a long time even after their careers."
Obviously, the Colts believe their guy is 1A — and Manning's agents surely feel the same way.  That means Manning's deal will be better than Brady's.  The only remaining question is the size of the gap.