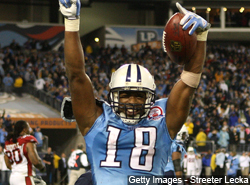 The Jaguars may not have the horses to stick around in the AFC South, but Tennessee is here to stay because of its defense.
The Titans, not the Texans, are the biggest threat to Indianapolis in this division.  Tennessee beat Jacksonville 30-3 Monday night despite losing Vince Young early in the game to a knee injury.  Young's sprain isn't believed to be serious, although Kerry Collins showed he can steer the ship when asked.
The quarterback is almost secondary on this team.  Chris Johnson hasn't been quite as explosive, but the 2010 Titans squad is better because their defense and special teams are much improved.  They have been great in the red zone on both sides of the ball.
Defensive line coach Jim Washburn has worked his magic again, turning journeymen Dave Ball and Jason Babin into sack machines.  Defensive tackle Jason Jones has played like an All Pro.  Rookie cornerback Alterraun Verner has been a revelation and the veteran safety duo of Chris Hope and Michael Griffin are making plays like they did in 2008.
This isn't a perfect team, but they compete hard every week and have put together impressive results.  This was their second blowout victory, which is the true test of a quality team — not eking out close victories more based on luck. Tennessee beat the Giants on the road by 19 and won in Dallas.
The Texans defense is one of the very worst in the league.  They have no balance.  The Titans are better built to last and challenge the Colts to win the division all year.
No matter who is at quarterback.