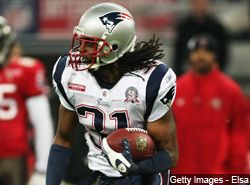 Last week, Patriots safety Brandon Meriweather was held up by the NFL as the poster boy for "inexcusable" helmet-to-helmet hits.
This week, Meriweather has getting some kudos from NFL Executive V.P. of Football Operations Ray Anderson. 
"Brandon Meriweather, specifically, last week we were appropriately
calling him out and chastising him," Anderson added. "Yesterday in the
Patriots' game at San Diego, Meriweather made two very tenacious,
effective and legal hits in similar situations. But you could see it, he
lowered the target area, blasted the opponent with his shoulder. He
adapted, showing it can be done. It is appropriate to praise him for the
tough play."
Patriots coach Bill Belichick was told about Anderson's praise and you can tell it made a big impact on him.
"I think that would be a first for me," Belichick said via the Boston Herald. "The
officials are now evaluating the players and their performance. No, I
mean that's great. [long pause] . . . I can't tell you how much that means to me, really."