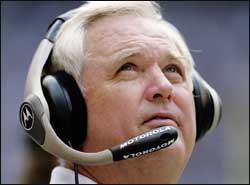 The word was already out that Tony Romo broke his clavicle.  The Cowboys defense, steamrolled all night, faced a second-and-eight early in the third quarter on their own 25-yard line.
Jon Gruden: "This is a gut check for the Cowboys defense."
Ron Jaworski: "This is where you find out about your football team."
Next play: A 25-yard touchdown.  (It came on a screen pass to Giants wide receiver Mario Manningham which made a handful of Cowboys look silly.)
The Giants beat up Dallas 41-35 Monday night, but the final score doesn't reflect the decisive victory.  The Giants racked up 497 yards of offense, almost doubling Dallas' total.  It was the second straight primetime game that will be remembered for a long time, and not for Dez Bryant's garbage time touchdowns.
The night started out promising enough for the Cowboys, who are now 1-5.  Dallas led 10-7 on the strength of three Giants turnovers when Romo left the game.  They led 20-7 after Bryant returned a punt 93 yards for a touchdown.
Let the record show, however, that the 2010 Cowboys were rotten before Romo was hurt. It says a lot about the team that their own fans assumed they would show no little resistance after Romo went down, leaving the game in droves in the third quarter.  The fans had the right instinct; JerryWorld was the most depressing place to be in Texas on Monday night.
Give the 5-2 Giants credit: No team in the NFC is playing better. They have the squad Jerry Jones thought he had: balanced, physical on both sides of the ball, and dangerous to opposing quarterbacks.  A team that can overcome mistakes — like five turnovers.
New York will continue to play big games this season, but this night was about the Cowboys.  It's a night that will be remembered in Dallas as the unofficial end of the Wade Phillips era.