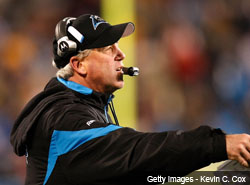 The early list of candidates for the 2011 head-coaching job of the 1-7 Cowboys includes coach John Fox.
Of the 1-7 Panthers.
Jay Glazer of all-caps FOX makes the case for initial-cap Fox.  "If I'm the Dallas Cowboys, forget all those big shiny names you hear about like Jon Gruden and Bill Cowher," Glazer said in comments circulated by FOX's P.R. department.  "John Fox is the right fit for that team.  Fox is already friends with the Jones' and hangs out with them on the road quite a bit.  John Fox gets more out of less than most of the coaches in this league.   He went to two NFC Championship games with Jake Delhomme as his quarterback and Mike Rucker and Mike Minter as his defensive captains.   The big thing about John Fox is there's no drama around him and a presence like Fox is just what Dallas needs.  Someone like Cowher will want full control where John Fox wants nothing to do with being the General Manager.  He's only concerned with coaching the team."
Fine.  But Fox has coached the Panthers into the ground.  And there's no way Jerry Jones can sell to his fan base another happy-to-be-anywhere marionette with a long history of unfulfilled expectations.
Jones needs someone who wants full control, because Jones doesn't know how to exercise full control.  We've been saying it all year and, for whatever reason, few have picked up on this basic reality.  Jones has no qualifications or credentials to run a football operation apart from his ability to write the check to buy the team.  Twenty-one years of experience doing a job he was never truly fit to do doesn't mean he should continue to do it.
"We all have our maker," Jones said to the media today.  "We all have our judgment.  Wade today is a vivid example of accountability."
So when will Jerry be a "vivid example of accountability"?  Maybe it will happen when Jerry's customers stop handing their money over to him.  As Darren Rovell of CNBC points out, on-field struggles in Dallas eventually will lead to off-field financial woes.
That's when Jones eventually will wake up.  It may take a blackout or two to finally make it happen.  Either way, Jones needs to stand down as G.M. of the team.
For now, it appears that he'd rather be directly responsible for an above-average-at-best team than indirectly responsible for a great one.  Until that changes, the Cowboys will never be great again.