Getty Images
BOURBONNAIS, Ill. — "You gotta say hi to Mark," Bears coach Matt Nagy said Sunday morning just before 7, as we finished our talk in his Olivet Nazarene University RA apartment-turned-training-camp-office-and-bedroom. (Sparse, but with a big desk, comfy barcalounger, flat-screen, XOS video system and all the Gatorade you could want—a swell camp setup.)
Mark. Nagy's across-the-hall neighbor and offensive alter-ego, Mark Helfrich, the former Oregon head coach and one of the most interesting hires of this NFL season. Helfrich replaced Chip Kelly when Kelly bolted for the Eagles, lasted four years, did college games on TV last year, and leapt at the chance to work with a total stranger when he called late last season.
Nagy knocked on Helfrich's door. We waited. I couldn't help but think how downright weird this whole thing is. Weird in a football-test-tube/experimental way, with the potential of the next wave of the trendy Run Pass Option system. And also weird in how much Nagy—who might get only one chance at this dream job—trusts a man he never worked with before and just met in January. In football, coaches invariably hire their friends, or men they worked with for years. Nagy, for the biggest job on his staff, hired a man he didn't know, who never coached in the NFL, who was on zero NFL radar screens.
There are so many interesting things about the Bears, I can't count them all. The crucial maturation of Mitch Trubisky at the position that's been comically inept for the Bears; it seems impossible for an NFL franchise to have had one Pro Bowl quarterback season (Jim McMahon, 1985) in the last half-century, but it's true. "Weird," Trubisky said … Super Bowl hero Trey Burton being the kind of weapon he's always dreamed of being. ("I'm more than just 'Philly Special,' " he told me. "I can play.") … A garden salad of a coaching staff led by a guy who was selling real estate in rural Pennsylvania eight years ago … Praying that Leonard Floyd can somehow turn into the first primo long-term pass-rusher for the franchise since Richard Dent … Wideout Kevin White, hurt for all three seasons since being a top-10 pick in 2015, trying to save his career in this camp … The anticipation of getting holdout first-round linebacker Roquan Smith in camp, so he can grow into the nerve center of a highly questionable defense. And more.
My favorite story is the odd triumverate of Nagy, Helfrich and Trubisky. Eighteen months ago, they were in Kansas City, Eugene and Chapel Hill, respectively. Now they're in a race to merge brains and erase the stench of the recent Bears (19-45 in the last four years). In the first three practices of camp, with near-constant stalled cool rainstorms overhead, the new Bears took shape. For their sake, they'd better be new.
"It's time," said a fan, Todd Harris of Watseka, Ill., who was the first in line outside the camp gate Saturday morning, at 2:30 a.m. "Somebody's got to light a fire under these guys' butts. I'm hoping it's Matt Nagy."
---
Tough morning in the football world, with the stunning death Sunday of 56-year-old Tony Sparano, the former head coach of the Dolphins and Raiders. A better coach than his reputation suggests, Sparano got love from all corners of football—and I'll have two former players sharing the love. Plus, news from all corners of football; two camps are open, 30 are on the verge, and to many, it's the most wonderful time of the year. We open in the heartland, where no one remembers three straight days of rain to start training camp. But no one was morose. The newness has the fan base and the players pretty fired up.
Get Familiar With RPOs, Chicago Fans
Back to that knock on the door.
Helfrich, 44, opened it. A salt-and-pepper stubble covered his face, and he seemed much happier coaching football than he did talking about it (for FOX, in 2017). "I've told people the one pretty big difference is the players' parking lot has nicer cars in it here," the former Oregon coach said. "Otherwise, it's coaching."
A longtime friend on the Chiefs' staff last year strongly advised Nagy to reach out to Helfrich, who badly wanted to get back into coaching. When Nagy first called Helfrich during the Chiefs' season to check in, he didn't have much time—Helfrich and wife were on a short vacation in central Oregon, and cell service was spotty. Nagy, Andy Reid's offensive coordinator in Kansas City, wanted an imaginative alter-ego to team with on offense if he got a shot at a head-coaching job. "Andy always told us, 'Hire people better than you are,'" Nagy said. "That appealed to me. I asked Mark after about 15 minutes of talk, you know, hey, if I get a job, do you think you'd have any interest at all? And after maybe 30 seconds of thinking about it, he said, 'It's crazy you called. There is interest.' So once I heard that, now we can really start talking. So we did. I started talking to him about how it would go. I asked if he would be okay if I called the plays, and he was."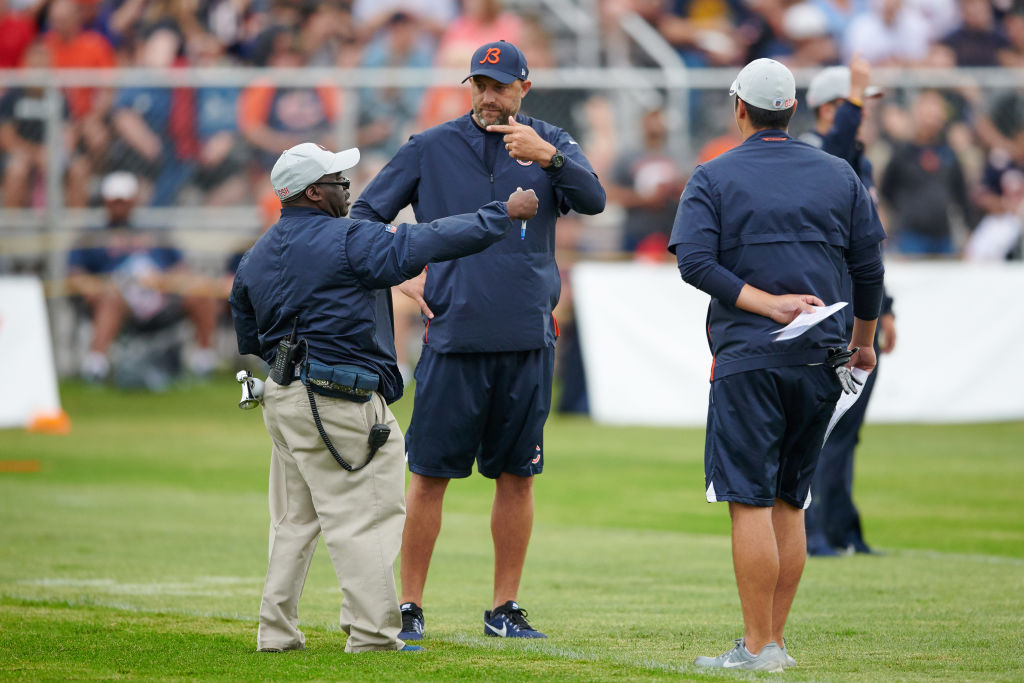 Nagy, and many around football, have admired the Oregon offense for years, during both the Chip Kelly and Helfrich periods. It's a more run-oriented scheme than people think, and using ways to hide tendencies and have the passing game flow though the running game. "And then obviously he's so smart when it comes to the RPOs," Nagy said.
As the 2018 camp season dawns, expect to hear those initials more and more and more. You saw the plays last year—the quarterback putting the ball in the back's gut and "riding" the back for a step or two while deciding whether to yank it back and throw, or give the back the ball. Last year, the Eagles with Carson Wentz and Nick Foles used run-pass-option schemes to throw changeups at teams, and it became fashionable for teams to dabble in it. Some teams worry about the risk of injury to the quarterback, which is valid. But the reward makes it a worthy consideration.
Trubisky clearly wants to do it; he dabbled with it at North Carolina, then did none of it last year in Chicago's old offense. "I think just hiding the ball with the running back and then quick throws down the field—those are skills that fit what I can do well and I really enjoy the RPO as well. I think it keeps it simple. It allows us to play fast and it's hard for the defense to cover."
As a very heavy mist fell over the practice fields Sunday morning, the new thing got unveiled. In the shotgun, Trubisky took a snap from center, put the ball in scatback Tarik Cohen's gut, stayed with him for two steps, withdrew the ball when he saw he'd have time to throw, and fired a completion for mybe 15 yards to tight end Colin Thompson.
"I think that's the direction our offense is taking," said Cohen. "I really like it."
The Bears got that sort of versatile tight end to play in fungible schemes like the RPO in Burton. It's wholly premature to say Trubisky can be a Wentz-type player, but he has similar quickness and arm ability. Can he play as fast as Wentz? Can he throw as well downfield, even with the speed of the RPOs?
"People have asked me about that comparison," Burton said, "and they've taken it in the wrong way. I would never say Mitch is Wentz—Carson's a top two or three quarterback in the league, and Mitch is still getting there. The athleticism, the quick thinking, the deep-ball ability, putting things in tight holes."
One other interesting thing I found at practice Sunday. Nagy will call the plays during the season, but he was allowing Helfrich to use the coach-to-helmet system to make the playcalls at practice; Nagy watched and coached other people. Because the system is new, Trubisky has worked the off-season to be sure he knows the more complicated offense with more verbiage per play. But Nagy doesn't just want Trubisky to memorize the calls and repeat them in the huddle. He wants Trubisky to enunciate each part of the play-call while looking at the player or players who are that exact part of the play. This might be too inside-football … but Trubisky, when calling the assignment for the "Z" receiver, for instance, will probably have a word beginning with Z or simply the letter Z; Nagy wants Trubisky to look at that man when calling it. Nagy wants his quarterback to see if his offensive mates process the call, basically.
To learn all those plays, Trubisky spent the offseason drilling himself with flash cards, so he could accelerate his knowledge. Some of the plays are 15 words long or longer. So I wanted to do a test Sunday, to see how Helfrich and Trubisky were doing. As the 40-second play clock ticked down, and Helfrich called the plays into Trubisky's helmet, and Trubisky announced the play in the huddle, and as the offense went to the line, I wanted to see how long it would take this process to happen. Would the offense be risking delay-of-game calls? On seven plays over two team periods, Trubisky had at least 16 seconds left when he got to the line and began surveying the defense. Well done.
"He can speak the language," said Nagy. "But now he's got to play the language."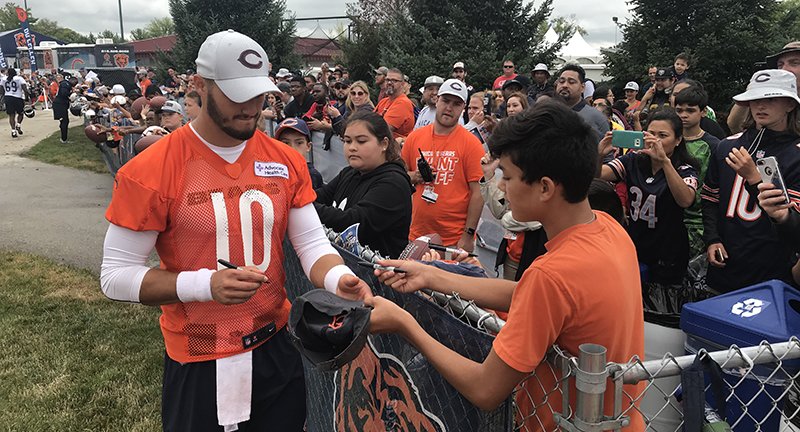 Trubisky announced Friday he was quitting social media for the season. He even got social junkie Kyle Long to go cold turkey too. "I'll see you," Long said to me when I was leaving camp Sunday. "But I won't see you on Twitter."
That's probably smart, particularly for the quarterback. Trubisky doesn't seem to be bothered by the pressure that comes with his position—and with the pressure for the Bears finally to have picked the right quarterback. "It's really weird," he said. "People ask me about pressure all the time. Everything else on the outside, the pressure, when everyone talks about it, I'm really numb to it now. I don't even feel the pressure the way people expect. I've done a really good job of just blocking it out and focusing on what I gotta do. There's no pressure if you're just playing the game and having fun."
There's a lot to like about the Bears—the thirst for new ideas, the head coach challenging himself to learn more with a coach he's just getting know, the quarterback saying all the right things and looking good (which Trubisky did Sunday) in lousy weather. But don't forget: Chicago hasn't won more than eight games in a season since 2012. And there are two veteran teams in the division (Green Bay, Minnesota) with better quarterbacks ahead of them. There's another team, Detroit, with a better quarterback that's right in their league. Can Trubisky get to Matthew Stafford's level? In time perhaps. But with all the newness, this team looks like a better bet to challenge for the division in 2019, not '18.
---
Tony Sparano, 1961-2018
A stunner at midday Sunday: The Vikings announced that their 56-year-old offensive line coach, Tony Sparano, a highly respected coaching lifer, died this weekend. ESPN reported—and close family friend Chris Palmer confirmed to me—the cause was a heart attack. Sparano had just been released from a hospital, where he'd gone complaining of chest pains.
"It's hard to take," an emotional Jake Long, Sparano's franchise left tackle, said Sunday night. "When I found out, I started crying. I'm still … just at a loss for words."
Sparano should be remembered, Palmer told me Sunday, for what a good family man he was, and how devoted he was to his four grandchildren. "The only good thing I can think of," Palmer said, "is his daughter got married two weeks ago, and Tony was able to be there and share in it."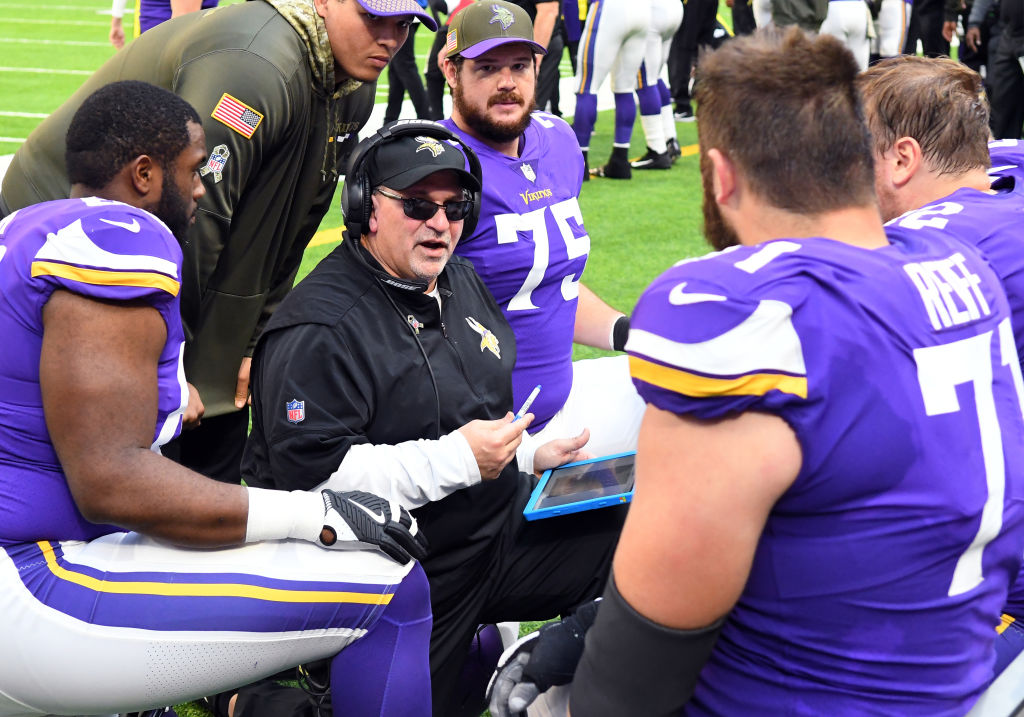 I knew Sparano fairly well. We spoke often after his first head-coaching job, in Miami, ended in December 2011, and then quite a bit again late in 2014, when he'd rallied the Oakland Raiders as interim coach (with rookie quarterback Derek Carr) to a 3-3 finish in a disastrous year. He wanted the full-time gig so badly. He loved that team. He was sure he was the man to handle a young team with a smattering of vets, and he was hugely disappointed when Mark Davis chose Jack Del Rio as his coach. But that's football. Sparano went on to be one of the best position coaches in the game, in San Francisco and Minnesota, over the last three seasons. "His love and passion for the game are like no coach I ever played for, at any level," Long said.
When you think of Sparano, you probably think of a gruff throwback, a by-the-book, not-very-imaginative guy with the dark glasses. I don't. I think history underrates Sparano. Players loved playing for him. On Twitter, former Vikings quarterback Teddy Bridgewater said Sunday, "Thank you for caring about us as individuals and not just athlete." He got submarined after three seasons in Miami when owner Steven Ross courted Stanford coach Jim Harbaugh, failed to get him, and then Sparano had to return in what was obviously a lame-duck situation. Remember his first Miami year? Replacing the fired Cam Cameron after Miami's 1-15 season in 2007, Sparano took a quarterback whacked in favor of Brett Favre by the Jets in August, Chad Pennington, handed him the keys to the Dolphins season, started the year a toothless and hopeless 0-2, but rallied the team to an 11-3 finish. Miami won the AFC East.
"I will never forget our conversation when I walked into Miami that first day [Aug. 11, 2008] after getting signed," Pennington recalled Sunday afternoon, still processing the stunning news of Sparano's death. "I go into Tony's office, and he peers at me over the top of those glasses and he says, 'Glad to have you here.' He told me the culture he wanted to build there and said to me: 'I need you to help us establish it.' I always appreciated his honesty. That's the only way he knew to be. Candid. Players loved that. And they loved that they knew with Tony, they were always going to be well-prepared."
Pretty tough task. New coach, 1-15 team, quarterback walking in a month before the opener, totally negative air around the team. Then, a shocking four months.
That 11-5 season is the only year in the last 15 that the New England Patriots did not win the AFC East.
That 11-5 season signifies the only time in NFL history a coach led his team to the playoffs after the team won zero games or one game the previous year.
"That was such a great example of what a human game football is," Pennington said. "You had a bunch of guys on that team everyone gave up on, feeling rejected. Maybe the head coach had a litte of that in him too. Then we went out and played, and it was a perfect storm of synergy, imagination and work ethic."
That was the famous "Wildcat" season, when Sparano and his staff, in a moribund 0-2 hole, invented a new offensive wrinkle before a trip to AFC champ New England in Week 3. "We couldn't make six inches in the running game," Pennington remembercd. "Tony got up in front of the staff and said, 'Hey, bring me your ideas—whatever you got.'" That's when quarterback coach David Lee proposed something he'd used in college at Arkansas, with the running back lining up as the quarterback and the quarterback flanked out like a slot receiver. Sparano liked it, and they started using Ronnie Brown as the wildcat quarterback in practice Wednesday.
But it was not a lovely week. At all.
The offense looked so bad at practice that Sparano—whose NFL mentor was Bill Parcells—pulled a Parcells on Wednesday. He kicked the offense off the field at practice. And Pennington went nuts, angry at the stunt and at everybody for their performance. He apologized to the team after practice, but, knowing Sparano would appreciate this screed, said words to this effect in front of the team: "I am so tired of going to New England, year after year, and everyone always plays them so tight and nervous, like they're the King Kongs of football! Let's go up there and believe!"
The next morning, Sparano stood in front of the team and said, "Chad's right!" Two good days of practice capped the week, and the Dolphins went to Foxboro and stunned the Patriots 38-13. The worst running game in football Wildcat-ran its way to 216 yards against the defense of the mighty Belichick.
"I played football for a while," said Pennington, "and that's the first and only time I saw a New England Patriots team have no answers on defense."
For Sparano, a guy who grew up in New England, who started his coaching career at the University of New Haven, who went on to coach at Boston University, that September afternoon in Foxboro had to have been a sweet day. I'm glad he got to have a few of those as head man before he died Sunday at his home in Minnesota.
After one of his last sweet days as head coach, with the Raiders against arch-rival Kansas City in 2014, he was filmed in the locker room after the game. He was emotional. He told his team to remember what this moment felt like. Tackle Donald Penn stepped up and said: "Hey! Hey! Tony been through a lot, man, fighting his butt off for us. I wanna give him a game ball.''
So glad the camera was rolling on this moment.
Long way from the University of New Haven. Good run, coach.
---
The Intriguing Teams
Five training camps with questions out the wazoo (what is a "wazoo," anyway?):
• SAN FRANCISCO. So many questions, with so much optimism. Is Jimmy Garoppolo really all that? Will Reuben Foster, starting the year with two-game behavioral suspension, realize he's at the biggest fork in the road of his life, and could be great or unemployed a year from now? Will GM John Lynch re-sign Eric Reid for nickels on the dollar? Is Kyle Shanahan the guru he looked like last September? Can this defensive line play like the highest-draft group in recent history? What does Richard Sherman have left? They've got enough issues for five teams.
• SEATTLE. I've said it pretty often: If I had a GM to hire to run my team, I'd pick John Schneider. He's got some issues. He needs to solve the Earl Thomas problem first. Thomas is the quarterback of the defense and will be considered for the Hall of Fame one day. But he's 29, he's missed seven games in the last two years to injury after missing none in his first six years, and Schneider knows when you pay vets for what they've done rather than what they will do it's usually a big mistake. And there's the matter of the Rams and 49ers. Both look like they're Ferraris, going 85 in the left lane, passing the Seahawks. Big summer in Seattle.
• BUFFALO. Talk about major surgery on a playoff team. What team is changing more on offense than this one? The Bills have a new offensive coordinator (Brian Daboll, who was on Nick Saban's staff last year), new quarterback (A.J. McCarron or Josh Allen), and, depending on the investigation into the LeSean McCoy story, maybe a new running back for at least part of the season. More: They have to replace 60 percent of their offensive line and center Eric Wood and guard Richie Incognito are major pieces to replace. So how was your offseason, Sean McDermott?
• KANSAS CITY. In consecutive offseasons, Andy Reid has lost two high-powered offensive minds, Doug Pederson and Matt Nagy, from his offensive staff; a rising group of NFL player alums (offensive coordinator Eric Bienemy, receivers coach Greg Lewis and quarterbacks coach Mike Kafka) are key to keeping the Chiefs on track. Bold move in the off-season, trading the proficient but with-a-ceiling Alex Smith and handing the keys to the offense to strong-armed Pat Mahomes. It'll be interesting to see how the Chiefs try to keep new wideout toy Sammy Watkins—on his third team at 24—healthy into the season. That's always been Watkins' issue, and now it's a $16-million-a-year issue. Big year for Reid and the Chiefs after another crushing playoff upset seven months ago, and after losing the trusted Nagy.
• BALTIMORE. John Harbaugh first five regular seasons: 54-26, five playoff appearances. John Harbaugh last five regular seasons: 40-40, one playoff appearance. So here comes pressure, on both Harbaugh and quarterback Joe Flacco, who's also on the hot seat with the (forced?) drafting of Lamar Jackson in April. I think Flacco's under a more intense glare, because Jackson surely will be put in some position to play somewhere this year, and he'll likely succeed, and the most popular guy on a mediocre team is often the backup quarterback. But I would expect this to be an intense camp with the most important foundation people (Harbaugh, Flacco, Terrell Suggs) understanding the sense of urgency.
A new section of the column, in which an NFL person writes about life, football and lessons learned.
In 2004, nine-time Pro Bowl linebacker Harry Carson, after being bypassed for enshrinement eight times, asked the Pro Football Hall of Fame to take his name off the ballot. The Hall did not, and two years later, Carson was elected and chose to be an active participant in the ceremonies. I wanted to know his feeling on Terrell Owens choosing not to be involved this year.
Harry Carson, on anger, ambivalence and lessons about the Hall of Fame.
I don't know why Terrell Owens has chosen not to go to Canton this year. But I fully support his right to do whatever he wants to. It's his life.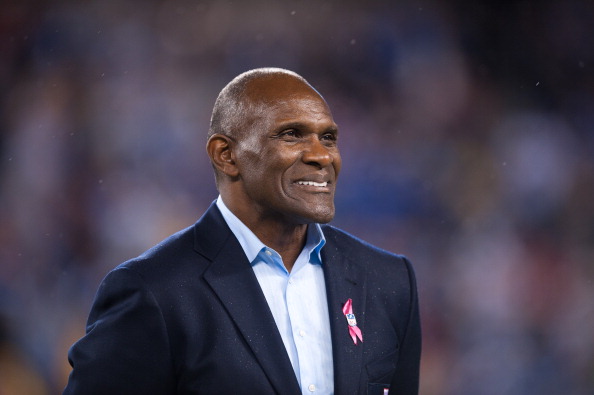 After I retired and I was up for the Hall and I didn't get in for a few years, I would get introduced at banquets and other events. I remember standing up at the Waldorf Astoria in New York at a function, and they said, "A nine-time pro bowl player … who SHOULD be in the Hall of Fame, Harry Carson." That happened a lot. It got to the point where I was moving on with my life and I was having to console the people around me. I was never really angry about it, but I saw it affected my family. Every year I was drawn back into it, and it was a game I couldn't win. I had no more stats to put up. So [in 2004] I wrote to the Hall and said, "Please remove my name from consideration for the Hall of Fame in the future." I wasn't angry. I just wanted it over.
So when I made it in 2006, I felt I had divorced myself from this, and I had no intention of being involved in the ceremony. But my fiancé—now my wife—said to me, "It's not about you. It's about your family. It's about Mr. Mara." The Giants' owner, Wellington Mara, had been a staunch advocate. She was right. I relented.
I am glad I did. What I learned is it is about your family, your coaches, your teachers. When you get to Canton, no one wants to hear about how great you think you were. They want to hear: "Thank you mom, thank you dad, thank you teachers, thank you coaches, thank you teammates." For me, it was about people like Dorothy Jo McDuffie, a teacher of mine in high school in Florence, S.C. I had quit my high school team late in my senior year in 1971. She packed up in the car, took me to South Carolina State, and I met the head coach and the defensive coordinator, and they gave me a scholarship.
What would have happened to me without Dorothy Jo McDuffie? I don't know, but I do know she was a big part of my journey. Those are the people the Hall of Fame, and the ceremony, are all about.
Last month, we had a reunion of the guys I played high school football with. We reminisced, we talked about everything—running sprints with your teammates, playing for your teammates. That's football. And when I look back, I think I was representing those guys when I played in the NFL, and when I went to the Hall of Fame. I have a bust, but that bust belongs to all of them. I have a Hall of Fame ring, but that ring belongs to all of them. When I stopped on the field—and now that I'm in the Hall—they all have a piece of that.
So with T.O., I'm not going to judge him. Maybe there's some reason we don't know for him not going. When I see him, I'm going to congratulate him. I just know that for me, the right thing was going and having so many of the people who were part of that honor be a part of it.
I
"He has no understanding of why they take a knee or why they're protesting."
—Giants co-owner Steve Tisch, on Donald Trump, to the Hollywood Reporter.
II
"I fear that the game will get pushed so far to one extreme that you won't recognize the game 10 years from now. And I do believe, if it gets to that point, that our country goes down too."
—University of North Carolina football coach Larry Fedora, at an Atlantic Coast Conference media event.
I'm all for the boo-yahs about the lessons young men can learn from the work and the sacrifice and the team ethos of playing football. But whatever is said in this sport for the rest of the 2018, comparing the possible decline of football to the decline of the country will win Hyperbole of the Year.
III
"I think he's done. I think teams have said … He's the example. He's the guy with the big Afro who symbolizes a gesture that rankled and drove the NFL kind of crazy about what to do. I think he will no longer play in the NFL."
—Steve Wyche of NFL.com and NFL Network, on the NFL future of Colin Kaepernick, on my podcast this week.
Kaepernick, 30, last played an NFL game on New Year's Day 2017. He lost to Seattle 25-23, compiling a 122.3 passer rating that day in Santa Clara.
IV
"All these stories that come out of all this friction and stuff, I honestly believe it is made up. I came in there looking … They have trouble just like everyone else, right? I get in there and see nothing. They were interacting. They were talking. I don't see any friction."
—Short-time Patriot James Harrison, on the reported problems between Bill Belichick and Tom Brady last season, to FS1 via WEEI and Pro Football Talk.
V
"I'm always talking. I'm talking to [third baseman] Jose Ramirez, but sometimes he ignores me so I talk to myself."
—Cleveland shortstop Francisco Lindor, wearing a microphone for FOX, having the time of his life in the middle of the baseball All-Star Game Tuesday night in Washington.
Did Someone Say Parity?
Check out the last 15 seasons in two NFL divisions. The NFC South defines parity in the last decade and a half; the AFC East laughs at it.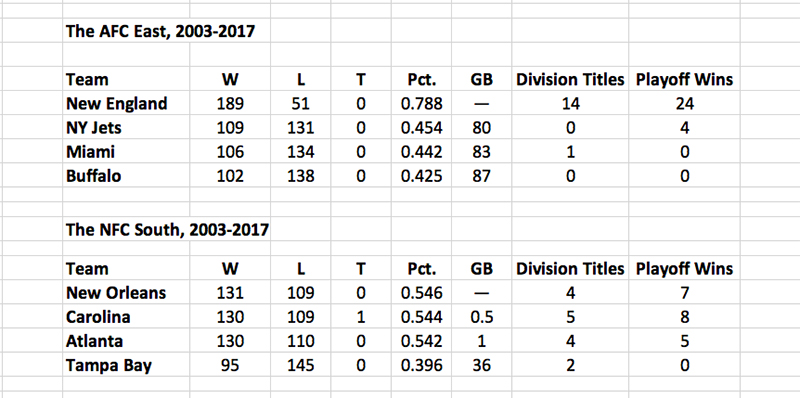 Observations:
Mathematically, one team in the next five years could catch the Patriots in the AFC East composite standings: the Jets. For the Jets to do that over the next five years, New York would have to go 80-0 and the New England 0-80.
Imagine, when the NFL was re-aligning its divisions from six to eight in 2002, that the league did the smart and geographically sane thing and put Miami in the AFC South and Indianapolis in the AFC East with Buffalo, New England and the Jets. First, there would have been eight more years of twice-a-year Tom Brady-Peyton Manning showdowns (not including 2008 and 2011 when Brady and Manning were hurt). Second, the Patriots would have had a legitimate foil with the Colts. They are 152-88 in regular-season games since 2003, and though obviously that record wouldn't be the same playing New England twice a year, it'd be darn close because the Jets and Bills would have been on the schedule twice a year.
NFL history would have been much better off—for competition's sake, not for dynasty's sake—with the Colts in the East.
I
Including the Class of 2018, there are 318 members of the Pro Football Hall of Fame. Of those 318, 235 were not elected on the first ballot. Which means Terrell Owens is in good company: 73.9 percent of all Pro Football Hall of Famers were not elected in their first year of eligibility. Those include:
Al Davis (seventh year).
Night Train Lane (fourth year).
Ozzie Newsome (third year).
Alan Page (second year).
Bill Walsh (second year).
Mike Ditka (second year).
I found it interesting, looking back at Hall records … When Fran Tarkenton retired from football in 1978, he'd thrown for 47,003 yards, the most in NFL history by more than 6,000 yards. He was up for Hall enshrinement in 1984 and didn't make it. Didn't make it in 1985. Did make it in 1986.
Third year of eligibility—as with Owens—for the quarterback who threw for more yards and more touchdowns than anyone in the first 70 years of NFL history.
II
The last football game for both Andrew Luck and Colin Kaepernick was New Year's Day 2017. That is 569 days ago.
III
I have Keith Hernandez on my podcast (the aptly named "The Peter King Podcast") this week. I talked to the 1979 National League co-MVP—and guest star of "Seinfeld" episodes 34 and 35—after reading his really interesting and revealing memoir, "I Am Keith Hernandez."
Most amazing thing he told me: He never had seen "Seinfeld," nor had ever heard of "Seinfeld," when asked to be a guest on the show as Elaine Benes' boyfriend in season three, 1991. He said baseball players play baseball in prime time and thus didn't watch much prime-time television. He did the show because he was offered $15,000 to do it, and his baseball career was over, and it was easy money.
IV
The Red Sox last won 100 games in a season in 1946.
If Boston goes 30-31 the rest of the season, the Sox would be 100-62 in 2018.
With the help of Pro Football Focus, my weekly attempt at making me (and you, I hope) smarter about football.
The Steelers and star running back Le'Veon Bell couldn't reach a long-term contract agreement last week, and so he'll play this season (presumably, unless he holds out), for one year and $14.544-million. ESPN's Adam Schefter reported Bell turned down a multi-year deal without detailed figures, but said Bell would average $15 million a year in the 2018, 2019 and 2020 seasons—his sixth, seventh and eighth years in NFL, prime-time for running backs. Now, if he does not re-sign with the Steelers after this season, Bell would hit the free-agent market next March in time for his seventh season, at age 27.
Pro Football Focus mined WAR data (Wins Above Replacement) for me to determine whether Bell did the right thing in turning down a long-term deal—keeping in mind that the guarantees in the contract offer are still cloudy. But assume for the sake of argument that Bell could have made $45 million over the next three years. Did he do right by turning down this deal and being free next March?
I thought it would be smart to judge this by three factors—average pay, availability, and worth to team.
• Money. The running back market has collapsed. Consider that the highest-paid back in football, per total contract, is Devonta Freeman of Atlanta, and he averages only $8.25 million per year. So Bell would be king of the market with a long-term deal averaging $15 million. It's not his fault that the market got so depressed. But an event in 2015 shows why the Steelers took such a relatively hard line in negotiations. Carolina shed running back DeAngelo Williams after the 2014 season, and the Steelers signed him, at 32, to back up Bell. Williams had to play much of that season because of Bell's substance-abuse suspension and MCL tear, and Williams put up 1,274 yards from scrimmage—5.31 yards per touch. For his career, Bell, the most versatile back in football, has achieved 5.19 yards per touch. The Steelers wanted Bell long-term, but business is business. Backs can be found, and they didn't want to pay an 80 percent over-market premium for a back even as good as Bell.
• Availability. Bell has missed 18 of 80 regular-season games (22.5 percent) as a pro, either to suspension or injury. That's more than one season missed out of five.
• WAR, or wins above replacement. PFF is using this previously noted baseball stat to judge value of player and position. How many wins is Bell responsible for, compared to the back behind him on the roster? (In 2018, it's likely to be James Conner.) In the PFF metrics, which isolates on things like yards per route run, wide receiver Antonio Brown was judged to be worth 2.22 wins over his projected replacement in 2013; Bell was judged to have a WAR of 0.48 that year. Big edge, Brown. Comparing the two Steeler mega-stars who do not play quarterback illustrates one of the core tenets of PFF research: quarterback, wide receiver and cornerback are more valuable to a team's won-loss record than running back. And performance of the offensive line—PFF judges offensive lines, logically, to be a major factor in rushing efficiency—also helped Bell. Brown is going to average more yards per target than a running back—9.49 yards produced per targeted throw in his career, compared to 6.97 yards per target for Bell. It all goes into the mix. Here is their tale of the tape with respect to wins above replacement since they've played in tandem in Pittsburgh: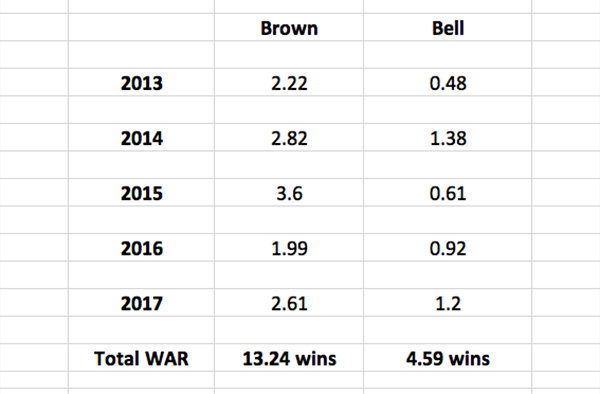 If I had to pick one back in football to have for the next three years, I'd choose either Bell or Alvin Kamara; they can do the most. I'm torn about whether a healthy Bell, post-2018, will do better in free agency than he would by taking the Steelers' deal. But I can't blame the Steelers for not over-extending to do the deal. Blame the position.
For more smart takes on football analytics, consider a PFF Elite subscription, which gives you access to team and player-performance metrics the pros use.
I had a 20-hour stop in Alabama on Friday, and learned the following things there:
• Julio Jones has a KIA dealership.
• Nick Saban has a Mercedes dealership.
• Birmingham has a really nice ballpark for the Double-A Barons, with an even nicer brewhall across the street operated by Good People Brewing. Comfortable, welcoming place, and a good respite from the July heat. I wrote in Good People for a while Friday evening and then watched four innings of the game. This fellow with the Forrest Gump Alabama jersey seemed to be enjoying the evening.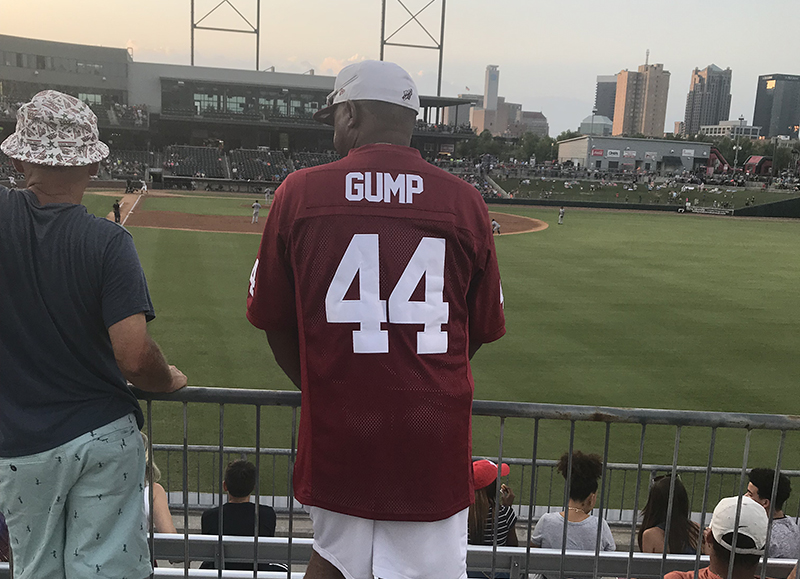 • Richie Petitbon, the grandson of the former Washington defensive coordinator and head coach of the same name, is a backup guard for the Crimson Tide.
• It took 26 minutes and 44 seconds to fly from Atlanta to Birmingham on the connecting flight from New York. That brings to mind one of my favorite Bob Costas stories ever. Early in his career, Costas was doing American Basketball Association play-by-play of St. Louis Spirits games. There was a wild player for St. Louis named Marvin "Bad News" Barnes. As Costas once told me, Marvin was skeptical of one of the flights that year, a short hop from Louisville to St. Louis. "Marvin looked at his itinerary," Costas said, "and it said the TWA flight departs Louisville 8 a.m., and arrives in St. Louis at 7:57. Marvin said to me, 'I don't know about you, but I ain't boarding no time machine.' He didn't understand time zones. He thought he was going back in time." That's why it's fun to hang with Costas. He's got a few of those stories.
I
II
III
IV
Mail call. I'll be answering your email every week in the column. When the season starts, I'll try to answer the questions live, based mostly on Sunday happenings.
Goodell's anthem role. From Zachary K., of Minneapolis:"Does Roger Goodell have any responsibility to come up with a sensible anthem policy, or his job merely to represent the interests of the 32 collective owners? Still don't know why the NFL never issued the following statement: 'We're grateful to operate in a country in which it's not illegal to peacefully protest.'"
Good point, Zachary. My experience covering Goodell in his 12 years as commissioner is he usually knows the way he wants the owners to vote on issues like this, and he'll direct an open discussion among them in hopes of reaching the place he thinks is ideal. Goodell in May wanted to find a way to make this anthem issue go away. The owners did too. The best compromise, they thought, would be to give the locker-room option to any player who felt uncomfortable standing for the anthem. I think the reason why they didn't issue the common-sense statement you referenced is that too many fans and season-ticket-holders and advertisers would have said, as many already have, "I'm done with the NFL." It is very hot-button, obviously.
What's in a name? From Andy M., of Canada: "Great to read your column again. I did find the new column name disturbing. Given the NFL's active global outreach and how often international fans wrote to you at MMQB, "Football Morning in AMERICA" with America the largest word in the logo, does feel like your new boss decided to come down on the side of the conservative football fan, disturbed by this modern world. Sounds really nativist, and, given the current climate, a tad disturbing to this Canadian reader. Can't imagine it was your choice— too bad you didn't have the power (or will?) to veto it. Best to you."
I never thought of it that way, Andy. Maybe I should have. I couldn't take MMQB with me, so we had to think of another name. Around and around we went for a couple of weeks, and we decided to go away from the "Monday Morning" thing and start something new. We couldn't find one, after two or three weeks, that we all liked. My wife actually thought of "Football Morning in America," playing off the "Football Night in America" game-night name on NBC. I liked it, as did NBC, and so that was that. I don't view it as a very big deal, but I do respect your opinion on it. Thanks for writing.
The modified kickoff rule. From Chuck P.: "Where is this empirical data that the NFL states that kickoffs are more dangerous than other plays? As a viewer and at games, I have seen more injuries when the player over plays the field and hits the smooth concrete on the sidelines. Randall Gay in New Orleans for one and Reggie Bush [in St. Louis] are examples. I personally don't like the NFL eliminating the kickoff. When they start down this road it's the beginning of the end. They killed the golden goose. Soccer here we come."
With due respect, Chuck, the snowballing of rules changes might make some walk away from the game, but one rule, on a dangerous play, certainly should not. Last spring, the Competition Committee reported that there had been 281 documented concussions during the 2017 season, the highest in at least six years. Packers president Mark Murphy said a player was five times more likely to suffer a concussion on a kickoff play than on a play from scrimmage. I have said this many times in recent months, but the future of the game is at stake, Chuck. The league's trying to do whatever it can (and it can't totally safety-ize the game) to make sure parents feel at least okay about sending their children out to play this game.
10 Things I Think I Think
50
1. I think I was going to write longer about the NFL-NFL Players Association meetings over the national anthem issue, but then I thought: Why? As Mike Florio astutely pointed out Sunday, there's no logical end in sight, perhaps for years, regardless how much the two sides talk. The players, at least those key to the union arguments, don't want a rule about what they should do during the anthem. The owners, the vast majority of them, want a rule about what players should do during the anthem. It's good that they're talking, of course, but what possible resolution could there be? I think the NFL blew it last year when the league handed the Players Coalition $90 million over seven years to address social-justice causes … and put no strings on the money. A grand and good gesture. But the NFL was clearly making that gesture mostly to throw an olive branch to the players and to say, We hope you look at this as a gesture of good faith by us. Now please line up at attention for the anthem. But they didn't say that. And the Players Coalition doesn't represent all players. Safety Eric Reid, for one, is not on that team, and he has a lot of empathy from non-Players Coalition men because of his ties to Colin Kaepernick.
If I'd been Roger Goodell last year, I'd have asked this question to the players and to NFLPA executive director De Smith: "Can we find a way through some bargaining to have all players stand for the anthem, the way they do in the NBA?" But the atmosphere with the union is so toxic that it's hard to envision Smith and Goodell and their sides making a deal. One plus: It is encouraging that, while on vacation this summer, Goodell (in Maine) and Smith (in Italy) did speak more than once about the issue. And when Smith returned over a week ago, he and Goodell spoke regularly about the anthem. So that's something—but I doubt it's enough.
And I haven't even mentioned the fact that as long as the issue is out there, the president is going to use it NOT to try to find a solution, but rather to badger players who would even consider not standing at attention as anti-American. This thing's not going away.
2. I think I consider TMZ's Jimmy Garoppolo-dates-adult-film-star story—to me, anyway—to be a who-but-Barstool-really-cares story. It's fun, sure, in a dog-whistling kind of way. But meh. In the Bobby Layne days, or in the Joe Namath days, no one would have heard about a quiet date between an NFL quarterback with seven career starts and a porn star. To me, quiet dates should be quiet stories.
3. I think I've got some thoughts on the debate over Mike Trout not being public enough and not doing enough commercials and, according to commissioner Rob Manfred, not being willing to do more in the public eye to be the face of baseball:
• Manfred's comments got me to think about why football and basketball are ahead of baseball in the image/promotional/commercial area. I forget what day it was this year, but it came after a Red Sox-Yankees game, and I was driving somewhere the next morning and had the Golic/Wingo ESPN show on the radio. I heard, between phone calls, maybe two-and-a-half hours of the show that morning, and they never had a segment about baseball. Which is fine … That's just the reality of a national radio program—baseball doesn't sell. The NFL and the NBA sell. How do you sell baseball? Complicated question, but part of it is making people care about the players. Aaron Judge seems like a cool guy. He had a great extended segment with Conan O'Brien recently.
• Trout plays for a terminally mediocre team. LeBron James has been to the championship series eight years in a row. Mike Trout has made the playoffs once in his eight years. No one cares about .500 baseball teams.
• I had a friend ask me the other day: "What active baseball player walking through an airport would be the most recognizable to the most Americans right now?" I had to think about it. Then he sent me this photo.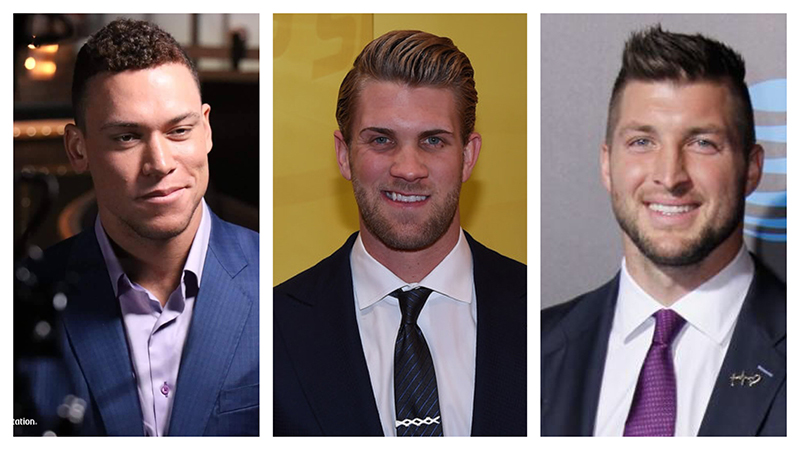 • Left to right: Aaron Judge, Bryce Harper, Tim Tebow.
• Maybe that's why the New York Mets, to spice up some meaningless September baseball game, could promote Double-A All-Star outfielder Tim Tebow to the bigs. Now that would be a good talking point on ESPN.
• The more baseball can wire players for sound, the better. FOX has done a good, aggressive job with this. But the fact is, we don't really know the stars in baseball the way we know them in other sports. It's not close. We hear from the best players in football and basketball a lot. I follow the Red Sox closely, and I bet I've heard five interviews, ever, with Mookie Betts. I'm not sure if I heard his voice without seeing him that I'd know it was him. And this is the guy who's had two insane seasons (well, including 2018) among his last three.
• The NFL, maybe two generations ago, decided it wanted to have a Hot Stove League, and so started making the draft and off-season workouts and, later, free agency very big deals. Why can't MLB put cameras in off-season places, and give access to reporters who want to tell the inside you-are-there stories about big off-season signings, and why can't MLB make the June draft a bigger deal? We haven't even talked about the game itself, but my only advice is something baseball is already doing: Make the game faster, and fight those who would want to keep it a slower game. I am fine with a 3.5-hour game, but the future is not about 61-year-old people.
4. I think this is no reflection on how good Greg Papa was as the Raiders' radio voice. But man, it's going to be great to hear Brent Musburger back doing football. I hope his first words in the Raiders' first game in Oakland are: "You are lookin' LIVE at the Black Hole." (Musburger got the Raiders' radio job the other day, and it obviously doesn't hurt that he's a big Vegas guy and will be a factor in smoothing the way for the Raiders into that city.)
5. I think 44-year-old Terrell Owens passing through waivers in the CFL and becoming a free agent is about as significant as Darrelle Revis announcing his retirement. Like, it's over.
6. I think we all love to point out the ridiculous money Darrelle Revis was smart (and good) enough to make in his 11 NFL seasons—$121 million, approximately, much of it by being the ultimate non-quarterback leverage-user. But the number I think of is 38.7. When Revis was the most dominant defensive player in football, between 2009 and 2011, quarterbacks threw 253 passes against him, per Pro Football Focus, and completed that measly percentage, and had just six touchdowns. I'm just amazed in this day and age, when there are so many ways to get great receivers open—rub routes, confusing crossing routes—that a player can play more than 2,800 snaps over three straight seasons and hurt his team so little. Revis' legacy should be this: He did a good job getting rich; he did a better job, among the best ever, at being a classic shutdown corner.
7. I think this tells how strong that 38.7-percent passing accuracy throwing at Revis over three years is: In the last three years, the top-rated PFF corners in football were Tyrann Mathieu (2015), Brent Grimes (2016) and Casey Hayward (2017). Completion percentages against them in those three seasons: 54.9, 60.7 and 42.7.
8. I think one NFL-related crime case—involving multiple rape charges against the sixth pick in the 2004 draft, Kellen Winslow II—brings to mind a decision the old Cleveland Browns ownership and former regime made 10 years ago. Winslow had an issue with veteran director of communications Amy Palcic doing her job, and the tension between them caused the Browns to side with Winslow and to try to move Palcic into a sideways job in corporate team PR. Palcic wanted to keep her football job, and she ended up quitting. Houston owner Bob McNair hired her to run his football communications department in 2016. In 2017, the Palcic-led Texans media relations staff was named the co-winner of best media staff in football by the pro football writers. She remains the only woman in charge of an NFL media-relations staff. Meanwhile, a California judge ruled this month that there was enough evidence for Winslow to stand trial on two counts of rape, two counts of kidnapping with intent to commit rape and one count of forcible sodomy. Earlier this month, Winslow was charged with a third rape. The charges come in cases with victims ranging in age from teen to senior citizen. It's truly a haunting and horrible bunch of charges. We'll see what happens in court. But I was around Cleveland a lot during the Winslow-Palcic conflict, and I can tell you she was the party treated unfairly there. The Texans have been the beneficiaries.
9. I think this quote from 1984, from a Dallas Cowboys ownership candidate who passed on purchasing the team for $50 million, is gold (as unearthed by Darren Rovell): "I feel sorry for the poor guy who is going to buy the Dallas Cowboys. It's a no-win situation for him because if he wins, well, so what, they've won through the years. And if he loses, which seems likely because they're having troubles, he'll be known to the world as a loser." Quite a seer, that Donald Trump. The Cowboys have increased in value by 96-fold in the 34 years since. Forbes now values the Cowboys as the most valuable sports franchise in the world, at $4.8 billion.
10. I think these are my other thoughts this week:
a. The FOX wirings at the All-Star Game (mostly very cool) revealed one thing to me: Francisco Lindor really loves playing baseball.
b. Jean Segura, not Alex Bregman, should have been All Star Game MVP.
c. Ten of 18 pitchers in the game threw at least one pitch over 98 mph. No wonder this is a strikeout-or-home-run game right now.
d. Journalism Story of the Week: "We go to press in half an hour, you bet your sweet life!" On the love of journalism, and the meaning of the local paper to a town. So touching, by Amelia Nierenberg of the Boston Globe.
e. Transportation Story of the Week: From Thomas Curwen of the Los Angeles Times, on Highway 1 on the California coast re-opening last week in an area that got 83 inches of rain last year. A marvel of persistence.
f. Americana Story of the Week: Target gives teachers who have to resort to buying their own classroom supplies in-store discounts on those supplies, from Alex Horton of the Washington Post.
g. On the one hand, great job by Target. On the other hand, it's obviously awful that teachers have to buy school supplies with their own money. The horrible salaries paid to so many public school teachers in this country needs to be addressed. The Post reported a Tulsa teacher (who spent $2,000 out of pocket and has a $35,000 annual salary) resorted to panhandling near a highway last summer to raise money for her classroom supplies.
h. In the past, I've had campaigns through this column to help important causes. In 2010, readers to my column, plus the band "Five For Fighting," combined to raise more than $200,000 for recreation facilities for American troops at improvised bases with nothing but tents and food. With the school year two to six weeks away across the country, I'm open to ideas, and to your thoughts about how we might impact teachers in one or more communities. Should we help one very needy community? Should we adopt one very needy school? Several? Or maybe there's a better way to help. Please send your ideas to me this week at peterkingfmia@gmail.com
i. I'll sift through the ideas and decide if we can do something. I hope we can—maybe through a GoFundMe campaign. You have always been a tremendously generous group as my readers, and maybe there is something we can do to help teachers. Thanks a lot.
j. Heck of a job with your ESPY's speech, Jim Kelly. Terrific and brave. You too, Ally Raisman. And good for ESPN to have the Larry Nassar victims, collectively, as the Arthur Ashe winner.
k. RIP, Ernie Palladino, an inquisitive, gutsy (he once stood up to Lawrence Taylor, and Taylor grabbed him by the throat in response) Giants beat reporter for so many years. Such a good and earnest and honorable man.
l. Tremendous Robin Williams documentary by HBO. It was so deep into his brain (a very complicated and super-intelligent place), and so emotional (his son on camera is gripping at the end), with so many people so affected by his death. Pam Dawber ("Mindy" of "Mork and Mindy") is so wonderful reflecting on her good friend. All this great doc content, and I find myself remembering one thing vividly from it: Williams, as Elmer Fudd, singing a Springsteen song. Robin Williams was a genius.
m. Many of you know I lean left. But this story has absolutely nothing to do with politics. It is a reasoned look at the Russian influence on our electoral process, and why our administration is not taking it as more of a crisis. All I am asking is this: Why is this thing that I think about waking up every morning not generating alarm bells as loud at 1600 Pennsylvania Avenue?
n. Weird time in our country. Most polarized time in our country since Watergate, and maybe before that. But this is not something we should ascribe to partisanship. Every American should care about this deeply.
o. End of mild screed.
p. Coffeenerdness: Last week I celebrated Dark Horse, in Truckee, Calif., and today you should know about another Truckee stop: Zuri Coffee, with friendly counter people, excellent sandwiches, and very good (if a tad milder) espresso. I must emphasize the neighborliness of the place. Sort of the Cheers of Truckee.
q. Beernerdness: Really good beer at the Birmingham ballpark Friday night: Red Hills Brewing (Birmingham, Ala.) Homewood Hefe, heavy on the cloves and vanilla, but not at all overpowering. Easy to drink, excellent in the heat and humidity of a southern ballpark in the dog days. Excellent beer scene in Birmingham, from the looks of it.
r. I am going to need Woj or someone to explain this to me: In the NBA, it's like unless you play for the Lakers or Warriors, you're on the JV. Kawhi Leonard only wants to play for the Lakers and is traded to Toronto, and he's balking at going. Somebody'sgot to play for all the great unwashed teams in the NBA. Everybody can't be LeBron's teammate, or Steph's.
s. Something else from my vast storehouse of basketball knowledge: Maybe Carmelo Anthony just isn't any good anymore.
t. Manny Machado leaving Baltimore is the definitive sign the Orioles have joined the Rays in have-not-land in the AL East. But to be as competitive as the Rays, Baltimore's going to have to draft a lot better than it has.
u. Love Cleveland getting Brad Hand as closer through 2020, even though a bright-prospect catcher was the price. I'll trade a possible star for a proven piece at a huge-need position any day, a la Yoan Moncada (plus Michael Kopech)-for-Chris Sale. Who knows where that ends up, but aces are irreplaceable.
v. It's almost August, and not a sign of Jacoby Ellsbury. A shame, and I do not say that with any sarcasm. Since opening day 2015, some 3.5 Yankee seasons, he's produced 23 homers and 128 RBI … and he hasn't played a game this year. What a player he once was, briefly.
w. Is Yoenis Cespedes a ballplayer or a piece of fine china?
x. Obit of the Week: So sad to report the death, at 57, of legendary Pulitzer-winning Los Angeles Times food critic Jonathan Gold. He died of pancreatic cancer. This was Gold, in a nutshell, a man living in one of the most diverse cities in history, and trying to make it understandable and enjoyable on at least one level, via this obit: "I am trying to democratize food and trying to get people to live in the entire city of Los Angeles," he once told Vice. "I'm trying to get people to be less afraid of their neighbors."
y. Gold was the subject of a positively superb documentary, "City of Gold," in part because he respected every culture and its food. More from the Times obit, in this vein, from a 2008 review of a restaurant called Mayura, serving Indian food, but not just any Indian food: "Mayura specializes in the cooking of Kerala, the strip of southern India that touches the Arabian Sea, a cosmopolitan region, shaped by a thousand years of spice trading, whose food is influenced by Nayar Hindus, Muslims, Syrian Christians and even an ancient community of Jews."
z. My travels this week: Thursday, Owings Mills, Md. (Ravens); Friday, Florham Park, N.J. (Jets); Saturday, Philadelphia (Eagles); Sunday, Latrobe, Pa. (Steelers). Then, it's off for a stretch that will try a few road-weary NBC souls. More next week.
A new section of the column (thanks for the idea, Mike Tirico) highlighting the significant events—ones we can see in advance, anyway—coming during the next week.
Notable events in the next seven days:
• Wednesday … Chicago. Oh, they'll remember Walter Payton's birthday in Chicago. He would have been 64 on this day. Amazing that he's been gone 19 years now; Payton died of liver disease in 1999. Number of 1,200-yard rushing seasons, career: Payton, 10; all-time rushing leader Emmitt Smith, nine.
• Thursday … Westfield, Ind. Lots of new for the Colts, as they open training camp at 1:30 p.m. ET. The coach, Frank Reich, is new. The camp site, Grand Park Sports Campus, is new, and closer to Indy (20 miles away) than the former camp at Anderson University. The most important piece of business this week for the Colts, though, has some old to it: Andrew Luck will try to practice football at full speed for the first time in almost 20 months. He's recovering from surgery to his throwing shoulder, which hasn't been right since 2015.
• Thursday … Spartanburg, S.C. End of an era. A quarter-century ago, Jerry Richardson was handed the keys to a franchise for the Carolinas. Now, after Sports Illustrated/#MeToo journalism helped bring Richardson down, new owner and financier David Tepper (net worth $11 billion, per Forbes) likely will be on the field at sleepy Wofford College as the Panthers kick off camp with a 6:30 p.m. practice. Yes, there's a Richardson statue at Wofford too.
• Friday … Napa, Calif. The Raiders open camp with a 9:15 a.m. PT practice, and Jon Gruden will run his first real football practice in almost a decade. Interesting. The last time Gruden coached the Raiders in camp, 2001, most camp practices were closed. Now they're all open, with campy fans often going batcrap for the slightest good play. It'll be interesting to see if Gruden plays to them. My guess is he will, often.
• Sunday … Latrobe, Pa. For the gazillionth straight year, I attend Steelers camp in the rolling hills of west-central Pennsylvania. I've seen the fog kiss the grass on dew-heavy early mornings, I've seen the monks of St. Vincent watch in the heavy brown robes on the sidelines, I've seen—at dusk—Joe Greene sitting alone on Chuck Noll Field, smoking a long cigar; just thinking. You like football? This place, which geographically could be in Scotland, must be on your bucket list.
The training camp trip:
It's the most wonderful time
of the friggin' year.