Getty Images
PHILADELPHIA — Mantra around Eagles camp: Thou shalt not predict the opening-night starting quarterback. Don't ask, because they won't tell—because, truthfully, they don't know if it'll be franchise quarterback Carson Wentz or Super Bowl MVP Nick Foles.
But I'll give you a couple of clues. Saturday was the first time in almost eight months, since he shredded left knee ligaments against the Rams in December, that Carson Wentz played or practiced football with pads on. Practice lasted 2 hours and 11 minutes; with stretching and pre- and post-practice work, Wentz was on the field for about 2 hours and 50 minutes.
Clue one: Minutes after taking the field, Wentz grabbed a football, ran left at three-quarters speed and, on the move, pirouetted on his left leg and fired a pass maybe 30 yards downfield.
Clue two: After being on the field for two-and-a-half hours and taking more reps than any of the other three quarterbacks in team drills, on a humid 81-degree morning with a hazy sun beating down, Wentz faced a rush from defensive linemen Michael Bennett and Josh Sweat. He nimbly hopped one way and then the other, evading the faux full-speed rush and tossing a short completion. Two minutes later, Wentz moved right in the pocket and fired deep down the right side, complete, to wideout Shelton Gibson.
Thirty-eight days till opening night. Coach Doug Pederson has said over and over again it'll be a doctor's decision when Wentz plays, and they certainly will not rush him back. But other than seeing Wentz lumber a bit going from drill to drill Saturday morning, he looked absolutely, totally like the Carson Wentz who made this Eagles-rabid place swoon for three months last year.
We met in the Eagles media relations office Saturday afternoon. Wentz had a Salute to Service sweatshirt on, with a North Dakota State football cap—he always reps his alma mater with great pride—and we made small talk for a minute about the Eagles rookie tight end, Dallas Goedert, from arch-rival South Dakota State. Wentz, who pushed hard for the Eagles to draft Goedert, hit him for one big gain in practice earlier, and that pleased him. He also floated a bad interception toward Goedert too.
But Wentz was subdued, and he didn't want to make too much of what must have been a pretty triumphant moment that morning: practicing in pads, looking nimble, stepping away from a couple of heavy rushes without flinching, and putting the kind of full-speed torque on his knee that the doctors need to see before giving him permission to play real football. The damage in his knee, more than a simple ACL tear, was diagnosed with a nine-to-12-month recovery time. Now, after seven-and-a-half months, he looked damn good.
"I feel good," he said. "I feel good. What my goal has been all along is to be ready Week 1. I can't say 100 percent that I'll be out there. But I do feel good where I'm at. At the end of the day, it's not gonna be my call. It's gonna be up to the doctors. But rehab's gone really well. I felt like I've been right on schedule and everything. I feel good with where I'm at. At this point I just go practice and do what I can and let the doctors make the calls."
Smart call. Sept. 6 is going to be out of his hands. But watching him … I mean, other than staying power and staying healthy, what does Wentz have left to prove after this spry practice in the Philly sauna?
The Difference in Eagles' Quest to Repeat
The training camp trail is always filled with interesting stories and news. In Baltimore, Joe Flacco, his job challenged, has been Superman early. Nothing ever goes smoothly for these Jets, so why should The Next Namath report to camp on time? The Steelers, victory metronomes even without Le'Veon Bell in camp, are vulnerable on defense but still look like the best team in the AFC North.
And what of the Eagles' chances to repeat? They are about as placid as any team can be after winning a Super Bowl. Nick Foles, Super Bowl MVP, has accepted his second-team status six months after beating the great Belichick in the biggest game of his life. No big contract holdouts. No really angry guys in camp. But something always comes up to derail the effort to repeat. Right?
That's true. It could certainly happen here, as lovely as the offseason has been. But there's one difference. That difference could be seen during Super Bowl week last year. While the healthy Eagles practiced at the University of Minnesota's football facility, the rehabbing Eagles who wouldn't play in the game played a game of their own. This is important.
In the Golden Gophers weight room, five wounded Eagles worked like they had a game that week. Together. There was Wentz, very early in his rehab from left ACL and LCL tears, with a hooded sweatshirt, working out. Left tackle Jason Peters (knee), special-teams captain Chris Maragos (knee), running back Darren Sproles (broken arm) and linebacker Jordan Hicks (Achilles). There was nothing to say about the incredibly mixed feelings they all had, happy for their friends to be in a Super Bowl but miserable that they couldn't play. All they could do is work.
"So when people ask me about the players' attitude coming back, and will they come back with that same hunger," coach Doug Pederson told me, "I tell them, oh, there's a hunger here. You got five huge guys on this team who missed the Super Bowl, watched the game, and they're dying to play in the game and win it this year. I've been ecstatic how our players have attacked the offseason."
It's not often a returning Super Bowl champ has that many key guys who didn't play in the Super Bowl. The MVP-candidate quarterback, the best offensive lineman, the special-teams captain, and a reliable linebacker and running back—every one respected as a team leader. Every one smiled and back-patted on Super Sunday, and looked happy in the parade four days later. But I asked Wentz about it, and he got fired up.
"We do have that extra motivation with those guys," Wentz said. "Especially, a lot of them being leaders on the team. Maragos being special teams captain. Hicks, a big part of the defense. So we have those guys, myself included, that have that extra motivation. But you look around the locker room, and I don't think complacency's ever been an issue. That's always what people want to talk about. Guys just wanna go do it again and keep getting better. That's the culture that the leaders built but starting first and foremost with the culture Doug's enacted ever since he got here."
Three other points:
• Pederson isn't convinced about Wentz—yet. He told me he saw "a little hesitation" in Wentz on Saturday, though overall Pederson was encouraged, particularly with Wentz taking such a heavy workload in practice. "I think that's natural. It's more about his head than his knee right now."
• The Eagles haven't been hit over the head with the Ben McAdoo quotes. The fired Giants coach told Paul Schwartz of the New York Post that he didn't know how well this young Eagles team would handle success. I asked Pederson what he said to the team about it. "Nothing," Pederson said. "I don't want to get in a pissing contest over that. Really, it means nothing."
• The Eagles never came close to trading Nick Foles. They never got the kind of offer that would make GM Howie Roseman stray from his belief that Foles, at two years and $11 million, was a terrific insurance policy for Wentz. The Eagles needed to cash in the policy last year, so why dump it this year? It's logical to think Foles will be the best vet quarterback on the free-agent market next March, and very likely will go nowhere before then. "First and foremost, Nick and I are friends, and we always will be, and that goes far beyond football," Wentz said. "He's a great guy. He's handling this well."
Finally: The players are seeing what even casual observers see. "Same ball he always throws," said tight end Zach Ertz about Wentz. "Looks like he's moving great. But there's no need to make a decision now. We don't play for 40 days."
And really, how bad would it be for the franchise, and for the Eagles' attempt to repeat, if the backup quarterback had to play—say, for the first month? With Foles on hand, not bad at all. Eagles' first four: Atlanta, at Tampa Bay, Indianapolis, at Tennessee. There's a good chance Nate Sudfeld, the Eagles' third-stringer, would at least split those four. So the Eagles can comfortably say they won't be pressured into starting Wentz. Good for them.
---
You Should Have Seen This Antonio Brown Scene
LATROBE, Pa. — Number 15 of the Steelers, a free-agent wide receiver, was finished with practice and his post-practice work Sunday evening around 6. He stood off to the side of the Antonio Brown show and watched. Brown first caught over 75 balls from the JUGS machine, cranked up to a high speed. Then Brown had fellow wideout JuJu Smith-Schuster drape himself all over him, with the JUGS machine cranking just as hard. Smith-Schuster would have been called for interference if refs had been on the scene. But there wasn't an official in sight. Just Brown working when most every other player on the roster was done. And showering.
Number 15 said: "He's a 99 in Madden—I mean, the top of his game. And look at this. He's working like he's trying to win a job. He does it every day. So you don't really wonder why he's so great."
Number 15 knows greatness. He grew up with it. Number 15 is Trey Griffey, also known as George Kenneth Griffey III … Ken Griffey Jr.'s son.
Ken Griffey always told his son he could play any sport he wanted, and Trey picked football, going to Arizona, never becoming the dominant player some thought he might. His pedigree landed him here, trying to make his mark on special teams and as a big receiver in a camp full of them. It's a long shot, with 11 receivers in camp.
Midway through practice Sunday, as the sun beat down on the prettiest training camp in football, there was a break. Santonio Holmes, who works as an alumni ambassador for the team now, and receivers coach Darryl Drake got Brown off to the sideline—but luckily for me, close enough so I could see and hear what they were doing. Holmes, the Steelers' star receiver before Brown, lined up across from Brown, put his left arm on Brown's shoulder, then powered past. Then Brown did it to Holmes, showing a strong and powerful brushoff of Holmes trying to stop him.
"You gotta have this in your arsenal," Drake sternly told Brown. "You gotta have it."
Afterward, I asked Holmes about working with Brown. He doesn't do it often, and was only here today because he'd worked at a Steeler women's football clinic Sunday morning. "I'm not a coach," he said. "Definitely not a coach."
"So what'd you tell Antonio?" I asked.
"There's not much you can tell a guy who's 9,000 yards into his career, eight seasons in, 59 touchdowns, 600, 700 catches," said Holmes. "But one of the things we worked on today is his shoulder placement, and his ability to get upfield without the defenders grabbing on his shoulder and pulling on him. You gotta work on those things to stay ahead."
"Working my craft," Brown told me. "You're never done. I work my body, my mind. It's all about making every catch."
Sunday seemed like family day at Steelers camp. Planes at the annual Westmoreland County Air Show, with jets taking off from Arnold Palmer Regional Airport across the street, buzzed the field for most of practice. Around 1, before practice, I ran into Ben Roethlisberger, who was on a far field above the normal camp fields. He had his family with him—wife, three young kids—and they sat on one of those green gator carts. "Gonna watch the air show before practice," Roethlisberger said. Brown had his young child crawling on him after practice, and other players had kids on the field too. It was surprisingly charming for a dog-day-of-late-July camp practice. The specter of a long Le'Veon Bell holdout seemed to hang over camp, but these players and coaches understand there's nothing they can do about it. They just practice and live their own lives.
I walked away from camp impressed with Brown's drive to get better. I'd written about this a couple of years ago and was curious if it still happens the same way. It does. Maybe even more physically now, with the banging and the tugging and interfering more pronounced.
Mike Tomlin sees it. He understands how big a motivator it is for 89 other players here. "It provides unbelievable clarity of what it takes to be great," Tomlin said. "The secret is, there's no secret. There's hard work."
Rumor has it that's not just a football lesson.
---
The Jets Don't Like Those Patriots Comparisons
FLORHAM PARK, N.J. — A thunderstorm forced the Jets into their indoor facility for the team's opening practice, and while I watched, I did some navel-gazing about where this team stands. This is not a play-deep-into-January team, as you know, nor is it a strong playoff contender. So what are these Jets? You may have seen the stat I used in this column last week, that over the past 15 years, the Patriots are 80 wins better than the Jets; for New York to catch New England by year 20 of this era, the Jets would have to go 80-0 and the Patriots 0-80. So there's Mount Patriot to climb here, and it is steep.
The one thing I noticed about the roster construction in GM Mike Maccagnan's four drafts and free agency: He likes picking players from big, winning college programs. He likes players with winning pedigrees. Consider his first three picks and where they came from, over the 2015 through 2018 drafts: USC, Ohio State, Louisville, Ohio State, Penn State, Georgia, LSU, Florida, Alabama, USC, Fort Hays State (defensive tackle Nathan Shepherd in round two this year), Miami. Eleven of 12, big-timers.
"Yes, yes, absolutely," said linebacker Darron Lee, one of the Ohio State guys on that list of 12. "We're coming from different college programs, but we all know what winning's like, and we know what it takes to win."
It's not just the pedigree. It's who these guys are. Spend a little time with safety Jamal Adams, and you see why the Jets used the sixth pick in 2017 on a safety. It wasn't the position Maccagnan picked. It was the position and person. When I asked Adams, part of 25 wins at LSU over three years, how hard it was to get used to losing at the pro level, this confident 23-year-old clearly bristled.
"Here's the way I look at it," Adams said. "I do not 'get used to losing.' I am a winner. I am a champion. That is how I live my life every day. No matter the circumstance, I am going to push other guys around me to get better. Keep stacking days. The wins will come."
Football's simplest credo is that that teams will struggle until they have good to very good quarterback play. Look at the 49ers last year—moribund till Jimmy Garoppolo stepped into the huddle with five games left, and—boom—5-0. For the Jets, that's why this camp and this season, the maturation of the still-missing Sam Darnold (whatever the reason for the holdout, in day four today, it's a stupid one) is the biggest story. Second: the continuation of the culture construction. Interesting to hear Adams and fellow young defensive keystone Darron Lee chafe at the still-chasing-New England talk. "We're never focused on New England," Adams said. "We're focused on how we can get better each and every day."
"Honestly," Lee said, "I don't even set them as the standard. There's more than one way to get there. They have their way to success. We want to have our version of it. We're distinct, different. We're not just doing things the quote-unquote Patriots Way. It's like what the Eagles said last year at the Super Bowl: The Patriots' standard isn't the only standard. There's more than one way to win, more than one way to build an organization."
(Yes, I found myself thinking: If you can't have Belichick and Brady for 18 prime seasons, you'd better find another way.)
With the bedrock guys Maccagnan is stocking here, it's vital that the Jets picked the right quarterback in Darnold. How odd it was on the first day of camp to see Josh McCown and Teddy Bridgewater as the only quarterbacks in camp. I've never seen a first day of camp, ever, with only two quarterbacks on the field. "Right?" McCown said to me afterward. "We were talking about that out there, how strange it was." Usually there's four or five quarterbacks, to save the arms of the first couple of guys on the depth chart. Darnold should be here to take 40 percent of the snaps, to speed-learn everything about this offense and about his mates. I don't care who's at fault—some silly team policy about offset language, or agent Jimmy Sexton insisting on something that very likely will never come into play over the five-year life of the deal. End it. Get the future in camp today.
---
Why Practices Matter for Joe Flacco
OWINGS MILLS, Md. — How much is one practice worth? How much can Joe Flacco change the minds of doubting fans—and confidence-shaken coaches—in two hours? For a quarterback who's been 30th, 24th and 26th in NFL passer rating in his three seasons since turning 30, a quarterback who raised so much doubt in his organization that it traded up into the first round to draft his logical successor in April, the practices that used to be one-more-dog-day-closer-to-the-regular-season deals now matter. A lot.
One longtime Ravens observer told me here Thursday that this first week of camp for Flacco has been "far and away" the best he's looked in camp in his 11 years as a Raven. Quite a thing to say for a former Super Bowl MVP, for a guy who's been the no-doubt starter almost since he walked onto campus as a rookie in 2008. But on my visit to training camp Thursday, Flacco made, by my accounting, six beautiful medium-to-deep throws right on the money in team drills. Two traveled more than 40 yards in the air to former Card wideout John Brown (a big star in early camp) and nestled perfectly in his hands—and Brown was covered tightly both times. Another zippy shot went up the seam, deep, to precocious rookie tight end Hayden Hurst. Vintage Flacco bombs.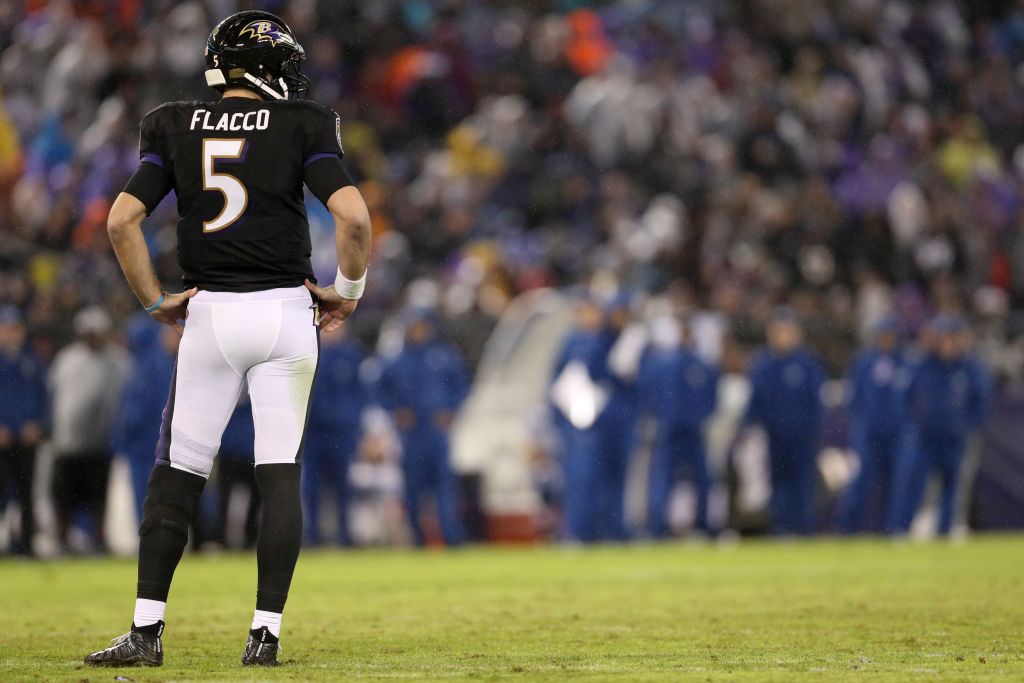 Flacco is 33 now, and it's hard to overestimate the pressure he had coming into camp. Ex-Louisville quarterback Lamar Jackson is one of the most popular athletes in town—he's already got the 20th-best-selling jersey in the NFL—though he's yet to play a snap. But these are the types of plays I saw Thursday in team drills: Rookie wideout Jordan Lasley, covered by former first-round corner Marlon Humphrey, deked Humphrey on a stutter-and-go, got three steps on the cornerback sprinting down the right side, and Flacco hit Lasley in stride. Again, perfect throw.
"I see Joe Flacco out there," a beaming John Harbaugh said on the field after this display. "Healthy. Obviously very determined."
"That's an NFL quarterback," Jackson told me. "I'm learning a lot watching him."
There's another factor in how impressive this is. It is very possible that Baltimore's top three (maybe four) receivers this year will be new: Brown, Michael Crabtree, Willie Snead IV and maybe Lasley or DeVier Posey. It is possible his top two tight ends, eventually, will be rookies: Hurst (first round) and Mark Andrews (third round). That makes Flacco's performance so far in camp more remarkable; the vast majority of his throws are to men he didn't know five months ago. The Ravens are starting from near-scratch at receiver and tight end, like an expansion team. Add to that the fact that Flacco did not participate in training camp last year (herniated disc) and was rebounding from a reconstructed knee in camp two years ago, and you can see why there would have been so much doubt in him, and in this rebuilt offense.
The Ravens definitely weren't giving up on Flacco by drafting Jackson. It's a dog-eat-dog league, and they needed better quarterback play than they were getting. It's impossible to be critical of the move, because, even if health was the biggest factor, Flacco just wasn't playing well, and the Ravens had to look to get better. The value of Jackson, chosen with the 32nd overall pick, certainly seems worth it. Now it's in Flacco's control. When Harbaugh called him after the Jackson pick, Harbaugh said: "Play great and win games, and none of this matters."
Flacco says the right things when me meet after practice. People who should know have told me he's ticked off about this but realizes there's nothing he can do except play great and stick it to those who think he's in decline.
"There's definitely a certain feeling you have," Flacco told me. "I don't know if it's the worst feeling in the world, but it's definitely means something. There's definitely a little bit of a message in there. But this is the NFL, man. I've been in it for 10 years, seen pretty much everything. Surprised by this [the drafting of Jackson] a little bit. My approach is I'm gonna show these guys every day what kind of quarterback I am, and I can't really worry about anything else."
Harbaugh said he and Flacco had a couple of conversations about the drafting of Jackson. "I called Joe the night we drafted him," Harbaugh said. "My message was, 'You're the quarterback.' But he's realistic too. This adds another dimension to us." That dimension, the coach said, is embryonic. "We have ideas. People are seeing it out here. Sometimes Lamar will be the quarterback. Sometimes we'll have two quarterbacks. Sometimes Joe will be doing something else. Sometimes Lamar will be doing something else. We'll try to be creative. That's really about all I can tell you: We're going to try to be creative with them."
The reaction of both men? Seemed tepid to me.
"I'm a quarterback," said Jackson. "I'll do whatever they want that's best for the team."
"I don't know too much," Flacco said. "We've messed around with a few things. If the other stuff is gonna help us win football games, then good."
This is going to be a fascinating season in Baltimore. The offense should be exciting—maybe with some RPOs (the original RPO man, and we haven't even mentioned him, is backup quarterback Robert Griffin III)—and some weird option stuff with two quarterbacks on the field at once. Whatever, there's a quarterback with his job on the line, and maybe a coach with his job on the line, and an incredible turnover in personnel. Quite a chemistry experiment. But a needed chemistry experiment.
---
On Social Media: Jason Witten Is So Right
I've been thinking about this for a while—in fact, I've talked about it with players in three camps so far. It's the pervasive effect of social media, Twitter in particular, on NFL players. And Jason Witten raged against it the other day in a story for his new employer, ESPN. Witten's words:
One of the defining images of the modern locker room isn't a fiery postgame speech or a group of guys strategizing—it's players with their heads down, buried in their phones.
The impact? It's not good.
I've seen the negative impact social media can have, particularly on younger players, who grew up with Twitter and Instagram as an integral part of life. A player checking Twitter at halftime? I've seen it … The most concerning? Watching a really talented player corrupt his mind and confidence by reading all the critiques from anonymous football experts around the world. Negative social media can ruin a player. Reading your mentions? It's poison.
I got into a discussion with a veteran Ravens player at camp Thursday, just talking. He told me in passing how he advised the guys in his position group to avoid two things during the season: Twitter and Pro Football Focus. Not that he hated either one. But he said the only people who really know how you're playing, and the only people who can help you get better, are the teammates and coaches in your building. He said he saw former Baltimore Torrey Smith driven nuts by social-media critics, and he couldn't understand why, during the season, a player couldn't just put that stuff away. Regarding PFF, he said he valued the grades and the opinions, but never took them as gospel. And the more a player obsessed about what some PFF grader thought of his play, the more he might not listen to his own coach as closely as he should.
At Bears camp, Kyle Long told me he was going off social media for the season (he's a Twitter-lover, normally) and trying to wean himself from phone-addiction. He and quarterback Mitch Trubisky agreed to go Twitter-free this season. "It's so time-consuming," Long said. "All of it. I got one of those apps where you can measure how much time you spend looking at your phone. It's absurd, the number of hours you waste in a week. If you spent, say, one-eighth of the time you spend looking at your phone looking at your playbook or talking to your teammates, you wouldn't be beating yourself up over something so much. How you played, comparing yourself to others, whatever. It's a waste."
I'd love to hear your thoughts on it. Send to peterkingfmia@gmail.com, and I'll plan to post your best thoughts on phone addiction, and what to do about it, next week.
About the winning touchdown in Super Bowl LII … From Philadelphia tight end Zach Ertz, who caught Nick Foles' 11-yard touchdown pass late in the fourth quarter to beat New England.
The play was called Gun trey left, open buster star motion, 383 X follow Y slant. What made it so impressive: It was not part of the original 192-play Eagles offensive game plan that they installed before leaving for the Super Bowl in Minneapolis. Instead, offensive assistants Mike Groh and Frank Reich went to coach Doug Pederson with the idea for this play—thinking it could work because they'd never run it before, and thus there would be the element of surprise against the most prepared team in the league, New England. The coaches added it to the game plan five days before the big game.
Ertz:
"Well, obviously it was the culmination of a lot of hard work. We worked that play in a bunch of different varieties, but never that specific play with that specific motion against that coverage. I mean, when I think back, what I learned is that this was the culmination of all the work the coaches put in studying the Patriots and what might work in certain situations in the game.
"The Patriots had a great scheme against me on third down all day. They were going to double me, and what that did at times was clear other guys to make plays. On this one, they were going to double me again … until our back, Corey Clement, ran out of the backfield. When he motioned all the way out, the safety, Duron Harmon, had to run with Corey and it was one-on-one for me and Devin McCourty. But that's what I mean about the culmination of work with the coaches—they had to know the Patriots would take that safety up top and have him follow Corey. When that happened, Nick knew where he was going. I knew. But studying the play, I learned what a great job Nick did too. Nick had to avoid the first window throw because [Patriot rusher] Kyle Van Noy was jumping up in the air. I was the second window throw. The throw was perfect. I caught the ball, took three-and-a-half steps, dove into the end zone. Touchdown. Game-winning touchdown in the Super Bowl. It's pretty crazy. I don't know if it will ever hit me that I scored the quote-unquote game-winning touchdown in a Super Bowl, let alone the most recent Super Bowl. It's unique.
"Looking back on it, what I learned is how many things had to go right for the play to work. Obviously I don't know how the Patriots installed everything. But I think if Corey [Clement] stayed in the backfield, either James Harrison on one side or Kyle Van Noy on the other would've covered him if he free-released either side. They would've peeled with the back. And I would have been double-covered, I guess the way their defensive coordinator wanted the play to go. Once Harmon left to go after Corey, I knew the ball was coming to me.
"And the situation, the opponent, the stage … It would be a tough argument to say that coach [Bill] Belichick's not the best coach of all time. Obviously Bill Walsh is up there, but in this day and age, Bill Belichick is the gold standard. But we love our coach, Doug Pederson. Guys really, really love playing for him, as you can tell when we take the field every Sunday. But beating the Patriots really makes the play and the result just so cool. We beat the gold standard of NFL teams that's won five Super Bowls in the past 20 years.
"I learned how valuable it is in football when you trust the coaches—which we definitely did—and when the coaches trust the players. We'd get the game plan every week and just trust that they'd thought of everything, and they weren't afraid to call anything at any time. Running the flea flicker in the NFC Championship Game. Running Philly Special in the Super Bowl. Man, it was great. Those coaches last year were rolling, trusting themselves, trusting us. When that trickles down to the players, you've got something special."
I
"Jerry Jones is now the voice of NFL ownership. I think every owner has a voice and will have to decide what they want to do. I think silence is compliance; if you don't speak on it, you allow it."
—Eagles safety and Players Coalition executive Malcolm Jenkins, who called on all owners, including his own, Jeffrey Lurie, to speak up to counter the words of Jerry Jones—that every Cowboy will stand at attention for the national anthem regardless of what the NFL's final word on the subject is.
II
"We talk about breast cancer for a whole month every year. We wear pink on the field. No issues with that. When we start talking about black issues, and issues of race, now all of a sudden … 'We just want football, we don't want all that extra stuff.'"
—Jenkins to NBC's Lester Holt of "NBC Nightly News."
III
"I don't want to be a distraction."
—Jameis Winston, in his first public comments since his June suspension for three games for inappropriately touching an Uber driver in 2016.
It's a couple of years late for that.
IV
"It's a one-year league. It's all what you do for me this year. My agent, Bob LaMonte, told me that a long time ago. Three years is a career. Ten years is a lifetime. That's the NFL."
—Baltimore coach John Harbaugh, to me, talking about the pressure on him in year 11 of his coaching tenure. The Ravens are 41-41 in the last five seasons, with just one playoff appearance.
V
"We want to beat the News, but not like this."
—An editorial in the New York Post, after its bitter rival, the New York Daily News, laid off half its editorial staff, including 25 of 34 in the sports department and all its photographers.
VI
"No comment. That's just ridiculous. I'm out."
—Tom Brady, ending his first news conference of the summer early Saturday when Ben Volin of the Boston Globe asked if Brady thought it was fair that some connected the four-game PED suspension of Julian Edelman to Brady's physical guru, Alex Guerrero.
With long-time GMs Jerry Reese (Giants), Rick Smith (Texans) and Ted Thompson (Packers) moving on after last season, only four men serving as general managers exclusively have been on the job for a decade—including Atlanta's Thomas Dimitroff, who signed a three-year contract extension last week. In fact, when Baltimore GM Ozzie Newsome retires at season's end, Dimitroff will be the third-longest tenured pure GM (not including owner/GMs like Jerry Jones, or coach/GMs like Bill Belichick) in the league.
Brings to mind this story: Prior to his first draft in 2008, Dimitroff was poised to take Boston College quarterback Matt Ryan in the first round. I was having a drink with Dimitroff and his wife the night before the draft and mentioned in passing how important this draft was, with such a high first-round pick, because most GMs in the NFL don't get a second chance; this pick would define Dimitroff's tenure. I didn't think it was that stark a pronouncement, but Dimitroff told me later I'd freaked out his wife and made her wonder exactly how tenuous a job this was. But Dimitroff has survived, and flourished, by surrounding his quarterback with a mix of a good young defense and talented offensive weapons.
The longest-tenured NFL men who work exclusively as general managers:

Assuming he's still on the job in January, Dimitroff will rise to number three, at least. Newsome will retire at season's end.
I
Sean Payton and Doug Pederson played golf in the offseason and were looking to make a wager. Payton suggested the first winner of a hole would get to pick the jersey color for the Eagles-Saints game in New Orleans on Nov. 18. They tied on 1, tied on 2, and Payton put his ball in the water on three. Pederson won the bet.
Pederson chose green for the game in the Superdome. So the Saints, who wear black for the majority of home games, will wear white shirts that day.
II
This is crazy to me: Mike Scioscia has been manager of the Angels 10 weeks longer than Bill Belichick has coached the Patriots.
III
Weep for Sports Journalism Dept.: The day after the New York Daily News laid off half its staff, the paper's city edition, the final edition of paper, did not have a story of any kind about the New York Yankees (who lost at Tampa the previous night), and covered the Mets home game with an Associated Press story.
Not covering the Yankees and Mets … yeah, that's the road to survival right there.
After the tackle market was overhauled Friday with the rich new deals given Taylor Lewan of Tennessee and Jake Matthews of Atlanta, I asked Pro Football Focus where the three highest-paid tackles ranked in PFF grading for the past three years, and what these deals might mean for the market. (Nate Solder did a four-year, $62-million deal with the Giants in March.)
None of the newly rich are among PFF's 10 highest-rated tackles over the past three years:
• Lewan: $14.89 million average, 13th ranked
• Matthews: $14.58 million average, 17th ranked
• Solder: $15.50 million average, 18th ranked
Among the top 10-rated tackles between 2015 and 2017, Joe Thomas (one) retired, and the next four have multiple years left before they can hit the adjusted market:
• Trent Williams ($13.2 million average) has three years left.
• Joe Staley ($8.75 million average) has two years left.
• Terron Amstead ($13.0 million average) has four years left.
• Tyron Smith ($12.2 million average) has six years left.
Williams is 30. Staley turns 34 in August. Armstead and Smith are 27, so Armstead, of this list, would seem to have the best chance of getting another contract with some prime years left.
The real winners: the 2016 first-round tackles who have played well, including Baltimore's Ronnie Stanley, Tennessee's Jack Conklin, and Detroit's Taylor Decker. After their third seasons end next winter, they'll be eligible to negotiate new deals.
For more smart takes on football analytics, consider a PFF Elite subscription, which gives you access to performance metrics the pros use.
Quirky restaurant note I found sort of hilarious:
In Carlisle, Pa., on Saturday evening, halfway between Eagles camp and Steelers camp, our NBC crew–Marc Buono, Alex Levine, me–stopped for burgers at a Yelp-favored restaurant in Carlisle's cute downtown called 1794 The Whiskey Rebellion. We all ordered, and I asked for an order of onion rings for the table. So the food came, all but the onion rings, and we commenced eating, figuring the rings would be out soon. Well, midway through eating, no rings. So the next time our server, an attentive and pleasant woman, came by, with our main courses nearly eaten, I said, "We ordered onion rings too."
She said: "Oh. When did you want those?"
Am I the only one who finds that perplexing? I mean, would we want them for dessert? Tomorrow? Never?
So they came, better late than never I suppose, and we laughed about it most of the way to Latrobe.
I
II
III
IV
V
10 Things I Think I Think
1. I think I have yet to hear of a compromise over the anthem issue that might bridge the gap between players and owners. It's still an issue that could divide the league worse than it did last fall.
2. I think judging football players on July 30, before most hitting and tackling is happening, is always fraught with danger. (And stupidity.) But I must say I understand the hype machine that is Pat Mahomes after watching plays like this … 57 yards in the air, absolutely on target to Tyreek Hill—and without any stress:
3. I think this Aaron Donald holdout could last into September. Easily.
4. I think it's always fun, and educational, when Aaron Schatz's Football Outsiders Almanac lands in the mailbox—or inbox. Every year, he and his staff of smart football people tell me a thousand things about football that can only be seen by digging under the surface. Thanks to them for the book and the education, which includes these nuggets (and a great one about the Pittsburgh D):
For years, the strategy against the Panthers has been to send blitzes at Cam Newton. Last year, teams suddenly started blitzing Newton much less. He faced an extra pass-rusher on 29 percent of plays, still seventh in the league but much lower than what it had been in 2015 (39 percent) and 2016 (38 percent).
A change is gonna come: Chicago ranked No. 1 in run/pass ratio in the first half of games, running on 46 percent of first-half plays, while Matt Nagy's Kansas City Chiefs ranked No. 32, running on just 32 percent of first-half plays. With Nagy now the Chicago coach and offensive czar, expect to see the air filled with more footballs early in Bears games.
Dak Prescott has to get more consistent to be a very good NFL quarterback. Through the first 8 games of 2017, Prescott was the No. 8 passer in the league according to FO metrics. In the final 8 games, Prescott was the fourth-worst passer in the league, ahead of only DeShone Kizer, Brett Hundley, and Trevor Siemian.
Before Ryan Shazier's injury, the Steelers defense ranked fifth against the pass and eighth against the run. After the Shazier injury, the Steelers were 16th against the pass and dead last against the run.
Excluding obvious catchup situations, only two coaches since 1986 went for it on fourth down more often than Doug Pederson's 22 times last season: Bill Parcells (27) with the 1996 Patriots and—you'll never guess this one—Jack Del Rio (26) with the 2007 Jaguars.
If it feels like the Patriots never take their foot off the gas, you're right: they had the league's fastest pace when leading and ranked No. 2 in pace (behind Tampa Bay) when leading by a touchdown or more.
The links to buy: the Almanac PDF for $20.00 or the book for $28.95.
5. I think the best news of the week for voracious football fans—of the Green Bay persuasion, particularly—is that Bob McGinn Football will return for a second year. The oft-irreverent, always-brutally honest reporting of the best NFL beat man of my lifetime will continue at the site Bob and son Charlie founded in 2017 after Bob retired from the Milwaukee Journal Sentinel. You'll be able to subscribe and follow McGinn in August. Please support this great venture. Speaking of another great venture in our business of independent grassroots sports journalism, I'm thrilled to see Greg Bedard's excellent all-Boston-sports venture, Boston Sports Journal, return for year two. As you'd expect, Greg, who knows the Patriots very well, has been a big factor on a tough beat. Last week, he wrote that he expects an invisible punter, Corey Bojorquez, to supplant Ryan Allen. He said he thinks running back Mike Gillislee will be traded. And he said he thinks new defensive boss Brian Flores (not the coordinator—yet—but he'll run the D) and his players will play with a serious edge in camp and tick off Tom Brady. Insightful stuff.
6. I think sometimes Pete Carroll says 58 words when seven would do. The other day, asked about contract holdout Earl Thomas, Carroll said: "He's been here for a long time. We always expect him to be here. It's kind of how it is. He should be here and he's not. It's really about the guys that are here now and we're going to keep moving and grooving and putting it together. It's unfortunate. We're expecting him back. He's under contract." Wouldn't it have been just fine if he left the Walt "Clyde" Frazier moovin' and groovin' stuff on the sidelines and just said: "He should be here and he's not." I mean, that's the end of the story, right?
7. I think this is the best trade Seahawks GM John Schneider could make for Thomas: acquiring a conditional third-round pick in 2020 from Dallas or Oakland for him. If Thomas makes 10 starts in 2018, Seattle gets the third. If he makes any less, Seattle gets a fourth. Just do it. It'll make both sides look smart by November.
8. I think, eventually and before the Labor Day weekend final cutdown, the Jets will do the smart thing. They'll trade Teddy Bridgewater. But that is only if Sam Darnold is competent in camp, and Josh McCown stays healthy through the summer. It's just not very sensible to pay potentially your third quarterback (Bridgewater) $5 million this year.
9. I think I loved Miami coach Adam Gase's reaction to a question about the chances a player could get suspended for taking a knee or some other form of protest during the anthem this year: "I mean, if anyone knew the actual rules of the NFL, good luck suspending somebody, because it takes about 5,000 things before anybody can get suspended by a club." He's right, and any player who is disciplined over the anthem will get an all-time fight from the players association.
10. I think these are my other thoughts of the week:
a. Story of the Week: by Karen Crouse of the New York Times, on superstar swimmer Missy Franklin rebounding from serious depression. This is really important. Great job by Crouse.
b. I always wonder what happens to the greatest athletes and how they cope when they're not the greatest athletes anymore, or when they're hurt. Crouse gives you a window into what Franklin, and fellow swimmer Allison Schmitt, are facing.
c. Story You Really Should Read of the Week: From Anahad O'Connor of the New York Times, a story that I buy totally that says it's not only what you eat but when you eat. A new book by an expert on the body's rhythms, Satchin Panda, advises that—as we all suspect—eating late is a bad idea for good bodies.
d. Writes O'Connor: "A growing body of research suggests that our bodies function optimally when we align our eating patterns with our circadian rhythms, the innate 24-hour cycles that tell our bodies when to wake up, when to eat and when to fall asleep. Studies show that chronically disrupting this rhythm — by eating late meals or nibbling on midnight snacks, for example — could be a recipe for weight gain and metabolic trouble."
e. Even in a mini-slump, Mookie Betts' times at the plate are must-see at-bats.
f. Friday night, walking into my hotel in Princeton, N.J.—I'd been following the Red Sox-Twins all night, as a passenger driving from Jets camp, then (sorry) at dinner, and now, around 10:30, as the Red Sox came to bat in the bottom of the 10th of a 3-3 game—my eyes were on the phone. Just as I walked into the room, Twins reliever Matt Belisle threw his second pitch of the 10th, a fastball thigh high over the middle of the plate, and Betts hit it over the Green Monster.
g. I'm probably a good candidate for the category of older person who will watch a sports event on every different device he has, in many different places on the planet.
h. Love, love, love the MLB At Bat app.
i. An Evening With Jon Dorenbos. Now I've seen everything. The former Eagles long-snapper, also a terrific magician, will be playing a couple of nights at a Philadelphia's SugarHouse Casino in August. I'd actually pay to see it.
j. Now here's something you don't see every day: Thursday's Minnesota-Boston game featured seven first-inning baserunners and zero first-inning runs.
k. Yoenis Cespedes, out for eight to 10 months after surgery on both heels, injuries that previously were undiagnosed. Seems like the Mets might want to employ a homework-doer in their personnel department.
l. See the Ted Williams doc on PBS. Just terrific. Loved it, particularly the footage from his last game, and last at-bat, that I'd never seen before … and the interview with the last pitcher Williams ever faced, Jack Fisher.
m. Interesting Jack Fisher trivia: In 1960, he gave up Ted Williams' 521st and final home run in the big leagues. In 1961, he gave up Roger Maris' 60th home run in his 61-homer season.
n. Coffeenerdness: Very nice touch by the Latrobe, Pa., Starbucks. Every time a person walked in the door Sunday morning, two gals behind the counter yelled, "Good morning!" Now there's something you don't hear on the Upper West Side of Manhattan.
o. Beernerdness: My thanks to the fine people at Interstate Draft House in the Fishtown neighborhood of Philadelphia, for hosting me and my NBC guys, Alex and Marc, for a short video shoot Saturday … and for the glasses of Tonewood Brewing Company (Oaklyn, N.J.) Freshies, an American Pale Ale that was just perfect and refreshing on a hot Philly afternoon. That's a terrific local beer.
p. Some of you have asked for a way to bookmark this column. This is a good link: https://profootballtalk.nbcsports.com/fmia
• Monday … Bourbonnais, Ill. The Roquan Smith holdout with the Chicago Bears enters week three with no end in sight. Bears coach Matt Nagy confirmed over the weekend that "part of the issue" concerned language in Smith's contract that the guaranteed money in the deal could be taken back by the team if Smith got suspended for a violation of the league's new rule banning players at any position from initiating contact with the helmet. League VP of officiating Al Riveron told me this month the new rule will not turn football into "an ejection-fest," but unless the Bears remove language from the deal with the threat of significant money loss, this thing could last indefinitely.
• Thursday … Canton, Ohio. Football's back, in some form or fashion, with the Hall of Fame Game, Ravens-Bears. I hope we get at least a couple of series of Lamar Jackson.
• Friday … Foxboro, Mass. Tom Brady turns 41. Pats celebrate with sugarless, egg-less, gluten-free carrot cake, avocado ice cream and recyclable forks, spoons and paper party hats.
• Saturday … Chattanooga, Tenn., and Canton, Ohio. For the first time ever, the Hall of Fame enshrinement ceremonies will happen without all its living gold-jacketers at the Hall. Terrell Owens, boycotting the show, will have his own event where he went to college (UT-Chattanooga) at 3 p.m. ET, while the other six men in this year's class will be honored in Canton four hours later. This is still the weirdest boycott of something I've seen in some time.
There's still time, T.O.
Reconsider the boycott.
Life is just too short.