Getty Images
WESTFIELD, Ind. — Two distinct soundtracks wafted over the Colts scorching practice field Sunday morning. In most training camps, teams cut through the boredom of practice with playlists the players love. The Colts began theirs, with the first-unit offense 11-on-11 versus the defense, with "Remember the Name," by Fort Minor thundering over the practice fields at this new camp site 35 minutes north of downtown Indy, cornfields across the street. Very Indiana.
Andrew Luck, neck beard peeking out from under his chinstrap, wearing the red no-contact jersey, stepped to the line, trying to be heard over the music. Not easy.
This is ten percent luck
Twenty percent skill
Fifteen percent concentrated power of will
Five percent pleasure
Fifty percent pain
And a hundred percent reason to remember the name.
Perfect song to accompany this practice, this player, this summer. On this morning, Luck's performance was just okay. He had a couple of deep overthrows to T.Y. Hilton, and the first unit had to settle for an Adam Vinatieri field goal when it stalled in a two-minute drill. But five weeks to the day from having to play in a game that counts, Luck's work on this Field of Dreams was encouraging. He's rusty, of course; he hasn't played in a football game in 19 months. Andrew Luck has a franchise weighing on his surgically repaired right shoulder, and he couldn't be happier.
Now for that second soundtrack. Luck's last of 68 throws in the 1-hour, 50-minute practice was preceded by a call in the huddle, where he's getting reacquainted with teammates old and new. "That's what I missed about him most last year, the huddle," said center Ryan Kelly. "He's what every quarterback should be in there. When he's there, we're all locked in. He's got an aura."
Ten seconds left in Luck's last period of the morning. Just over 20 yards from the end zone. The other soundtrack of the morning, the loud and assertive voice of Luck barking signals.
"White 80!" Luck barked. "White 80! SetHUT!"
Luck took the shotgun snap from his pal Ryan Kelly and faced a hard rush from his left. Spinning away from pressure, Luck ran left and stared downfield toward the end zone. Now this would be a test of the strength of his right shoulder—throwing across his body, straining the repaired labrum, trying to get enough juice and touch on a throw into the gathering crowd toward the back of the end zone, maybe 38 yards away.
A couple running steps from the left sideline, Luck loaded up the most important right arm in the state of Indiana (sorry, Victor Oladipo) and got ready for a throw that would test his readiness in lots of ways. In the bleachers, a few hundred fans who remembered his name waited to see if Luck remembered how to throw a great corner route across his body.
---
A week in the life of the training camp tour: The Browns (Berea, Ohio) to the Bills (Pittsford, N.Y.) to the Florio Studio Above The Garage (West Virginia) to the Texans (White Sulphur Springs, W.Va.) to the Panthers (Spartanburg, S.C.) to riding a bike to training camp with Falcons GM Thomas Dimitroff (Flowery Branch, Ga.) to Friday Night Lights with the Titans (Franklin, Tenn.) to the Colts, adjacent to the cornfields.
I'll write about the smart move of Eagles owner Jeffrey Lurie to lock up two superior team managers through the next CBA, Randy Moss' Hall of Fame tie, J.J. Watt's quest for a fourth Defensive Player of the Year award, and then scattershoot all over the league and the Hall of Fame ceremonies and its Chattanooga branch. Tim Couch gives advice. You'll live on the edge of a roster with a guy who's been on three teams in three months.
It's a rollicking column today. As a certain 41-year-old quarterback would say, "Let's gooooooooo!"
Back to Andrew Luck, spying T.Y. Hilton in coverage in the left corner of the end zone. The throw put all kinds of torque on his recovering right shoulder, but when his arm came forward, it didn't look much more than Luck muscling up a high-arcing touch pass with little strain. He missed a few long ones earlier in the morning, but this one, a combination of touch and enough power, dropped out of the sky toward the corner of the end zone and into a scrum of five Colts—two receivers, three defensive backs. Hilton, inches from the back line, jumped up and grabbed the perfect spiral, coming down with two feet in. Touchdown.
"What a beautiful day!" said Luck, all smiles when we met 20 minutes later.
I wanted to know about that throw to Hilton. Luck said he had a joyous feeling that he described as, My arm's still attached to my shoulder! This is gonna be okay!
"I was like, Oh that felt good. I'm glad I could do that again," he recalled. "Things that happen on the practice field, every practice there's been a couple things that's like, I haven't done that in a long time. This is fun. It really is."
It's startling to hear Luck say, "There is a part of me that thought I would never have fun playing football again." But when you haven't played a football game in 582 days after playing year after year, season after season, with the joy of a kid, you can go into a dark place sometimes. "I did," he said. "I worked myself into a fairly dark place. But I think I see light at the end of the tunnel. I'm not torturing myself anymore."
It's easy to say it's not that long a time since he played—19 months. But think of this: The Colts' 22-man starting lineup on Jan. 1, 2017, Luck's last start, will have either five or six of the same names when the Colts open the 2018 season. With a new coach (Frank Reich) and a new GM (Chris Ballard) too. All that newness, with so much pressure on a guy who hasn't played in a year and a half, and who hasn't been pain-free in his shoulder in three years.
The Colts are accounting for all that in camp. Luck threw 68 passes, including warmups, Sunday. A starting quarterback in a regular summer practice might throw 120 or so. But Luck skipped one throwing period Sunday, doing agility work instead. In other drills, he might throw one or two reps, with Jacoby Brissett and the backups taking more. The Colts are being cautious. Luck is on a regimen that will have him approximate the rhythm of a regular-season week consistently: three days on, one day off, then a game or another three days of practice. This week, it's practice Sunday, today and Tuesday; off Wednesday; and about a quarter of play Thursday night when the Colts open the preseason at Seattle. "Nervous? I'll be very nervous," he told me.
I asked him how he feels day to day.
"I've been able to turn off the governor in my mind," Luck said. "I'm just going out there throwing balls. There is nothing holding me back. There are some things that feel really good, like an old sweatshirt that you put on that just fits well. And there are some things that still feel awkward and new and wobbly, per se."
I watched Luck's face a lot Sunday when I could see it clearly enough. Did he wince? Did he flex his arm or rub his shoulder after any of his work? I saw none of it, and he told me later he is pain-free after a nightmare 2017. The garrulous Luck went into a shell—"He lived under a black cloud last year," one team insider told me—and wasn't the guy who loved just hanging around with his teammates, win or lose. "Being injured in the NFL is an isolating experience," his tight end, Jack Doyle, said after Sunday's practice. "Being injured as the quarterback, the face of the franchise, is even more isolating because Andrew, especially, doesn't want to let his teammates down. I know it killed him."
Luck said he's enjoyed getting to know a couple new offensive resources—head coach Frank Reich (Doug Pederson's coordinator in Philly last year) and offensive coordinator Nick Sirianni, a Reich confidante. Reich's been good for Luck because he's different and highly inclusive of what Luck thinks.
Reich got the lucky straw when Josh McDaniels pulled out of the job two days after the Super Bowl to stay in New England. That gave Ballard time to re-survey the field, and Reich was a huge, pleasant surprise. "He's the only guy I interviewed who didn't ask about Andrew and his condition," Ballard told me. "I love that. Because what that tells me is he's a problem-solver. He'll figure it out. It's about the job, and getting the team right—not figuring if the quarterback is right and then deciding if you want the job. Mike Holmgren took the Green Bay job without Brett Favre. Pete Carroll didn't have Russell Wilson when he took over in Seattle."
Said Reich: "I love Andrew. Who wouldn't? But we're going to win here, and it's not about one player. It's about the team."
Well, perhaps. But Luck's health is clearly the biggest issue for the near- and long-term of this franchise, particularly in a division that is far better than when Luck had shoulder surgery in January 2017. The signs are all good now. Football's better when Andrew Luck is playing, and the Colts won't be pushovers if Luck plays 16 healthy games. He just might.
WHITE SULPHUR SPRINGS, W.Va. — I don't know how anyone could figure out, reliably, how J.J. Watt will play in 2018 and beyond. The safest thing to say is that Watt and the aforementioned Andrew Luck are the two leaders for Comeback Player of the Year, because of their fabulous talent and because of what they're trying to come back from. Watt missed 24 of 32 games with injuries in the last two years, and he's in camp now trying to rebound from a severe leg break last season.
Perhaps we don't actually forget how great Watt was in his four top seasons, 2012 to 2015; we just fail to remember it. In his best four consecutive seasons rushing the passer, Lawrence Taylor had 63 sacks. All-time sack leader Bruce Smith had 55 in his best four years in a row. In 2012-15, Watt had 69 … and he wasn't freed up to rush around the edge to get to the passer much. "Those '14 and '15 seasons were arguably two of the best seasons any player at any position has ever had," said coach Bill O'Brien. "I remember we're playing Baltimore in '14, and they're driving, and it's late, and our guys are just exhausted. I remember J.J. looked over at me and basically said, If you give me a timeout here, I'll get to Flacco. So I call time. We get a breather. That next play, J.J. strip-sacks Flacco. Game over. We win."
O'Brien, in a break after a training camp practice, paused. "That's what I'm seeing now, this summer. That's the kind of play I'm seeing from him. There's no reason he can't do it again."
I met Watt after a morning practice on the fields of the Greenbrier Resort the other day. He barely practiced, a plan by O'Brien to keep Watt fresh for the season. A quick Q&A with the 29-year-old reigning SI Sportsman of the Year:
King: Are you convinced you'll be able to be great again?
Watt: "Right. I don't expect anybody else to be convinced. I don't expect anybody outside to have any reason to believe that. The last two years were two very bad years. There were some dark moments in there. But I've also come out the other side of it better because of some of the experiences that I had. So I'm just taking it one day at a time. I'm not going to stand here and pretend like I can tell you exactly what's going to happen in the season or how it's going to go. But I feel very good with where I'm at right now. I'm not going to make any proclamations about comparing things to the past or what I'm going to do in the future, but I will say I feel very good."
King: What was the darkest moment for you with that severe leg break last year?
Watt: "For the first two months, you can't walk. You can't do anything. You pretty much lay on the couch 24 hours a day. You have to have people help take care of you. I watched TV for most of it. Tried to sleep. But my girlfriend, my family, some of my buddies, you literally have to have people help you get food, clean up the place. I can't help bring in the groceries. I can't help make the food. I can't help clean up the dishes. I needed help getting a shower. I needed help cleaning up."
King: What's the lesson that sticks with you about the millions you raised after the floods?
Watt: "No matter how negative or cynical the view of the world that you have, there are good people out there. There is this beautiful thing about humanity. When they see their fellow human going through a tough time, they step up to help out. I'll never forget the sights of people helping, the words of encouragement. All the different ways that I saw people step up and help out. I think that in today's times, there's so many negative headlines and there's so much negativity going around in the world. I saw a beautiful display of positivity, enthusiasm and hope during that time.
King: Think you'll ever win a fourth Defensive Player of the Year award?
Watt: "That's the goal. It's not the only goal, but it's a goal. But I'll give you this answer. My family, my friends, my teammates, and my girlfriend, they all know the answer to that question. But you won't know the answer to that question. You're just on the fringe of that, Peter. You're not in the group."
King: Why the close relationship with Jose Altuve?
Watt: "I love the guy. I love the guy to death. I think that what he's been able to accomplish, despite what anybody probably has said or would've said in his career based on his size and his stature, I mean, the guy's incredible. I still can't figure it out. I mean I've watched him hit numerous times. I still can't figure out how the hell he does it. But my favorite thing about Jose is how he's handled everything throughout it all. He's the exact same guy, every single day.
• Malcolm Butler is playing great in Tennessee, even as Patriot Nation is angsty still over the weird end to his New England career. I watched Butler make two very good pass break-ups Friday night in a team practice. Titans people said that's been common in camp after he signed a five-year, $61.3-million contract … after he didn't play a defensive snap in the Super Bowl loss to Philly. Understandably, New England fans cannot let go of the Butler benching in the 41-33 Super Bowl loss. Bill Belichick has never explained why Butler didn't play defense on a horrible night for his secondary, and the attention continues; Dan Shaughnessy of the Boston Globe wrote a front-page (of the paper) column on grilling Belichick about the move in late July. "It's amazing the run this is still getting," Titans GM Jon Robinson told me. "People won't let it go." Asked if the Patriots owe him an explanation, Butler said, "No, we're good." What Tennessee wants is the aggressive, risk-taking Butler, which is what they've gotten so far. "We talked," coach Mike Vrabel told me, "and I said if you're willing to compete like that undrafted free agent coming out of college every single day, we'll all be happy. And he's done that every single day."
• I know nothing should shock me any more, but this does: Cleveland had 11 first-round picks in the eight drafts between 2009 and 2016. None are left on the team. DID YOU READ WHAT I JUST WROTE? Trading Corey Coleman to Buffalo for a bag of footballs—um, actually a future draft pick—Sunday proved the Browns should keep John Dorsey in power for years. The mayhem of impatient change just has to stop.
• Tyrod Taylor is the (fairly certain) starter in Cleveland. "I'm not changing my mind," Hue Jackson told me. "Tyrod's starting. That's no reflection on [rookie first-round pick Baker] Mayfield. He respects what I'm doing for him long-term. He may not like me for it now, but he'll thank me later." I don't doubt for a minute Jackson's serious. But opening with Pittsburgh and New Orleans could be a recipe for two bad losses early, and at 1-33 over two-plus years, how resolute will Jackson be? We shall see.
• In Atlanta, watch for the emergence of Austin Hooper. The third-year tight end from Stanford did this offseason what Julian Edelman did to force-feed himself to Tom Brady a few years ago—Hooper became Matt Ryan's consistent workout partner, staying in the Atlanta area in the offseason so he could get on the same wavelength with his quarterback. It worked. They've been a great tandem so far in camp. "Hooper's been like a dog this offseason—over and over, he'd catch everything Matt threw and bring it back," said coach Dan Quinn. Ryan and his wife welcomed twin boys in April, so he stuck close to home through the off-season. So did Hooper. And anytime Ryan called looking for a throwing partner, Hooper was there. He had 68 catches in his first two pro seasons, and could have that many this season alone.
• Thomas Dimitroff has a new contract, and he loves all things cycling too. For the first time since I've been doing this column, I wanted to try something a little different on this camp trip. Instead of writing something lengthy about the Falcons, I thought about a video idea, and Dimitroff went along with it. I knew he loves cycling and takes long bike rides in and out of season. So I asked him if he would ride his bike at least part of the way with me to work while I was in town for training camp. We did it Friday morning, riding the last 13 miles together, and NBC videographer Annie Koeblitz made the video magic happen. Interesting what Dimitroff says about his friend Lance Armstrong. Watch it and see what great shape he's in—especially compared to me. My thanks, by the way, to the fine people at Free Flite Bicycles in Atlanta for outfitting me with a great bike and helmet so I could do this. The Annie Koeblitz story:
It took 4 minutes and 37 seconds for the new helmet rule to come into play Thursday night in the preseason opener. That's when Baltimore linebacker Patrick Onwuasor tackled Chicago back Benny Cunningham; in the process, Onwuasor contacted Cunningham noticeably but not violently with his helmet and got a flag. Fifteen yards: unnecessary roughness/use of the helmet. A few points:
• The exact rule has been confused in the last few weeks—it's not helmet-to-helmet, but rather helmet-to-anything. The NFL wording: "It is a foul if a player lowers his head to initiate and make contact with his helmet against an opponent. Contact does not have to be to an opponent's head or neck area — lowering the head and initiating contact to an opponent's torso, hips, and lower body is also a foul."
• The call of the play should change."Unnecessary roughness" at the start of ref Walt Coleman's calls the other night was a seven-syllable waste of time. Obviously the league has ruled this as unnecessary. It sounds too much like the other calls that start with "unnecessary roughness" anyway. Just call it "helmet violation," or something of the sort. Make it clear and concise.
• It's going to take a while to get it right, if it ever gets right. The intent behind the new call is good—further emphasis on taking helmet-hits out of football. The other day, I sat in on a session at Panthers camp—a group of officials explaining to media the new rules and points of emphasis this season. The most notable thing that was said was this from veteran line judge Jeff Seeman: "We will be better in the back half of the year at this than we will in the first half. It will slow down." The overall intent is good, and the teams and officials understand there will be some hiccups along the way. There's no way in the offseason to simulate officiating this call. It's just got to happen starting in the preseason, and there will be debacles. Big deal. It's the preseason.
• The officials are going to struggle mightily with the consistency. "Obviously when you have a new change, there's an adjustment period for everyone," side judge Boris Cheek said at this session. "My advice to players is obviously get the helmet out of the game. Use your shoulders as much as possible. Your arms, wrap 'em up. There are things we can do in lieu of using the helmet. Lowering our helmet and infecting a blow on our opponent. That's mainly the message I gave them." The players' response so far? Said Cheek: "They accepted it. They had to. They have to."
• Over-call the rule in the preseason. Is there any doubt that's the edict from the league office? The NFL wants players to have this call in their minds. Players I've been speaking to don't think it's going to change how they play. "I can't be thinking about this," Atlanta safety Keanu Neal said. "I've been taught how to tackle. It's legal."
Adam Bisnowaty is an edge-of-the-roster offensive tackle. He's been on three teams in the last three months. That includes two in 27 hours last week. This is a part of the camp process—the churning of bodies from team to team, particularly late in training camp—that we don't get to see much. The hour-by-hour life change for Adam Bisnowaty last week:
TUESDAY
1 p.m.: "Adam, you need to come in," a player personnel guy from the Lions says on the phone to Bisnowaty. "Bring your playbook. The GM wants to speak to you."
2 p.m.: At the Lions' Allen Park, Mich., office complex, GM Bob Quinn tells Bisnowaty he is being released. Bisnowaty returns to his hotel room that he's using for housing during training camp, packs up, and heads for the airport.
4 p.m.: Bisnowaty is officially placed on waivers by the Lions. The other 31 teams in the league have a chance to claim him, and within 24 hours, he'll be awarded to the team with the highest claiming priority. That priority is based on the inverse of last year's regular-season standings.
5:45 p.m.: Bisnowaty boards a Delta flight for his home in Pittsburgh. He's home by 9 p.m. Now he waits. "One door closes, and you hope another one opens," he says.
WEDNESDAY
2 p.m.: Bisnowaty's fiancé had been visiting his family from out of town, and now he takes her to the airport. "Waiting for 4 p.m.," he said.
4:05 p.m.: He forgets who is on the phone, but he does remember hearing "Carolina Panthers" from the personnel assistant who calls. The Panthers have needed a tackle since incumbent right tackle Daryl Williams went down with a dislocated kneecap a few days earlier. But the info on the phone is pretty much a blur. He packs quickly.
7:03 p.m.: Bisnowaty boards an American Airlines flight from Pittsburgh to Charlotte.
8:45 p.m.: Landing in Charlotte, Bisnowaty is picked up by a Panthers employee and driven to the team hotel at training camp in Spartanburg, S.C. He's in bed by 11.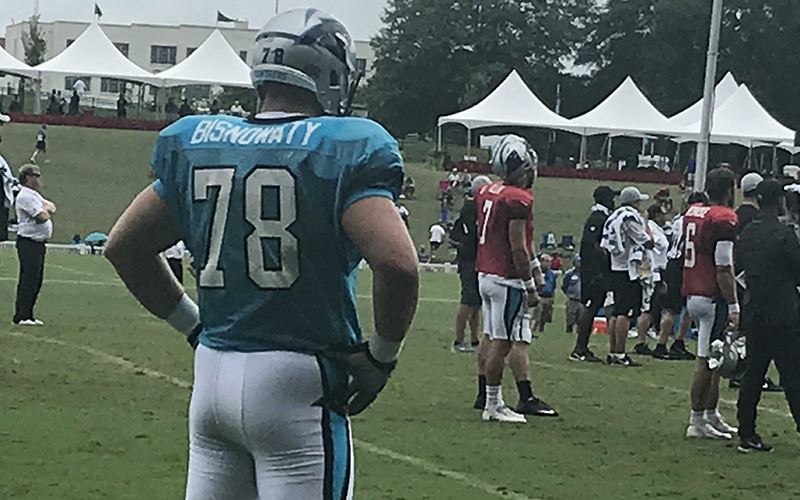 THURSDAY
8 a.m.: Bisnowaty undergoes his training camp physical. All is well.
9 a.m.: Bisnowaty undergoes a second physical, by the Panthers' orthopedic specialist. All is well. He then signs his contract.
10:28 a.m.: Bisnowaty suits up. The Panthers hand him number 78. Pretty impressive, getting him claimed, signed, checked out physically with enough time to put BISNOWATY spelled correctly across the back of his jersey. He is driven out to practice on a golf cart.
10:32 a.m.: Standing alone, a few feet away from the offensive line group, Bisnowaty is a bit shy about forcing himself into the middle of a bunch of strangers. Then journeyman tackle Jeremiah Sirles approaches, sticks out his hand and says, "Hey, Jeremiah." Bisnowaty says, "Adam." Then assistant line coach Travelle Wharton comes over to begin the indoctrination that will involves a few looming late nights to come. Another playbook to learn.
5:52 p.m.: Just before entering his first Panthers team meeting at Wofford College, Bisnowaty stops to consider the whirlwind. "It's a good job, obviously, and you can make good money doing it," he said. "But on the outside it looks so glorious. It is an amazing opportunity. But it comes with a cost. It's a very interesting career."
Tim Couch, picked first overall in 1999 to lead the expansion Browns, on when rookie quarterbacks should play.
Couch, 41, told me the other day at Browns camp: "I should just be finishing my career right now." But his career lasted only 62 games, and he was beaten out of football by age 27 after suffering two major shoulder injuries. Couch, from the University of Kentucky, lives in Lexington now and is prepping to do Browns' preseason games as the color analyst. He looks good, like he works out daily, seriously. This is what Couch learned from his NFL life, and what he'd like to impart to rookie quarterbacks today: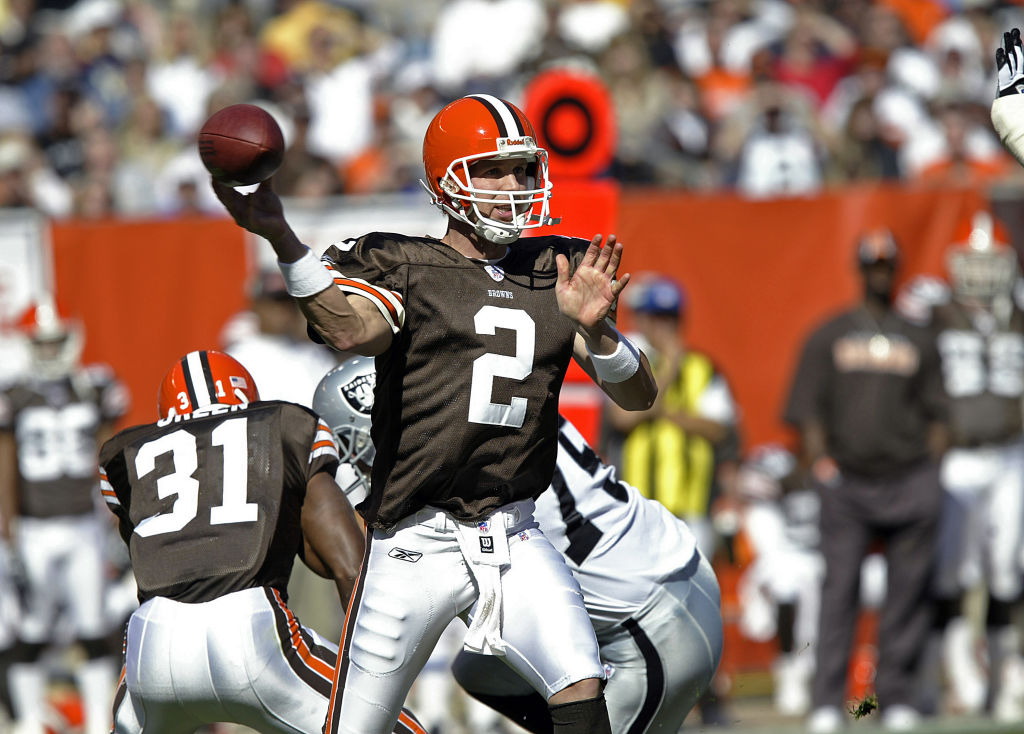 "What I learned mostly? Patience.
"I'd say patience being most important because, in my case and in the case of so many of these quarterbacks who got picked high, we've had nothing but success entering the NFL. I was national player of the year in high school, the number one recruit in the country. Then I go to college and I'm first-team All-American, Heisman trophy finalist, SEC player of the year, number one pick in the draft. Then I get here, and I expected the same thing to happen. And it didn't happen right away, or really, at all. It killed my confidence.
"I learned it's so hard for a successful college player to be drafted that high and to not have that success right away. So the Browns have the right plan—play Tyrod Taylor and let Baker Mayfield sit. I'm sure Baker's the same way as I was. He expects so much out of himself, and if it doesn't happen, it can really crush a young quarterback's confidence.
"Ben Roethlisberger, Cam Newton … They had more pieces in place around those guys than I did. Good running games, pretty good lines. If they put you in a game and the team is not ready to support you and allow you to go do what you can do, those expectations can come crashing down so fast and so hard. It's so hard to get it going back in the other direction. That's kind of what happened to me. We were so bad in that expansion year.
"I was just getting sacked a lot that first year. [Fifty-six times, an alarming once per eight pass-drops.] You get gun shy. You don't trust that you'll have the time to do what you need to do throwing down the field, so you rush things a little bit. If you hit any quarterback in this league, he's a different player. If you start hitting Tom Brady, watch how different his game is. That first year, the big hit was from Jevon Kearse of the Titans. He hit me from the side and, man, I didn't see him coming. It twisted my helmet around. I can remember the whole stadium kind of just moving on me. There were a lot of hits. Pittsburgh, I got drilled one time—I think it was Jason Gildon. We didn't block him off the edge. I wasn't looking and he hit me. This was before those protect-the-quarterback rules were in play, so they were just teeing off. He hit me in the head so hard.
"My advice to all these guys: Don't get frustrated. I've seen everything I think that a young quarterback can go through. Getting beat up, been injured, two major shoulder surgeries, broken foot, broken thumb. Only made it through one season healthy. So that was really frustrating. Here, I know Baker's such an ultra-competitive guy, and he's got to guard against being frustrated. For him to sit on the sideline, it'll be like putting a straightjacket on him. But I would tell him to take advantage of that. This team's won one football game in two years. You really want to jump out there right now? And Joe Thomas is gone. Baker, like all of these rookie quarterbacks, has good guys—Tyrod Taylor, Drew Stanton—in front of him. Take advantage of those guys.
"And remember: patience."
I
"After the game is over, the stadium lights are out, parking lot is empty, you're back in the quiet of your room, championship ring is on the dresser. The only thing left at this time is for you to lead the life of quality and excellence and make this whole world a little bit better of a place because you were in it."
—Jerry Kramer, 82, the new Hall of Fame guard, on the life of a Hall of Famer.
II
"I was actually planning the way I would kill myself so my wife would get the money."
—Hall of Famer safety Brian Dawkins, who said he seriously considering killing himself while a player because of depression.
III
"That's my Hall of Fame wife—RIGHT THERE!"
—Dawkins, acknowledging his wife Connie's help in getting him through severe bouts of depression in his career.
IV
"If you would have put me with any other quarterback, let's be real. You know what I'm saying? Any other accurate quarterbacks like [Aaron] Rodgers or Eli Manning or Big Ben. Quarterback with knowledge."
—Kelvin Benjamin of the Bills, with some not-very-subtle digs at Cam Newton, to Tim Graham of The Athletic.
V
"He was a trailblazer. When you talk about a person that bled football. He got to be in the Hall someday. You got to let Art in. What are we doing if we don't let people like him in?"
—Ray Lewis on the late former Browns and Ravens owner Art Modell, one of the most controversial Hall of Fame candidates there is.
I
Cleveland wide receiver Jarvis Landry has 400 catches in his first four NFL seasons, the most in a player's first four years ever.
He needs 27 catches, only, to break Larry Fitzgerald's record of 426 catches in a player's first five NFL seasons.
Amazing: Landry averages exactly 100 catches a year. There was exactly one 100-catch season in the first 70 years of NFL history. Now Landry would be below average if, say, he caught 95 balls this year.
II
Andy Reid needs 16 wins to pass Chuck Noll on the all-time list for NFL victories, regular season plus playoffs.
Noll: 209 wins. Sixth all-time.
Reid: 194. Ninth.
Reid is 60. When I speak with him, I never sense a man who is tired, or getting tired of football. It's quite realistic to think he could finish his NFL coaching career fifth on the all-time wins list. That spot is held by Curly Lambeau, with 229 wins. Reid is 36 away from passing him—four decent seasons. We've been focused on Bill Belichick's climb up the ladder; Belichick is third all-time, with 278 wins. But Reid's climbing too.
SOMEWHERE ON THE TRAINING CAMP TOUR, U.S. — Some of you will read this note and think, King is bragging. Others will think, This makes me hate King even more. But I'm going to tell it anyway.
The other day, I was driving the Chevy Suburban that we've rented to take us around the east and south and Midwest. I don't do a lot of driving on the trip, but I do a couple of hours every once in a while. Videographer Annie Koeblitz was in the back, editing some video, and driver/reporter Stephen Lorenzo in the passenger seat up front. We were on an interstate highway, going down a hill, and I had a lead foot, and all of a sudden, there's a police car in the median, and I look at the speedometer. "91," it reads. Uh-oh, I thought. And here comes the police car.
So I pull over, and a polite officer comes to the passenger window and says hello and asks what we're doing. "We're with NBC Sports, on a tour of some NFL training camps, driving from one to another," I said.
"Do you know why I stopped you?" the officer said.
"I was going too fast," I said. "No excuse for going that fast."
"I clocked you at 90," the officer said. "License and registration."
So we waited. The officer wasn't gone long, and came back smiling.
"I'm gonna let you go," he said. "But I'm gonna need a picture."
Now that was a surprise. The officer wasn't a football fan, but said friends were, and they'd get a kick out of a photo of me.
"You can really give me a ticket," I said. "I deserve it."
"I can do whatever I want," the officer said. "We're good. Let's do a photo."
The officer leaned in, and Stephen took a photo. The officer warned us to slow down, and we were on our way.
Man, that was a lucky break I certainly did not deserve.
I
Last week, I wrote about Santonio Holmes, the former Steelers star wideout, tutoring current Steelers star wideout Antonio Brown in training camp on a move to prevent cornerbacks from being able to slow him down at the line of scrimmage.
Check out this link between Holmes and Brown:
Before the 2010 draft, Pittsburgh traded Holmes to the Jets for New York's fifth-round pick, No. 155 overall. Pittsburgh traded this pick to Arizona for cornerback Bryant McFadden and the Cardinals' sixth-rounder. The Steelers used that sixth-round choice, 195 overall, on Brown.
Pittsburgh has benefitted from a combined 12 seasons of football out of the Holmes/Brown combo platter, with 968 catches and 13,745 yards. Not bad. The Steelers got 235 catches from Holmes in four seasons, then turned him into the 195th pick, Brown, who has produced 733 more catches in eight seasons.
II
A couple of reasons why Jim Harbaugh is such a Michigan man:
He lives four doors down from where Bo Schembechler lived when he was the Michigan coach.
Harbaugh's children go to the same elementary school he attended in Ann Arbor four decades ago.
III
Maybe I'm the only person in the world who finds this strange. The Philadelphia Flyers will play four preseason games in six days against the New York Islanders—Sept. 16, Sept. 17, Sept. 18 and Sept. 21. The Flyers, either at home or on the road, will not play New Jersey (90 minutes away) or Washington (just over two hours away) among their eight-game exhibition slate.
Earlier in the column, I wrote about the comeback of J.J. Watt. I thought it would be valuable to compare the four prime years of Watt (years two through five of his career, when he won the Defensive Player of the Year award three times) to the first four years of Aaron Donald's career. Donald, for now, has taken the mantel of best defensive player in football, and won the award last year.
Pro Football Focus, using its metrics that judge every player on every play, has created a Wins Above Replacement stat, on the heels of the baseball WAR that's become a valuable tool in judging the relative worth of every baseball player. So let's see how valuable to the bottom line Watt was in 2012-15 versus how Donald has fared in his first four NFL seasons, 2014-'17.

Last year, Cris Collinsworth said in the middle of Donald's fourth season that he thought Donald already had done enough to be a Hall of Fame player. It's a mark of just how remarkable J.J. Watt was in those four seasons that his prime four-year WAR is more than a full victory better than Donald's in his first four years.
For more smart takes on football analytics, consider a PFF Elite subscription, which gives you access to performance metrics the pros use. 
The mail this week includes your comments on the overuse of smart phones and social media. We start elsewhere, though.
He likes the non-football stories. From Conor G.:"I just wanted to thank you for always including your favorite non-football related stories or articles that you've read in each of your columns. I'm a big fan of long-form journalism and appreciate that you highlight the very good journalism that is taking place all over this country."
I really appreciate you noticing, Conor. It's an honor for me (and quite fun) to pick out a story or three every week that we can all learn from. There is so much great journalism being done—in news, sports and other areas like science—that can enrich our lives. The story today about paralyzed former Rutgers player Eric LeGrand by Steve Politi is a must-read.
On phone addiction. From Justin G.:"I am 22 years old and a major proponent of combating phone addiction. I used to spend hours upon hours on social media like many people my age. However before sophomore year of college I deleted all social media. It was the best decision I've ever made. My grades went up, sleeping habits improved, and so did my overall mental health. I believe if football players put phones down and focused more on the team as opposed to their social media following, it would make for a healthier league."
Preach, Justin, preach.
Scott wants to focus on the family, not the electronics. From Scott K.:"[Phone obsession and social media] is completely ruining the fabric of face-to-face interaction, and communication in general. As if family foundations and stability aren't compromised and crumbling fast enough around this world, the simple societal skill of 'talk' has been completely replaced with one's ability to 'tweet or text.' When we sit down for a family gathering or meal, I say, 'For those of you joining us today, thank you for your presence and commitment to be with us. Now, if you would kindly remove your cell phones from the table top, your pockets, your purses or wherever you are housing the Device Devil, and turn it off for the remainder of your stay.' There is both a time and place for social media, but don't ever let it replace the moments that matter. Look one in the eye and tell them how you feel and what they mean to you. Get back to the basics."
Well said, Scott. I'm not to that level of eliminating phone use in the house, but I do think the overuse of smart phones has to be curbed, somehow.
I
II
Instead of congratulating James for founding and inventing a school in the city for troubled youth in Akron in conjunction with the Akron Public Schools, the president of the United States finds a way to taint James. It is horrible, detestable, totally bush-league, and something we positively must fight back against.
The president Tweeted that. If it's possible, it is a new low, even for him. Utterly, absolutely pathetic.
III
IV
V
10 Things I Think I Think
30
1. I think Sunday's announcement by the Eagles that coach Doug Pederson and GM Howie Roseman were having their contracts extended through the 2022 season has to be one of the easiest decisions owner Jeffrey Lurie has ever made. Pederson is a relatively egoless coach who entered the job knowing he wasn't going to be picking the players and still is fine with that. Roseman entered this partnership with Pederson needing an equal partner after the nightmare relationship with Chip Kelly. Lurie did the smart thing, showing faith in both men to keep this excellent organization running smoothly.
2. I think the stunning, underplayed news of the week was the Patriots' release of Jordan Matthews, the wide receiver I thought would play 700 snaps for them this year and catch 65 balls from Tom Brady. He has a hamstring issue, and it has been a couple of years since he was consistent and valuable. But this is a guy who caught 75 balls on average in his first three NFL seasons, had a clunker for a fourth year, and at 26, should have been able to emerge this year. Unless the hamstring was torn or a three-month injury, I don't get this one.
3. I think Jerry Kramer's speech was the best one. He charmed me. Totally not bitter. Just grateful.
4. I think I'd issue this plaintive wail about Johnny Manziel coverage: Could we stop now? Or at least put it in the roundup section, with a sentence or two max after each start? Nothing against Manziel; I wish him well. But the lingering American Manziel mania seems misplaced and confusing. I have been on the road for two weeks at NFL camps, and I have heard not a soul mention his name or wonder in conversation how he is doing up in Canada. Something like this, perhaps, reflecting his performance Friday night, would be appropriate, instead of the continuing coverage of someone who had an entertaining and magnetic college career—which is long since over:
Manziel awful in first CFL start: Johnny Manziel, the failed former first-round pick of the Browns, was picked off four times in his Canadian Football League debut Friday. His new team, Montreal, lost 50-11, and fans throughout northeast Ohio said in unison, "We are so surprised."
5. I think my favorite line from Terrell Owens' off-campus speech was this one:
"I am a man of courage. Courageous enough to choose Chattanooga over Canton."
It's brave to get elected to the Pro Football Hall of Fame and not show up? It's not brave. It's a choice. I might think it's ridiculous that he skipped the induction in Canton, but it's his choice; Owens shouldn't be forever beaten up over this. But absolutely he shouldn't be celebrated or feted for doing something gutsy either. Listening to his speech in Chattanooga, I could hear the anger against the 48-member board of selectors, of which I am one, and of which 46 are members of the news media. I do not understand how boycotting the ceremony—because of his anger against 46 people who are not his family, who are not peers, who are not his teammates, who not his new teammates in the Hall of Fame—does anything for Owens other than making him appear forever small and vindictive, and vindictive against people who mean so little in his world.
6. I think I don't agree with Randy Moss' version of why he was an oft-unpopular player in his NFL career. The other day, at the Hall of Fame, he said of the media and football cognoscenti:
"They brainwashed a whole lot of football fans out in the world. I think it was very unfair to me, I think it was unfair to my family. Just to be able to look back and reflect, I wouldn't change it. So now that I look back and reflect and see all these cameras and all these positive stories written about me, it's still not fair and I'm still not pleased with it."
Two reactions: Merril Hoge (for instance) was calling Moss the way he saw him when Hoge criticized Moss for lack of effort on multiple pass-routes per game. He showed America the tape. It continued into Oakland. So it happened. It's true. It existed. But, and this is the second point, I have always appreciated the defiance of Randy Moss, the love-me-or-leave-me ethos he espoused. I really like Moss. He's not changing for anyone. Did I like everything he did on the field? No—and I have been critical of him for his warts. But he was a supreme talent and entertainer, and he made the game so much better when he was on the field.
7. I think I loved Randy Moss' tie. Loved it. Perfect. Moss had the names of 12 African-American victims of confrontations with police. "I wanted to express by wearing these names that these families are not alone, and these people are not forgotten," Moss said.
8. I think it's so bizarre that there are 127 quarterbacks in 32 NFL camps right now, and the fourth quarterback picked in 2016—who is 23 years old, who is totally healthy, who is a clean-living lover of football, who was picked 84 slots before Dak Prescott—is not one of them. Where have you gone, Christian Hackenberg?
9. I think it's hard to imagine the Ravens keeping Breshad Perriman (three touchdowns in the three NFL seasons since being drafted 26th overall) at final cutdown. I get the strong sense they're moving on from him.
10. I think these are my other thoughts of the week:
a. Multimedia Project of the Week: From Steve Politi and John Munson of the Newark Star-Ledger, a brilliant look at 24 hours in the life of Eric LeGrand, the paralyzed former Rutgers football player. It's so real, the way Politi plumbs the depths of the life LeGrand lives, by living with him for a very full day.
b. "It is 2:28 a.m., and I can hear Eric LeGrand breathing in the other room."
c. Great first sentence, Steve. And really great reporting and writing.
d. LeBron James is the best example of an athlete not forgetting where he comes from.
e. I can see how, on the basketball court, some people might hate James because of whatever reasons. But there is simply not a feasible, logical reason for hating a man who funds college educations for multiple youth from his hometown area, and builds a school (in conjunction with the Akron Board of Education) that will serve the whole person. There's a food bank at the school. All students who graduate in good academic standing will be guaranteed fully funded placement at the University of Akron. The man is an American hero, and it has nothing to do with basketball.
f. Maybe Ian Kinsler's a 2013 player, but I like the Red Sox getting him for the last two months to shore up a defensive hazard at second base. His game Thursday night against the Yankees was magnificent.
g. Last one out of Camden Yards, please turn off the lights.
h. Seriously: Jonathan Schoop gone? Manny Machado? Kevin Gausman? A pillaging of the first degree.
i. That is so weird, the Pirates making a pennant push, trading for Chris Archer when they've got a 55-52 record and are seven games out.
j. Coffeenerdness: I have had some bad coffee in my time, particularly on airplanes. But the coffee Friday morning at the Fairfield Inn and Suites in Buford, Ga., maybe 20 minutes from the Falcons' complex, was legitimately awful, a waste of your coffee-liking time, a bitter, thin, barely coffee-flavored-water brew that tasted like it had flowed through the same filter and the same grounds for a sixth time that morning.
k. Beernerdness: It's always good to pass through Spartanburg, S.C., while at Panthers camp and get one of the most interesting beers in the country: Son of a Peach American wheat ale (R.J. Rockers Brewing Company, Spartanburg), right there at the brewery, which is about a mile from the Panthers' practice field. R.J. Rockers opened a companion restaurant, The Silo, with all its beers on tap and a very southern menu. Eclectic and fun. I love a place in Spartanburg called Cribbs Kitchen next door and planned to eat lunch there while at camp. But …
l. Meal of the Week: Once Team NBC saw The Silo menu, we had to try the Low Country Boil, a stockpot of shrimp, sausage, onion, corn and redskin potatoes. Wow. That was tremendous.
• Tuesday … Cleveland. HBO debuts this season's "Hard Knocks" series on HBO at 10 p.m. ET, and when I was in camp the other day, I got the sense the team wasn't particularly bothered by it. NFL Films cameras caught a cool scene in the show between coach Hue Jackson trying to pass on a message to rookie quarterback-of-the-future Baker Mayfield on work ethic and competition.
Jackson: "What time do you usually come over [to the football facility in the morning]?"
Mayfield: "Depends … Usually about two hours before [practice], sir."
Jackson: "Do you ever come in with your boy 5 [starting quarterback Tyrod Taylor]?"
Mayfield: "He does his own little workouts in the morning."
Jackson: "Where's your own little workout in the morning?"
Mayfield: "Huh?"
Jackson: "Where's your own little workout in the morning? You're starting your career, however you want to. You see what I'm saying? It's a competition, everything you do."
That's good stuff. Expect some drone footage too. When I was in Browns camp Monday, it was droneville.
• Tuesday … White Sulphur Springs, W.Va. Texans punter Shane Lechler will celebrate his 42nd birthday, which brings to mind this category: Hall Of Fame Candidacies, Punters, Majority of Career Spent With Raiders. Ray Guy, in the Hall of Fame, versus Shane Lechler, who played 13 years with the Raiders and is still booting. (Spoiler alert: It's sort of insane.)
Ray Guy career yards per punt: 42.41 yards.
Shane Lechler yards per punt in his two seasons since turning 40: 48.35 yards.
• Thursday … Seattle. Andrew Luck will throw a football in a game for the first time since New Year's Day 2017—for the first time in 83 weeks and four days, to be exact, at 10 p.m. ET in the Seahawks' noise factory. Colts at Seahawks to open the preseason borders on a momentous day for an Indianapolis franchise that needs one.
• Friday … Oakland. Trivia question to stump your friends: When's the last time Jon Gruden roamed the sideline as coach of the Raiders? Jan. 19, 2002, in the last game of the Raiders' ill-fated 2001 season—the Tuck Rule Game. After a Tom Brady fumble was ruled an incomplete pass late, Adam Vinatieri booted a 45-yard line drive through the snow, the greatest field goal of his life, to send the game to overtime, and then kicked a chippy to win it in overtime 16-13. At 10:30 p.m. ET, Gruden, 38 then and 54 now, leads the Raiders on the field at The Black Hole to face Detroit.
Frank Reich-Andrew Luck.
Just might be Pederson-Wentz
of the AFC.