Getty Images
SANTA CLARA, Calif. — Cool scene at 49ers camp Sunday afternoon: Two young towheads, maybe 6 and 3, one wearing a Jerry Rice "80" jersey and one wearing a Jimmy Garoppolo "10" jersey, waiting for Jimmy Garoppolo Himself to come down the autograph line after a training camp practice. And here comes Garoppolo, in his black practice jersey and swoon-for-me thick stubbly beard.
"Hi guys!" Garoppolo says, taking a black Sharpie and signing the Rice kid's hat and the Garoppolo kid's jersey. This is one of those autograph periods the famous players have to do. Garoppolo, though, is in charm mode, and looks like he really wants to give these two kids a memory for life.
He looks into the younger kid's eyes, smiles, and says, "Would you guys like a picture?"
Kid in Garoppolo jersey says: "Nahhhhh."
Now this is an "Access Hollywood" or "Extra" moment, with a Mario Lopez voiceover: Northern Californian stiffs Garoppolo! We'll show you the new Brady's shocked reaction! Except the new star of stars laughs along with the aghast Mom of the towheads—he has to love someone not wanting something from him these days—and after the Mom arranges the kids next to the 49ers quarterback, he bends down to take a smart-phone photo with them.
A year ago, Garoppolo was in his fourth New England training camp, clueless about his future and osmosis-learning how to be great from Tom Brady. His world changed in a flash Oct. 30 with the trade to San Francisco, and lots of other worlds changed too. Coach Kyle Shanahan's world changed; he thought he'd be mortgaging Niner millions to try to sign former pet QB Kirk Cousins as a 2018 free agent. GM John Lynch's world changed; he thought he'd be in serious scouting mode, trying to figure whether Josh Allen or Sam Darnold or Baker Mayfield would be his long-term quarterback heir to Montana and Young. Even the great Tom Brady's world changed, because now he would no longer have the hot breath of Garoppolo on his neck, and he would no longer have to wonder if the Patriots would pay Garoppolo starter money to serve as pressure on him for the next two or three years.
It's a crazy story, and I'm not even talking about the TMZ adult film star date video, or the fact that Garoppolo, after seven NFL starts, has a contract averaging $6.5 million more per year than Aaron Rodgers' contract. All of it is crazy.
But with more logic than you think.
I love the potential of Garoppolo, I love the Niners taking the gamble of making Garoppolo the third-highest-paid player in NFL history after seven starts. I love the GM and coach putting their careers on the line for a guy with 12 career touchdown passes. I love the story (more than the 2018 team, honestly), and I love one throw I saw Sunday on a baking 87 degree day in a place that has hope for the first time since Jim Harbaugh roamed the land.
Crazy times in the NFL. Donald Trump thinks he's got a Brady body, Roger Goodell might have lost his shot to build an anthem bridge over troubled waters with the players, Matt Patricia desperately seeks goalposts, preseason games are an embarrassment to humankind, Frank Reich apparently knows how to handle Andrew Luck, Patrick Peterson (rightfully) chafes at his rep, you meet Yannick Ngakoue, I meet Roy Green, and we are not the enemies of the people.
Intrigued? Well, gosh, so am I.
The lead of Football Morning in America, Edition 5, starts on a Nevada golf course. I was walking the course with Tony Romo, the quarterback technician and diagnostician, last month when the subject of Garoppolo came up. Romo warmed to it. Not just because they both went to that mighty football power Eastern Illinois University either. Romo, the CBS lead analyst who might love watching quarterback tape more than hitting a solid 7-iron near the pin, loves Garoppolo's mechanics … and his early-career environment.
"You cannot be in a better situation early on than Jimmy," Romo said. "He's been with some of the best minds you could ever be around in the National Football League. He got the foundation of Bill Belichick, who probably set his routine for success for the rest of his career. He was around Tom Brady for three-plus years, learning through osmosis if nothing else. Tom's ability at the line of scrimmage to do something, and then for Jimmy to go back and study the how and why … I am sure Jimmy saw so much subtlety that took Brady years to learn through experience. Jimmy could just see it in practice and he's like, Oh, now I see why he did that.You get that ability to improve at a much faster rate than you otherwise would have on your own. It's really a priceless thing for young quarterbacks to be behind a great quarterback.
"And now with Kyle Shanahan, he's getting an offensive genius. I don't throw that term around lightly—Kyle really is. I would argue there's three or four guys in the league who really separate themselves as head coaches or offensive coordinators getting chunk plays. You're dropping back and you're having a guy come open 20, 25 yards downfield. That's a huge load off a quarterback's shoulders for always having to produce on third down to move the chains. That's where Kyle really separates himself."
Belichick, Brady, Shanahan, heir to Montana/Young. It's lunacy, how much has been laid on Garoppolo's shoulders.
In a quiet moment Sunday afternoon, in the bowels of the stadium he hopes to make the best homefield advantage in sports, Garoppolo considred the star-turn his life has taken.
"I like to think about it at certain times," he said. "When I'm in here working, you just don't have any time to think about it. But every once in a while it's good to sit back and smell the roses as my dad would put it … just realize how good do you really have it. I like to, every once in a while, take a step back and realize where you're at. Not now. Now, it's grind mode. Don't really have a lot of time for that."
I fear we have—and I put me near the top of the list—jumped the line of NFL hierarchy with these Niners. It might be too soon. Garoppolo and his $27.5-million average compensation over the next five years (only Matt Ryan and Kirk Cousins are higher-paid QBs) are keystones to the Niners getting great again. But their top two running backs—Jerick McKinnon and Matt Breida—got hurt over the weekend, and the only franchise-type wideout is ex-Bill Marquise Goodwin. For now, the skill position depth on the 49ers is awful. Which puts even more pressure on Garoppolo.
He probably won't fret that. I talked to quite a few Niners about Garoppolo and his early impact with the franchise. The most interesting thing I heard was from veteran tight end Garrett Celek, when I asked when he knew Garoppolo was a keeper.
"The first time he got in the huddle with us," Celek said.
Huh?
"I'd said maybe two words to him," Celek said. "I didn't know what kind of guy he was. He came into the huddle for the very first time, and he talked to us and called the play like he'd been in there 10 years. It was awesome."
If the Niners win this year, it will be because of Garoppolo's quick decision-making and accurate right arm. This team is not talented enough yet to win 12 games in a tough NFC West. The level of talent versus, say, the Rams, is lacking. But a great quarterback levels the playing field. Shanahan thinks Garoppolo got better by witnessing Brady, regardless of how much Brady helped the kid who might one day take his job.
"Tom's not sitting there trying to be his teacher every day," Shanahan said. "Tom's taking care of Tom, as he should. You get to sit there and watch really the GOAT do it. It's cool to see. You can envision how you wanna handle that situation when you get in. But I still think that a lot of that, he's gotta get in and do it. He's gotta find his way to do it. You can't be someone else."
Here's the way Garoppolo was the anti-Brady on Sunday: In a two-minute drill, on the first snap, Garoppolo, under a heavy rush, lowered his arm angle and throw sidearm to Raheem Mostern. Beautiful throw, and not a long one. But Garoppolo know when to take a short gain and when to risk his field position for a long one. This was the right choice at the right time. "I don't think he at all tries to be Tom," said a friend, Vikings backup quarterback Trevor Siemian.
There is one thing you don't know yet about Garoppolo. He's a little bit of a wise guy. That means he fits into this team well.
"I like Coach Shanahan," Garoppolo said, "because we've both got that smart-ass thing going on. Just our attitude—that little bit of sarcasm. I grew up with three brothers, so if you can't make fun of someone or can't take being made fun of, you're going to have a tough go."
We don't know yet if they'll be Walsh-Montana, or even 60 percent of that. It sure is fun to contemplate, though.
I'm troubled by the anthem issue that threatens to be a black cloud over the NFL for the second straight year. It's the kind of problem that needs to go away, but commissioner Roger Goodell cannot make it. For the highest-paid commissioner in American sports history, Goodell has done an awful job handling this headache. Strong commissioners build bridges in times like this. Strong commissioners solve problems. Maybe a solution will appear out of the current secret negotiations with the players. I do hear there has been good-faith progress between the players' side and league/ownership officials in these talks. But will there be a solution that features all players standing for the anthem at every game this year? I doubt it.
I was told by one source this weekend that the two sides have had amicable discussions, and that progress has been made, but that no solution is very close, and the source doubts there will ever be a solution that includes all players standing at attention for the anthem, as the NBA has. Which means the NFL will continue to have an anthem problem.
As of this writing, it appears that two players kneeled, one sat, several raised fists and at least seven stayed in the locker room while the national anthem was played during the 16 weekend games. So maybe 13 out of 2,880 (about one-half of 1 percent) did not stand at attention for the anthem. I would say who cares, but we know anything but 100 percent participation is going to be trouble for the bottom line.
A commissioner must be a diplomat, and a strong leader. But this commissioner has allowed President Donald Trump to whip up fervor against the players Goodell claims to be solidly behind. He's looked weak, choosing to ignore the constant and insipid presidential flaying of the league and the players. I don't claim he should sink to Trump's level and respond to every tweet, but a policy of constantly ignoring the president doesn't work either. Last fall, Goodell and a cadre of influential owners tried to build a bridge over troubled waters with the players. They handed the Players Coalition, a group of players fighting judicial and racial injustice in America, almost $90 million over seven years for their causes, and asked for nothing in return. The protests slowed but did not stop. And that goodwill went away months later, last May, when the owners—with no union input—instituted a rule that said players would either have to stay in the locker room during the anthem or stand at attention on the sideline while it was played before the game. That actually would have been a reasonable alternative to consider if the league included the players in the process, but that never happened. Goodell and the owners acted unilaterally. The Players Coalition felt betrayed, and on the first full weekend of preseason games, the protests began anew: Two Dolphins and one Raider sat or kneeled during the anthem; several others raised fists during the anthem.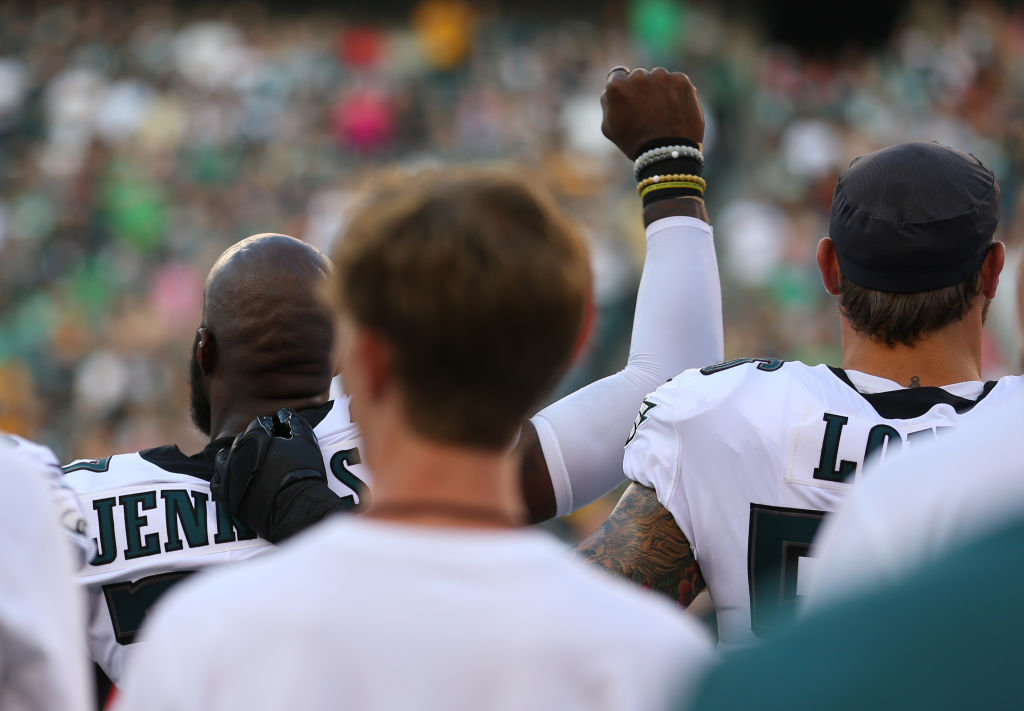 What should have happened: The commissioner should have gone to NFL Players Association executive director De Smith last September and said, We've got a problem that's growing with the on-field demonstrations during the anthem. We need your help. This has the potential to hurt our bottom line significantly—which impacts you too. If advertisers walk away, and some fans stay away, that's less money to split, which means a lower salary cap eventually. Can we find some compromise like the NBA did, and find a way for all players to stand at attention for the anthem? His predecessor, Paul Tagliabue, could have done that with union boss Gene Upshaw; they acted as stewards of the game. But Goodell and Smith do not trust each other. (That's putting it mildly.) In a case like this, I don't care who's to blame. It's up to Goodell, for the good of the game, to find some olive branch with the players. Tagliabue had a great mantra while in office that applies here: "All's well that ends." Who cares who wins here? Just end it.
Instead, here's where we are, 11 months after this wound began festering. Players—just a few, but some—are still protesting during the anthem. Trump's still sending demagogic anti-player tweets. The Players Coalition, feeling ignored, is ticked at the league. The more radical players, Colin Kaepernick and Eric Reid, are unemployed, out of jobs because of their activism, angry and with strong player backing. The owners are out $90 million, with nothing in return because the issue festers. And festers.
Goodell had six off-season months to make this nightmare go away. It didn't go away. In fact, it's worse now. Even though the two sides are talking, with the opening game 24 days away, there's no reason it should have come to this.
I don't know what advice Goodell is getting, or if he's listening to any, these days. There's been such a major turnover of advisers and aides in the NFL hierarchy—out: Paul Hicks, Joe Lockhart, Tod Leiweke, Natalie Ravitz, Jeff Miller—in the last two or three years that I don't know who really has his ear now. But this situation is exactly why the owners paid Goodell the very big bucks. Though the two sides are making some progress, Goodell needs to lead now, lead this league out of a controversy that's lasted too long and threatens a second season.
One thing that might work is the NFL giving the aggrieved players a game week this season when, instead of another pink week for breast cancer or another camouflage week to support the troops, players could be on NFL Network, NFL.com and other league media partners to press their case for social equality. I doubt that will stop the more radical players from protesting during the anthem, but it does make the NFL less of a target.
Lions: Goalposts and Gargantuan Backs
ALLEN PARK, Mich. — So Matt Patricia doesn't say much, or allow his players to say much, about the inner stuff of the Lions. When I asked Matthew Stafford about Patricia, he said some laudatory things about what a smart and prepared guy he was, then said he'll keep everything specific behind closed doors. Okay. But I did learn one very Patricia thing this week, about his attention to detail. So when Patricia got the job and toured the Lions facility in suburban Allen Park, he looked around the practice fields and thought, Something's missing. This is weird. He asked a couple of Lions' people why there were no goalposts on the practice fields. He queried GM Bob Quinn, who'd gone two years at the helm of the team with no permanent goalposts (just temp posts, wheeled out during practice). Patricia said to Quinn, "The quarterbacks need that as a landmark." Receivers too, on post routes. Patricia was befuddled about it. So when I showed up, I saw four permanent goalposts on the two long practice fields: two with standard width, and two with narrow width, for the kickers to be tested with tougher kicks.
One other thing that surprised me: The three solid backs in camps are Theo Riddick, rookie second-rounder Kerryon Johnson and LeGarrette Blount, who I believe in on pace to play for all 32 teams in the NFL. "I can try!" Blount told me. "But I might age out!" On his sixth team now, Blount is 31, and quite valuable. Two 11-on-11 periods in the practice I saw, and both had 247-pound power back Blount, the closest thing to Jerome Bettis (but not really close) in football today, carry the ball on the first snap. So what is Patricia doing? A couple of things, as I read it. He wants to establish a toughness on the offense that he thinks just wasn't there in the last couple of years, when the running game has stunk. Two: He wants to tell his players, The days of living and dying with Matthew Stafford are over.
Vikings: A Helpful Building Block
EAGEN, Minn. — In 1995, the Jacksonville Jaguars spent $121 million to build a shiny new stadium close to downtown, using some parts of the old Gator Bowl structure.
Some 23 years later, the Minnesota Vikings spent $140 million to build a training facility.
The Twin Cities Orthopedics Performance Center, a training and team office complex on the east side of Minneapolis, joins The Star (Dallas' complex) as NFL training kingpins and overtakes Seattle's beautiful facility on a lake south of downtown. It includes:
• Four grass practice fields (two heated), an 6,500-seat outdoor stadium where the Vikings can scrimmage and where local high schools are booking games, and an indoor facility with a ceiling high enough to avoid punts hitting it.
• A stand-up three-person Cryotherapy chamber, where players go for three-minute treatments to alleviate muscle pain and inflammation and improve blood flow. Some players, like tight end Kyle Rudolph, go twice a day.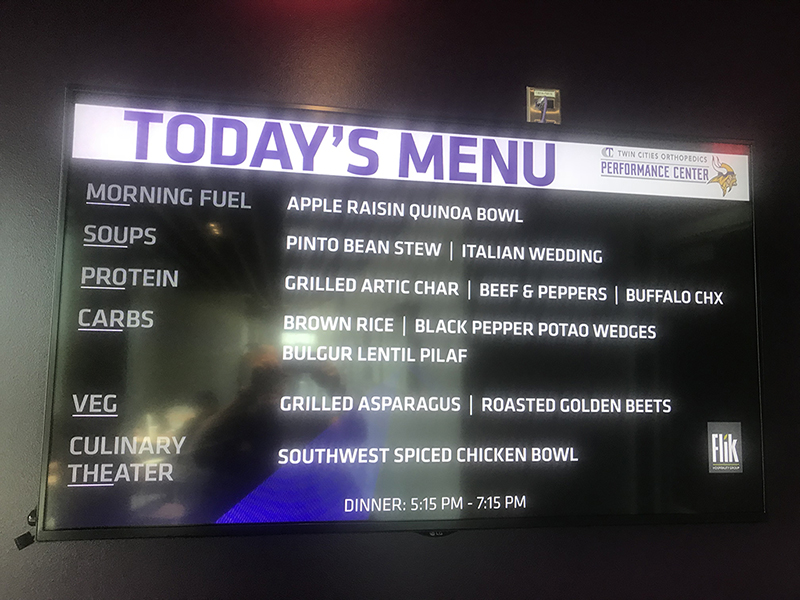 • A cafeteria that does not contain an ounce of junk. Last Wednesday, for lunch, you could have had a cup of pinto bean stew, and a plate of grilled Arctic char, bulgar lentil pilaf, grilled asparagus and a spinach/kale/beet salad.
• A outdoor sand pit for rehab and training for all leg injuries and leg fitness.
• A pool room. Here, there are three pools: a cold pool, a whirlpool, and a pool with a treadmill with a sort of elevator; the lower you're dipped in the pool, the most energy you expend while running or walking on the treadmill. On the end are several more traditional single-person ice tubs.
• A draft room/personnel meeting room with rising auditorium seating that is so advanced that … well, I was shown the room off-the-record, so I can't talk about the specifics. But it's other-worldly. Very 2032.
One more thing: The locker room has fireplaces.
"I feel like there's no place in the United States that has a facility so well-designed to take care of the players," Rudolph told me. "No pro team. No college team—and college teams are in an arms race with those facilities they have. No national-team training center. Usually in the off-season I go to Newport Beach for six to eight weeks to work out and live. It's 75 degrees. Every day's perfect. But this year I stayed here."
Where, presumably, every day was perfect inside this nirvana of a facility.
Chargers at Arizona: An Eminently Forgettable Game
GLENDALE, Ariz. — Thoughts from the Cards' 24-17 win over the Chargers on Saturday night:
1. How can people pay real money to see these games? I have covered this game for 34 years and said it 34 times. This game took 3 hours, 37 minutes to play, had 32 called penalties (26 accepted, for 265 yards), saw five turnovers, saw one pass from the two starting quarterbacks (Sam Bradford one, Philip Rivers zero), and showed a savior quarterback in Josh Rosen who's got a lot of work to do. It generally bored us to tears.
2. Everyone inside the Cardinals expects GM Steve Keim—suspended five weeks for a DUI charge, fined $200,000 by the league and ordered to undergo alcohol rehab—back when his suspension is over next week. Keim's a notoriously early-in-the-building guy, and one Card insider said he plans to be in the building on his first day back at 4:30 a.m. That's all well and good—but Keim knows he'll be watched closely by his franchise and the league. His first order of business in a week: trying to get the David Johnson contract done. Neither Johnson nor the Cards wants the talented running back—the NFL leader in yards from scrimmage and touchdowns in 2016—to play the season at his scheduled $1.88 million without making a rich adjustment for future years.
3. I find myself rooting hard for Geno Smith, who threw a lovely 47-yard contested touchdown bomb to fellow ex-Giant Geremy Davis on the prettiest play of the night. Smith was a casualty of Ben McAdoo's Eli Manning benching last year, and I maintain he deserves to be someone's number two, somewhere. I like him better than Cardale Jones with the Chargers, even though it seems fruitless to fight for that job. Philip Rivers hasn't missed a start at quarterback for the Chargers since Drew Brees played for the franchise. That was in 2005. When Kylie Jenner was 8.
4. Rivers is perky (surprise!) and got bummed only once when I spoke to him Saturday night. The ACL tear suffered by tight end Hunter Henry puts a hurt on this year. But Rivers told me the big thing he sees is how 2017 first-round wideout Mike Williams, at 6-4 and 220, should take some of the intermediate load that Henry would have shouldered.
5. The Chargers are giddy with the prospect of building on last year, when they started 0-4, finished 9-3 (all three losses to playoff teams), and came within a whisker of making the playoffs. Despite the Henry loss, the addition of vet center Mike Pouncey to anchor a shaky line is a plus.
6. Big year for Sam Bradford. In the last four calendar years, he's been property of the Rams (2014), Eagles (2015), Vikings (2016 and '17) and now the Cards—with the hot breath of Josh Rosen breathing down Bradford's neck. Talk to the Cardinals, and you can feel it. They love Rosen. But there's something weird about a quarterback who is so efficient and so well-liked but who gets shuffled from team to team like he's some kind of Mike Glennon. Bradford doesn't have long to prove he's the franchise guy people thought he'd be when taken number one overall in 2010.
7. Do you think Patrick Peterson of the Cardinals sounds like he chafes at people thinking he's not an all-pro cornerback? Listen to my quick conversation with Peterson on Saturday night:
Let's see about Peterson versus a couple of the durable top guys who have played more than 3,000 snaps over the last three years, per Pro Football Focus:
• Peterson: 3,173 snaps played, 105 completions allowed.
• Chris Harris Jr.: 3,160 snaps played, 139 completions allowed
• Josh Norman: 3,198 snaps played, 130 completions allowed
Peterson is becoming the Revis of his day. Over the last three years, his teams have faced about 31 passes per game—and completed 2.2 per game against receivers covered by Peterson.
One Question Interview
20
I'll do this occasionally through the season—ask a significant person a question I'm curious about. Here's new Minnesota offensive coordinator John DeFilippo, who brings some lessons from his tenure as quarterback coach under Doug Pederson to Mike Zimmer's staff, and who is likely to be a strong prospect for a head-coaching job in 2019 or 2020:
FMIA: What are the most valuable lessons you take from working with Doug Pederson?
DeFilippo: "Two things I'm going to give you. Number one, trust in his assistant coaches. He trusted [offensive coordinator] Frank Reich to pull the whole thing together. He and Frank both trusted all the offensive assistants to have our own areas and be the master of that area. So the trust on that coaching staff was earned—if Doug put you in charge of red-area plays, he trusted you to be the best in the league at knowing the best things to do in that area. Number two: Coach is gonna do it his way. His way is pedal to the medal. He wants to score on every play. He gets upset sometimes because we don't score on every play, in a good way. He's going to stay on the attack when there's that point in the game where you can either try to put an opponent away or just kind of ride it out. He'll always take the shot to put the opponent away. And the players followed. In all we did, we locked arm and arm, here we are, and prepared the same no matter who we played. Our term for that year was, 'faceless opponent.' And each week we treated our opponent like it was a faceless person.
"I should also say in my two years in Philadelphia, I never heard Mr. Lurie [owner Jeffrey Lurie] say no to anything we needed. I mean, Nick Foles was having some issues in training camp last year and we bought this special machine to help him in his rehab that cost a lost of money. We also had an emphasis in the draft and free agency on bringing in quality people. There's gonna be a time in the NFL season when you'll have ups and downs—a player mad at a coach, a coach mad at a player, an argument on the field. If you have good character people and great locker room character, I think you get over those things. Carson Wentz goes down in December, and as awful as we felt for him, everybody's ready to step in and do a little more—because we knew we all had to."
On Saturday night in Arizona, I turned around in my row in the press box, and there was Roy Green. You may not remember him, but he's best known (to me, anyway) as the last, best, most versatile player in the NFL. Green is 61 now. He entered the league with the Cardinals in 1979 as a fourth-round defensive back/return man out of Henderson (Ark.) State. Over the next three years, he alternately (and often in the same game) played corner, safety and wide receiver, and returned kicks and punts. "A phenom," Bill Parcells once called him. "One of the best football players I've ever seen." Green led the NFL in 1984 with what was at the time the third-most prolific season for a receiver ever: 1,555 yards.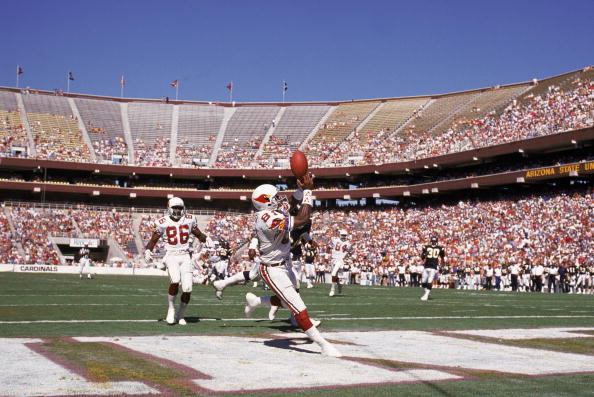 So here he was, looking spry; he had a kidney transplant in 2012, and he looked good.
"Who's the best quarterback you ever picked off?" I wondered.
He thought. "Theismann, maybe," he said. "I got Archie Manning once. Joe Ferguson." He thought for another second. "Maybe Danny White—I got him."
Let's go to Pro Football Reference. In 1980, Roy Green intercepted Danny White. In 1981, he intercepted Theismann, Ferguson and Manning.
Four picks in his career. He remembered them all, in the span of 20 seconds, 37 years later.
I
"Who's got a better body—me or Tom Brady?"
—Donald Trump, to writer Mark Leibovich, via the New York Post, from Leibovich's new book "Big Game: The NFL in Dangerous Times," due out Sept. 4. The Post said Leibovich got the quote while playing golf with Trump. Another gem from Leibovich, per the Post: He said Trump "kept bringing up Deflategate" and called it a "witch hunt." History repeats.
II
"The league ought to mandate all 32 teams go to training camp. We are losing so much, all these teams staying at home and not connecting to their fans. Think back to when you were a kid and you got to meet one of your football heroes, or get an autograph from one of your football heroes. You never forget that. We're losing that connection. Going away to training camp is great for teams, and it's great for the fans."
—Indianapolis GM Chris Ballard, passionately telling me how much the league misses as team after team goes away from the classic going-away-to-training-camp model and instead stays at their home facilities.
III
"My mom died this morning … I've lost my brother and my mom, same month. Within two weeks. Crazy, man. So this is just inside zone …"
—Browns coach Hue Jackson, on the first "Hard Knocks" episode, after interrupting a tape session with some coaches to tell them his brother and mother had just died in a two-week span.
Amazing that he goes from saying, "Crazy, man" to not even pausing, but rather just going back to the tape and focusing on the play on the screen.
IV
"Athletes are scared right now. A lot of athletes, most guys, don't want to talk about this. They're terrified for their careers. They're terrified about losing their occupation, which is how they feed their families … They're worried about getting the same type of treatment that Colin Kaepernick got."
—Randy Moss to Jason Reid of The Undefeated, on the significance of wearing at his Hall of Fame induction a tie with 12 names of deceased African-American people who died in confrontations with police.
V
"Skyline chili."
—Minnesota tight end and Cincinnati native Kyle Rudolph, when I asked him one of my weird questions for NBC Sports the other day in Vikings training camp: "If you could eat just one meal for the rest or your life, what would it be?"
I love that answer. Those of the Skyline persuasion—I lived in Cincinnati from 1980 to 1985—will understand exactly why Rudolph pines for his chili.
Jacksonville defensive lineman Yannick Ngakoue on getting sacks in a league increasingly focused on the quarterback getting the ball out quickly:
"God works in mysterious ways. I was drafted in the third round by Jacksonville [in 2016], and I thought it should have been higher, and that has turned out to be a positive for my game. It will always drive me. What that's done for me is that ever since I became a starter, I practice like I'm the two every day. If you're the two, you're always trying to beat out the one. So I'm motivated every day to be better. The one thing you learn in this league is you better come to work every day trying to be better—and that's not just words.
"I've learned it's not easy to rush the passer, but it's quite easy to prepare. I study the tendencies of every player on the offensive line who might block me. Maybe I see the tackle dragging his foot before every pass play, maybe his foot stays solid before every run play. That's what study can do. In a game week, on Tuesday I'll watch all of the run plays for the next team. Wednesday, I'm watching mostly pass, and then Thursday, more pass. I have become sort of a film addict. I watch it everywhere—on my phone, on my iPad. When we break for lunch during the week, I watch it there. I know how important it is to know everything about that team.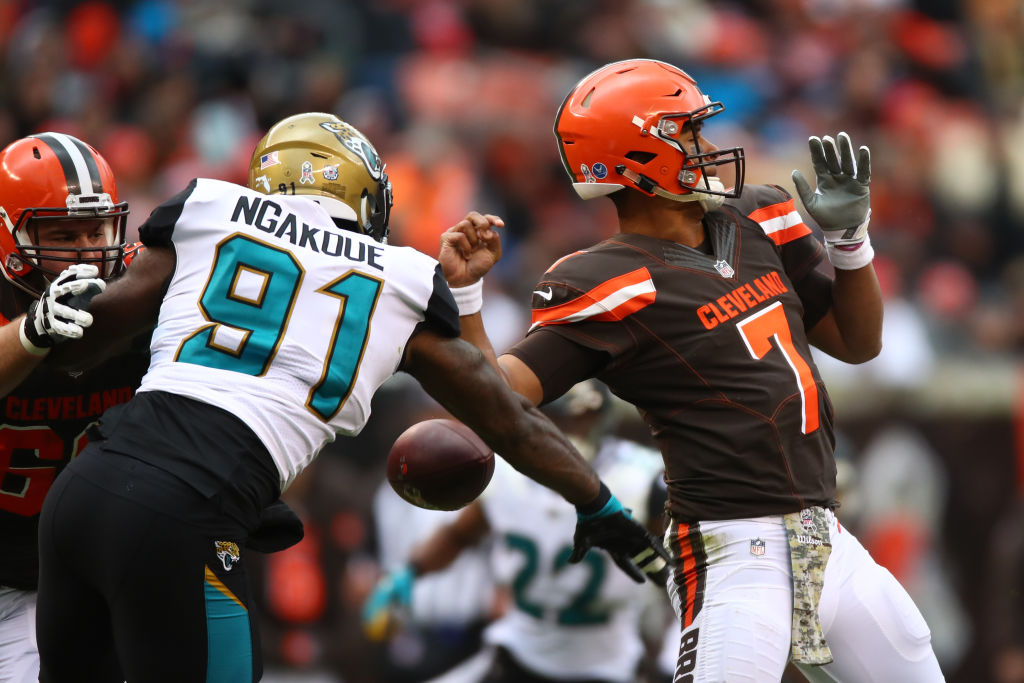 "Last year, before we played Houston in the first game, I had a lot of time to watch their line, and they had a young guy at left tackle [Kendall Lamm] who I'd be going against. I had a long time to study him in the preseason, and I didn't waste it. I learned everything about him. I got two strip-sacks in that game.
"The most valuable lessons I've learned: It's so important, really the most important thing, to be great at playing the run. I love playing the run. If you want to be a complete defensive lineman, play the run and play it great. Number two: Take care of your body. I learned the hard way how much it helped. I didn't do that all the time when I was younger, but now I get a massage twice a week, I do dry-needling, acupuncture. I take Epsom salt baths at home. Everything matters. It's a lifestyle. Number three: Two words—keep rushing. Club move, rip move, one last move, never stop. You never know when the quarterback's going to hold it too long and you'll get to him.
"The biggest thing I've learned: Sunday's easy. It all comes down to the work you do before Sunday."
Football Quiz: Two receivers who caught 90 or more passes every year for the past four NFL seasons. Name them.
Well, Antonio Brown (129, 136, 106 and 101 receptions) is easy. You've got to get the other one. Answer in number 8 of Ten Things I Think.
I
License plates seen Tuesday in the parking lot at Lambeau Field, where people attending training-camp practices park:
Arizona, Colorado, Connecticut, Florida, Idaho, Illinois
Indiana, Iowa, Kentucky, Maryland, Michigan, Minnesota
Missouri, Nebraska, New Hampshire, New York, North Carolina
North Dakota, Ohio, Oklahoma, Pennsylvania, South Carolina
Tennessee, Texas, Utah, Virginia, Wisconsin, Ontario
That's 27 states and one Canadian province … and this was not even a particularly packed practice session either.
II
The star of Spike Lee's new movie, "BlacKkKlansman," is John David Washington. A small-college running back and son of Denzel Washington, John David Washington played in two preseasons for the Rams, in 2006 and 2007. On his first NFL carry, John David took a handoff from Dave Ragone in the fourth quarter of the Rams' first exhibition game against Indianapolis and gained eight yards running up the middle.
Washington had 11 more mop-up preseason carries. Total yards gained: 10.
When I was putting my training-camp trip together in June, I wanted to see three interesting teams in succession—Detroit, Green Bay and Minnesota. Normally, on a trip like this, you drive from Detroit to Green Bay. The trip is an all-day sucker, an eight-hours trek west from Detroit in I-94, connecting with I-90 in northern Indiana, slogging up through the Chicago burbs and Chicago and more Chicago burbs, reconnecting to I-94 up to Milwaukee, then merging onto I-43 for the last 100 minutes to Green Bay. The way the trip would have worked, leaving Detroit around 1 in the afternoon (the Lions practiced early Monday, then got on buses at 1 for the airport and their trip west to Oakland), we'd have been hitting Chicago in the evening rush hour. Not smart.
So I investigated something I'd always wanted to do. I decided to do this:
The great thing about this? We got to Green Bay in time to freshen up and eat an 8:45 dinner at Titletown Brewing, with owner Bill Tressler answering all our beernerdy questions.
I had the venison meatloaf.
Recommended.
One smart game down for Andrew Luck, 19 to go. (Or more, if the Colts make the playoffs and Luck stays upright.) In his quarter played Thursday night at Seattle, Luck and his quarterback-protecting coach, Frank Reich, made sure Luck stayed clean by throwing quickly compared to his career average.
Luck took 2.45 seconds to throw, on average, for his 11 throws Thursday night.
Per Pro Football Focus metrics, how that 2.45-second average in Seattle compared to the first five seasons of his career:
2012: 2.86 seconds
2013: 2.80 seconds
2014: 2.83 seconds
2015: 2.88 seconds
2016: 2.88 seconds
Average: 2.85 seconds
It's ridiculously early, but the Colts are off to a good start ensuring Luck doesn't take the kind of beating he took in the first five years of his career.
Consider a PFF Elite subscription, which gives you access to performance metrics the pros use.
I
I disagree—with an asterisk. Officials almost certainly were told to err on the side of throwing flags in the preseason when the calls are borderline. They want players to realize this is a real thing. Bruschi could be right, but there's no way to know in August.
II
Lots of mail on my praise for Randy Moss wearing a tie with the names of 12 African-Americans who died in confrontations with the police, and about the police officer who let me go after I was stopped for driving 91 mph on an interstate highway.
• The Randy Moss tie. From retired police officer Mark M.: "I can't understand the condemnation shown by you and others without acknowledgement of the supreme sacrifices made by law-enforcement officers. An officer has died in the line of duty every 56 hours (average) since 2000. Where's your condemnation? As a retired police officer, I am at a loss to explain some of the deaths at the hands of law enforcement. Many lack proper justification for lethal force.  There are bad apples in EVERY profession. I am tiring of the diatribes and lack of concern for the families of those killed in the line of duty, while embracing the NFL players for their targeted disrespect to ALL law enforcement. Maybe you should think about the deeper meanings of your statements and how it affects those who allow you to sleep soundly at night. I remain an ardent fan."
Thanks for writing, Mark, and thank for all your years of service to enforcement of the law. This is a complicated and deeply emotional story. After two New York City officers, Wenjian Liu and Rafael Ramos, were murdered execution-style in 2014, I thanked cops for their service for weeks; I couldn't imagine the senselessness of their murders, and the risk that so many officers took to protect citizens. I'm very pro-police. But there are cases—with "bad apples," as you call them—when officers who don't do the right thing, and I believe these cases need to be kept in the public eye as well. When I praised Moss for wearing the tie with the names of 12 African-American victims on it, that's what I was doing.
• An idea on the Khalil Mack holdout that seems smart. From Rich N., of Roseville, Calif.: "Could this Khalil Mack situation simply come down to a cash flow issue and the Raiders not having enough cash to put into escrow for the guaranteed part of the contract required to get Mack back on the field?"
Very smart, Rich. I will be at Raiders camp this week and will do some digging on this. What Rich refers to is the fact that long-term contracts with guarantees must have those contracts funded with cash put in escrow in a league-monitored account. Does owner Mark Davis have the cash to fund Mack's megadeal with all his other current obligations in Oakland and Las Vegas? We'll look into it.
• I bribed the cop to avoid the ticket, he says. From @Frngtstc, via Twitter: "You should be ashamed. Consider if that officer had said 'I'm gonna let you go but I need a $100' instead of a picture. Yep, he solicited a bribe and you paid it."
What would you have suggested? Refuse to take the photo? Say, "I won't take the photo; I demand you give me a ticket?" Seems a little extreme.
10 Things I Think I Think
30
1. I think Andrew Carter of the Raleigh News & Observer has the story of the summer, about an excellent University of North Carolina offensive lineman who quit the game after his fourth concussion. It's mindful of the quote from my podcast conversation with top Obama aide Dan Pfeiffer, on what Obama thought of football now. "He had the same complicated relationship [with football] that a lot of us have right now," Pfeiffer said. "You wonder, 'What is our moral obligation here?'" Carter writes about the juxtaposition of Carolina football and those monitoring the dangers of it. Carter sets up the tale of Tommy Hatton superbly, thusly, and follows with very good reporting:
"His story has unfolded, too, amid the backdrop of a prominent university whose opposing interests accentuate the conflict between the violence of football and the scientific quest to understand the carnage unseen.
"At UNC, that dichotomy lies in the middle of campus. On one side of Stadium Drive is Kenan Stadium, a cathedral to the sport where tens of thousands gather on fall Saturdays to take in the spectacle. On the other side is the Matthew Gfeller Sport-Related Traumatic Brain Injury Research Center, where researchers attempt to understand what those fall Saturdays do to the brain.
"Hatton came to experience both the adrenaline-charged game days and then, finally, the quiet of the Gfeller Center, where he sought counsel about the damage he'd endured. For the longest time, football was his identity, and his progress in the sport was how he measured his progress in life. After his fourth concussion, everything Hatton knew began to change."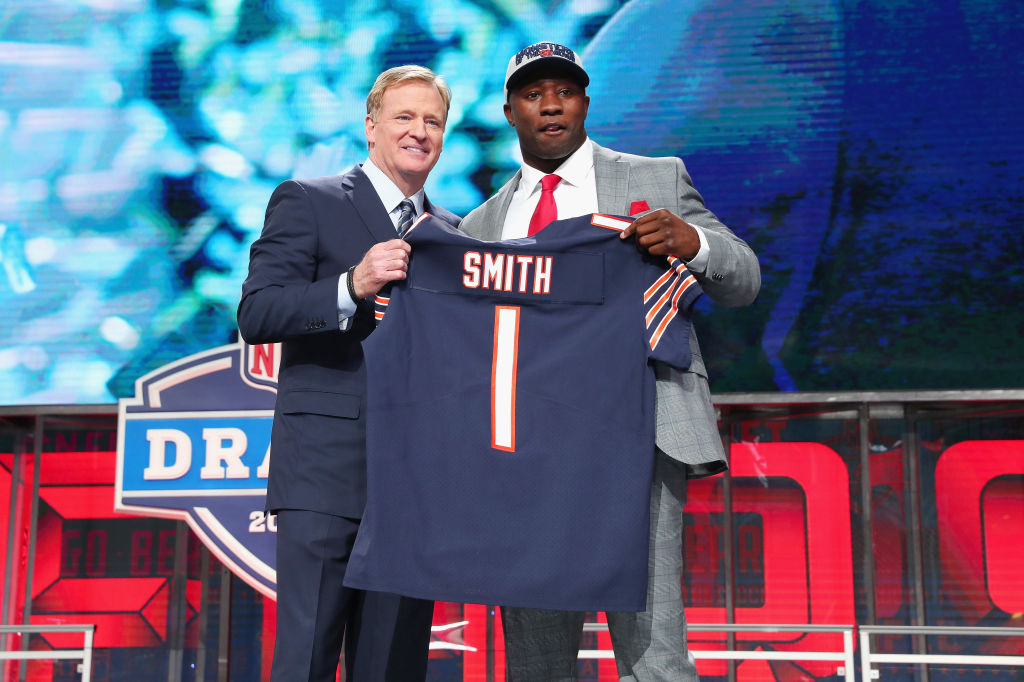 2. I think if you've read this column over the years, you know I think Chicago GM Ryan Pace is good at his job, overall. There are times when GMs have to do the right thing for their teams, and the right thing for the Bears is to sign the guy Pace drafted to be the centerpiece of the defense, linebacker Roquan Smith. This is day 29 of a holdout over something exceedingly minor in the grand scheme of things. It's got to end. Principle is one thing. We're talking about the reality of getting the best players ready to play in an uber-competitive division. Drop the fight. Get Smith in camp, and get him ready to chase Aaron Rodgers four weeks from last night at Lambeau.
3. I think I've got two recommendations for fantasy football coverage:
• If you're not a July or August student of the trends and who's hot and who's not and who's going to emerge by Week 3 in a prominent role, you should do one of two things. One: Kidnap Matthew Berry and force him to live with you for the next six weeks. Two: Invest a few bucks in a product that will do everything for you, the Rotoworld Premium Draft Guide. It's good and ridiculously thorough. (And I was just kidding about kidnapping my friend Matthew Berry—though he would be highly entertaining company.)
• In the interest of good, analytical football coverage mixed with fantasy know-how, check out The 2018 TFS Fantasy Football Draft Guide, by K.C. Joyner. I've always love Joyner's clarity of thought, and how he makes football analytics so fan-accessible. Check out this from this year's guide:
"The Jaguars went into last season with the mindset that they didn't want Blake Bortles throwing any more passes than was absolutely necessary. They obviously changed their minds, as Bortles posted green ratings (upper third in the league among quarterbacks) in multiple attempts categories, the most notable of which was the vertical depth level—passes thrown 11 yards or further downfield. He cut his Bad Decision Rate (mental errors leading to turnover chances) nearly in half from 2016 to 2017, a factor that likely affected the Jaguars' willingness to let him throw more downfield passes."
Good stuff. Great stat too on what Tom Brady loses with Brandin Cooks being traded. Cooks accounted for 43 percent of Brady's deep vertical throws in New England last year, so keep that in mind when deciding how high to draft Brady.
4. I think you did not need any volume on the video to see how ticked off Cam Newton was in his exchange with Kelvin Benjamin on Thursday night. Benjamin, traded from Carolina to Buffalo last season, trashed Newton to Tim Graham of The Athletic,and Newton sought him out before their preseason game, and clearly Benjamin wanted nothing to do with Newton. That ticked off Newton, whose body language said, "You're dead to me, Benjamin." Pretty amazing scene.
5. I think Cleveland Browns fans who watched "Hard Knocks" or have been at a camp practice must love Jarvis Landry. Man, this guy wants it. In a meeting in the Browns' receivers room, Landry goes off on his peers who he thinks are taking the easy way out of practice. "If your hamstring ain't fallin' off the bone, if your leg ain't broke, you should be practicing! Straight up. It's weakness. It's contagious as f—! … It's over with here, bro! If you're not hurt, you gotta f—ing practice! That ain't happenin' here! That don't exist! … It's contagious. It's contagious." The Browns have had a lot of guys who've made a lot of money and lost a lot of games over the years, and now they've got at least one very rich player who's going to hold his mates accountable.
6. I think I have to admit I really hope Trevor Siemian has a good 13-year career as an NFL backup and sometimes-starter. Such a good and selfless person, sort of like a fellow 250th overall pick in his own draft class, Ryan Fitzpatrick. Ran into Siemian the other day in Minnesota, and he's so happy to be with a good team, good organization and good starting quarterback, Kirk Cousins.
7. I think this was some interesting advice among former and current peers, from vice president of officiating-turned-FOX rules analyst Dean Blandino to Gene Steratore, the new CBS rules analyst for football and college basketball: "I told Gene: The speed at which things happen, then going on the air, is very fast. And then you will not have time to share everything you want to explain. In the TV world, you may only have 10 seconds to explain something that might be complicated and take far longer. Being concise is a big challenge." Blandino nailed that.
8. I think the answer to the Football Quiz will get you to appreciate a terminally under-appreciated receiver, Golden Tate of the Detroit Lions. He and Antonio are the only receivers with at least 90 catches in each of the last four seasons. Tate has caught 99, 90, 91 and 92 in his four Detroit seasons since signing as a free-agent from Seattle in 2014. "I believe I'm underrated," Tate told me at Lions' camp, "but I just try to come out and prove myself every time I step on the field. Thankfully I've got a really good quarterback with really great vision who finds me whenever he needs to. God's blessed me with great hands and the ability to maneuver through defenses."
9. I think this is the Sports Column of the Week: From Dan Wetzel of Yahoo! Sports, on why members of the media should not vote for any awards or Halls of Fame. Thoughtful and well-reasoned. It gives me pause, as one of 48 voters for the Pro Football Hall of Fame. First reaction: Hall of Fame voting is a human process, fraught with human frailties and human mistakes. Maybe it can be done better, and maybe we in the media should have no part of it, particularly seeing what a lightning-rod thing it's become.
10. I think these are my other thoughts of the week:
a. RIP Jim Schottelkotte, the man who gave my start in this business:
b. When I was a junior at Ohio University in the spring of 1978, majoring in journalism and working at the school paper (The Post), we all jonesed for the internship at the Cincinnati Enquirer, where Schottelkotte was managing editor. He showed up on campus for a day of interviews in a gray suit, and maybe 10 or 12 of us interviewed with him. I got the gig! Schottelkotte hired me as the intern in the paper's Kentucky bureau, pairing me with a hard-driving newshound of an editor, Frank Hinchey, and I had a great summer. A couple years later, I'd just started my career as a reporter with the Associated Pressin Columbus when Schottelkotte called asking me to come in for an interview with the Enquirer'seditor, Luke Feck. I drove down. Feck made it very clear they didn't hire wet-behind-the-ears beginners, preferring people with at least two years' professional experience. I tried to impress upon him that I had three good internships getting throw into the deep end of the pool, plus I'd been managing editor of a five-days-a-week independent student paper at Ohio University. Turns out none of that mattered much to Feck, I learned later. What matter was Schottelkotte standing on the table for me. So I got the job, at 22, as Xavier basketball and backup Reds beat guy, along with scattered college and high school duties. What a great job. "Always look under rocks," Schottelkotte told me.
c. I was fortunate a few months ago to be able to tell Schottelkotte what he meant to my career, and to me. So grateful for that. I sometimes think, what would have happened if I didn't have him in my corner? What would have happened if he didn't offer me that job, and I was there is Columbus for five, seven, 10 years doing the farm report in the morning and maybe the statehouse or some other gig? I'd have been happy, but probably not as happy as I've been doing this. It's amazing when you think of how one path you take changes your entire life—and amazing too when you think about the people who've had a big effect on your life, even if you haven't had regular contact with them in 30 years or more.
d. Story of the Week: Jim Paulsen of the Minneapolis Star Tribune unearthed a cool story about a girls basketball team in Grand Meadow, Minn., with players who never lost a game for 11 years, who dressed at home and walked in uniform to and from the basketball arena in harsh Minnesota winters, and whose team was essentially disbanded because the powers-that-be thought girls shouldn't be playing competitive games the way the boys did. What a walk back in time.
e. Disturbing Journalism Story of the Week: How tariffs on Canadian newsprint are hurting community newspapers.
f. Coffeenerdness: Had the macchiato with an extra shot of Kohler espresso at Lodge Kohler, the new (and terrific) hotel across the street from Lambeau Field. Recommended. That's good, strong espresso.
g. Beernerdness: So Team NBC stopped to see four innings of Padres-Brewers at Miller Park on Tuesday night. That park features the coolest section in big-league baseball: Down the right field line, upstairs (loge level, section 207) is Local Brews, with 24 Wisconsin beers and servers who really know their beer. This year's crop includes a very cool Chocolate Lab Porter (Wisconsin Brewing Company, Verona, Wis.); I had a sip, and the dark chocolate merged well, albeit faintly, with a strong porter. The two I had, I loved: Weekend @ Louie's Blueberry Amber Ale (Milwaukee Brewing Company, Milwaukee), which has four fresh Wisconsin blueberries floating in a flavorful but not overpowering amber ale … and a beer I extolled last year, Hinterland Cherry Wheat American Wheat Ale (Hinterland Brewing, Green Bay, Wis.). Using tart cherries from one small upstate area, Hinterland's figured the perfect balance between an excellent wheat beer and a tart, delicious experience. It's not sweet, at all. It's precisely what a tart cherry tastes like—just not overpowering in the least. Love this beer.
h. Fight the good fight, Jerry Remy. Cancer has returned in the Red Sox announcer, and there's a T-shirt being sold to support him and help fight cancer.
i. My schedule for the coming week: I'll see the Cowboys in Oxnard, Calif., today, the Raiders in Napa on Wednesday, and the Rams in Orange County on Thursday. Then we'll spend the weekend with Freddy, the grandson, in San Francisco. And next week, I'll hit some preseason games with topical stories attached to them.
j. And finally, in honor of the more than 70 newspapers that have committed to publish independent editorials on Thursday challenging Donald Trump's charge that the American press is "the enemy of the people," I present a smattering of the newspapers I have collected and perused, from Rochester to San Jose, from Atlanta to Minneapolis, over the last two weeks, to show support for journalism and journalists.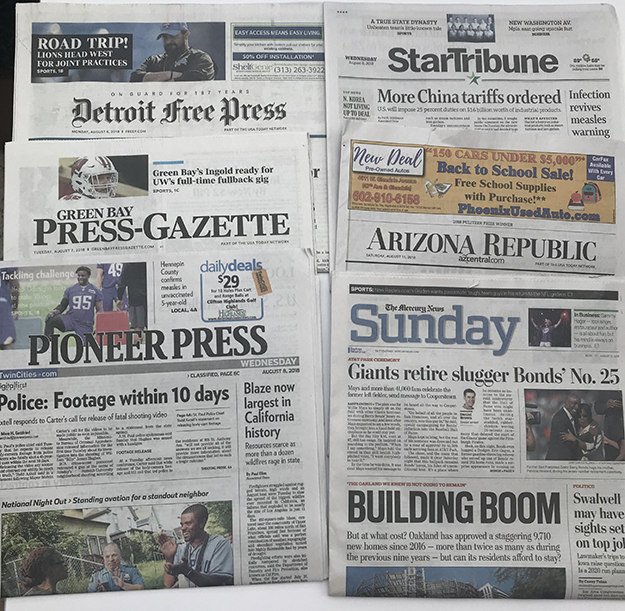 Many of us in the journalism business grew up with newspapering as a dream, attended college to make the dream happen, and have loved our time taking readers and viewers and listeners where they cannot go. We did not go to journalism school with treachery on our minds, or to learn how to double-cross and cheat and lie and be dishonorable. We have had scandals, like every business has. When we do, we should own up to our mistakes. The vast majority of us are dedicated to telling the truth, regardless of the consequences.
We are not your enemies. Often, we are in conflict with those we cover and those who we report about. But the conflict is based in the search for the truth. I'm sure the writers and editors and photographers and those who publish the papers I've shown would join me in saying we love what we do and we're doing it for you. Please support your local paper. Thank you.
• Thursday … Foxboro, Mass. Super Bowl Rematch Lite: Eagles at Pats, 7:30 p.m. Very Lite. As in Sudfeld-Hoyer Lite.
• Friday … Canton, Ohio. An important Pro Football Hall of Fame subcommittee, the Seniors Committee, meets in Canton to select the 2019 Seniors nominee for enshrinement. Five of the 48 members of the Hall's voters assemble to nominate one old-timer to bring before the full committee in the annual voting meeting on Feb. 2, 2019. That nominee will have to get 80 percent of the vote to be admitted to the Hall—and the nominee most often does get in because the other 43 voters respect the winnowing process that brings the candidate to the fore. No shortage of candidates for the five members to consider. I'm partial to Cliff Branch and Joe Klecko myself. A word about Branch, from Marcus Allen: "What do we have to do to get Cliff Branch in? He's one of the biggest offensive weapons in the history of football." Branch averaged one yard more per catch than HoFer Lynn Swann in the regular season (17.3 to 16.3); Swann, obviously, is one of the best Super Bowl players ever, bur Branch had 73 catches in his playoff career too. Anyway, lots of good candidates for the Seniors committee to consider.
• An earlier version of this column had a quote from Todd Haley, from Pro Football Talk, that was never said and was intended as a joke by PFT. My apologies for including it in the column; it's not true.
New year, same story:
Count all the anthem kneelers!
Football journalism.