Getty Images
NAPA, Calif. — "No-lace football now!"
No-lace football. Anybody ever hear of that?
Jon Gruden has. When the drill started near midfield halfway through a Raider training camp practice one day last week, Gruden was fired up. "Let's see what you got, Derek Carr!" he said. Derek Carr, getting ready to start the drill, had a big smile. He looked fired up.
A ballboy brought out a black Raiders ballbag with a dozen NFL footballs. What happened next was almost too fast to notice what was going on. Carr took six shoveled snaps from a ballboy in the span of 11 seconds and threw right, left, right, left, snap-way-high-and throw-right, and left. As happens often in a game, Carr had no time to center the ball in his hand to find the laces—he had to throw the moment he got it in his right hand.
And you noticed the color of the tight spiral was totally brown. Usually when you watch a spiraled throw, you see the fast rotation of the ball with the white laces flashing every, whatever, fifteenth of a second. Not here. Solid brown.
There were no laces on these dozen footballs.
That's weird. It's sort of Gruden. I'd come here to judge whether the 55-year-old Gruden—more sedate, a bit more thoughtful, with a voice that didn't dominate practice the way the 38-year-old Gruden did the last time he was on a Raider practice field—was the same intenso guy who ran the Raiders a long time ago. Did his decade out of football dull his ardor for the game?
He's still the sneering, calculating Gruden, I think. He does get up an hour later in the morning, but I give him credit for admitting he's not the up-at-3:17 a.m. nut job he used to be.
Whether all that matters when the games start is another matter. But it's a fun show out here in cabernet country.
---
Replay's doing a 180. Sitting starters is bleeding into all of preseason, not just the first and fourth games. Dak Prescott's the 25-year-old leader in Dallas—and Jaylon Smith's owning Cowboys practice these days. Chad Kelly, ascending. This is the best "Hard Knocks" ever, at least through two shows. Doug Pederson's book shows he's got an elephantine memory. Philip Rivers is back in the San Diego-to-Orange County van this season. Josh Rosen got slapped in the head by Larry Fitzgerald, and liked it. Sam's the man for the Jets, at least according to analytics.
Agua? Si.
Mail about the anthem. Pat Mahomes can throw. I say a little prayer for Aretha, and for the California fire fighters.
This column was going to start at 5 a.m. sharp on the first floor of the Napa Marriott, the summer home of the Raiders, in the video den of Jon Gruden. But I took a sharp turn after seeing practice. First reason: On a quiet day in Napa, with only a handful of fans in the bleachers on either side of the fields out the backdoor of the Marriott, Gruden's voice could not be heard for the first 51 minutes of practice. He watched, he quietly taught. Later in practice, it was the No-Lace Football Drill. Shovel snaps, some of them purposely lousy, with six straight very fast throws per quarterback, using wall-to-wall brown footballs.
"That's pretty Gruden right there," Carr said. "Good idea. He had me do that at the ESPN QB camp a few years ago too. You get used to throwing without the laces. I'd guess 40 percent of my throws in college were not with the laces. Get it quick, pressure, get it out. I like practicing it with speed."
Gruden: "All these ESPN shows we did with the quarterbacks—60 shows, I think. The TV copy from their college games … quarterbacks in the shotgun, and their fingers aren't on the laces. Hardly ever. So I've said if you're going to practice something in a drill, it's got to be based on two things: what happens the most in a game, and what a guy needs to work on. Well, if we're going to throw the ball with your fingers not on the laces, we better get some balls with no laces, and we better practice using balls with no laces, and we better practice at the speed that they're throwing with no laces in a game. You got a coach there telling the quarterback where to throw: 'Left, right, right, bad snap, low snap, left, right.' So that's what we do. We gotta make these quarterbacks mentally quicker every day, gotta get them to be quicker with the arm and the ball."
This was a continuation of what we talked about at 5 in the morning, when Gruden told me: "If there's a better way of doing something in football, I'm gonna try and find out and apply and incorporate it into what we do. I'm not a big fan of the GPSs and the sleep bracelets. I don't believe you wear [virtual reality] goggles in quarterback meetings and get 3D reps. I still think it's about hard work. I think you need to go out there, practice it full speed."
No one knows how this chemistry experiment between Gruden and owner Mark Davis and Oakland and Las Vegas will work out. The Gruden I saw for a day last week isn't the in-practice foghorn he used to be. "Passionate, intense, but probably a little quieter," said quarterback Derek Carr. But in how Gruden acts, how he works and how he installs drills and plays and innovations like the no-lace ball drill, he looks like the guy looking for any edge he can find to beat the new kids on the NFL block—ironically, the ones he birthed in professional football.
Think of what you must think if you're Gruden, looking at the NFL landscape. By the time you were 39, you'd made the playoffs three years in a row as a head coach and won a Super Bowl; you were an offensive phenom. Then you coached your last six years in Tampa and fell to earth a bit—zero playoff wins, you get dismissed, and you take a job in the TV booth that was never really all you. You always wanted to come back.
You also must think this: In 2004, you hired 24-year-old Kyle Shanahan for his first NFL job as a low-level offensive assistant in Tampa. In 2008, you hired 22-year-old Sean McVay for his first NFL job as a low-level offensive assistant in Tampa. Now they're the offensive phenoms. At 31, McVay took over the Rams last year and turned them from the league's 32nd-rated offense to number one in one season, and the Rams won the division. At 37, Shanahan ("a genius," Tony Romo calls him) looks to be set in San Francisco with Jimmy Garoppolo at quarterback so the 49ers can be a force for years.
You're Gruden, and you started them on their road to phenomness, and now everyone's looking at you. Can Gruden still do it? Have the students passed the teacher, and can the teacher be as good as he was a generation ago?
We'll see. Week 1: McVay at Gruden. Week 9: Gruden at Shanahan.
"The one thing I would say that's so different for Jon is, I don't really look at it as he's been out of football for nine years," McVay told me last week. "I look at it as he's had a different lens into the game. He's always been preparing himself to use that platform as an advantage so when he did come back, like getting to know all the quarterbacks from his QB Camp, he'd be ready. His up-close look at the different ways people practice from traveling around doing the Monday night games is valuable exposure. We're all a product of our experiences and the environments you're placed in. He's been exposed to all of them. I've met with him throughout the course of the last decade, talking ball. I'm still always learning from this guy. He's sent us notes, using extra footage from his Monday night telecasts, to help us have better teaching tapes because of the angles that you're getting from all of the cameras. He's going to do a great job."
"I just want to compete again," Gruden said, back in his Marriott lair. "I'm proud of Shanahan, proud of my brother [Washington coach Jay Gruden], proud of McVay."
"You used to be them," I said. "The brilliant offensive guy."
"Yeah," Gruden said. "They're good. They're really good. Unfortunately, I've got to get in the ring with them now. I know they want to get after me. I guess I could say the feeling's mutual. I want to beat them too."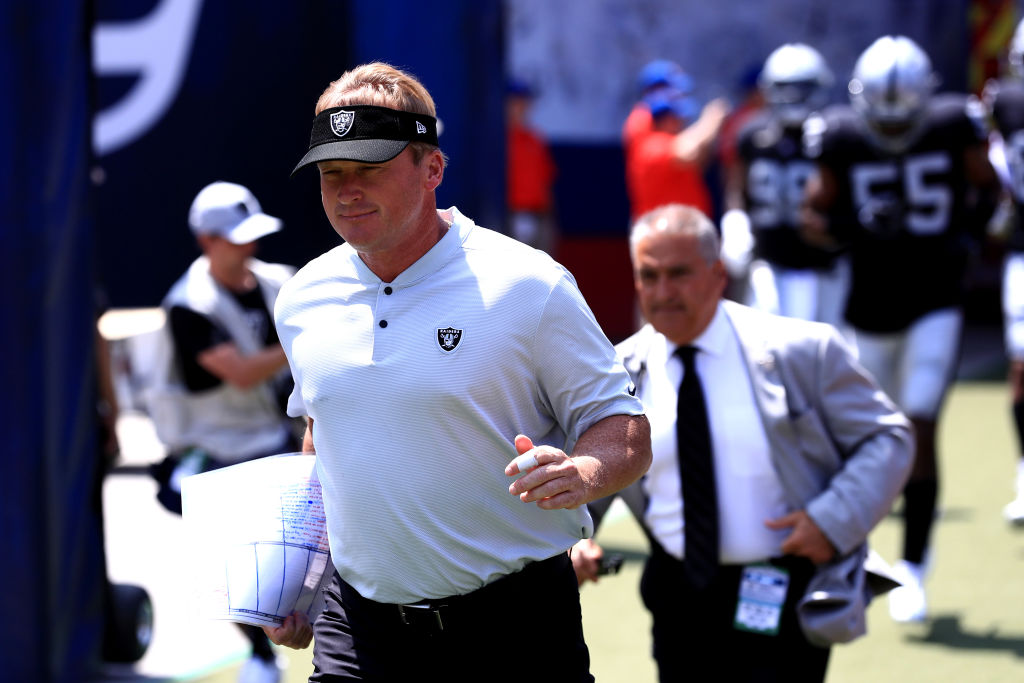 Staccato, quick-hit Gruden:
• On his coaching style at 55: "I'm trying to match the work ethic that I put forth 15 years ago, whatever it was, when I was here. That's number one. You have to get everybody on board. I haven't seen my wife in like three weeks; she's got to be on board. It's hard saying goodbye to my mom and dad in Florida. I miss them. Being honest with you. I kind of felt sad about that because I like looking out for them. But I've got to do this. Time's flying."
• On the changes in football since he last coached in 2008: "I don't like what we've done to the profession, personally. I don't like the CBA. I don't like regulating hard work. By god, if a guy wants to come here in April and learn his plays? Wants to go out there and watch tape with me? I think he ought to be able to do that. He wants to come in and use our billion dollar facility? He ought to be able to use that. Really disappoints me to no end. For players, this is their time in life to make a team, make a profession, make some money, have some fun. I don't like it. Are the rules better, or are they just more rules?"
• On what he wants this team to be: "You gotta have guys that would jump over the water coolers to cover a kick when the game's on the line. You gotta have guys that behind the scenes are always thinking about the game, that love it. We needed some passion. We needed more passion I think in this locker room. I think we needed more versatility. I hope we've got that. We've had one winning team here in [15 seasons]. It's not good enough."
• On his reported 10-year, $100-million contract, and a football coach making $100 million: "I'm not making $100 million, just so you know. Well, I never thought Tom Cruise, never thought his movies were any good but he's making plenty of money. There's a lot of things that I don't understand. No disrespect to Tom Cruise. I'm sure he's a great actor. But you know what? You just go about your life as hard as you can. You try to find something you love and you do the best you can at it. I never got into coaching for the money. I got into coaching because I wanted to be a quarterback coach. What the salary cap has become, what free agency has become—it's amazing."
• On what he took from Al Davis, who traded him in 2002 to Tampa Bay: "I got a lot of respect for him, obviously. A lot of people think we clashed. We didn't clash, really. Yeah, he traded me. But he fast-tracked me. He beat me up at times, and I probably needed beating up. I was probably in over my head when I first signed up for this job."
• On Derek Carr: "There's no question that he's got more talent than anybody I've ever coached. He's athletic. He can make any throw you can imagine. He loves it. If you're a Raider fan, get a ticket, because he is really fun to watch. He has really done a great job at this camp. There's really not anything he can't do."
We did have an interesting exchange about the Tuck Rule game. Raider Trivia: What was the last game Jon Gruden coached for Oakland? It was the playoff game in Foxboro in the 2001 season, when Charles Woodson stripped Tom Brady and in effect would have all but clinched the game … but the call was reversed, with ref Walt Coleman claiming the "tuck rule" should have been called, making the aborted Brady "throw" an incomplete pass. The Patriots kicked the tying field goal to send the game to overtime, then won on another field goal, and went on to win their first Super Bowl of five in the Belichick/Brady Era.
Smoke out of Gruden's ears, 17-and-a-half years later.
"That's probably a big reason I'm never going to be a fan of instant replay," Gruden said.  "Instant replay was [meant] to correct an obvious wrong. I don't know how they worded it. But they shouldn't have overturned that play. That's a complete joke. Where's the tuck rule today, Peter? It's not even in the game. When you overturn a play for a rule like that, that's no way to lose a game. Especially a playoff game.
"It is what it is, as they say today."
That's about it.
"Anything else you want to say?" I asked as my time ticked down. It was 5:19. I could tell he was itching for me, respectfully, to scram.
"I don't want to say anything," he said. "I just want to work. We're a 6-10 team."
Time to think of some more things like no-lace practice periods. He knows he's got phenoms to keep up with, and to pass.
The new NFL rules analyst for NBC Sports, Terry McAulay, tells me he thinks there will be a major change in how replay is adjudicated this year, and it's the one element of 2018 officiating that has gotten "zero press." McAulay said: "The league doesn't want those technical reversals that we saw over and over last year. Replay is for clear and obvious errors, and that was not the case last year."
Oh, I know that. The Kelvin Benjamin overturn of a touchdown that certainly was not indisputable either way was a black mark on a replay system run amok last year. Vice president of officiating Al Riveron went way beyond reasonable in his overturns of several calls, none worse than the Benjamin play.
Now, after the Benjamin TD in the corner of the end zone in Week 16 at New England was overturned, look at this call that wasn't overturned, or even questioned, Saturday in the Rams-Raiders game. Tell me that the referee shouldn't have examined this one, ruled as a fumble by the crew on the field, in consultation with the officiating command center in New York.
"We knew the league was going to be more circumspect on replay this year, but to go this extent—this fumble wasn't even stopped to be reviewed—is a big change," McAulay said. "With my new job at NBC, I'm going to be much more cautious about saying a call should be reversed. Why have replay if it's not going to reverse this play?"
Next week: I plan to address the leading-with-the-helmet hits now being flagged in the preseason, with McAulay's thoughts and mine, and those of players from the preseason trail. It needs some space, and some thought, and I'll give it to you next Monday.
OXNARD, Calif. —You know what I love doing at training camps? I love watching the teams that have re-invented themselves quickly, for better or worse, and I love seeing what that newness actually looks like. Like here, last Monday, 1s on 1s, in a spirited late-afternoon scrimmage.
Dak Prescott (25 years old, round four, 2016), drops a dime to Swiss-army-knife Tavon Austin (27, traded from Rams, 2018, former eighth overall pick) down the left sideline. On another play, linebacker/modern-science miracle Jaylon Smith (23, round two, 2016) runs stride for stride across the middle with Ezekiel Elliott (23, round one, 2016); as a Prescott pass arrives, so does a big hit from Smith, and the ball skitters away, and Smith celebrates. Later, coach Jason Garrett says, "Our young talent has really emerged this camp."
The whole scene brought to mind one of the intense drafts I've covered in my 34 years covering the league—Dallas, in 2016—and this Yogi-type cliché that has never been more true: Sometimes the best deals are the ones you don't make. I said that to Jerry Jones here, and he knew exactly what I was talking about.
If Jones had his way on draft weekend 2016, the Cowboys would have exited the draft with Ezekiel Elliott and Paxton Lynch, the Memphis quarterback who has fallen down the Denver depth chart and may lose his roster spot there in the next month.
Instead, the Cowboys ended up with Ezekiel Elliott, Jaylon Smith, Maliek Collins (a solid rotational defensive lineman) and Dak Prescott. If you ask influential Cowboys, they'll tell you that—if Smith's health holds—he and Prescott will fill the two biggest leadership roles here for the next eight to 10 years.
Quick refresher: The Cowboys spent 67 minutes late in the 2016 first round on the phone trying to find a trading partner to move up to draft Lynch. They offered their second and fourth-round picks (34 and 101 overall) to Seattle, at 26 overall in the first round. Denver offered 31 and 94. Seattle asked Dallas to make the offer its second and third-rounders, 34 and 67. Jones agonized. He wanted a quarterback of the future badly, with Tony Romo close to the end. Dallas said no. Seattle traded with Denver, and Lynch went to Denver. The next day, Jones said to me, "I'm second-guessing the hell out of myself for not giving the three. I have always paid a premium for a premium. So many times my bargains have let me down." I will never forget the look on Jones' face. This perpetual optimist, 18 hours after losing Lynch, was pissed off.
No Lynch. The next QB target, Connor Cook, was on the board at the start of round four. Dallas had the second pick in the fourth round and tried to move up with Cleveland, the pick ahead, to get Cook. The Cowboys made two offers. No dice. Oakland then jumped over Dallas, traded with Cleveland, and got Cook. So the Cowboys settled for Prescott with their other fourth-round pick, late in the round.
Two failed trades left Dallas with two cornerstone players.
As the story rolled around in my head watching practice—I swear, just at the same time—Prescott dropped back to throw 20 yards in front of me on the practice field at camp; Smith, pivoting to cover tight end Geoff Swaim, using the damaged leg everyone was studying in this camp, caught up to Swaim, reached across his chest and batted the Prescott pass away. Smith broke up three passes in this practice and was the best defensive player on the field.
In camp, Smith said he believes he can be a better player in Dallas than he was before his injury 32 months ago. The Cowboys are happy with this version of him. "You can run in a straight line all day, but you need to move in spontaneous ways out there, and that's what we've been seeing," Garrett told me. "Jaylon's so much more fluid now."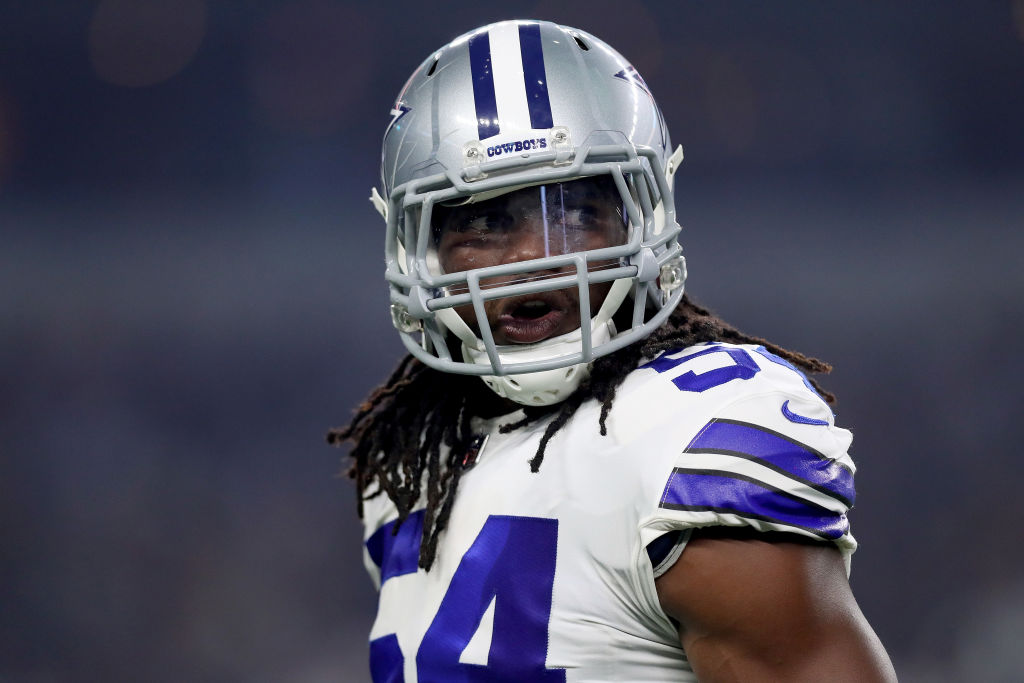 I remember Garrett telling me during the '16 draft about how excited he was to draft Smith and Prescott for another reason: leadership. Both are young captain types now, Prescott in particular. Garrett told me a story from the pre-draft process the other day that resonates now. Prescott's draft status was clouded by a DUI charge shortly before the draft, and when he visited Dallas, Garrett drilled him on it. The coach brought it up a couple times, saying he couldn't understand why at such an important time in his life that he'd messed up. Finally, the kid, a little exasperated, said to Garrett: "Coach, I don't know what you want me to say. I made a mistake. I learned from it. It won't happen again."
"I look back and I think that was a case of him being the adult, not me," Garrett said.
Now, with Tony Romo and Jason Witten gone, it's Prescott's locker room. At age 25.
"Tony Romo and Jason Witten gave me a good foundation, taught me how to be a leader and wear the star the right way,'' Prescott told me in camp. "You have to do things the right way. Lead by example. We have such a young team."
Big duty for Prescott—leading this team while needing to get better as a player. His efficiency regressed last year (from plus-19 touchdown-to-interception differential in 2016 to plus-nine last year), and he says he's concentrating on being a facilitator this year. With Elliott in the lineup from opening day instead of sidelined by his 2017 suspension, expect Prescott to be more consistent, even with a lesser group of receivers.
Tough training camp so far for former first-round tight end David Njoku of the Cleveland Browns. He had a bad case of the drops, as captured by the NFL Films/HBO cameras in town to shoot "Hard Knocks: Training Camp with the Cleveland Browns."
One difference between most of the previous 13 renditions of "Hard Knocks" and this year's: former series might show footage with a somber voiceover about Njoku's drops, while the 2018 "Hard Knocks" digs the knife into Njoku. It feels so much more real. In the second hour of the show last week, a downcast Njoku is shown walking off the field when he encounters two defensive mates, defensive linemen Nate Orchard and Chad Thomas.
Orchard: "What up David? Make sure you get on the JUGS, David."
The JUGS. That's the machine that pumps footballs at receivers, so receivers can practice the fastballs they're likely to get from quarterbacks.
Njoku doesn't appreciate the cattle-prod.
"F— you," he says to Orchard.
"All right, cool," Orchard says. "Good talk."
The hazing continues from Thomas, who says: "You can't catch a cold butt-ass naked in Alaska."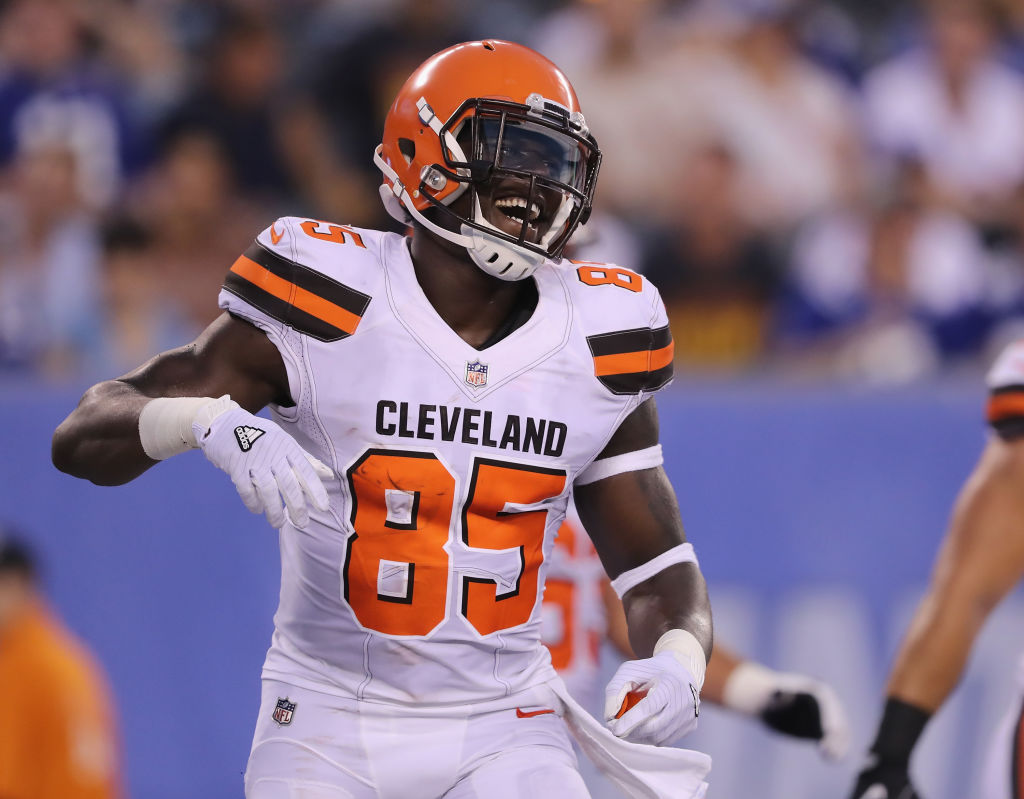 I have been going to training camps for more than 30 years, and this seems so locker-room, on-field real. I am not a "Hard Knocks" savant, and I admit I have not seen every episode of the previous 13 series. But too often, I believe the show has been a faux reality show. I won't tell you the team, but I recall in one recent "Hard Knocks" season sitting in a head coach's office during training camp, and the coach saying, "Hang on" before we spoke, and then opening a closet door to block the camera in his office, and covering the ambient-sound microphone in the room with a couple of towels, and then talking to me. Nothing wrong with that, of course. But it said to me, We'll give HBO great visuals and sound, but we're not going to be altogether real.
Not so this year. In the first two episodes of the five-episode "Hard Knocks with the Cleveland Browns," I've laughed, I've almost cried, I've said to the TV, "You go, Jarvis Landry!" It's the best "Hard Knocks" I've seen, by far. NFL Films is doing its usual excellent job shooting the show. The difference is, the 35 NFL Films crew members have found a team and organization of desperadoes who know their jobs and futures are on the line, unlike many of the past teams featured in the series. You can hear it in the voices of the coaches and players and front-office men. Listen to offensive coordinator Todd Haley, as he pleads with the lackadaisical but supremely talented rookie receiver Antonio Calloway:
"Come on. We need you. We need you.This is important."
And during the Browns' preseason opener, Haley approached receiver Jarvis Landry, doggedly determined to win, on the sidelines and gave him what sounded like an order. "You need to take kid on," Haley told Landry. "I don't care if he's f—ing living at your house. Can you do that? Larry Fitzgerald would."
Landry: "Yes sir."
It's TV gold. Ken Rodgers is in charge of the project for NFL Films as senior coordinating producer, and he credits the Browns going 0-16 last year for paving the way to a good TV product. "This is the most urgent situation you could have in the NFL," Rodgers told me. "The scenes we're capturing are tinged with that urgency. The stakes are so high. This is the most urgent training camp 'Hard Knocks' has ever filmed, the most urgent team we've covered, the most urgent situation we've covered. The players and the coaches reflect that. It's just a very tense time around the team and the organization."
In show two, quarterback Tyrod Taylor went to coach Hue Jackson on the practice field and told him if he showed parts of the lax practice that day in a team meeting, it'd be a spur to the players. "All you gotta do is show it one time in meetings," Taylor said. That night, Jackson ranted seriously in the meeting room thusly: "You can't practice like this and be good! I want more! Unmotivated talent don't do s—!"
The way the series works is that teams can kill stuff in the show—team officials watch it Monday night or Tuesday morning; the show airs at 10 p.m. ET Tuesday nights through Sept. 4 on HBO—only if it has bearing on competitive football situations. If the Browns, for instance, think Taylor's cadence would give away some football clues, they could ask it to be scrubbed from the show. Or if personal or medically sensitive information is passed on somehow, that could be killed. But the personality stuff, or the anger between coaches (there's been some tension between Haley and other coaches), or the F-bombs that fly between players … it's fair game. I hear the Browns haven't had a heavy edit hand at all in the show, feeling that if they're going to sign in for the show, they've got to expect reality.
That's exactly what "Hard Knocks" has delivered. It's good TV, and after a few seasons where it wasn't must-see, it finally is again.
The new Doug Pederson book, "Fearless: How an Underdog Becomes a Champion," written with Dan Pompei (Hachette Books), is out Tuesday. I read about half of it and skimmed the rest, and Pederson and Pompei have done a good job of capturing who the Eagles' coach is—and why he's a bit iconoclastic and gutsy while at the same time being such an everyman. The stuff about trusting his players, while not new, should be required reading for modern coaches in any sport. In the coming weeks, I'll be writing about something else Pederson and Pompei cover which is hugely valuable to coaches: trusting your instincts and knowing when to take risks. It's very good. In fact, I'll quantify why it's smart to take educated risks, using Pederson (and his words in this book) as the perfect example of intelligent risk-taking.
One bit of the book stuck out to me. Pederson, in my time with him, comes across as a totally normal guy. He remembers precisely where he came from, and doesn't think his job today is any more important to his players than his job was coaching high school football a decade ago in Louisiana. But he remembers slights—and one in particular. The week before the 2017 season, Mike Lombardi, a long-time NFL front-office man who was working for The Ringer, wrote about Pederson: "Everybody knows Doug Pederson isn't a head coach. He might be less qualified to coach a team than anyone I've ever seen."
That got a ton of attention last year when Pederson was on the road to winning the Super Bowl. Pederson, in the book, says Lombardi wrote him a letter during the playoffs last season. "It was written on a typewriter, and was about three paragraphs long," Pederson writes. "The letter said, 'The first rule of any informed opinion is to never began with the end in mind. And I violated that rule. For that, I extend my sincere apology.' I was appreciative, and at least it showed he was man enough to admit he was wrong."
Then this: "After the Super Bowl, the possibility of writing this book came up. One of the interested companies thought Lombardi would be a great co-author and submitted an offer. I said, respectfully, 'No thanks.' "
And now you know the rest of the story.
One other thing I'm enjoying about the book: Pompei did a great job writing it in Pederson's voice. "Fearless" sounds like Pederson. That's the challenge in many of these athlete/coach's books—to make the book sound like the star of the show. Pompei did. The book's not just for Eagles fans. Coaches, and fans, in all sports will learn from it.
I
"He's as dear to us as anyone who has ever worn the horseshoe."
—Indianapolis owner Jim Irsay on Sunday, on Bob Lamey, who retired as Colts' play-by-play voice after 31 seasons (1984-'91, then 1995-2017).
II
"It's professional football. Nobody's going to hold your hand."
—Denver coach Vance Joseph, on the last pick in the 2017 draft, quarterback Chad Kelly, ascending to the number two spot on the depth chart above 2016 first-round pick Paxton Lynch—and Lynch getting booed by the home fans at the Broncos' preseason game Saturday. On promoting Kelly, Joseph said: "He's earned it."
III
"Just being honest about it, Flacco sucks. I played him two years in a row. He sucks."
—Jacksonville cornerback Jalen Ramsey, to GQ, on Baltimore quarterback Joe Flacco.
IV
"I think Allen is trash. I don't care what nobody say. He's trash. That's a stupid draft pick to me. We play them this year, and I'm excited as hell. I hope he's their starting quarterback."
—Ramsey, to GQ, on Buffalo rookie quarterback Josh Allen.
Jacksonville at Buffalo, Nov. 25. Man, I hope Allen's the quarterback of the Bills by then. Happy Thanksgiving, beat writers.
Ramsey must have gone to the Donald Trump School of Diplomacy.
V
"Some of 'em, I don't wear. I'm too scared to get 'em dirty."
—Wide receiver Corey Coleman, the former Cleveland Brown, on this week's "Hard Knocks," showing off his shoe closet.
Coleman and his 1,000 pairs of shoes were traded to Buffalo in the midst of an awful training camp.
VI
"I realize in order for me to reach my full potential my primary focus must remain on my sobriety and mental well-being. Let's get to work!"
—Wide receiver Josh Gordon, upon return to Browns' camp. He missed almost a month while checking himself in for further treatment for his sobriety.
VII
"I think football's under siege by some of these geniuses out there. And I'm trying to stay on my crusade that this is the greatest game in sports and every kid should deserve an opportunity to play. Because you learn a lot about teamwork and mental toughness and physical toughness and sportsmanship, and all the things that are hard to get out of a textbook. So, that's a big reason I'm here."
—Jon Gruden, to me, Wednesday morning.
Arizona rookie quarterback Josh Rosen, on his first training camp as an NFL player:
"I think I see defenses a lot better than I did in college. Pre-snap moreso, because in college it's like you had to acknowledge the front and coverage—just kind of take it in, snap the ball, then play. It's like, 'I think I got cover three, I get the snap and oh, it's cover two. Well, gotta throw it somewhere.' Now, I have to actually make checks and change plays according to fronts, linebackers, safeties. So instead of just seeing it and reacting live and playing, I have to diagnose it, and when you have to diagnose the defense before a play, it means you pretty much have to learn it. Because you can't just stand up at the line and guess. Processing that information at the line has helped me do more. I think I see defenses a lot more clearly now, and I'm understanding matchups much better.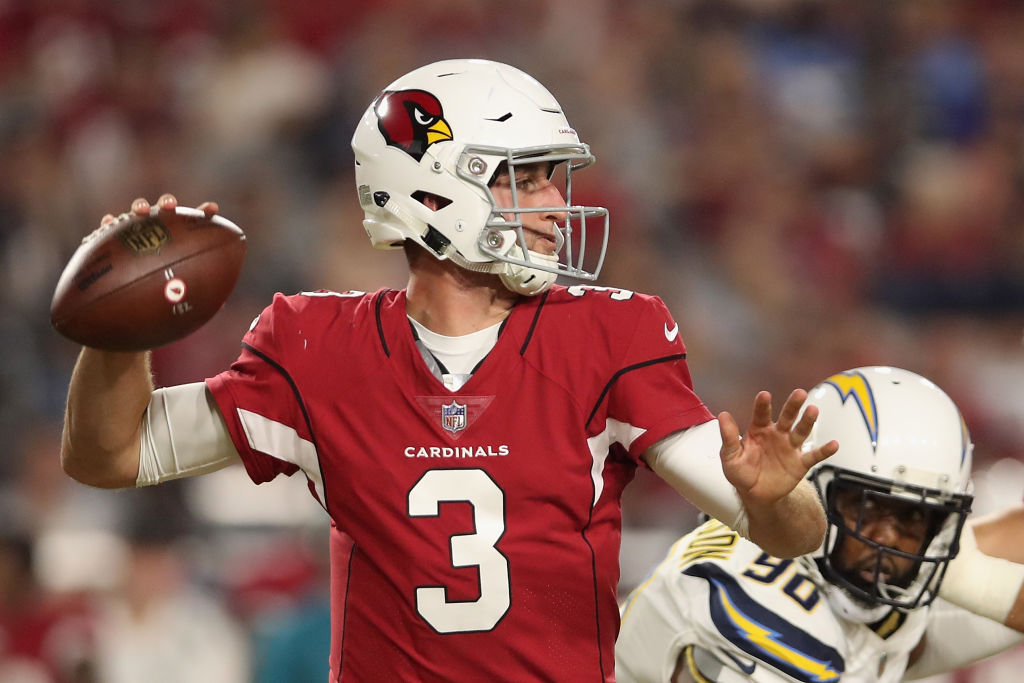 "In the NFL, all the positions on defense are starting to blend, it seems to me. Here, [safety] Budda Baker has been at the line of scrimmage on one play, safety the next, and maybe even safety and the line on the same play. [Pass-rusher] Chandler Jones can drop and play linebacker. I've seen [defensive end] Rob Nkemdiche almost pick me off a couple times as I tried to throw. Our linebackers can play safety, safeties play linebacker. I feel like that's just where the game is heading overall. Everyone's a hybrid of some sort because for the most part, defenses had to figure out ways to stop Peyton Manning, Philip Rivers, Drew Brees, Tom Brady. Part of that is all the disguises they put out there. That's what I'm learning.
"Another thing: Chandler Jones is so fast, so quick, he's made me shorten my pocket clock. I just don't have the time I had [at UCLA]. But there's a problem with that. If you're consciously trying to play faster, if you think, 'Be fast, be fast,' then you're kind of screwed. It just has to happen. It has to be just in you to react quickly. The second you're thinking, 'Oh, I've gotta be quicker on this' rather than just thinking about making the right play, I think the league might not be cut out for you.
"But so far, it's just been a dream come true, having this as a full-time job. One day in practice I got a little animated and made a play, and Larry Fitzgerald slapped me on the back of the head and was like, "HERE WE GO!" Larry Fitzgerald! Awesome. Scott Quessenberry, my UCLA center, is here, and when I see him, I'm like, 'Dude, this is pretty cool.'"
No good team shook up the roster in the offseason as much as the Rams. How'd they do? We can't know with finality until the fate of Aaron Donald has been decided. My sense is the great defensive tackle, a camp holdout, will not play on the contract (one year, $6.89 million) remaining. My money is on the Rams and Donald getting a deal done by Labor Day, but that's just my gut.
Without factoring in the Donald deal, let's examine what the Rams lost and gained this off-season—and whether they're better off for it.
GONE
Robert Quinn, DE: 1 year, $12.93 million (Traded to Dolphins)
Alec Ogletree, LB: 4 years, $32 million (Traded to Giants)
Sammy Watkins, WR: 3 years, $48 million (Signed by Chiefs)
Trumaine Johnson, CB: 5 years, $72.5 million (Signed by Jets)
Tavon Austin, WR/Ret: 1 year, $3 million (Traded to Cowboys)
Total: 5 players, 14 years, $168.43 milion
ARRIVED/STAYED
Marcus Peters, CB: 2 years, $11.1 million
Aqib Talib, CB: 2 years, $19 million
Ndamukong Suh, DT: 1 year, $14 million
Brandin Cooks, WR: 6 years, $85 million
Lamarcus Joyner, S: 1 year, $11.28 million
Todd Gurley, RB: 6 years, $69.45 million
Total: 6 players, 18 years, $209.83 million
How'd they do? Cooks is better for the Sean McVay offense than Watkins or Austin; he can play all three receiver spots in the Rams offense. Peters and Talib are short-term gains and give defensive coordinator Wade Phillips two potential shutdown corners—though both are incendiary players who may have an incident or two during the season. Suh is 31 but still a major disruptive force inside. The Rams weren't going to re-sign Quinn after this season, and he's missed 16 games due to injury in the last three years. Phillips signed off on the loss of Ogletree, wanting the cornerbacks instead; they're more valuable in his defense. And this summer, the Rams have locked in ace running back Todd Gurley for his age-24-through-29 seasons, presumably his six prime years as a runner, at an average cost of $11.6 million a year.
All in all, if GM Les Snead gets the Donald deal done by opening day, the Rams will have managed a top-heavy roster very well this offseason. But signing Donald … it's a very big, and crucial, if.
I
Ran into Philip Rivers. Asked: Are you doing the same deal as last year, commuting from your home north of San Diego to Orange County every day during the season?
"Yup," he said. "Worked great last year."
Rivers had a driver, and had a $200,000 luxury SUV fitted with two captains chairs, a 40-inch TV and video apparatus so he could watch video both ways.
"It averaged about an hour and six minutes in the morning. Maybe 90 minutes at night, you know, when there was more traffic. But that's okay. Just popped in third-down or red-zone [tape to analyze], and I'm good to go."
II
Rams rookie factoids of the week:
• Fourth-round defensive end John Franklin-Myers attended Greenville High School in Texas. The Greenville Lions went 0-40 in Franklin-Myers' career there.
• Free-agent quarterback Luis Perez is the Mookie Betts of NFL training camps: He has bowled 12 perfect 300 games in his young life.
Headline of the Week
"What you want—baby, she had it."
—On the front page of the Washington Post Friday, after the death of Aretha Franklin.
I
II
III
IV
V
VI
Hit me here with questions/comments/brickbats to get into this section.
Shorten preseason games. From J.P. of New York: "Thoughts on four 10-minute quarters in preseason rather than a push to reduce the number of games to three or two? Couldn't the NFL do that? Or three 15-minute periods?"
Good idea for the home viewers, and for the exasperated sportswriters watching 3-hour, 37-minute games with 32 flags. Bad idea for the coaches who need to watch the bottom 30 guys on the roster to see who's going to make up the practice squad and perhaps the last six or eight guys on the roster.
Very good idea from the Heartland. From Scott E. of Bay Village, Ohio: "What if before the national anthem at every game, the stadium observed a moment of silence for social injustice? The PA announcer could read something like this: 'Ladies and gentlemen, the National Football League and the Cleveland Browns strongly believe in equality and social justice. As Americans, and human beings, we should all strive to be kind to each other. And we should all treat each other with dignity and respect regardless of race, color, gender, creed, religion or sexual orientation while in this stadium today and after we leave and go about our lives. We will now observe a moment of silence to reflect on those who have suffered injustice in our society. Thank you.' During this moment, players would be free to kneel, stand, raise a fist, lock arms and do whatever they wanted to do. Maybe someone has thought of this. Maybe it's a dumb idea. But it's a thought."
I love it. Great idea. Question is, if scattered players were still kneeling/sitting during the anthem, what would the previous moment of silence accomplish?
Interesting solution, but it's been considered. From Guy G.: "I have attended college football games for over 35 years.  At each game the anthem is played BEFORE the teams run onto the field. Why don't NFL teams simply play the anthem before the teams take the field?"
It's a good question, Guy, and a valid point. Problem is, the NFL has been playing the anthem with teams on the field since 2009. If they go back now, then it would be seen as the NFL caving to the kneelers and sitters—of which there were three in Week 1 of the preseason, among 2,800 players. But this still could be the solution the NFL comes up with.
I asked Pro Football Focus, which gives me a smart chunk of this column each week, to judge the first-round rookie quarterbacks by a metric you might not know: ball location on throws by the quarterback.
The theory: Completion percentage is a good number, but it doesn't take into account when a quarterback has two receivers with great hands, or whether his three key guys have, say, 30 drops in a season. Adjusted completion percentage is better because it accounts for drops. But ball-location (hitting the receiver in stride with an easily catchable ball) is interesting because in today's NFL, so many throws are short passes, and how many yards a receiver makes after the catch often depends on the throw. Did the quarterback lead him properly? For the last two years, PFF has charted the ball location of every NFL throw, and also the throws of the current rookie QB crop, made.
The top three passers last year in ball-location:
Drew Brees 70.4 percent,
Tom Brady 65.8 percent,
Jimmy Garoppolo 61.9 percent.
Baker Mayfield led the draft prospects in 2017 with a ball-location accuracy of 64.9 percent. Through the fist half of the preseason, the best man of the five first-rounders in ball location is Sam Darnold of the Jets. The numbers:
Sam Darnold, Jets, 84.6 percent.
Josh Allen, Bills, 70.0 percent.
Baker Mayfield, Browns, 69.0 percent.
Josh Rosen, Cards, 58.3 percent.
Lamar Jackson, 36.0 percent.
A PFF Elite subscription gives you access to performance metrics the pros use.
I could have railed about the ridiculous dillweeds who put the San Francisco International Airport rental car area in Idaho when the place was rebuilt a few years ago, but as Frank Costanza used to say, "Serenity now." (Time from walking into the terminal at SFO on Friday to driving out of the Hertz lot: 57 minutes—and with no bag checked to slow me down.) Rather, let me speak about the 44 hours my wife and I spent this weekend watching grandson Freddy in San Francisco while our daughter Laura and wife Kim went to a wedding down the coast.
Freddy is 19 months old. He is a good boy. He never, ever, ever, ever, ever, ever slows down.
But that's so many kids at that age. I want to tell you about the event of the weekend that opened my eyes to what a bright kid he is, and what great parents Laura and Kim are. They are in a nanny-share with another family, and the nanny is a wonderful Peruvian woman who does not speak English. So Freddy, for much of the last year, has been spending weekdays listening to Spanish and English, and learning Spanish and English. We took him to a neighborhood playground Saturday morning, and he ran us ragged. When we were about to leave, I said, "Freddy, do you need some water? Water?" He didn't answer.
"Agua?" I said.
"Si," he said right away, and I gave him the water.
I can hear many of you right now: It's ridiculous he didn't answer in his native tongue when you asked if he wanted water!
Totally, categorically disagree.
Kim and Laura made a conscious decision to—they hope—raise a bilingual child. In this world today, particularly living in California, being fluent in Spanish and English is a huge advantage. At that age, kids are able to fill their brains with two languages, or more. This is a huge plus, not a tiny minus.
I'm thrilled he thinks of agua, and when he had sweet-potato fries Saturday night, I said, "Blow on them—caliente!" I hope I was right there.
10 Things I Think I Think
30
1. I think this is a partial list of the players who did not play in the second preseason game of the year in Los Angeles on Saturday, between the Raiders and the Rams:
Rams: Jared Goff, Robert Woods, Lamarcus Joyner, Aqib Talib, Marcus Peters, Mark Barron, Todd Gurley, Andrew Whitworth, Michael Brockers and Ndamukong Suh
Raiders: Derek Carr, Marshawn Lynch, Bruce Irvin, Kelechi Osemele, Donald Penn, Jordy Nelson, Jared Cook, Amari Cooper and Martavis Bryant
I know a big reason why—because they meet in the first game of the season 23 days after this preseason game. Still, it's another example of the disgrace of the NFL preseason. Every fan in that stadium (and there were 69,037 there to see the first Raider game in Los Angeles since 1994) should get a refund. Period. Because on the game ticket, the following words were not printed: Warning—the most famous player in this game is E.J. Manuel. When is the NFL going to get serious about addressing the abomination that is paying big prices for preseason football?
2. I think I'm not saying Pat Mahomes is going to be The Answer for Kansas City. It's training camp, he hasn't faced adversity, he hasn't gotten his clock cleaned, etc. But with Tyreek Hill in triple coverage by the Falcons on Friday night in Atlanta, Mahomes reared and fired a strike his dad (former MLB hurler Pat Mahomes) would be proud. The ball went exactly 70 yards in the air, over the three Falcons defensive backs, and nestled into the arms of Hill at the 5-yard line, and he pranced in for an easy 69-yard touchdown. Not many people can throw 70-yard strikes to beat triple coverage. Can Mahomes do it consistently? We shall see. But now we know why Alex Smith was sent packing to Washington.
3. I think that's the play of the preseason through two weeks. I'm still shaking my head over it.
4. I think this was an interesting answer from Carolina owner David Tepper on the Panthers' preseason telecast Friday night, the kind of answer that struck me as a knock on founder and former owner Jerry Richardson. Asked what he saw as his vision for the organization, Tepper said: "What we've got to do is every way we can increase the probability of winning, that's what we've got to do … whether it's an indoor practice facility at some point where we don't have to practice in a sleet storm before playoff games. Whatever increases that probability a percentage. It's a game of inches. So I'd like to get that extra couple of inches." What this means, I think, is a combo new football/office facility in suburban Charlotte (possibly over the border into South Carolina), which would also mean the move of training camp from Richardson's pet Wofford College facility in Spartanburg, S.C., closer to Charlotte.
5. I think I'd like to congratulate the Seniors Committee of the Pro Football Hall of Fame selection board for the pick of former Chiefs safety Johnny Robinson as the 2019 nominee. Robinson, who turns 80 in September, was a unique player and playmaker around the time of the AFL-NFL merger. He's the only man to lead the AFL and NFL in interceptions in a season (1966 in the AFL, 1970 in the NFL, with 10 picks each year), was all-pro in both leagues, made seven Pro Bowls when it meant something to make the pro football all-star game, and continues to address the long-term shortage of safeties in the Hall. If Robinson makes it, that would be three straight years (Kenny Easley 2017, Brian Dawkins 2018) with a safety being enshrined. One of the true keepers of the flame of the Hall, selector Rick Gosselin from Dallas, has harped on the low representation of safeties; since Ken Houston retired in 1980, no pure safeties were enshrined until Easley. Gosselin told me over the weekend: "That's the best meeting I've attended in 15 years on the Seniors committee. We worked through a lot of quality players and a lot of new names. Sixty-six all-decade players in the seniors pool affords plenty of worthy candidates."
6. I think the odds of Robinson making the Hall next February are pretty good. The last 10 nominees put forth by the Seniors Committee got the requisite 80 percent-or-more of the vote from the 48-member committee and were enshrined.
7. I think it'd be amazing if, now that presumed starter A.J. McCarron is out with a broken clavicle, presumed third-stringer Nathan Peterman (two summer games: 17 of 20, .850) wins the starting job in Buffalo.
8. I think I forgot how significant a game the late Week 1 Monday nighter is: Rams at Raiders. Student at professor … Sean McVay got hired to be "less than a quality control coach" (his words to me) out of college on Gruden's last staff in Tampa Bay, and now the teacher will try to beat back the student he might have taught too well. McVay is so into this game that he didn't play most of his starters in their preseason game Saturday. He didn't want to give anything away, even in such a silly setting as a preseason game. Even in a small way, like say the Raiders hearing Jared Goff's cadence … McVay didn't want any of that on tape. The Sept. 10 game is in the Black Hole, too. Man, what great theater that's going to be.
9. I think I wonder if anyone else had the same thought the other day when learning that it's not pronounced TIE-Rod Taylor; it's Tuh-ROD Taylor. I thought: Taylor's 29. This is his eighth year in the NFL. Are you telling me he never corrected a soul on one of his PR staffs or front offices on the pronunciation of his name since he entered the league in 2011? Weird. Very weird.
10. I think these are my other thoughts of the week:
a. Story of the Week: Lizzie Johnson and Sarah Ravani of the San Francisco Chronicle on something too many of us not in the West don't pay enough attention to—the amazing sacrifices fire fighters make to try to keep huge swaths of the western states from burning down.
b. Thank you for your sacrifice, Matthew Burchett. Six fire fighters killed in California in this year alone.
c. Via the fine reporting of Johnson and Ravani, this is how incident commander Sean Cavanaugh, on the front line of the fire, began his morning briefing the next day:
"Hey good morning," Kavanaugh said at the group briefing. "As many of you are aware, last night we had a tragic incident affect one of our fellow firefighters. A lot of folks were affected by it, and a lot of folks will continue to be affected by it. So I want to start this meeting with a moment of silence."
For 22 seconds, no one spoke.
d. Chills.
e. Aretha Franklin deserves all of our Respect. She was the soundtrack to so many lives.
f. Prose of the Week: From Wesley Morris of the New York Times, on the death of 76-year-old Aretha Franklin, and what her hit "Respect" meant: "Ms. Franklin's respect lasts two minutes and 28 seconds.That's all—basically a round of boxing. Nothing that's over so soon should give you that much strength. But that was Aretha Franklin: a quick trip to the emotional gym."
g. I wrote much of this column Friday night to her music. So why don't I contribute to the Aretha landscape this morning.
h. My all-time five Aretha songs:
"I Say a Little Prayer." Far, far, far and away my favorite Aretha song. Love this version.
"Think." Hard to forget her memorable "Blues Brothers" song/cameo.
"(You Make Me Feel Like) A Natural Woman." When she sang it at the Kennedy Center in 2015, it made Barack Obama cry.
"Respect."
"Freeway of Love."
(Okay, I lied. I've got to name a sixth.) "Chain of Fools."
i. Keith Hernandez says, "You gotta hit him" after Ronald Acuna homered in four straight games and the first pitch of the next game was an intentional HBP. Dinosaurish, Keith.
j. Come inside, fine. Intentionally hit someone because he's hot? That's as bush league as it comes.
k. I do think there are times when hitting a batter is understandable—such as after your own batters have been hit three or four times in a row in a series. But hitting a batter because he's good? Lord help us.
l. Coffeenerdness: Best airplane coffee I've had in a long while: Alaska Airlines with some Starbucks dark roast blend the other day. Couldn't have brewed it much better in my kitchen.
m. Beernerdness: Urge you, if you can find it, to try the 8 West Orange Honey Wheat (Mike Hess Brewing, San Diego, Calif.), and not just because it's eminently refreshing, light and summer-drinkable. The 8 West I had comes in a can with a flip top that removes not just enough to drink the beer; it removes the entire top of the can, with ease. Strange and cool at the same time.
n. This video of Wolverhampton fans in England, by Annie Koeblitz and Marisa Marcellino of NBC Sports, is fantastic. It's from the Wolves' first home game since being promoted to the Premier League.
o. Two clarifications from last week's column: In the item about Roger Goodell's relative inaction on the anthem issue, I said Jeff Miller had departed the the league. Jeff Miller, head of security, has left the league; Jeff Miller, czar of health and safety, is still employed by the league and doing good work. Also, I removed a quote from an item about "Hard Knocks" that Browns offensive coordinator Todd Haley never said, but was put out in a Tweet. The Tweet was a joke, and I believe I was only one who didn't get it. My apologies to the employed Jeff Miller and to Haley for those.
p. I met Mark McGwire the other day, a chance meeting, thanks to old friend Bill Johnston of the Padres and the team's assistant GM, Fred Uhlman, who toured me and the editor of this column, Dom Bonvissuto and son Jude, through the guts of Petco Park. Unassuming, friendly, outgoing, and exceedingly nice to baseball freak Jude—that was McGwire. I've got great admiration for how he handled his fall from grace and how he's moved back into a baseball role (Padres' bench coach) in a modest, worker-bee way. "I love this game," he told us.
q. Damndest baseball season.
r. Buck Showalter is 50.5 games out of first place with 38 games left.
s. Yankees have the second-best record in baseball, 32 over .500, and they're 9.5 games out of first place in the AL East.
t. If the A's go 26-12 down the stretch, they'll win 100 games.
v. The Red Sox have a better winning percentage on the road than 28 of the other 29 MLB teams have at home. (Really: Think of that.)
• Thursday … Canton, Ohio. The Pro Football Hall of Fame Contributors Subcommittee meets at the Hall to vote on the two candidates who will be presented to the full 48-member voting committee on Feb. 2, 2019. (I am one of five voting members who will meet at 9 a.m. to debate the 10 finalists.) Lots of worthy men to discuss (Art McNally, John Wooten, Pat Bowlen, Robert Kraft, Gil Brandt, George Young among them), and the committee will choose two finalists to send before the full committee on the day before Super Bowl Sunday in February.
• Thursday … Cleveland. The Eagles, as they walk on the field to face the Browns, will be two weeks out from the opener against Atlanta. If Carson Wentz doesn't play, will Doug Pederson really feel comfortable putting him out to face Grady Jarrett and Vic Beasley in a fortnight? I wouldn't be. Now there's the added Nick Foles injury alert; he left Thursday night's game in New England with an unspecified shoulder injury after getting his arm wrenched awkwardly while throwing. Nate Sudfeld, anyone?
• Saturday … Indianapolis. If there's any doubt about Andrew Luck's physical self, we'll find out at 4:30 p.m. ET at Lucas Oil Stadium. He should play a full load, into the third quarter, when the Fighting Garoppolos invade Indiana.
• Sunday … Orchard Park, N.Y. Nathan Peterman? Josh Allen? A.J. McCarron? My guess is coach Sean McDermott and GM Brandon Beane know the answer to the starting QB questions as you read this. But with this weird 4 p.m. Sunday start (it's a FOX game), we should know the Week 1 starter by nightfall.
I say a little
prayer for Aretha Franklin.
Undying respect.