Getty Images
MINNEAPOLIS — Post-game Friday night, Seahawks-Vikings, bowels of U.S. Bank Stadium. Seattle coach Pete Carroll, interrupted.
"Comparing your starting lineup in game one last year," I began, "to what the starting lineup will be in game one this year, including the kicker and punter, you're going to have maybe 18 of 24 new starters and—"
Carroll: "Isn't it awesome?!"
I'll get to that attitude in a while—it's real, and it's important.
For now, for one night no one will remember in October, in the den of the NFC runners-up, the new blueprint of the Seahawks looked smart and well-constructed. Newbies like Barkevious Mingo, Brandon Marshall, Sebastian Janikowski and super-punter Michael Dickson joined a Legion of Whom? The new secondary, on this night anyway: Shaquill Griffin (in Richard Sherman's left-corner spot) and Dontae Johnson at corner, Delano Hill and Tedric Thompson at safety. Now that was weird.
The whole thing is weird. No Kam Chancellor or Sherman or Earl Thomas. No Michael Bennett or Cliff Avril. No Jimmy Graham, no Jon Ryan. No Tom Cable, Darrell Bevell or Kris Richard. For the first seven months of 2018 in Seattle, the sky fell. Now, on the eve of the season, there's actually some hope that this won't be just a bridge-to-2019 season, a carry-us-to-six-exciting-wins-Russell-Wilson year. In ones-versus-ones in the final dress rehearsal for the season, for 35 minutes, Seattle's first units built a 13-6 lead over the Vikings. Writing about moral victories in preseason games is the lowest of sportswriter lows, and I shall not do that. But the Newhawks competing on even ground with a team fresh off a final-four finish last January had the visitors pretty happy as they dressed for the flight home. Without Sherman, the quotes were antiseptic, but that's a whole other thing Seahawk fans will have to get used to. If the new guys can play, they'll take boring.
"You know," holdover linebacker Bobby Wagner told me, "there was one point when nobody knew who Sherm was. Nobody knew who Mike Bennett was. They were able to come out and create names for themselves. The guys behind them can do that. I feel like we're in great hands."
It seems hard to move ahead that easily. But coaches and players have to—and I believe some in Seattle, Carroll and GM John Schneider mostly, are fine with the sudden reconstruction. For the rest of us, it's still a head-shaker, this controlled burn of the Seattle Seahawks.
---
Today, to obsess about Carson Wentz being doubtful for the Eagles' opener in 10 days, to hand-wring about the lowering-the-helmet rule and how half the league's stars don't play preseason games anymore seems a little overwrought. It's a sad day for our country, as we mourn the death on Saturday of Arizona Sen. John McCain, the former POW and two-time presidential candidate and a lion of the senate. A big Arizona Cardinals fan. Big Larry Fitzgerald fan too.
I got the news walking out of Lucas Oil Stadium Saturday evening, after the Niners-Colts game. Fitzgerald was in Dallas when he heard, in advance of the Arizona-Dallas Sunday nighter. I knew how highly he regarded McCain—their relationship advanced from mutual respect to McCain inviting Fitzgerald to speak to business and political leaders at an annual leadership summit, and then to true friendship. Last year, as editor-in-chief of The MMQB, I asked Fitzgerald to pen a tribute to McCain on Christmas Day, and it was moving.
Talking to Fitzgerald over the weekend, he sounded somber. "Everyone knows what he went through in his life—the service to his country in Vietnam, the great political life," Fitzgerald said. "In D.C. a few years ago, I met with some Congressmen for some issues I felt strongly about—but under the radar. Senator McCain gave me a private tour, himself, into the House and the Senate. It was incredible, seeing all that history. That day was truly one of the special times in my life. Everywhere we went, you saw everyone in the House, everyone in the Senate, show him such respect. They are all peers there, all equals. But they knew. They knew what he'd done in his military and his political life. When I look back on that day, that's what I think of—the respect these important people showed this one man."
A good memory to have. Now, on with the show.
The camp trip ended Saturday in Indy with Niners-Colts. The totals: 36 days, 22 teams seen, 19 camps, four games, 18 states touched, two speeding offenses waved off by nice troopers, one minor-league baseball game seen (Lansing Lugnuts at Fort Wayne Tin Caps) and one predawn coach session. (Who else? Gruden.) Always around this time of the preseason, people ask, So who's impressed you? Any team surprise you out there?
I'll give you a few players in a minute. And this team: Seattle. Entering my camp tour, I thought the NFC West was going to be the Rams up top, the Niners a challenger, then a thick line of demarcation, then the Seahawks and Cards, in that order. Now I think Seattle's on an even plane with San Francisco, regardless of if Earl Thomas returns from his holdout.
Six illustrations from Seattle's game at Minnesota:
• Slot corner Justin Coleman (acquired in a trade with New England, 2017), on Minnesota' first series, lines up across from the slot receiver on a disguised blitz, then storms in on Kirk Cousins, causing a throw-away. Looked like a Legion of Boom play.
• Outside rusher Barkevious Mingo (free agent, 2018), on the next snap, forces a whiffed block, steams in on Cousins and tips his hurried pass. Cliff Avril-esque.
• Left cornerback Shaquill Griffin (third round, 2017), playing Richard Sherman's spot, runs stride for stride with playoff hero Stefon Diggs and breaks up a pass at the goal line.
• New offensive line starters Duane Brown (trade, 2017), Ethan Pocic (second round, 2017) and D.J. Fluker (free agent, 2018) helped keep Russell Wilson clean (zero sacks, 21 pass drops) in his 35 minutes of play.
• Wide receiver Brandon Marshall (free agent, 2018), trying to take the big-receiver spot that Jimmy Graham served for Wilson, out-worked star cornerback Xavier Rhodes twice on his second-quarter drive to make tough catches. "He's never really covered," Wilson says.
• Kicker Sebastian Janikowski (free agent, 2018) kicked a 55-yard field goal, and punter Michael Dickson (fifth round, 2018) did something I've never seen before: kicked two 55-yard-plus punts with each dying at the 3-yard line.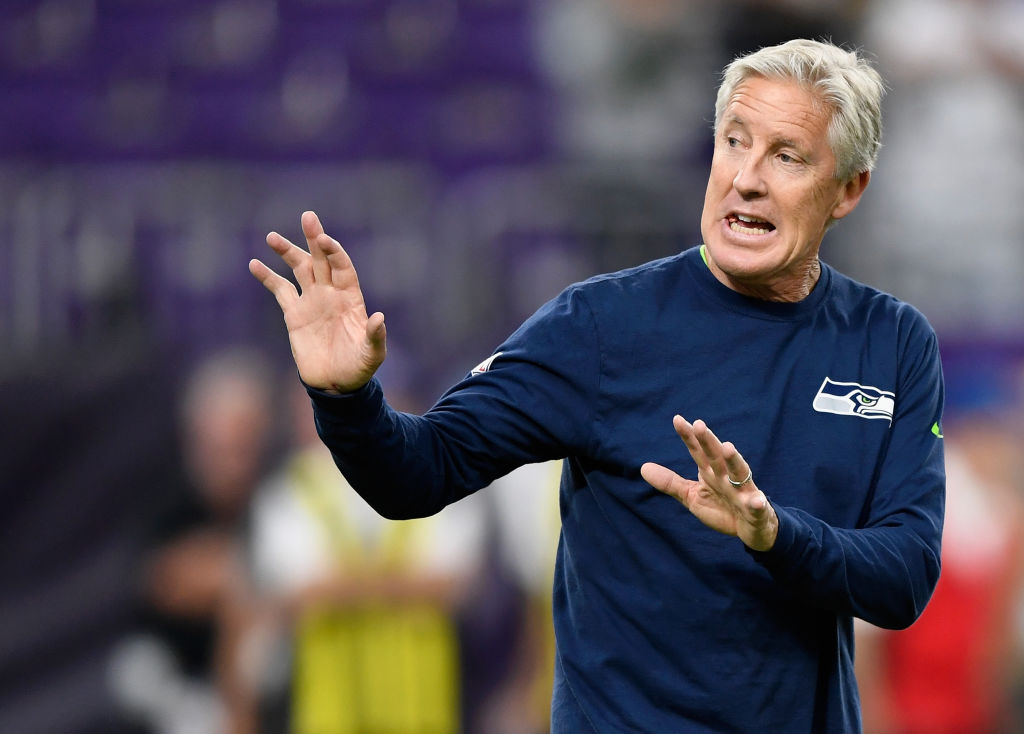 You're not supposed to count these games. I get it. So I'm not saying Seattle's winning the division, or winning 12 games. But this reconstruction job by GM John Schneider looks well thought-out so far, and it's given Carroll a déjà vu feeling. Carroll, 66 going on 26, is presiding over the biggest offseason makeover of any good NFL team in recent years.
"This feels like when you're in college," Carroll, the former USC coach, told me Friday night. "That senior class graduated—those guys that did all the playing for you. But that doesn't mean that you can't have a good team next time around. New players, new coaches. There's new juice about everything that we're doing. I go back and do all my teaching again. I'm really happy about it."
In the locker room afterward, Schneider, who's the anti-GQ GM, looked like he was dressed for a U2 concert. White T-shirt, sneakers, big smile. I said something like: You're used to tinkering with a top team. What's a total makeover like?
"It's like…" Schneider said, searching for words, "I mean, this is what the league is now. We move guys all the time. For a while, we were able to reward guys here at the top of their positions. Then we had to make decisions—who to keep and who not to keep—and we got the bad injury news on Cliff Avril and Kam Chancellor [forced to retire due to injuries]. We didn't see those coming.
"But there's another thing. You know Pete. He preaches competition, open competition, every single day. It's hard to preach that when you got the best corner and the best free safety and the best strong safety and the best middle linebacker, all young, and you know those guys are locked in there. They were the youngest team to win it all. You don't tear that apart.
"Now, this. It's fun. Lots of enthusiasm. So much spirit, so much new. It's pretty cool."
Of all the things I didn't expect on my camp trip, I'd put really liking Seattle at the top. And there is an advantageous early slate, starting with four teams (at Denver, at Chicago, Dallas, at Arizona) that combined for a 27-37 record last year. In the first eight games, Seattle plays one 2017 playoff team. I'm not saying it's set up to be a magic season for the Seahawks. I am saying it's got a chance to be a very interesting one.
CLEVELAND — What would you do if you ran the Philadelphia Eagles and:
• You've got an Eagle Scout-like franchise quarterback, 25 years old, coming back from a major left knee injury.
• That quarterback, Carson Wentz, looks great. Just watch the embedded video that Marisa Marcellino, my NBC videographer, shot on the field before the Thursday night preseason game against the Browns. But he hasn't been touched by a defensive player since getting waylaid and injured on the goal line in Los Angeles last Dec. 10.
• Your quarterback has not yet been cleared for contact by Eagle team medics.
• Opening night is 10 days away.
• You feel, sincerely, that Wentz is going to be your quarterback for the next 15 years.
• You have the reigning Super Bowl MVP, Nick Foles, the conqueror of The Great Belichick, ready to play for the first two or three weeks of the season, while Wentz gets his sea legs under him. (Even though Foles has played shaky football in August.)
Would you, despite how good and mobile Wentz looks in videos like the one you see here, hustle to get him ready to have his first contact in nine months against a Falcons team capable of generating significant pressure in the opening game of the NFL season?
I sure wouldn't. And I doubt the Eagles will, despite this fairly alarming stat: In 14 preseason drives by the first-team offense (albeit with some starters missing), the formerly explosive Eagles have zero touchdowns. 
An hour after the latest stinker, a 5-0 loss to the Browns (have you heard they were 0-16 last year?), Doug Pederson stood in his locker room for a cross-examination on Wentz, and on his offense. He certainly wasn't happy about the state of his offense. But he also was not pissy.
"We have time to fix it before opening night," he said. "Our team's gonna look different. People have to understand that. But I look at what we've done, and the mistakes we've made, and I see it as totally fixable."
On Wentz: Long pause. Six, eight seconds. Pederson is one of the nicest men ever to walk an NFL sideline, but he has had enough of the when's-Carson-playing question. That's not going to make it go away, though.
"We'll find out," he said. "Stay tuned, as they say in the business. As I've said, it's going to be a medical decision. We are going to do the right thing for the team, and for Carson."
I asked what he'd say to greater Philadelphia, which is likely feeling somewhere between uneasy and panicky this morning. "Well," he said, "I hope they're not basing it on three preseason games. We promise our fans—I can promise our fans—we're gonna get this fixed. We're gonna get it right. And we hope to see them all Sept. 6."
Oh, you will. And the game will have the Eagles and the Falcons and a third component: mystique.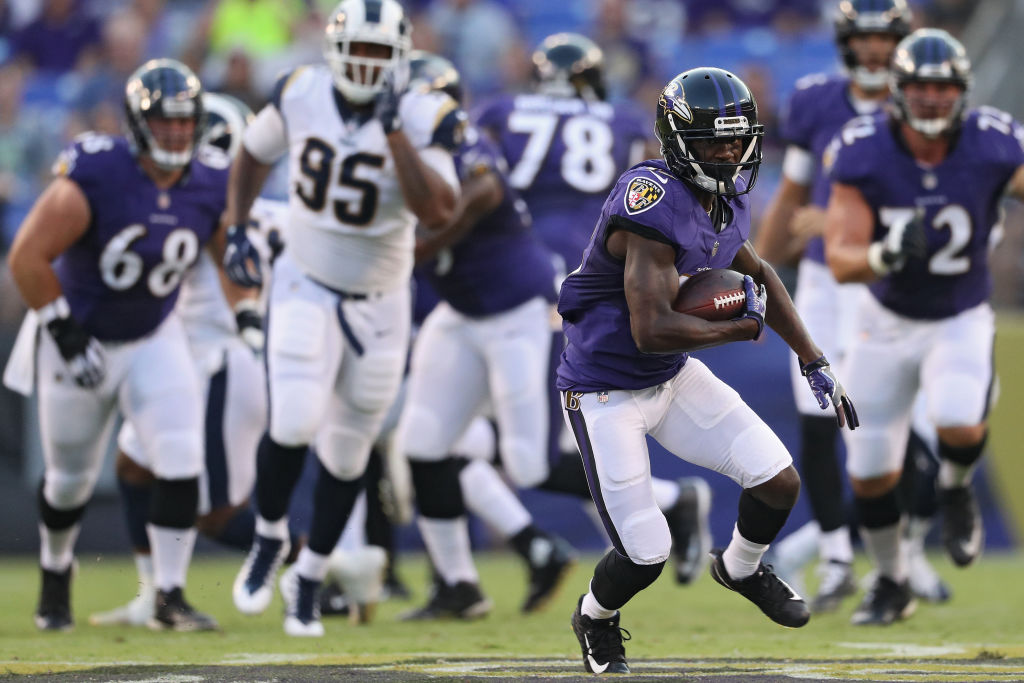 During my 22-team summer tour, here are the players I saw and really liked:
• John Brown, WR, Baltimore. Three 40-yard-plus deep strikes from Joe Flacco in one practice, two cleanly beating former first-round pick Marlon Humphrey. This is the player Arizona stole from Pittsburg State (Kans.) in 2014, and the player who had a few nicks in Arizona, causing the Cards to not commit to him after last season. The Ravens may have a steal in the young 28-year-old. He owned the practice I saw.
• Jaylon Smith, LB, Dallas. Smith had a tour de force practice the day I saw him in Oxnard, Calif., breaking up three passes in a ones-versus-ones scrimmage drill. Looks to be largely recovered from the devastating leg injury he suffered in the Jan. 1, 2016 Fiesta Bowl that caused his draft stock to plummet from top five overall to the second round. The Cowboys are so excited about his potential return to greatness—everyone in the organization is trying to play it down, but it's obvious Smith is ready to contribute to a big defense.
• Michael Dickson, P, Seattle. A punter. Yes. The Aussie, Seattle's fifth-round pick this year, played at Texas (and was MVP of his last college game, the Texas Bowl) and can do masterful things with the football. First punt Friday night in Minnesota: a 57-yard spinner to the 3-yard line, and it took a hard right turn directly out of bounds. Second: a 46-yard skyball; fair catch. Third: 48-yard skyball; six-yard return. Fourth: 56 yards, perfectly placed at the 1-yard line, and it took another hard right turn. So … with the prospective first unit on the punt team, Dickson had a 50.3-yard net, with two punts dead inside the 5-yard line. (He did have another punt, a 61-yarder in side of three minutes left, with scrubs on the punt team—and Dickson made the tackle after a 34-yard return.) What a performance. I asked him about it after the game:
• Marquise Goodwin, WR, San Francisco. So he's not exactly new blood; this is his sixth season, mostly unused, and he's determined in an Antonio Brown way to be sure he takes advantage. "One day," GM John Lynch told me, "the players are off, and I look out my window here and there's one guy out there working out—and working out for a long time." Goodwin. To watch him run past corners, particularly up close the way you can do it in training camp, is borderline breathtaking. I saw it from feet away. By the way, I'd love to see Goodwin versus Tyreek Hill in a 100-yard dash.
• Braden Smith, OT, Indianapolis. I don't know if he'll win the starting right tackle job. The Colts really need one. But the day I saw the Colts, this was a well-built 6-6, 318-pound athlete who looked like he belonged. Strong and lithe, with a good punch to the wide pass-rushers.
• Orlando Brown Jr., T, Baltimore. What impressed about the guy who bombed out of the combine? He's got a mean streak, a very good punch, and he's got better feet than a 345-pound man should have. I don't see how the Ravens keep the son of Orlando "Zeus" Brown out of the starting lineup.
• Parry Nickerson, CB, New York Jets. Competitive and feisty. If you can get Todd Bowles to notice you as a rookie, you've done something. Just Nickerson's demeanor on the practice field shouts: I belong.
• Michael Gallup, WR, Dallas. Man, what a smooth, confident receiver this third-round pick from Colorado State is. I saw him catch a high ball and toe-tap on the sideline like no big deal. Looks like a very solid pick and potential early-career starter for a team that really needs a good young receiver.
"Hard Knocks" is experiencing a revival this year because the Browns are excellent subjects, provide terrific access (last week, they let cameras follow a player, Dez Bryant, who wasn't even on their team and still isn't), and have some colorful desperadoes (Jarvis Landry, Gregg Williams, Todd Haley) in camp. It got me to thinking about my favorite moments in the 13-season history of the series:
1. Jets coach Rex Ryan, angry, ending a team meeting with a profane snack reference, 2010. There is nothing more perfect in NFL video history than Rex Ryan chewing out his team and apparently getting so hungry doing it that he had to finish the exhortation with a trip to the evening food room.
2. Browns offensive line coach Bob Wylie ruminating about calisthenics and world history, 2018. Wylie, 67, cut a memorable figure on the practice field. As distinctive as he looks, he sounds five times better. "How'd they play football in 1946 with no music?" mused Wylie, the star of the third "Hard Knocks" episode this summer. The rest is just too good.
3. Dolphins receiver Chad Johnson getting cut on national TV, 2012. "I don't know if this is working for the benefit of you, me, the Miami Dolphins," Miami coach Joe Philbin told a stunned Johnson, and there he went.
4. Texans coach Bill O'Brien, in a flat-lining way, telling his quarterbacks who won the starting QB job, 2015. His quick speech to his quarterbacks, less than two minutes long, about Brian Hoyer winning the job over Ryan Mallett took less than a minute and was the realistic part of what is often dramatized to be much more eventful than things in football really are. I liked this because I know O'Brien, and this is perfect him.
5. Bengals first-round pick Andre Smith signing his first contract after a holdout, and being woefully out of shape, 2009. I don't have the video on this one, but it was stunning how bad a start Smith had in Cincinnati, after holding out, signing a rich rookie contract, and clearly feeling like he'd arrived. But Bengals owner Mike Brown quickly reminded Smith how much work he had to do.
In the Hall of Fame game and first two full preseason weekends, officials called 51 of the new helmet fouls in 33 games. This weekend, after the league clarified the rule and eliminated inadvertent or incidental contact as fouls, there were nine fouls in 14 games. Before the change: 1.55 helmet calls per game. After the change: 0.64 calls per game. Seems telling, but neither of these numbers should be taken as gospel because the sample size is too small.
In any case, 60 fouls in 47 games—entering the final two games of the weekend Sunday—adds up to 1.28 calls per game. Not really the decline of western civilization, or football.
Last week, the league made it less autocratic and inflexible with VP of officiating Al Riveron saying that inadvertent or incidental calls should not be flagged. That's something that should have been in the rule in the first place, after seeing the inconsistent way it was applied in early preseason games. That's my only problem with the rule: It was fairly revolutionary, and the verbiage and application that exist today were not altogether buttoned-up before the games started. There's one other problem, as told to me by the new NBC rules analyst Terry McAulay. "Officials now have to read intent in real time," McAulay said. "Officials can't do that. We have never had to do this before, reading intent. At the officials meeting in Dallas, Al said, 'This is the first time we have asked you to read intent.' "
That's a concern, obviously. Officials will be under the harsh glare of the media and fan spotlight now for something they've not had to do before. The job is already impossible enough.
Here's the exact rule: Players at any position who lower their heads to initiate contact with a helmet, and then make contact with a foe with the helmet, will be flagged for a foul. Add in the officials reading intent, and add in no calls on indavertant or incidental helmet hits—that's a tough bunch of rules to apply at full speed.
However this rule was to be instituted, it was going to be painful. I've felt for a while that the game is on fire, and the league had better be proactive in trying limit concussive head hits. The long-term future of the game may depend on that.
Riveron said Saturday: "This is new for the officials, coaches, players. It's a culture change, and not just for our games on Sundays, Mondays and Thursdays. The is for the college games on Saturdays, the high school games on Friday nights, the youth games on Saturday mornings—the 85-pounders should not be subject to unnecessary risks either." It's the parents of those 85-pounders the league is sending a message. It's easy to say, This is a rough game. If you don't like it, go play something else.
Riveron went to south Florida for the Ravens-Dolphins game Saturday night. He said he stood on the field to see how the players were adjusting to the new helmet rule. He said he watched running backs approaching contact with heads up, and linebackers and defensive backs doing the same. When we spoke again Sunday, he said: "This is football, live speed, and I saw this first-hand. The culture change has begun."
One more number here. Riveron confirmed to me that 40 of the first 51 flags were correct calls after the league's video review. FOX's Mike Pereira made a smart point about that. "So it's 40 legitimate calls in [34] games, with a lot of the fouls made by guys who aren't going to be on teams when the season starts, the less-skilled players who are more apt to make plays like this because they're playing so aggressively trying to make the team," Pereira said. "We're overreacting here. I think by Week 2 of the regular season we're going to be more concerned about what is a catch than the helmet thing."
I can't swear that Pereira's right, and that this will mostly go away by the middle of September. What I do know is these are dangerous times for football, and for the future of football. The more safety rules there are in the game—applied correctly—the better.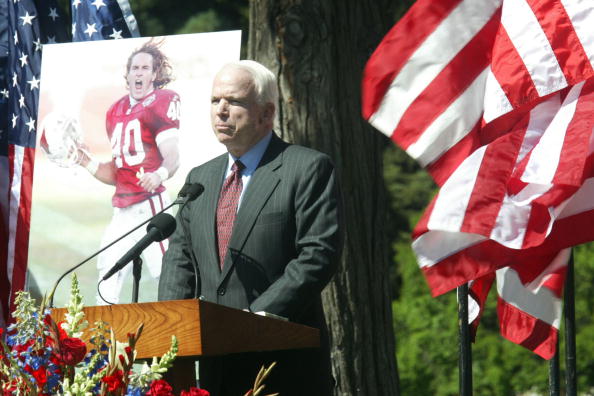 With the death of the Arizona senator and 2008 Republican presidential candidate, I wanted to say one thing about why we all should pause and praise him:
In the fall of 1967, he was captured as a prisoner of war in Vietnam. A Navy pilot, McCain was flying his 23rd bombing mission over Hanoi when he was shot down and imprisoned, his left and right arms broken, and his right leg and left shoulder broken too. For five years and almost five months … 1,962 days, to be exact … he was used as a prop by the North Vietnamese. For 14 of those months, he was tortured. On some days, he later recounted, he was awakened every two hours, bound, and beaten severely. Two months into his imprisonment, it looked as if he would die.
"Few of us have been tested the way John once was, or required to show the kind of courage that he did," the former president, Barack Obama, said Saturday night.
In 1968, beaten and defeated, McCain was offered his freedom. The North Vietnamese, for propaganda, offered to let him go as a show of good will because his father was the commander of U.S. forces in the region. The younger McCain refused. Not only was it illegal in U.S. military bylaws to accept release for propaganda purposes, but he also said he would never jump the line ahead of other men who'd been imprisoned longer.
That's a measure of the great man. Just thinking about him, I tear up. Godspeed, Senator.
Two personal stories: When I worked for HBO's "Inside the NFL" show, I went to Washington to do a piece (wish I could find it now) on leadership in the NFL, focusing particularly on the kinds of leadership shown by Ray Lewis and Brett Favre. McCain seemed a perfect man to ask, as such a leader of men. He loved football, and he was great, and eager, and excited in the 40-minute session to think that we'd ask him his opinions about a game he loved.
The second was poignant. I was living in Boston in 2009 and had to fly down to New York on a Saturday evening for my NBC job. Walking through Logan Airport, I stopped for coffee to go in a restaurant with maybe 12 tables. All were empty but one. At the back, McCain and wife Cindy were eating. Chowder for John McCain, it appeared. They were alone. No one was bothering them, a year after he ran for the presidency and lost to Barack Obama; they were back to being citizens—prominent citizens but not mega-famous ones. Nice moment.
Mark Leibovich, author of "Big Game: The NFL in Dangerous Times" (Penguin Press, out Sept. 4), spent four years in and around the NFL documenting owners, players, media and the culture of the league. He is a political writer for the New York Times based in Washington, and a football fan. Here he is, in his own words, on what he's learned about the NFL:
"The first thing I learned is there was no escaping politics by embedding myself in the NFL. The politics in the NFL are as thick and backbiting and petty as they are in Washington. One of the reasons I did this was to get a respite—one of Jerry Jones' favorite words—from the Washington life. But there has been a political culture war raging in the NFL for a long time, and now Donald Trump has turned a good part of the right against the NFL. Much of the left was suspicious of it already. So there was no respite, really.
"I learned that Roger Goodell is very damaged, a deeply unpopular leader not only among players and fans but in the country at large. That is a big problem for the league, and every owner knows it. Roger is capable of incredible humanity, but there is a huge gap between the Roger Goodell as a human being and the cold Roger Goodell at the podium. He's sort of straightjacketed, and he creates this very scared dynamic around the league. I don't think he realizes how jarring it is. The league has no clue how to deal with it. I don't think he wants to hear that, though. He can be diplomatic, like with the anthem issue last year. The league basically rode that thing out. They knew Trump would pipe up again, but Goodell brought players and owners together. Then for whatever reason, he flipped in May and ham-handed a solution no one but a handful of the owners was happy with.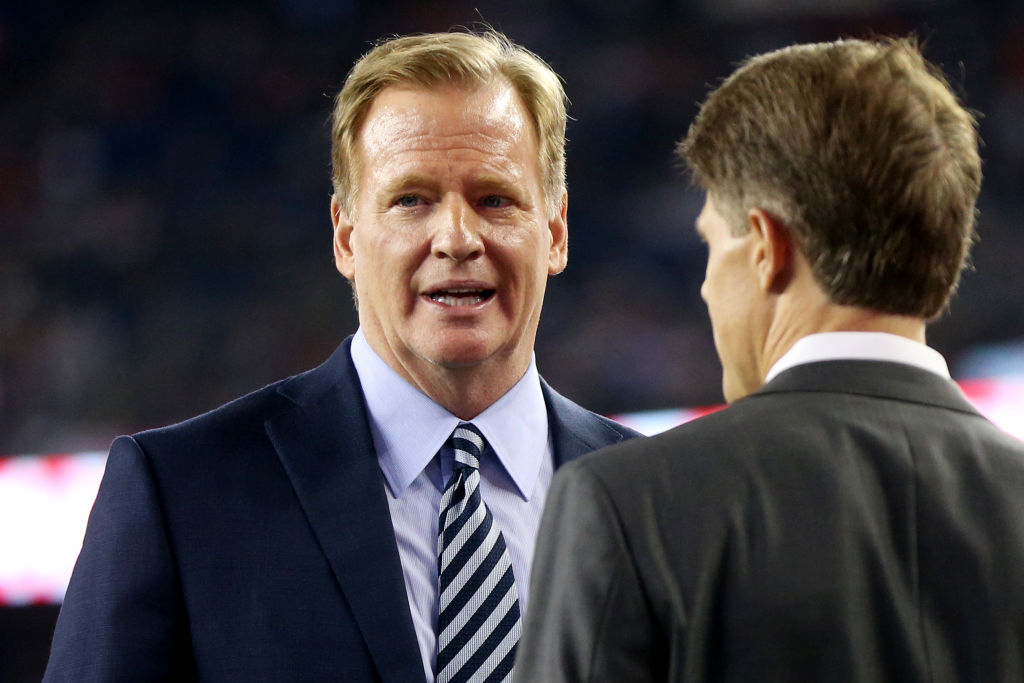 "I learned many people around the league would love to get the Redskins to change their name. But it's one man's decision, and Dan Snyder is not going to let it happen. Snyder is as popular among the owners as he is with the public at large, which is to say he's not beloved. He is stubborn on this, obviously.
"I learned the Jerry Richardson problem is not over. There is real concern that Jerry Richardson is the tip of the iceberg. With obscenely rich and powerful and aggressive people like NFL owners, there can be a commonness of not only acting in a brutish and entitled way, but also, simply, of being able to pay people off when they try to speak out. Needless to say, Richardson has no monopoly inside the membership on having engaged in outdated behavior. I think there will be other cases. The league fears there will be others.
"I learned that the Patriots' shaky alignment at the top—Robert Kraft, Bill Belichick, Tom Brady—could come apart. That seemed pretty evident during and after last season. It seems really close to coming apart to me. Tom is the one I like the most. He gets the whole thing. I learned that empires crumble. Brady probably wouldn't have minded being thrown out into the wilderness of free agency after last season.
"I learned that journalism is basically the same in Washington and in covering the NFL. It's pack journalism. In Washington, it's something that's caused us to make huge errors. 'We'll never elect an African-American president.' 'We'll never elect Donald Trump.' That's because the reporters become part of the insider group, part of the swamp. It's one big club of political operatives, including journalists. Same with football. You go to these NFL meetings, and it is tough to step beyond the pack. Everyone is part of the same club. That's why it's always good to get a fresh set of eyes on the institution you're covering. It is something all of us journalists need to fight again: Comfort can make you older quicker.
"I learned that I'm definitely closer to 'the game will prevail' argument than 'the game is doomed' argument. [Hall of Fame president] David Baker says if the game fails, America will fail. Malcolm Gladwell says the game will be dead in 25 years. I don't believe either one. Football will survive because of the greatness of the game, and in spite of the people who run it. The NFL knows they've got us. The league operates like a drug lord, and we're a nation of football junkies."
I
"I have spent time in the company of heroes. I have watched men suffer the anguish of imprisonment, defy appalling cruelty until further resistance is impossible, break for a moment, then recover inhuman strength to defy their enemies once more. All these things and more I have seen. And so will you. I will go to my grave in gratitude to my Creator for allowing me to stand witness to such courage and honor. And so will you."
—John McCain, to midshipmen in his commencement speech at the Naval Academy in 1993, per the New York Times.
II
"I might drive off the highway."
—Gil Brandt, driving in north Texas, being notified that he was one of two Contributors finalists for the class of 2019 in the Pro Football Hall of Fame.
III
"That is everyone's dream—to not play in the preseason."
—Rams running back Todd Gurley, to the Los Angeles Times, informed he would not play Saturday against Houston, meaning he would not take the field in any of the four Rams preseason games.
IV
"For the past 50 days, I've replayed over and over in my mind what would I say, or how could I apologize in a way that people would understand or forgive me for my inexcusable actions. The truth is, there's nothing I can say that will make what I did right. In fact, taking ownership in my behavior moving forward will ultimately define me as a man."
—Cardinals GM Steve Keim, returning from a five-week suspension and $200,000 fine for his extreme DUI arrest in Arizona on Fourth of July weekend, to reporters in Arizona on Wednesday.
V
"This town and this region and this team have grown up together. They are very grateful for everything Pat Bowlen has done. This is just a great moment for everyone here."
—Broncos president Joe Ellis, receiving the news that longtime Denver owner Pat Bowlen was made a finalist for the 2019 Pro Football Hall of Fame class.
VI
"High schools are already playing in some states. The college football season starts next weekend, before the calendar flips to September; Alabama is ranked No. 1 again. The NFL kicks off a week later; Brady and Belichick are still in Foxboro but watch out for the Rams. We will play. We will watch. We will bet. Because football is big. And flawed. And dangerous. And most of all: Just a sport. Nothing more."
—Sports Illustrated's Tim Layden, in his excellent essay on America's over-valuing of football.
In appreciation of wide receiver Brandon Marshall: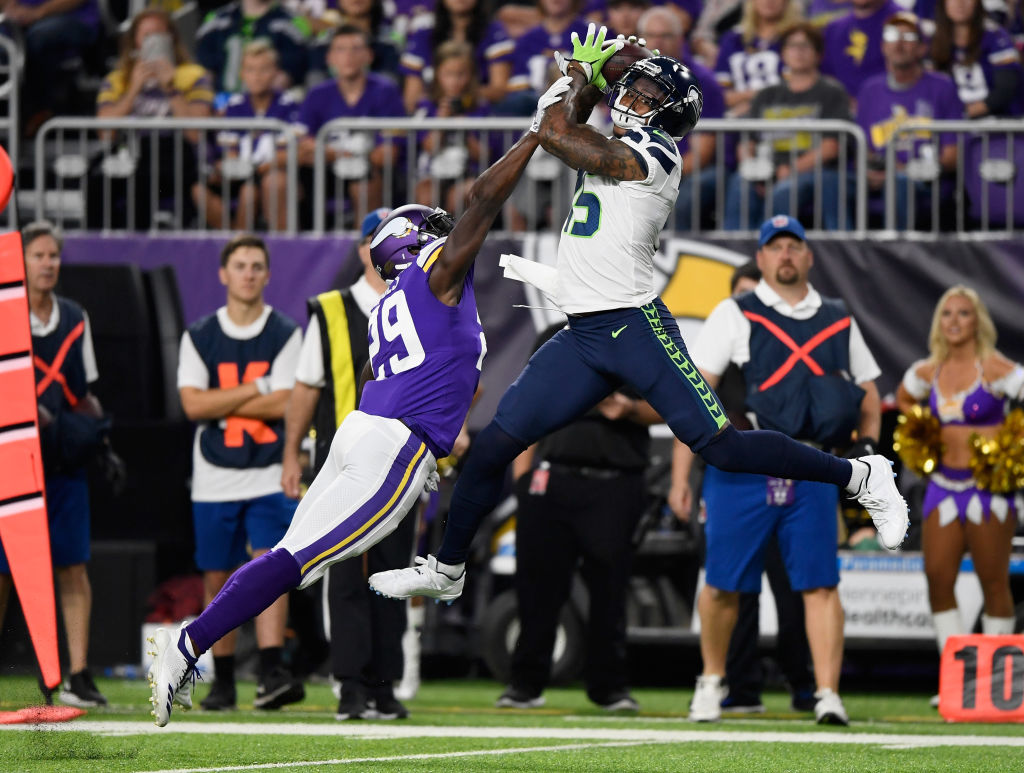 • Marshall is likely to make the Seahawks at 34, playing in three and four-receiver sets after catching just 18 balls for the New York Giants last year. Look for him to take the red zone role of departed tight end Jimmy Graham.
• Marshall needs 41 catches to become the 13th wide receiver in NFL history to catch 1,000 passes.
• Seasons of 100 receptions or more, career: Marshall 6, Jerry Rice 4.
• Rice had a ridiculous season in his 30s: 122 catches, 1,848 yards, 15 TDs at age 33 in San Francisco, with Steve Young (mostly) as his quarterback. But grade a little on the curve for Marshall's age-31 year. He was with his fourth team, the Jets, in 2015, with Ryan Fitzpatrick as his quarterback. Marshall put up 109 catches, 1,502 yards, 14 touchdowns.
• I have always found this amazing about Marshall: He has had 1,200-yard receiving seasons with four teams. The best seasons he had, per team, in his first four NFL stops:
2007: Denver, 1,325 yards (Age 23)
2011: Miami, 1,214 yards (Age 27)
2012: Chicago, 1,508 yards (Age 28)
2015: N.Y. Jets, 1,502 yards (Age 31)
My guess is the Seahawks will give Marshall much of the chances they gave Jimmy Graham in the last three years. Graham's a physical 6-7 receiver. Marshall is 6-5, and is as physical as any wideout in the game, even at 34. He showed it Friday night in Minnesota, battling Xavier Rhodes and winning twice on contested catches in the first half Friday night.
I
With Alabama kicking off its football season Saturday in Orlando against Louisville, I thought it would be fun to let you know how Nick Saban has paid homage to one of the great coaches of a bygone day. In the Crimson Tide's team meeting room on campus, there's a huge mural on the wall with these words:
THE TEAM
THE TEAM
THE TEAM
That's from Bo Schembechler, in 1983, with one of the phrases I hear more and more from coaches today. It's from this speech.
II
My favorite measure of the strength of the Philadelphia Eagles' defensive front: If the season started today with all Eagles healthy, three non-starters in the rotation would likely be Michael Bennett, Haloti Ngata and Chris Long.
III
I stumped Mike Florio (which, ladies and gentlemen, is not the hardest thing to do) the other day, sitting in a remote studio in Cleveland doing his TV show with this Minor League Baseball Quiz: What is the nickname of the Double-A Eastern League team in Akron, Ohio? Answer below, in number 10 of Ten Things I Think.
I
You know you're in Minnesota when the halftime food Friday honored the legendary Minnesota State Fair, which began Thursday and runs through Labor Day. There was a plate of Minnesota-grown vegetables and hummus, but that wasn't getting much action. This was:
Swedish meatballs
Cheese curds
Tater tots
Bridgeman's (Brooklyn Center, Minn.) chocolate ice cream
Unfortunately, there was no Walleye on a Stick, or fried oreos. Nor was there the new hit of the fair this year—the zesty PB&J sausage. I am serious.
II
It's cold in the United States, but not outside. Inside. For some reason, business and transportation hubs and vehicles and stadia think we want the environment to be significant cooler than 72 degrees. I am sure I speak for all 360 million of us out here: Turn the thermostats to 70 or 72. I beg you.
I pack very light for this annual training-camp trip, with about four days' worth of summer clothing (LL Bean cargo-type shorts and NBC polos, mostly), and do laundry along the way at various TownePlace and SpringHill Suites and Fairfield Inns. As I've traveled the country this summer on my training camp trip, I've wished more than once I had a November fleece or thick hoodie. Turn up the thermostats, please. Particularly cold spots along the way:
1. University of Phoenix Stadium, Glendale, Ariz. In the third row of the press box Aug. 18, it felt like it was 58 degrees. At halftime, I went out to the car (on a sweltering 92-degree evening) and fetched my NBC sweatshirt. Lord, it's cold in there.
2. Car rental bus, Cleveland airport. Parkas in August? Would have been fine with me the other day, rolling from the rental place to the airport. Said my videographer/NBC partner, Marisa Marcellino: "It was absolutely freezing, It felt like we were back at the Super Bowl." In February. In Minneapolis.
3. Starbucks, Somerset, N.J. So it was so cold in there—60 at the most—one late July morning that one gal draped a light sweater across her bare legs. We just had the coffee on the outside, so it wouldn't turn to ice.
4. Pro Football Hall of Fame meeting room, Canton, Ohio. Jim Trotter, my old SI pal and current Hall voter, wore a knit hat and a sweatshirt, and we both couldn't believe how cold it was in there. The locals, hardy Ohioans, seemed fine with it being in the mid-twenties.
5. Aboard the ferry from Muskegon, Mich., to Milwaukee, across Lake Michigan. I forgot if it was early August or early December. And that was inside the ferry.
I
II
III
IV
V
Mail from readers:
That's part of our business. From Jason M., of Shanghai, China. "I know you have special relationships with many of the folks (players, coaches, owners, etc..) associated with the NFL. Does it ever make you feel upset/sad when you see what the game does to the men who suit up every week? The context for this question involves the latest Richie Incognito incident. (I think you and Richie have a relationship.) It is pretty clear that he has some serious issues he is going to need to work through in the coming years. While no one knows exactly how much of it is related to football, I am sure banging his head against other heads for 15-plus years didn't help. Do you ever have regret or remorse about being so deeply tied to (and enriched by) a game that does these things to people?"
Excellent question. First: There is no indication that Richie Incognito's behavior has anything to do with football. You're making a pretty big assumption. There are many people who never picked up a football and show signs of imbalance in their personal and professional lives, who lose it without having been hit in the head.
Second: I do think about the price some former players pay by playing the game, and it does bother me. Question is, should the game die? I don't believe so. It's gotten too big for its britches, and far too self-important, but there are other dangerous sports in the world—boxing, MMA, auto racing, hockey. There is information out there, lots of it, about the dangers of the game. Forty years ago, players wouldn't have known about the dangers. Today, they would. Players play the game at their own risk. We watch the game understanding the risks. And if we don't want to accept the risks, we don't watch. I may get to that point one day, particularly if the long-term brain trauma is borne out. I'm not there yet.
It's a column about football and life. From Tom J.: "Why do you think that your grandson's bilingual learning is appropriate material to discuss in a football column?"
Tom, I take it you're not a fan of my personal life being in the football column. You're not alone; I've gotten lots of queries like this over the years. I'll explain it this way: Since 1997, when I started this column on Sports Illustrated's website, my then-boss, Steve Robinson, asked me to include stuff about my life and how I did my job in addition to football. I've done it for 21 years. So last Monday, I wrote 8,605 words on pro football and 1,248 on personal opinions about other things like visiting my grandson, a fire-fighter hero who died battling a California wildfire, a cool beer can, my favorite Aretha Franklin songs, meeting Mark McGwire on the road last week, and this crazy Oakland A's baseball season. I might be right to add that stuff to a football column; I might be wrong to do it. But I always say this to those who don't like it: It's easy to skip that stuff. Scroll down.
What of Flutie? From Keith T., of Tyngsboro, Mass.: "Has there every been any real discussion on the Hall of Fame prospects for Doug Flutie? Isn't the hall for ALL football and not just the NFL? Here is a Heisman trophy winner, USFL, CFL and NFL player who excelled as a 5-9 quarterback in three professional leagues over 21 professional seasons. He is without question the best player in the history of the CFL. Shouldn't there be room for a candidate like that?"
Really interesting question. I think the Hall should consider two players who were great in other leagues and had some shining moments in the NFL as well: Herschel Walker and Flutie. You are correct: It's called the "Pro Football Hall of Fame," not the "NFL Hall of Fame." I hope we consider them.
Send comments/questions about this column, the game, or life to peterkingfmia@gmail.com. I'll answer a few each week.
10 Things I Think I Think
30
1. I think these are my one-sentence thoughts on the news and games from Week 3 of the preseason:
a. I don't know what to think about the senseless shooting during a video-game tournament at the Jacksonville Landing (a few blocks from where the Jags play) on Sunday, but it's another example of how no one in this country at any time is safe from the scourge of gun violence—the scourge we continue to do absolutely nothing about.
b. No way I'd start Josh Allen if I were the Bills, mostly because that offensive line could get any inexperienced quarterback hurt.
c. I will be surprised if Aaron Donald isn't signed and playing by the time the Rams walk on the field for the last game of Week 1 of the NFL season, at Oakland on Monday night.
d. In other words, Donald becoming the highest-paid defensive player in history seems like a matter of time.
e. Adam Jones a Bronco seems right, because if you can handle Aqib Talib, you can handle Pacman.
f. Good for Eric Decker, who retired Sunday, walking away with his health at 31, and with a very nice NFL career: 439 catches (12 more than Paul Warfield) and 53 touchdowns (two more than Lynn Swann).
g. I continue to think Khalil Mack will not be traded, in part because it would be absolutely, unequivocally stupid for the Raiders to let walk one of the three best defensive players in football, in his prime and at age 27.
h. I know Jon Gruden doesn't love pass-rushers the way he loves quarterbacks, but he simply cannot let GM Reggie McKenzie seriously entertain an offer to deal Mack.
i. Anyone who loves football has to hope for the best for Travis Frederick, the best center in the game, as he tries to recover from an auto-immune disease so he can resume his career.
j. It's a sign of how much the Vikings are worried about that leaky offensive line that GM Rick Spielman made a bright trade for a marginal but experienced Giants' center, Brent Jones, on Sunday.
2. I think Kirk Cousins could have looked sharper, and more accurate, Friday night for the Vikes. There's a load of pressure on him already, and he hasn't had the best preseason (60 percent passing, one TD, no picks, some clear misses in a half of play Friday night). He'll be head-to-head with Jimmy Garoppolo, Aaron Rodgers and (presumably) Carson Wentz in the first five weeks, and the locals justifiably will be restless if he struggles in the first month.
3. I think this was the moral of the story I learned after watching Eagles-Browns on Thursday, and seeing the nightmare that is the Cleveland offensive line: Let's pump the brakes on those 6- and 7-win predictions for the 2018 Browns. If they don't protect the quarterback better than against that Philly front, Cleveland won't have a quarterback standing by Week 8. We forget sometimes that the Browns' best player from an 0-16 team retired, and Joe Thomas is not coming back through those doors. I feel pretty sure the team's on the right path; they still have miles to go to be good. The defense helps, certainly. But they're not going to win many games 9-3.
4. I think I found myself thinking this in three NFL press boxes over the weekend: We're in the sixth week of the preseason, and no public sign of the commissioner. Where is Roger?
5. I think, after being in Canton on Thursday as one of five Pro Football Hall of Fame voters to choose two Contributors nominees, Pat Bowlen and Gil Brandt, here are a few thoughts on 24 hours doing Hall business:
• We are not allowed to spill details of the discussions inside the room with the five Hall voters (part of the Contributors Subcommittee) and consultants Carl Peterson and Bill Polian. Suffice to say: I thought, at the beginning of the 5-hour, 41-minute meeting Bowlen was the candidate with the best chance to make it, and it turns out I was right. We're not told the vote totals, but I didn't sense a scintilla of negativity about his candidacy.
• One long-time Broncos employee, on his office wall, kept a framed article written about Bowlen when he bought the team in 1984. It questioned whether this shy, Canadian businessman would be any good at it or would know what he's doing. Well, 34 years later, we have our answer.
• I have always felt Brandt's case is—in some ways, and hear me out—similar to John Madden's. Brandt ran the revolutionary Cowboys scouting department for 28 years; it's this scouting example and system that Bill Belichick regularly refers to as the bedrock for the NFL. Brandt has become the single most identifiable league face of the combine and the draft, two enormous NFL events that continue to lift the profile of the NFL. He writes for NFL.com, he talks for SiriusXM NFL Radio. He's 85, and he's the same football metronome today he was mining beat writers for draft intelligence in the eighties. (I know. I was one.) Sixty-three years as an NFL staple. It's the Lifetime Achievement Award. Madden had 10 superior coaching seasons, but he also is the gold standard for NFL TV analysts, and with the Madden video game provided a gateway to the game for a generation or more of gamers. Both guys are all football, and in very public-facing ways.
• If I had to guess, I'd say three contributors with good shots at Canton in the future are former Giants GM George Young, Patriots owner Robert Kraft and the godfather of modern officiating, Art McNally. That is just a guess.
• Re Paul Tagliabue's case: He was one of the 10 finalists we considered. I'm the Hall voter who presented the former commissioner's case for two years before the 48-person selection board; I believe he's a very strong candidate with credentials to be elected. But Tagliabue minimized the potential risk of football when the science about concussions was very young, and I think it's fair to say many in the science and media communities feel he was slow to respond to the growing data. In February 2017, after Tagliabue came out of the Contributors Subcommittee as a nominee, his candidacy failed to gain 80 percent of the vote in front of the 48 selectors, and he was not elected. My opinion on Tagliabue has not changed. He lorded over the game for 17 strike-free years while the other three major sports had a total of five job actions. He and Dan Rooney directed the league into better minority-hiring rules. The long controversies and legal fights popular in the current administration were less prevalent in the Tagliabue era; "all's well that ends" was a favorite mantra of his. But it didn't seem to make sense to me to put Tagliabue before the full board for a vote two years after he'd failed, and evidently the four other voters in the room Thursday—Jim Trotter, Clark Judge, Charean Williams, Howard Balzer—agreed.
• The Hall never seriously considered a Terrell Owens Rule—a rule that would have made it mandatory for a potential enshrinee to commit to coming to Canton for the ceremony before being elected. It would have been foolish, creating a rule to address something that happened once in 56 years covering 318 Hall members. I was thankful to learn from the Hall's executive director, Joe Horrigan, that it never was seriously considered after a Hall of Famers grumbled in Canton early this month that they wanted insurance for future ceremony truants. "Certainly we heard them," Horrigan told me in a recording for The Peter King Podcast. "There is such a thing as a knee-jerk reaction … At the moment we have no appetite to make a knee-jerk reaction. I would simply say we heard the request to consider this, and we took it under advisement, but I don't anticipate much beyond that happening." More from Horrigan Wednesday when my latest podcast drops. Subscribe.
6. I think for those who question the NFL's determination to get high-speed collisions out of kickoffs, read this debut piece of former NFL offensive lineman Ross Tucker in The Athletic. It's about a kickoff play. Good writing, too, by the Princetonian:
"If they don't make these shifts to the rules, they'll end up getting rid of the play forever, because it ends careers. I should know because it ended mine."
Good luck, Ross Tucker. Keep writing those pieces that take people where they cannot go.
7. I think this will be must-listen TV: Bruce Arians, not retained and not happy about it after the 2011 Steelers season, will be part of the three-person booth for CBS' opening-day Pittsburgh-Cleveland game. The Cleveland offensive coordinator is Todd Haley, who succeeded Arians as Steeler OC and stayed till January of this year; Haley wasn't pleased to have been whacked in Pittsburgh either. The Steelers coach is Mike Tomlin, who was okay with the Arians and Haley dismissals. Lots of controversial tributaries and storylines for Arians to address in the booth in his NFL broadcasting debut.
8. I think the Patriots are going to miss Brandin Cooks this year. Terribly.
9. I think, Bengals fans, now you see what you were missing with the John Ross injury last year.
10. I think these are my other thoughts of the week:
a. McCain Story of the Week: Remembrances of chronicling the public and political life of the man, from Dan Nowicki of the Arizona Republic.
b. Story of the Week: Zach Berman of the Philadelphia Inquirer on a better-than-amateur magician, former Eagles long-snapper Jon Dorenbos, who is grateful for discovering the malady that could have killed him—more than he's bitter about his football career ending. Dorenbos: "How can this be bittersweet? If I play, I die."
c. I've chronicled the incredible life (and I do not say that flippantly; Dorenbos' father murdered his mother when Jon was a boy) of this long-snapper, and his is one admirable person. Good for Berman for telling the story so well.
d. Sports Media Trend Story of the Week: by Kevin Draper of the New York Times, on the hiring spree at The Athletic.
e. Good luck to The Athletic, which I hope can be the rising tide that lifts all boats in our business. Good Draper summation here: "The business plan at The Athletic is largely a bet that it will emerge as a Netflix-like solution to the decline of local sports coverage by newspapers decimated by budget cuts, and that it could eventually win over millions of subscribers. Its current hiring surge, then, is more a doubling down on that bet than a tangible payoff on it."
f. I've talked to quite a few people in the football media business in the last two or three months. They wonder if they should take the jump to a place that gives few guarantees about its long-term future. There is something alluring about the venture, and when I read it (I am a subscriber), I always find something interesting, something I would not find for free elsewhere. Truly, I wish the place well.
g. Column of the Week: Doug Lesmerises of the Cleveland Plain Dealer, on the moral of the Urban Meyer story. Great point: Ohio State is employing a coach the university doubts it can trust.
h. My view: Urban Meyer is hugely fortunate he still has this job, and he apparently has no idea how lucky he is. His lack of remorse—until a late-week statement—for the victim of abuse, Courtney Smith, was revolting.
i. Someone should tell Meyer when it's proper to be legitimately remorseful for a victim of abuse. This was that time. Meyer failed.
j. Zach Smith's grandfather, Earle Bruce, would be appalled, by the way. Not just by the reported behavior of his grandson. But by the handling of the case by Meyer.
k. Quite a day last Tuesday. Glad, and sad for America, that I was home to see it.
l. Saw "Chappaquiddick" on a plane the other day. I forgot what a break Ted Kennedy got a half-century ago. He turned out to be a good man and the lion of the Senate and all that, but the incident of a woman dying when he drove off a bridge recklessly and him basically getting off … not good. Not good at all.
m. Not the biggest fan, as a 61-year-old dork, of the jersey-nickname weekend in MLB. But I've got to give Brad Boxberger, the Arizona reliever, credit, for this one:
n. Coffeenerdness: Nice Brazil Santos roast by Patachou, the superb breakfast/lunch spot in downtown Indianapolis. Every time my plane lands in Indy, I start jonesing for a Broken Yolk Sandwich at Patachou.
o. Beernerdness: Prosperity Wheat Beer (Market Garden Brewery, Cleveland) was a surprisingly strong choice at the Marriott Key Center just up the street from the Browns stadium Thursday night. Not that I'm surprised at a good wheat beer, because I like the genre. But I'd come to think most of the local places in Cleveland were Great Lakes-centric, so I was happy to try a Hefeweizen from a new spot—and it was worth it. The classic Hef notes are here, just a bit milder, and I liked it a lot.
p. I'm pretty sure this is some sort of record that only baseball nerds would think of: The Yankees play only one series in Boston in 2019 between Opening Day and Labor Day.
q. The Eastern League entry in Akron: the RubberDucks. No space. In no dictionary in modern history is there a word "RubberDucks." But the Akron folk decided to create a team name with no space between two real, live words.
r. The RubberDucks are no (Binghamton) Rumble Ponies or (Hartford) Yard Goats, but they'll have to do for northeast Ohio. None of those is the best name in the Eastern League, however.
s. I present for your consideration the Richmond Flying Squirrels. At the same time, this logo is truly hideous and magnificent.
Cut week's always a mysterious one.
• Wednesday … Everywhere. My half-hour training camp tour TV show, part two, debuts on NBC Sports Network at noon. (You'll get a kick out of the open of the show—me walking in on Jon Gruden in Napa, Calif.) Other air times: Friday at 9:30 p.m., Saturday night at midnight. If you missed part 1 of the show, you can see parts 1 and 2 back-to-back on Sept. 5 from 6 to 7 p.m. and Sept. 6 from 4 to 5 p.m., prior to the Atlanta-Philly opener. Can't wait? Part 1 also can be seen here.
• Friday … Florham Park, N.J. Prediction of the week: The cell phone vibrates in GM Mike Maccagnan's pocket. It's a text. From whom, I don't know. But it says: "Any interest in talking Bridgewater?" Teddy's looked very good this month, and I'd bet at $5 million for the season the Jets will get nibbles and have to decide whether to move him.
• Saturday … Berea, Ohio. The great gold rush begins in the football offices of the Browns. By virtue of their sparking 0-16 record last year, the Browns are first in the waiver-priority system, and so they'll have first dibs on an incredible number of waived players. Up to 1,184 players (32 teams, up to 37 players per team, depending on how many men get placed in injured-reserve or other restricted lists) will be dumped by 4 p.m. ET on this day, and the John Dorsey scouting crew will have 20 hours to decided which ones they want to claim to be on Cleveland's 53-man roster. After Cleveland, the other 31 teams get their picks, in inverse order of the 2017 standings. Teams have till noon ET Sunday to make claims.
• Sunday … Kansas City. Happy 71st birthday, Ed Podolak. Does that make anyone else feel old? Or just me?
Who wants Earl Thomas?
My advice, if you're asking:
Offer a second.*
*A second-round draft pick, I mean.