Getty Images
At halftime in Wisconsin on Sunday night, after an entire state finished hyperventilating and began to come to grips with the notion that, My God, Aaron Rodgers might be gone again, Randall Cobb walked into the Packers' locker room at Lambeau Field. The veteran receiver was looking for Rodgers. He wanted to tell him to hang in there. He wanted to tell him he loved him.
But no Rodgers.
"Where is he?" Cobb asked.
"Working out, testing the knee," one of the trainers told him.
Early this morning, in his car on the way home from the game, Cobb told me: "I was confused. He was what?"
Rodgers, in the second quarter of the first game of the Packers' 100th season, collapsed in a pile of players and immediately grabbed his left knee. He tried to get up but couldn't walk, and fell back to the field. A few minutes later, a cart came to take him off the field and you just felt with that cart there was something more than Rodgers riding away. It was the Packers' season. Right? MCL, ACL, whatever. Not good. Could this be the second straight season that ended way prematurely, with The Franchise out for some or more of the season, and the Packers' hopes down the tubes again? Sure looked like it.
So Cobb said a couple of positive things to the shaky backup, DeShone Kizer, before the Packers went back on the field to try somehow to get back into it. Chicago led 17-0, and new Bear Khalil Mack was absolutely wrecking the game.
"We went out for the second half," Cobb said, "and Aaron's walking out too. He's in uniform. Looks ready to go. I asked him if he was okay. He said, 'Yeah, I'm good.' So he got to the sidelines and starting talking ball, like normal. And I'm like, Well, I guess he's playing."
At one point early in the half, Rodgers said in the huddle: "Do your jobs, and I'll handle the rest."
Wishful thinking. When it was over, someone asked Rodgers what he was thinking when he looked up and saw the score in the third quarter: 20-0.
"Seven times three," Rodgers said.
Maybe he'd get the ball four more times on one leg, and he knew he needed three touchdowns at least, and maybe one more score. These are the things great players think, even when they're not sure how they're going to make it through the next 23 minutes of gametime because they really can't protect themselves.
I wonder sometimes, after covering sports for almost 40 years, what happens when a player who shouldn't be on the field or the court or the ice begins to play. Do his teammates really elevate their games? Or at least try their damndest to do so because they know they have to or The Franchise could really be lost for the year.
That's how it looked Sunday night. The line that allowed Rodgers to be hit consistently in the first half got better. Even with Rodgers basically stapled to the pocket because his usually fluidity was gone, he seemed to have a second more per dropback. And he knew he couldn't afford to waste a series. It felt like a waste when he settled for a field goal with just over 18 minutes left in the game. Chicago 20, Green Bay 3 meant he still needed three scores.
"The protection was really good, and obviously, being more of a statue back there, I had to deal the ball on time and make sure we had guys getting open," Rodgers said later.
They had maybe three series left. On the first came a throw that will have to go on the Hall of Fame reel. A minute into the fourth quarter, unable to plant with his right leg and fire forward with his left leg (the damaged one), Rodgers somehow wrist-flicked an arcing ball 52 yards in the air, to the right side of the end zone, to a covered Geronimo Allison. Allison made the contested catch and tumbled out of bounds. Chicago 20, Green Bay 10.
Three-and-out for the Trubiskies. Rodgers, again with good time, took three minutes to go 75 yards, Davante Adams finishing it with an effort TD at the left pylon. Chicago 20, Green Bay 17.
Great clock management by the Bears then. They held the ball for almost seven minutes, Trubisky consistently snapping the ball with less than five seconds on the play clock. With 2:39 left, a Cody Parkey field goal made it Chicago 23, Green Bay 17.
Now Rodgers had enough time. He didn't have to hurry. Maybe it was the Lambeau Karma God interceding, but Bears cornerback Kyle Fuller—the cornerback Green Bay almost stole in free agency last March—dropped the easiest interception of his life on the first snap. Life, precious life.
Third-and-10. Green Bay 25.
The protection was really good, Rodgers had said. And now, on the next play, the line, so leaky early, had its best play of the night. Rodgers took the snap, and I timed how much time he had before the ball left his hand. 4.35 seconds. Luxurious for your average passer. For Rodgers, an eternity.
"I was running my route," Cobb told me, "and I didn't get the ball in rhythm and timing like I usually do. So in that case, we go to scramble mode. You look for an opening. So I looked for one, then looked back to Aaron and the ball was already in the air. I'm like, SHOOT! Ball's coming! Here it comes."
Safety Eddie Jackson, playing Cobb, dove for the ball, trying to flick it away. He couldn't get to it. Cobb grabbed it and turned to run upfield.
"Nothing but green grass," Cobb said. "Just run. I felt like I was back in my track days."
"When you watch the replay, you'll be amazed," I said. "Khalil Mack ran practically the length of the field. He almost caught you at the 1-yard line."
"Well, I was weaving," Cobb said, and laughed.
Green Bay 24, Chicago 23.
"I had a little moment with Aaron," said Cobb. "Told him I love him. He's such a warrior. It was amazing having him out there, after we thought he was done. He figured exactly how to play too: short, quick throws, rhythm and timing. That just reinforced what I already knew about him. I've seen it for years. But this was special."
"Where does this game rank for you in your career?" I asked.
"I would say it's probably the greatest," said Cobb, in his eighth year with the Packers. "My wife and I just had a son. This is the Packers' 100th season. It's the Bears. This was a big night."
Brett Favre had his moment in Oakland, the night after his dad died, when he played an impossible game with some great throws. This is Rodgers' 14th season, and this might be his moment, the moment we'll all remember when he's on stage in Canton one day and the question is asked: What was Aaron Rodgers' best game?
He'll have gaudier games, and he'll have a Super Bowl MVP game (at least one). But will he have a game when he had to play mostly on one leg and come back from a 20-point deficit? Will he, while hobbled, do something no Packers quarterback in 111 tries had ever done—win a game when trailing by at least 17 points starting the fourth quarter? Will it be against the team he loves to beat the most, the rival Bears, on a similarly historic night at Lambeau Field?
No. Aaron Rodgers is 34. He's one of the best quarterbacks ever to play. And we just saw the best game of his professional life.
It's Overreaction Monday, the same as it is after the first Sunday of every NFL season. It's the time when we can confidently say—this year—that Matt Ryan's done, the Ravens are winning the Super Bowl, the Bills are going 0-16, the Browns will win nine, Watson and Garoppolo are frauds, Tyreek Hill is some combination of Barry Sanders and Bob Hayes, and somehow, some way we all fell for the Chargers again and the Chargers can only break our hearts; it's an NFL rule.
Aside from the Rodgers fairy tale, my three stories of the day:
Fitzmagic
Ryan Fitzpatrick face-timed with his family after the craziest game of the weekend, the 88-pointer (Bucs 48, Saints 40) in New Orleans. His wife got the six kids around the phone, and there was yelling and happiness and a family moment Fitzpatrick will remember for a long time. "We really didn't have to say much, and I couldn't say much," he said. "I was overcome with emotion."
There was also a fantasy football lesson.
"So my 9-year-old son, Tate, convinced my 11-year-old son, Brady, to put me on his fantasy team today," Fitzpatrick told me from New Orleans. "I didn't even know Brady played fantasy football. I guess it was a good decision."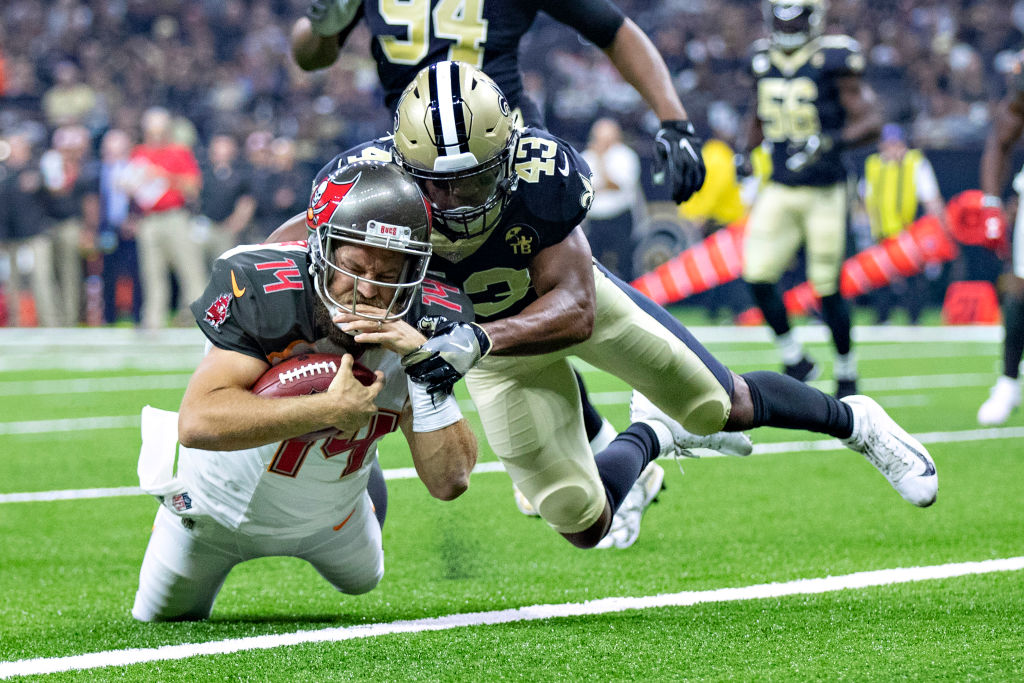 You tend to win in fantasy football when your quarterback gives you 417 yards and four touchdowns and no picks and a rating of 156.2. Here's what was so cool about Fitzpatrick after this game: He was totally, absolutely not surprised. He had no interest in going down the can-you-keep-Jameis-on-the-bench-when-he-returns path, because he knows the Bucs play Philadelphia and Pittsburgh in the next two weeks, and it's fruitless to speculate about starting jobs that are three weeks away. His fatalism, his realism … those impressed me.
Watch Fitzpatrick's deep throws on the highlights today if you can—things of beauty. His bomb to Mike Evans for a touchdown couldn't have been thrown better by Marino or Elway. "I have so much confidence in my ability that a day like today is not a surprise to me—at all," he said. "I go out there when I start, and I think I'm gonna have this game every week, especially with this team. All offseason, I've seen how deep our skill-position group is. We've got five or six guys who, if they're in one-on-one matchups, you know you can win with any of them. As a quarterback, it's a dream to be in the huddle with these guys."
But he wouldn't say this was the best game he'd played in the NFL on his long and winding road through St. Louis, Cincinnati, Buffalo, Tennessee, Houston, the Jets and Tampa. "When I was with the Jets, we beat New England [in 2017]; in Buffalo, we beat New England [in 2011]. Those rank right up there. I remember I got benched for Ryan Mallett [in 2014], and when I got back in the lineup, I threw six touchdown passes to beat Tennessee. That was the most satisfying game of my life.
"I'm realistic about how hard this game is. I've thrown six touchdowns in a game. I've thrown six interceptions in a game. How do you come back from those? This game is a week-to-week proposition, and you better understand that. I'll go home tonight and we'll feel good about this one because it's a big accomplishment beating the Saints here. But then I'll get ready for the next one—the next one will be all that matters."
The weird upshot of this game is the Saints might not be what we thought they were, particularly on defense. This is going to be a tense week around the Saints, and I wouldn't be thrilled to be the Browns this week. They're the next team up in New Orleans next Sunday.
The Marathon
Tennessee Titans at Miami Dolphins
National Football League Game Summary
Paid attendance: 65,184
Time: 7:08
Now that's weird. Delays of 1 hour, 57 minutes (after a lightning strike at the stadium, with 1:52 left in the first half) and 2 hours, 2 minutes (after another lightning strike midway through the third quarter). Thirteen points scored in the first three quarters, 34 in the fourth. Dolphins 27, Titans 20.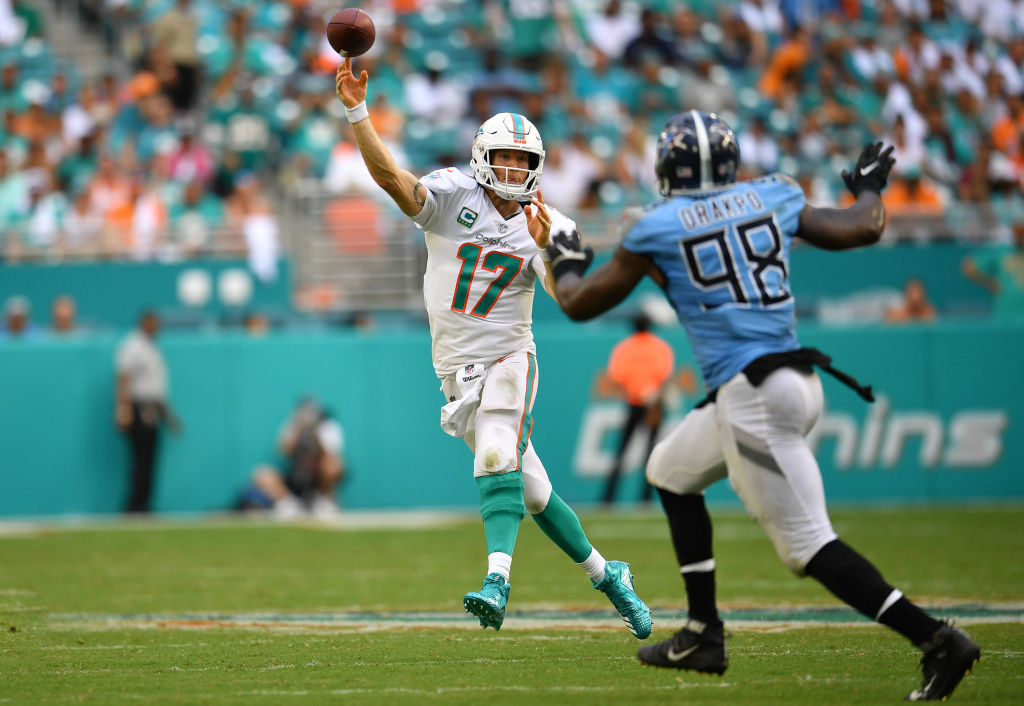 "I've never been in a rain delay in a game in my life, and today we had two, and they were both long," Dolphins quarterback Ryan Tannehill said from Florida when it was long past dark. "The first one, we came in and they said it'd be like 30 minutes, so we all jut stayed loose and stayed ready. Turns out it was two hours. The second one was supposed to be a long one. They said we wouldn't come back out till 7:30, so we came in, took our cleats off and lots of guys took their uniforms off. We watched football. The Red Zone. I had a little chicken. I took a nap—I think about 15 minutes. Then all of a sudden someone comes in and says, 'You're back on the field in 10 minutes—we're playing. That was around 6:30. So we all had to hustle to get ready."
It was a big day for Tannehill, who missed 19 straight games with two injuries. Credit coach Adam Gase and the Dolphins for not panicking and drafting the next supposed heir to Marino, and for giving Tannehill one more chance in 2018 to show he can be an above-average NFL starter, a player who can win in Miami. He was accurate Sunday against a 2017 playoff team, completing 20 of 28, but he also threw two picks and said later: "It was up and down. A few throws I'd really like to have back."
In that spirit, I liked what Tannehill told me about Miami's day off. Coaches often give players "victory Monday," an extra day off in additional to Tuesday, when the team either is tired or had a big win. Gase gave the team Monday off. But Tannehill went to his offensive mates and said he thought they should come in to dissect the tape today, then leave for a day-and-a-half of rest. "I went around and told everyone we've got to get better, and we should take time in our [position] groups to watch this game," Tannehill said. "I was glad to see everyone wanted to do it." Especially after a seven-hour game.
Browns Gonna Brown
No, they're not, actually. Half the Twittersphere chortled uproariously when, with 13 seconds left in overtime, kicker Zane Gonzalez had a 43-yard field-goal try blocked by T.J. Watt of the Steelers. That's so Browns. But the players didn't chortle. The played were ticked off. Wideout Jarvis Landry, the unofficial we're-not-gonna-take-it-anymore, hold-your-feet-to-the-fire guy in this locker room, left the field cursing, angry and said he refused to get used to this. And they didn't lose!
Here's why I think there's more Landrys in the room than there used to be: The Browns rallied late, for once. With eight minutes left in the fourth quarter, Pittsburgh had the ball and led 21-7. Cleveland forced a turnover and got a quick score, and Cleveland recovered a James Conner fumble to set up Josh Gordon's first touchdown since the Nixon Administration, and it was tied. The Browns, historically, haven't been fourth-quarter fighters. Now, with Landry and Tyrod Taylor and collegiate winners like Ohio State's former star cornerback, Denzel Ward, the Browns are building a culture that doesn't accept Brown-ness.
That's all well and good, of course, but it's going to come down to Taylor needing to be better than he was Sunday (15 of 40 passing), or letting Baker Mayfield play earlier than coach Hue Jackson wants. I like what I saw Sunday afternoon. Myles Garrett is the genuine item. Taylor might be better suited to back up Mayfield, but we'll see about that. And a tie pissed them off. That's a start.
I could write 10,000 words on what made my three-minute TV story happen on NBC's "Football Night in America" Sunday. Instead, I'll go with the background on how it all happened, along with a couple videos that help tell the story of Aaron Rodgers' appreciation of Packer history, and his deep affection for Hall of Fame quarterback Bart Starr.
NBC wanted me to get Rodgers for a TV story for the first Sunday night game of the year. In early August, in camp, I went to Rodgers with three ideas. Oh-for-three. He didn't like them. "Go back to the drawing board," he said with a smile. He wasn't being a jerk; he just had no interest in the normal. So I went to work with the story-idea people at NBC and thought of two more, with some tentacles to the first game of the Packers' 100th season. One of the ideas Rodgers liked: a story about his relationship with Starr, a man 50 years his senior. The Starr family had some interest too—with an asterisk; he's been ill, and they had no idea if he could be involved in the story. But Rodgers, 34, deeply admires Starr, 84, and the feeling was mutual. No commitment yet, but interest from Rodgers moved us along.
We needed to convince Starr and his family and his family's rep, Leigh Ann Nelson. Starr had a stroke in 2014, and he suffers from aphasia, which happens sometimes to people who suffer strokes. It results in difficulty to comprehend words, and to speak cogent sentences, and to focus enough to do both. Nelson spoke to the family—Bart, wife Cherry (they've been married 64 years) and son Bart Starr Jr., who often speaks for the family. They wanted to do it, and perhaps it would be done with Bart Jr., speaking for his dad. I agreed to go to Birmingham, their home, to interview at least Bart Jr. Depending how Starr Sr., felt that day, perhaps we could get Bart to read a note of admiration to Rodgers.
I showed up to Starr's plain office adjacent to some woods on the south side of Birmingham with producer Kristen Gerringer and our Alabama-based crew. Here came Bart Starr, in sweatpants, a dark Packers polo and sneakers, with Leigh Ann firmly but gently holding both hands as he walked very slowly into the office. Bart was smiling, and he wanted to meet everyone in the crew and welcome them. Leigh Ann was his guiding light. Starr barely spoke, and when he did, it was almost in a whisper. When I met him, I looked into his eyes and said what a pleasure this was, and he whispered, "Glad … for Aaron."
He sat on a couch, and Bart Jr., came in and sat next to him, and I spoke to them—the son, mostly—on camera for about eight or 10 minutes, learning why the two quarterbacks a half-century apart in age are close. Soon after being drafted by Green Bay, Rodgers played in a charity golf tournament in Wisconsin run by Bart Sr., who appreciated Rodgers making the effort. In 2008, with the mayhem surrounding Brett Favre leaving/returning and Rodgers getting his shot at the job, Starr wrote a couple of letters of encouragement to Rodgers.
"What do you think of Aaron Rodgers?" I asked Starr the elder.
"Tremendous," he said, in a whisper.
"Tremendous?" I said.
Softer now. "Tremendous. Yeah."
Now Leigh Ann and Bart Sr., were going to practice his message of admiration for Rodgers, the one he wanted to deliver on the eve of this historic season. For 15, 20 minutes they went over the lines on the couch, and then I helped move him to his desk, taking his right arm while Leigh Ann took his left. Arduous. Sometimes he responded. Sometimes he read the note, and sometimes he just sat, staring, resting. When he did say a sentence, it was faint, less than a whisper.
This was painful to see.
After a few more minutes, Leigh Ann said we should all just take a timeout and let Starr rest. So we did.
More frustration with the whispered message. Then Leigh Ann suggested we take a walk with Starr around the office. I took his right arm again, she his left, and we walked the short lap around his office—maybe 40 feet in all. I thought about making small talk. "Bart, you know what I've always admired about you?" I said. "Your autograph." He stopped. He looked up at me. I said: "Your autograph is perfect. Perfect penmanship. Today, you can't read anyone's autograph. They're a mess. So let me ask you: Why'd you do your autograph so perfect?"
He looked hard into my eyes.
"Why … would you want to do it … any other way?" he said.
Clearest, loudest words he'd spoken all day.
"That's … the only way I know," he said.
Leigh Ann beamed. "Did you know that his autograph took between 33 and 44 seconds to do—every one? He just wanted to get it right, every time."
We walked around the office the same way, each of us with a Starr arm. Slowly. Importantly. He sat back down, and worked a little more on the 23 words he wanted to say.
Twenty-three words. An hour, and now more, to get it right. Aphasia was his enemy, his reality. He wouldn't give in.
"You are a strong leader," Starr said into the camera, his eyes boring into the note he was reading.
Practice. More practice. Five minutes more.
"Cherry and I are admiring you …"
Practice. More practice.
The clock ticked away. No one was in any hurry. We all just felt for this man, trying to do something kind for a friend. What was he thinking? I have no idea. Maybe this was something I imagined; it probably was. But I saw a competitor here. This wasn't the Dallas defense in the Ice Bowl he had to beat now. He had to beat a sentence. And man, was it hard. Damn hard. Maybe he wouldn't have felt a thing if we just packed up the cameras and thanked him and walked away. I don't know. I thought he wanted to win this sentence. But we felt awful about it. The silent crew and the silent reporter (me), thought the same thing: We are abusing this giant of a man. Please, please, let it end. We can just walk away now and tell our bosses back at NBC, "We tried. We tried for over an hour. Bart was gallant, but it just wasn't the right day."
"One more line, Bart," Leigh Ann Nelson said. "You can do this. I know you can do this."
Pause. Smile from Starr. He stared at the note.
"Because you are one of the finest men we have ever … MET."
Smile.
That was a moment I'll never forget. I hope my gasp was not audible.
Starr rested now, and I went to him and thanked him. "Good," he whispered with a huge smile, "… for Aaron. Good for Aaron."
Five days later. Labor Day afternoon. Green Bay. The Packers' tunnel onto Lambeau. I explained the hour-plus deal in Starr's office, and Starr's determination to get the damn thing done. I showed the video of those 14 seconds to Rodgers.
Rodgers smiled widely. He nodded. No words. He didn't have any right then. I didn't either.
On Kaepernick and Nike
20
When Nike announced that Colin Kaepernick would be a chief spokesman for the shoe/apparel giant last week, it took the NFL by surprise … to put it mildly. Nike will pay the NFL hundreds of millions through 2028 to be the official uniform and apparel supplier of the NFL for at least the next 11 seasons. When this deal went down last spring, the NFL's EVP of media, Brian Rolapp, called Nike a "long-time and trusted partner" of the league.
Kaepernick is the biggest burr in the NFL's saddle. He sued the league for collusion, claiming he's been kept out of football since the beginning of 2017 after he spent 2016 kneeling for the national anthem as a 49ers quarterback, in protest of the treatment of African-Americans in society.
I met a University of North Carolina history professor who studies the intersection of sport and politics, Matt Andrews, in 2016. One of his classes, Sport and Civil Rights, made me think he'd be a great resource person here. He answered questions for me over the weekend about Kaepernick, the Nike deal, and the NFL.
Me: Kaepernick is starting to remind me a little of Muhammad Ali—hated in his time but appreciated as an icon later in life. Any similarities to you?
Andrews: Absolutely. Ali was the catalyst for the revolt of the black athlete in the 1960s. He paved the way. When Tommie Smith and John Carlos used the medal stand at the 1968 Olympics as a platform to express their frustration with the slow pace of racial change in the United States—an act that I see as precisely the same as Kaepernick taking a knee—they were following the path paved by Ali. Kaepernick has been walking that same path. Ali was the first to say that as a high-profile black athlete, he had an obligation to use his fame to bring attention to issues like racial injustice and the war in Vietnam. He put his name, his legacy, and his future earnings all on the line, just like Kaepernick did.
Me: Is there a historical precedent for the Kaepernick/Nike deal?
Andrews: Yes and no. On the one hand, Kaepernick's Nike contract isn't just unprecedented—it's overturning previous precedent. Previous athletes who made dramatic gestures of protest were shunned, losing endorsements and athletic opportunities, be it Tommie Smith in 1968, Craig Hodges and Mahmoud Abdul-Rauf in the 1990s, or others. As heavyweight champion, Muhammad Ali stood at the absolute pinnacle of the American sports pyramid, and what did he get to endorse? Roach killer. So Kaepernick getting a Nike contract because of his activism flips the script. On the other hand, this is not entirely unprecedented. Being a fierce critic of racism did not preclude Kareem Abdul-Jabbar from getting a lucrative shoe deal with Adidas. Nike clearly believes that linking themselves with Kaepernick will pay off in the long run. They have certainly noticed that LeBron James's outspokenness and direct criticism of the President has not hurt his popularity one bit. And Kaepenick's rebelliousness fits the maverick image that Nike has worked hard to craft.
Me: What's the end game for Kaepernick, and do you think he plays football again?
Andrews: I'm tempted to trot out the Yogi Berra line here—"I don't make predictions, especially about the future." I've been wrong about Kaepernick before. I was certain that some NFL team would give him a shot last year. I mistakenly believed that NFL owners wanted one thing above all else—wins. We now know that's not true. They either fear losing community support if they sign Kaepernick or they are so outraged by his actions that they want to make him pay. It's probably a combination of both. I would not bet on Kaepernick winning his collusion case. It's difficult to find the "smoking gun" that proves collusion. Will Kaepernick ever play in the NFL again? Probably not. But at this point, why would he want to? He has his health, he has his dignity, and now he has his Nike contract and, thus, a future platform.
I    
"Oh, I'm playing next week."
—Green Bay quarterback Aaron Rodgers, to NBC's Michele Tafoya, on the field, after leading the greatest comeback in the Bears-Packers rivalry. Green Bay rebounded from a 20-0 deficit to win 24-23 … with Rodgers playing wounded after hurting his left knee in the first half.
II
"Overall, I thought we could have been better at a number of positions."
—Bills coach Sean McDermott, after Buffalo fell behind 40-0 early in the third quarter on the way to one of the most embarrassing losses in team history, 47-3 at Baltimore on Sunday.
McDermott would be very good working in public relations for the Titanic.
III
"Philip Rivers is going to sue his receivers for lack of support."
—CBS analyst Dan Fouts, after Chargers wideout Travis Benjamin dropped a second-quarter bomb from Rivers, the fourth drop of the first half, in Sunday's home loss to the Chiefs.
IV
"YOU PLAY … TO WIN … THE GAME!"
—Arizona State offensive lineman Jarrett Bell, channeling his inner Herm Edwards, after the Sun Devils and their new coach upset nationally ranked Michigan State 16-13 in Tempe on Saturday night.
V
"I would love to play at 41, 42, 43, 44, 45. It'll be a challenge for me. It's f—ing going to be hard to do. I think it's going to be very hard to do. But I think I can do it."
—Tom Brady, in the epilog of the Gotham Chopra series "Tom vs. Time" about Brady for Facebook.
Offensive Players of the Week
Ryan Fitzpatrick, quarterback, Tampa Bay. The man who defines "journeyman" in the NFL—seven teams, 15 years, 120 starts, 105 games on the bench—had the game of his life Sunday in New Orleans. He had a career high in passing yards (417) and rating (156.2, the second-highest in the 43-year history of the Bucs) in a totally bizarre 48-40 upset of the Saints.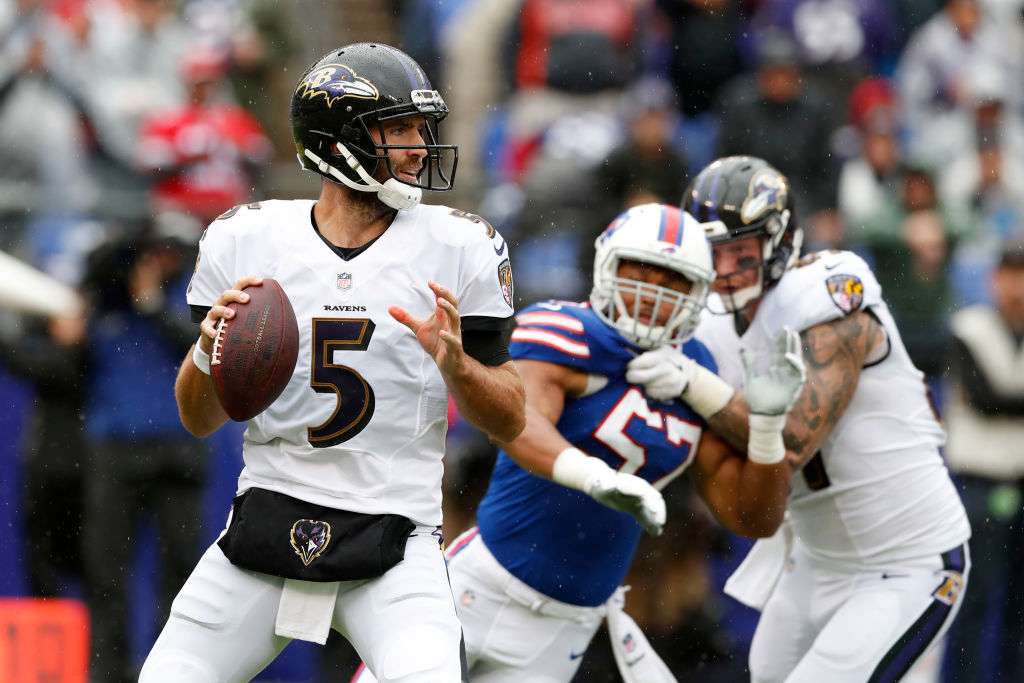 Joe Flacco, quarterback, Baltimore. Have you heard? The Ravens drafted a quarterback in the first round this year. Lamar Jackson. And Flacco, barring a major turnaround from his recent mediocrity, would be playing for his job in 2018. He got off to a job-preserving start Sunday in a 47-3 win over the University of Buffalo. I mean, the Bills. Flacco's performance (25 of 34, 236 yards, three touchdowns, no picks, 121.7 rating) marked the first time in four years he had a day with a rating over 120 and a TD-to-pick ratio of at least plus-3.
Defensive Players of the Week
Denzel Ward, cornerback, Cleveland. Near the end of the first quarter and near the end of the second quarter, Ward, in his first NFL game, intercepted Ben Roethlisberger with the Steelers already in field-goal range. Once at the Browns' 10, and then at the Browns' 29, Ward prevented the Steelers from scoring what could have been fairly crucial points in a 21-21 tie. I watched a chunk of this game, and Ward played fearlessly in coverage against Antonio Brown. He added six tackles.
Harrison Smith, safety, Minnesota. Smith led the Vikings with eight tackles in the 24-16 win over San Francisco, but that's not why he's winning this. He wrecked the Niners' last two drives in a one-score game when Jimmy Garoppolo had given the Niners life. On third-and-five at midfield with 6:32 left, Smith came on a well-disguised safety blitz and nailed Garoppolo for a 10-yard sack. Punt. On second-and-10 with 1:45 left, Garoppolo threw deep downfield, over the middle, and Smith picked it off, ending the game. Just two more reasons why Smith is the best all-around safety in football.
We interrupt these defensive awards for a quick word about Khalil Mack from SVP:
T.J. Watt, outside linebacker, Pittsburgh. Sacking Tyrod Taylor four times and producing 11 tackles wasn't quite enough for the rusher with the great bloodlines. So Watt, with the ultimate embarrassment—Cleveland, on the Steelers' watch, winning a football game for the first time since Christmas Eve 2016—staring the Steelers in the face, plowed through a crease in the Browns' front on the potential winning field-goal try in overtime, blocking it. Surely the Steelers boarded their buses for the two-hour ride home after the game angry that they turned it over so much and couldn't beat the Browns, but imagine how they'd have felt without the play of Watt.
Special Teams Player of the Week
Tyreek Hill, wide receiver/punt returner, Kansas City. It took all of 1:57 for Tyreek Hill—who wreaked havoc on the Patriots in Week 1 last year—to do the same to the Chargers in California on Sunday. He took a punt—the first Chiefs' touch of the 2018 season—at his own 9, and ran left, and kept running, and he left every Charger in his wake. The 91-yard punt return was the 12th touchdown of 50 yards or longer in his young career. He's 24 years old.
Oh. And he made it 13 of those long TDs just seven minutes later. He caught the first touchdown of Pat Mahomes' career, a 58-yarder, midway through the first quarter.
Ryan Allen, punter, New England. Fifty-one seconds left. Patriots nursing a seven-point lead. They've got to punt from near midfield, and the Texans will have one more chance. Allen boots it … high ball. Long. Will it get to the end zone? No … Defensive back Jonathan Jones downs it at the 1. A 54-yard punt, downed at the 1, and Deshaun Watson would have 43 seconds, on the road, to go 99 yards for the tie. Not happening. What a clutch kick by Allen, who had six punts for a 46.8-yard average in the Pats' 27-20 win.
Coach of the Week
Dirk Koetter, coach, Tampa Bay. The Bucs, with a backup quarterback and still wondering whatever will happen to their suspended starter, walked into New Orleans and put up 48 on the Saints. Koetter was in job jeopardy after the Bucs' 5-11 season last year. He's significantly more secure this morning.
Goats of the Week
Nathan Peterman, quarterback, Buffalo. Enough. Forty-to-nothing is not all his fault. But 40-0 in 35 minutes? That's two incredibly unprofessional appearances in two starts for Peterman. We've seen enough of Peterman, Sean McDermott.
Mike Gillislee, running back, New Orleans. The former Bill and Patriot was a pickup of necessity by the Saints with the four-game suspension to Mark Ingram to start the season. Gillislee may not be in Louisiana long. With the Saints driving to cut into a stunning Bucs lead late in the first half at the Superdome, Gillislee took a handoff from Drew Brees, and on a routine run around left end, he got hit by cornerback Vernon Hargreaves and the ball spun out of his grasp. Tampa Bay recovered, and safety Justin Evans returned it 34 yards for a touchdown. Amazingly, the Bucs led 31-17.
Kyle Fuller, cornerback, Chicago. As the Packers stared down a 23-17 deficit with 2:39 left Sunday night, Aaron Rodgers had first-and-10 from his 25. He had Davante Adams on a short incut, but Adams stumbled … and the pass went right into the chest of Fuller. This was not a particularly difficult ball to catch—not a bullet, but a touch pass. And Fuller, who dropped six picks last season (per Cris Collinsworth), dropped this one. Fuller will never have an easier pick in his life. Had he caught it, the Bears could have—minimum—tried a game-clinching field goal somewhere near the two-minute warning. What a drop.
Rams coach Sean McVay, who begins his second season tonight at Oakland, on what he learned in his rookie year, as the youngest coach in modern NFL history:
"I would say the most important thing I learned is this: It's okay to think you don't have the answer to everything. There's actually strength in being able to say, 'I don't know, but let's figure it out together.' Or, 'Let's lean on the people who have a lot more experience than I do,' to be able to learn from them. What you also learn is that this is an extremely humbling game. You know when I learned that? When I got hired to be a head coach, and I got a chance to hire some of these guys to come on to our staff—guys who I am thinking to myself, 'I get to coach with this guy?' Wade Phillips on defense, Joe Barry as an assistant head coach. John Fassel on special teams—I know nothing about special teams, and here's this guy who's as good as anyone in the league, on our team. All our coaches, working together. If you get a staff like we had, we all make each other better.
"I learned this from Mike Tomlin—who's been a big help to me: Everybody's got all the answers and no accountability. I was that guy. Before I called plays or even got into this role, you're like, 'Oh yeah, I'd do it this way.' Well it's a little bit different when you actually have to do it.
"I learned how important it is to bring in the right people to influence your team. Andrew Whitworth, Robert Woods. Smart guys, team guys who can help influence and affect the locker room in the right way. There's real power in that.
"Something really important I learned: If I was trying to be involved in every facet of the job, I think I would've been really overwhelmed—and I would have done the team a disservice. Defense and special teams … I knew enough so that I could at least communicate to our players. But to try and stick my nose in and be involved in those areas when I had smarter people to do it, that would not have been smart. If there's a major decision to make, or a [replay] challenge on a defensive play or special-teams play, we'll talk about it. Mostly, though, I'm not gonna override Wade Phillips' call. Why would I?
"And it's okay to devote myself to the offense especially when you've got a young quarterback who needs me like Jared [Goff]. People might say, 'Well, why aren't you standing on the sidelines to watch the defense?' I think people have the misinterpretation that I don't care about the defense. Of course I care about defense and special teams. But I just think it's too hard to call plays in this league and think that I'm not gonna look at what just happened in the previous series when the offense comes off the field. It's okay to do what's best for the team that way, even if it doesn't look like what a head coach should do."
Watching the Falcons stumble offensively throughout the loss to Philadelphia, I thought,This has to be the highest-paid collection of offensive talent in football. How do they look so feeble here? Credit to the Eagles, of course, for swarming around Matt Ryan all game. But let's see how the Falcons' big-money guys on offense compare to the other big offenses in football. I used Over The Cap, and added the cap numbers of the seven highest-paid offensive players on some of the best offensive teams in football.
• Atlanta's top seven adds up to $67.61 million … and that's with a reasonable $17.7M this year for Ryan. His cap hit in two years will be $31.8 million.
• The Saints, fourth in the NFL in points scored last year, and with Drew Brees counting for $24 million this year: $65.46 million for the top seven.
• The Eagles, third in the NFL in points scored last year: $53.44 million for the top seven.
• The Patriots, second in the league in scoring last year: $53.38 million for the top seven.
• The Rams, first in scoring last year: $50.95 million for the top seven.
One game is not a fair way to judge an offense. At all. But the Falcons' last two games have been in Philadelphia. They've scored 22 points in eight quarters. It's not good enough, and the Falcons haven't looked like a good NFL offense in either game. They've got to be better to be playing football in February. 
We won't award style points here, but it is worth noting that in his last four games—against 11-6 Atlanta, 14-3 Minnesota, 15-3 New England and 0-0 Atlanta—Nick Foles is 4-0, with a 68.6 completion percentage and a 99.9 rating.
What would you say if I told you the best hotel in the NFL is in Green Bay? It is. It's Lodge Kohler, across the street from Lambeau Field.
Last week, in town to do the Aaron Rodgers-Bart Starr story for NBC's Football Night in America show, I had a pretty good night, for a nightly rate of $119 in Lodge Kohler. I checked into my room, saw the cool 1959 Packers bench portrait of Paul Hornung, Max McGee and Jim Taylor on the wall, used the bedside tablet ("WELCOME PETER KING") to check the weather for the next day's TV shoot in Lambeau Field, had a Hinterland Cherry Wheat brew while doing the writing at the brew pub next door, came back to the fifth floor of Lodge Kohler and ate a dinner of walleye with a fresh salad, and went to sleep in some sort of nirvana-type king bed. Silent night. Not a sound to be heard. In the morning, I went down for a latte in the breakfast place on the ground floor, sat outside and took in a warm and murky morning as Green Bay woke up. Then I went back to the bathroom with the apt photo of a mud-splattered Willie Wood and Herb Adderley on the wall, and thought how much they would like this bathroom after a day in the Lambeau mud. I used the shower with the Kohler fixtures and the double shower-head with the digital thermostat regulating just how hot I wanted the water (what a country) … and then walked over to Lambeau Field to interview Rodgers on the field after their midday practice.
The place reminds me of a high-end Park Hyatt or Le Meridien, except with a gigantic black-and-white photo of Bart Starr burrowing in for the decisive touchdown in the Ice Bowl in the lobby. There is no way you'll sniff this Spring Hill Suites-like $119 nightly rate at Lodge Kohler on a football weekend, or maybe most weekends. But come to see the new Titletown District, with food and drink a football field to let the kids run till they drop, and maybe just sit at the bar overlooking Lambeau and have a New Glarus Spotted Cow ale. Life could be worse.
This week, I asked Pro Football Focus for some telling tidbits you could use in your pre-game study for Jets-Lions, who play the 15th game of the season in the early ESPN tilt. Here goes:
• The Robby Anderson factor. The fleet and unknown Jets deep threat will be just that for rookie starter Sam Darnold tonight. On passes of 20 yards or longer downfield last year, Anderson led all receivers in the league, with seven. With Jermaine Kearse doubtful tonight, look for Darnold-to-Anderson down the field three or four times.
• Beware Glover Quin, Jets. When targeted last season, the Detroit safety allowed a puny passer rating of 55.4. I remember in Lions camp this year Matthew Stafford raving about Quin. Darnold has to know where he is on every snap. And Quin's not the only stingy guy back there: Darrius Slay allowed a 55.6 rating when targeted.
• Dropbacks under pressure. Only Russell Wilson was pressured more than Stafford's 230 drops under pressure in 2017. If you've got Leonard Williams in your fantasy sack league (kidding), put him in your lineup tonight. But then there this …
• This is why Frank Ragnow was such a hot commodity by draft day, and why Stafford's glad to have him. The rookie starting guard for the Lions played 42 games at Arkansas. Sacks allowed in his college career: zero.
• Targeting Darron Lee, perhaps? Could be a bullseye on Lee, the Jets' inside linebacker, in coverage tonight. He allowed 50 completion in 69 coverage snaps last season, and an opposing passer rating of 111.4. Among 52 ILBs ranked by PFF, Lee was dead last in cumulative ILB ratings.
A PFF Elite subscription gives you access to performance metrics the pros use.
I
II
III
IV
V
VI
Email from the readers…
On the debacle in Miami. From Lee S.: "I understand safety issues during a storm, but … this game is not fair to players on either team, or the fans. There's got to be a better way to deal with this. Any thoughts?"
I think the alternative to playing the game to its conclusion on Sunday is probably worse in any scenario. It was nearly a seven-hour ordeal. But the game was over at 8 ET, meaning the Titans probably got back to Nashville by about 11 p.m. CT. As bad as it was, the Titans could get a fairly normal night's sleep, then get up Monday to prepare for their home opener next Sunday on a fairly normal schedule. Say after the second delay, the NFL called the game and said the game would be resumed on Monday. That meant the Titans would have to find a place to stay overnight, and then prepare to play an hour or so of football at some point on Monday. Would the Dolphins give refunds? Open the stadium Monday to fans for the conclusion of the game? Play in front of no fans? Finishing the game Sunday was the best of some bad alternatives, I think.
He's not the only Big Blue fan who feels this way. From John D.: "Why can't the Giants cut Ereck Flowers? If Eli gets hurt because of him, he'll need witness protection."
The good news, John, is that Flowers, who obviously was a sieve against the Jags on Sunday, was not drafted by Dave Gettleman, and his head coach, Pat Shurmur, has no reason to be invested in him. Believe me: If they have even a slightly better option with backup Chad Wheeler, an undrafted swing tackle who started 40 games in his college career at USC, they'll give him a shot. Hard to imagine he'd do worse than Flowers.
The anthem stuff bugs a Swedish fan. From Peter W. of Sweden: "Love your column. I've been a long-time fan of the NFL since the early 80's. Recent years have been a revolution through NFL GamePass; instead of spending occasional all-nighters, I've been able to enjoy all games of the season at my convenience. However, when my subscription came up for renewal this season, I cancelled. The reason is simple: I believe in freedom of expression, and the NFL—through the anthem protest ban—does not. As much as it pains me, I will not be financing an organization that acts in this way towards its one true asset: the players.
The NFL has a difficult problem on its hands this year, particularly if the very limited demonstrations continue. They seem to be dying down—Malcolm Jenkins stood for the anthem Thursday night instead of staying inside the locker room—but it's always going to be an issue for some in the American audience who are infuriated by an expression of opinion during the anthem. And the league has to hear voices like yours, Peter, because you're a good fan who cares about the game and about freedom of expression. Thanks for writing, and for reading.
10 Things I Think I Think
30
1. I think these are my quick-hit thoughts of Week 1:
a. 8:13 p.m. Central Time. Quietest I've heard Lambeau in a big game in a long time. When Aaron Rodgers is down on the field and his knee might have been injured, there's a hush all over the state, not just the stadium.
b. Tarik Cohen: Darren Sproles II.
c. Pats have now beaten Houston four times in Foxboro since September 2016—by 27, 18, three and seven points.
d. We might have been early, we national media doofuses, in promoting the Chargers to kings of the AFC West and thinking the Chiefs would have a new-quarterback-adjustment season.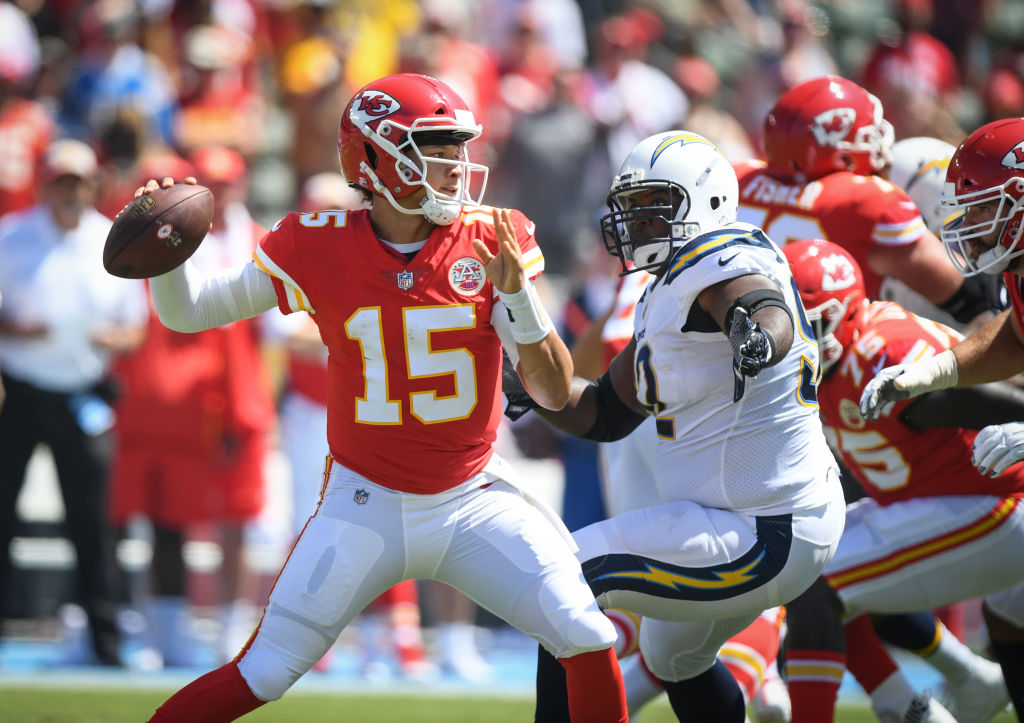 e. Pat Mahomes does not look like he needs much of an adjustment. To anything.
f. The speed of the Chiefs is downright toxic.
g. It's going to be a loooong year for Ereck Flowers, the new right tackle for the Giants, and he handled his awful game against the Jags' front with not much class; he was the only one of five offensive linemen to not be available to the press post-game.
h. Nice debut for Niners linebacker Fred Warner, the third-round rookie from BYU, playing for Reuben Foster. Looks very much like he belongs.
i. Congrats, Adrian Peterson—not only for passing Jim Brown on the all-time rushing list with a 96-yard rushing day … but also for running harder and with more elusiveness than the 2017 Adrian Peterson. Impressive performance at Arizona.
j. What is that coverage plan, Jags, that releases Odell Beckham Jr., to freedom across the middle, with no one covering him?
k. A.J. Green with two fumbles at Indy, giving him eight in his last 46 games. Too many.
l. All those who had the Bucs scoring two touchdowns in the first 13 minutes at trendy Super Bowl pick New Orleans, raise your hand. (Stop. Just stop. You did not think the Bucs would score two touchdowns all day, never mind in the first quarter.) And to think that was only the beginning.
m. Ravens receivers looked good, particularly on the toe-tap, back-of-end-zone TD by Michael Crabtree.
n. Anybody running against the Jags this year? I don't see how.
o. Yannick Ngakoue is going to be a very good and very impactful player in the NFL for a long time.
p. Good to see Todd Haley in midseason form, taunting Steelers corner Artie Burns midway through Cleveland-Pittsburgh.
q. Take a bow, Howie Roseman, for realizing how important the offensive and defensive lines are. The Eagles GM built great depth especially on the defensive front (Michael Bennett, Haloti Ngata, Chris Long) at the expense of offensive skill players.
r. That's a winning formula, because going seven deep on the defensive line will be significantly more important than receiver depth when two or three on the DL are nicked come January.
s. I know Julio Jones is great, and he probably got jobbed on what would have been a 50-yard bomb that he juggled and likely caught Thursday night, but he drops too many balls (33 since opening day 2014).
t. Yikes: "Here's a guy who doesn't give a damn," Steelers guard Ramon Foster told Ed Bouchette of the Pittsburgh Post Gazette, speaking of Le'Veon Bell, and the reception for Bell will be downright chilly if he ever reports to the Steelers this year.
u. Very good nugget from Ian Rapoport on NFL Network, with news that the Patriots signed offensive coordinator (and perhaps head-coach-in-waiting) Josh McDaniels to a five-year deal to keep him in New England, and that McDaniels is "being paid like a first-time head coach … At one point his contract eclipses $4 million per year."
v. Cool pooch punt by the Chargers, erasing Tyreek Hill for a moment with kicker Caleb Sturgis dumping a weird punt inside the 15-yard line.
w. It's like Andrew Luck never left.
x. Another year, another disaster of an offensive line for Seattle. It's John Schneider's Achilles.
y. Glad to see Akiem Hicks getting the Al-and-Cris props last night in Bears-Packers. He's one of the small handful of truly underrated players in the NFL right now.
2. I think, Bills fans, it's time to do something you may not want to do but simply must: Flood your team's switchboard this morning demanding your team sign Colin Kaepernick.
3. I think the charming, compelling story of Week 2 will be the Le'Veon Bell story. Or, rather, the Le'Veon Bell/James Conner story. Or maybe the James Conner/Le'Veon Bell story. So many possibilities in the wake of the great first game of the year by Conner—a league-high 31 carries for a league-high 135 rushing yards in the 21-21 tie in Cleveland. Add in his 57 receiving yards, and that's 192 scrimmage yards. Bell hasn't had more in a game since December 2016. So what do you do if you're Mike Tomlin and Bell comes in this week or next? I think I'd do what Bell and his agent apparently want the Steelers to do: don't overuse Bell. That way, he'd theoretically be fresh as the season gets into its biggest days. He'd be fresh, relatively speaking, for free agency next spring. Conner's performance was a revelation. If I'm Tomlin, I'm secretly thrilled despite the tie, because now he can say they're going to be fine without Bell and mean it, and he can think if Bell comes in they've got the best rushing attack they could possible have.
4. I think the best news for both the league and the players was Adam Schefter's report Sunday that the two sides are unlikely to come to an agreement on player comportment during the national anthem. Nothing good for either side can come unless all sides agree to a solution.
5. I think, after watching Khalil Mack's performance in 42 of 60 defensive snaps Sunday night, anyone who thinks Mack is overpaid, or thinks the Bears overpaid for him … well, you're probably not a person who is steeped in logic.
6. I think it's time for your quickie Green Bay Packers history quiz, commemorating the start of their 100th season. Ready? (Answers in number 9, below.)
a. The Packers went 10-1 in 1919. What was the name of the team that beat them in the final game of that season?
b. The greatest two coaches in Packer history, who have statues at Lambeau Field, both finished their careers as the head coach of which NFL franchise?
c. Who caught the last pass Brett Favre ever threw in Lambeau Field as a Packer?
d. On the morning of the Ice Bowl, Dec. 31, 1967, a Dallas Cowboy took some coffee back to his room at a Green Bay hotel to try to warm up. When he picked it up off his window sill a few minutes after getting to his room, it was filled with coffee ice chunks. Who was the player?
e. Bart Starr retains a physical memory of that Ice Bowl game today when it get chilly where he lives, in Birmingham, Ala. What is that physical memory?
7. I think I have tried to tell Mike Florio 68 times that an 18-game or 17-game schedule (barring a scenario in which non-punters/kickers are limited to only 16 games per season) is never happening. But he won't listen to me. Maybe he'll listen to influential Giants owner John Mara, who, via the indefatigable Steve Serby of the New York Post, said this about expanding the NFL slate: "We were negotiating the CBA in 2011 … Jerry Jones was in one of our meetings. We were on a break and we were about to go in and talk to the players about the schedule. He said, 'I want to try to sell them on the 18-game regular season.' And my response was, 'Jerry, they're adamantly opposed to that. You have no chance.' He says, 'I'll bet I can sell 'em on it.' I said, 'You sell them on the 18-game season, I will walk around Times Square for the week in a Dallas Cowboys sweatshirt.' He said, 'You're on.' We walked into the meeting room, and he barely got the words out of his mouth, and the players said: 'No way. That's a deal breaker. We'll walk out of here right now.' So I did not have to walk around Times Square wearing a Dallas Cowboys sweatshirt."
8. I think John Mara will never have to walk around New York in a Cowboys sweatshirt.
9. I think you'll like the answers to the Packer quiz.
a. The Packers lost to the Beloit Fairies, 6-0, on the last day of the 1919 season. (In fact, the Packers lost once in 1919 and once in 1920, both to Beloit.)
b. Curly Lambeau and Vince Lombardi finished their NFL coaching careers in Washington.
c. Corey Webster of the New York Giants. His interception in overtime of the 2007 NFC Championship Game led to a Giant upset of the Packers.
d. Defensive tackle Bob Lilly had that iced coffee in 1967.
e. The tips of some of Starr's fingers were frostbitten that day, so when it gets cold in Alabama, he feels a tingle in the fingertips.
10. I think these are my other thoughts of the week:
a. I still feel bad for Serena Williams. She's a great champion who melted down in the finals of U.S. Open. It was a bad look to lose her cool, and the game penalty certainly seemed excessive. That chair umpire had waaaaay too quick an emotional trigger and influenced this match too much. I empathize more with Williams than with the rules of the game. And then for Williams to admonish the crowd by saying, "No more booing!" … what a roller coaster it was.
b. And what a match by Naomi Osaka. Beating Serena in straight sets … wow. Osaka is a fitting and honorable successor to Williams, if Saturday is the judge.
c. A stupid rule, telling coaches they can't coach during a match. What sport prohibits coaches from coaching during competition? What sense does that make? Plus, as Chris Evert said on ESPN: "Every coach coaches." That's what led to this crap. Fix that rule.
d. Man, that trophy presentation had to be the toughest assignment of Tom Rinaldi's life.
e. Tougher than our "CNN NFL Preview" show back in the day, Tom? When the audience was seven janitors in Kansas, plus our families?
f. My favorite story of the week: It's from a master craftsman of storytelling, Dave Sheinin of the Washington Post, about a pitcher who, at 30, had his heart broken on the evening of his first major-league game for the Phillies.
g. It's hard to imagine never forgetting a day as arbitrary as Sept. 5, 2006, and it's hard to imagine never forgetting the weather on Sept. 5, 2006. But then, we're not Brian Mazone. Dave, that's a gem.
h. Football Story of the Week: Gary Klein of the Los Angeles Times has done a really cool series on the four big players the Rams acquired this offseason—Brandin Cooks, Ndamukong Suh, Marcus Peters, Aqib Talib. Klein did four oral histories. What a smart, well-executed concept. My favorite: The Suh story, which highly educational on how the Rams do business, and how bright Suh is.
i. Podcast/Radio Hour of the Week: I brought this to your attention a year ago when I first heard it, and if you didn't listen to the Radio Lab gem then, please do so now. It aired again over the weekend on many public radio stations. It's about the man, Oliver Sipple, who saved Gerald Ford's life one day in San Francisco—and, in the process, cost himself his own life. A truly amazing story.
j. Anecdote of the Week: from my buddy Don Banks, for the Patriots team site, a great story from Gene Steratore, the next CBS rules analyst and former NFL ref. Steratore did 16 Tom Brady games over the years and tdells this story about being in the trenches with Brady: "I had to dig Tom out of pile one time against the Jets and wound up getting a bloody nose for it. In a (2011) New York Jets game there was a fumble and a pile underneath … Tom was underneath a pile of Jets players and as a referee you're always concerned about your quarterback if he gets hit … So I was clearing things out, getting defenders out of there and Tom kind of turned his head really quick underneath the pile and my nose being so small, it got in the way, and when he turned his facemask it just clipped my nose. I didn't know it, but he cut my nose actually with his facemask. One of my crew-mates came over and said 'Gene, you got popped on the nose. Do you want to put a bandage on your nose?' And I said, 'No, I'm not going to put a bandage on this nose. It's already big enough to draw attention.'"
k. Memo to Florida State, after the night game last week with the weird uniforms: It's fruitless to put names on the jerseys in whatever blackish color that was when you can't read the names.
l. Not to overreact or anything, but the Houston Astros are still the best team in baseball. The bullpen convinces me. Those guys—never heard of anyone but Roberto Osuna—all throw such gas.
m. Alex Bregman, the future is yours. What a swing. The Astros have so much good talent. For their sake, and for the sake of baseball, and the sake of Ben Reiter's book, I hope they can stay intact for a long time. ("Astroball," baby!)
n. So glad CNN put "RBG" on TV last week. If you haven't seen it, it's the tale of Supreme Court Justice Ruth Bader Ginsberg. It's also the story of an American hero.
o. My wife and I were fortunate to see the "Springsteen on Broadway" show the other night. As Bruce Springsteen vets—we've seen him 20 or so times—we entered the theater in New York City not sure how this show would compare to a concert. It's impossible to say what's better, a Springsteen concert in his prime, or this show, with Bruce telling stories about growing up in New Jersey (before it was cool to be from New Jersey, thanks largely to Springsteen) and singing/talking some of his favorite songs. It's like asking the question: Who's better—Michael or Lebron? I mean, who knows? Who cares? Both are incredibly good at basketball. Same with Bruce the master concert guy and Bruce the vulnerable Broadway guy. He's so human in it, putting himself down. He pokes a lot of fun at himself. He says he wrote about all these teen and post-teen moments of life in cars, and yet didn't have a driver's license. "I've never worked 9 to 5," he told the audience in the 939-seat Walter Kerr Theater. "I've never done hard labor. Yet, it's almost all I've written about."
p. It's really hard to categorize this show. It's not a concert. It's not a play. It's a confessional/storytelling session. So much about the meaning of his mother and father, like the time he had a dream he was sitting with his father watching a Bruce Springsteen concert, and thinking how much he owed his dad, even though they had a contentious relationship. The show was all like that—peeks into an interesting man's life.
q. Two other things: Mostly, the theater was silent. So strange to hear audience silence during "Tenth Avenue Freezeout," and all of the 15 songs. I loved it. What really comes through is how great a musician Springsteen is—at the piano and with the guitar and the harmonica. It's special to really hear it without the screams of a crowd.
r. Springsteen obviously is doing the show by rote. (He's got a teleprompter.) But you hear the vulnerability in his voice and his body language so often, and his gratitude to us for his great life—"Thank you for the joy you've given back to me" is how he put it—seemed so heartfelt.
s. So yes. I recommend it. You might have to take a loan out to do so, but run to see it. Do not walk.
t. Beernerdness: My very strong recommendation for you when you take the drive across the United States, and figure you want to see Green Bay and Lambeau Field (good choices), is to pop into Kroll's West, across from Lambeau on the west side of the stadium, and have a cheeseburger and a ridiculously ice-cold Spotted Cow (New Glarus Brewing, New Glarus, Wis.) on draft. There might be better dinners on this planet, but I am not familiar with them.
u. Coffeenerdness: Thanks for putting Luna espresso in the Luna Stout, Hinterland Brewing (Green Bay, Wis.) That is some rich, delicious espresso.
v. Three weeks and 18 games left, and the Orioles have 102 losses.
w. Interesting story from Chris Suellentrop of Politico, who accomplished an incredible feat of self-flagellation in one month: He read all 20 Bob Woodward political books. And he rated them from worst to first.
x. I mean, if you're questioning the veracity of "Fear: Trump in the White House," the Woodward book about the chaos of the Trump presidency, consider a couple of things. One: the dogged reporting of Woodward and Carl Bernstein got Richard Nixon out of the White House. Two: Woodward has a history of getting White House staffers to tell him what's going on inside presidencies … and he keeps getting book contracts to write more of them. Book publishers do like salacious details. They also do not like to be sued. And if Woodward was an unreliable reporter, Simon and Schuster would not have engaged him to do this book. You don't do 19 political books, many to critical success, and then all of a sudden make up stuff in the 20th.
Fruitlessly, I take my own stab at picking the Monday nighters.
New York Jets 22, Detroit 17. It hasn't been too big for Sam Darnold yet, and I don't think it'll be too big for him tonight at 7:10 ET. Plus, I like the Mr. Inside (Steve McClendon) and Mr. Outside (Leonard Williams) aspect of the Jet front, particularly because I don't trust (yet) the Detroit offensive line, or the running game.
L.A. Rams 33, Oakland 16. Jon Gruden's on TV tonight. ESPN. Monday Night Football. Same as it ever was, except he'll be on the ground instead of in the TV booth, and he'll be in a visor and windbreaker, not a coat and tie. Not the best foe for a re-debut. "We might have to go out there and score on every possession," Raiders wideout Amari Cooper said the other day. Well, at least six of them, assuming four touchdowns and two field goals. I just don't see the post-Khalil Mack Raiders (who allowed opposing passers to complete 68.1 percent last year—only the Browns were worse) getting enough pressure on Jared Goff to significantly influence the game. I can't wait to see the impact of the Aaron Donald/Ndamukong Suh duo playing together for the first time. I like the Raider interior of left guard Kelechi Osemele, center Rodney Hudson and right guard Gabe Jackson, so it'll be interesting to see how destructive the Rams can be up front. 
Tuesday … Baltimore. Happy 40th birthday, Ed Reed, the seventh-leading interceptor of all time.
Wednesday … Sunrise, Fla. Happy 45th birthday, Ki-Jana Carter, the first pick in the 1995 draft.
Thursday … Watkinsville, Ga. Happy 50th birthday, Brad Johnson, the Super Bowl 37 champion quarterback for the Tampa Bay Bucs.
Sunday … Jacksonville. AFC Championship Game rematch, in friendlier confines for the Jaguars. Tom Brady, though, is 3-0 in Jacksonville in his career, including the three-point win over the Eagles in Super Bowl 39.
Might be early, but …
Can we vote for MVP?
Now? Aaron Rodgers.