Getty Images
This is the kind of weekend it was in the NFL: You enter thinking you've got a decent handle on the league after a couple of weeks. Lost Lions, rising Vikes, dead-and-buried Bills, class-of-the-AFC Jags, hapless Cards, unstoppable Chiefs and Rams, feeble Giants and 'Hawks, re-throned Wentz … Browns still stink but there's a dash of hope, Pats getting well, who knows what to make of the Dolphins, etc.
By midnight Sunday, you're spitting out pieces of your broken luck. By midnight Sunday, you're actually wondering, What team do I have more faith in to play a complete game right now—Cleveland or New England? In Week 4, I mean. Not in January.
"This is all I know," 33-year-old Adrian Peterson said Sunday evening from Washington after another rebirth in his 12-year career. "This is the normal. You don't show up on Sunday and play, you get smoked. For a while, the only team you thought you can just show up against [and win] was the Cleveland Browns. No more."
This is the normal.
A bit of a different column today, a stream-of-consciousness, three-dot column, to dive into everything that needs some interpretation. The Buffalo story is without peer this morning. The apparent loss of Jimmy Garoppolo till next season is close. The never-ending greatness of Drew Brees is a pretty good story too, as is the revival of left-for-dead Adrian Peterson. And the Titans, who are 5-1 in the last six meetings with Jacksonville; there's a story. The Patriots' semi-annual September swoon is upon us. Seattle has a win, and it also has a very big Earl Thomas problem. The Vikings got exposed badly. Their reward? The worst road trip of the year.
And roughing-the-passer still stinks, by the way.
We start with the Win of the Week.
Normal, Ch. 1: Nothing Fluky About The Bills
I watched a lot of the Bills-Vikings game, and nothing about Buffalo's 27-6 win was fluky. The Bills were 16.5-point 'dogs, and this was the biggest NFL upset since 1995, and it happened because the Vikings thought they could overcome a terrible offensive line by putting the ball in Kirk Cousins' hands 55 times. And the Bills used defensive marauders you barely know like Matt Milano and Trumaine Edmunds and Trent Murphy to terrorize Cousins into hurried throws, three fumbles and a pick.
The weirdness of the week in Buffalo began with an important defender, cornerback Vontae Davis, quitting at halftime of the game against the Chargers last week. Logic would tell you that's an dagger to a team's season. Maybe it should have been. "Honestly," defensive tackle Kyle Williams told me from Minneapolis, "that had no impact on us at all. We flushed it just like it was a loss. We've got some guys who've been around the league for a few years, guys who can be north stars for the young guys. If you're around this league long enough, you'll see things that shock you. But we just focused on the job all week. If we didn't let them run the ball, we knew we had some matchups we liked [rushing the passer]."
Milano, a smallish (6-0, 223) fifth-round linebacker from GM Brandon Beane's first draft class last year, fits in coach Sean McDermott's do-your-job ethos. He swarmed around Cousins all through the first half and had a sack, an interception, a team-high eight tackles and a fumble recovery. "Play fearless and play fast," coach Sean McDermott told his team during the week, and Milano led the way. He's a really good, really instinctive player.
Impressive, too, was Josh Allen. The thing no one knew about Allen—other than whether he'd be accurate enough in the NFL—was how he'd adjust to the jump in level of play. At Wyoming, he didn't respond well in games against major-college teams. In this game, playing without his biggest offensive weapon, LeSean McCoy (bruised ribs), Allen showed a great touch for knowing when to take chances and when to hold onto the ball. "No turnovers," he said, proudly, from the bus on the way to the airport post-game. His best moment, easily: the Saquon-like hurdling of Vikings linebacker Anthony Barr on the Bills' third touchdown drive.
"It was third-and-long," Allen said. "They brought their pressure. I escaped. I probably should have kept my eyes downfield longer. When I saw [Barr] coming, I knew I'd be short if I didn't do something like I did." The high hurdle, he meant.
"I saw it," Williams said. "I thought, 'Hey, wow, he can jump. Don't do it again.' We need him."
Buffalo's reward: The Bills get to get back on a plane west again next Saturday to Green Bay. An angry Green Bay, after a tie and a loss. Josh Allen, meet Aaron Rodgers.
Normal, Ch. 2: Peterson Says, 'I Control The Story'
What I like about 12 years of dealing with Adrian Peterson: He does not like the formulaic answers. Ask him a football question, get a pretty legit answer.
Me: How tough was it in the offseason, wanting to play, and no one bringing you into camp?
Peterson: "Rough. I think I was able to put things in perspective. In my last year in Minnesota, I didn't play a lot. In New Orleans, I had a short visit. In Arizona, I got a leg injury. This is a league of what have you done for me lately. You know that. When someone else has the platform to write the story, that sucks. When I have the platform, which I have now, I can control the story."
At 33, Peterson doesn't like to be told he's on his last legs. He might be, but that's something he wants to control. In the second quarter of Washington's 31-17 win over Green Bay, Peterson was having an OK day: eight rushes, 39 yards. He'd just hesitated on a run from his 2-yard line, and the hesitation caused a four-yard gain—not 98. "Nothing but green grass in front of me," he said. "I blew it. That run opened my eyes." Washington used its first timeout, and Peterson put it to good use. "I told my linemen, 'That one's on me, Keep doing what you're doing. We'll break one.'" Three plays later, Peterson sprinted and juked around right end for 41 yards, keeping his word. For the day, he rushed 19 times for 120 yards. "Should have been 160, 170 yards," he said. "I left too many yards out on the field." The 6.3-yard rushing average was his highest since 2015.
"Put it in my hands and I'll make something happen," Peterson said.
Still.
Normal, Ch. 3: Brees Is Breaking Records, And He's Not Done
Drew Brees, the ridiculous metronome. It just never stops. Tom Brady talks about playing till he's 45, and he well could. But Brees, who turns 40 in January, broke the NFL's all-time record for completions Sunday, passing Brett Favre. And if he has two normal weeks (against the Giants and Washington, coming up), he'll break another record—for passing yards. He's 418 yards away from Peyton Manning's yardage record. And 46 touchdowns from Manning's passing-TD record. And if you watched the 43-37 Saints' win at Atlanta on Sunday, all you could think was: This guy's missed two games due to injury in 13 seasons in New Orleans, and he might put the records so far out that it'll be tough for Brady or anyone to pass them.
The game has changed so drastically that you don't know what to make of these numbers. Should they rule who's the best quarterback ever? No. This era's different from all the others. "I don't know if I told you this story," Brees, back in New Orleans Sunday night, told me. "But after I got drafted by San Diego [in 2001], we played in Miami that preseason. Pregame, walking in the stadium, I remember seeing Dan Marino up in the Ring of Honor. All the records written next to him … I remember thinking, 'Good gracious, how do you ever play that long to accomplish those numbers?' That day, had you ever told me I'd have some of those numbers, I'd have told you you're crazy, obviously."
The game he set the completions record was made memorable because Brees won it with his legs. Down 37-30 late in the fourth quarter, from the Falcons' 7-yard line, he jitterbugged toward the line and faced two Falcons' defensive backs. Uncharacteristically, he juked corner Brian Poole, evading him and diving in for the tying touchdown. He drove the Saints 80 yards for the winning touchdown on the first drive of overtime, diving in from the 1 on a quarterback sneak. That's Brees.
"I love to compete," he said. "I love to work, I love to set a goal, embark on the journey and accomplish the task. So many incredible people in my life have put me in position to succeed. So many who have helped make me a confident person when maybe I was lacking in it in some parts of my life. So an accomplishment like this is for them too.
"A lot of receivers caught those passes. I hope they're proud. This is for them, too. I've had the same head coach, Sean Payton, the same offensive coordinator, Pete Carmichael, for all my years here, and the same quarterback coach, Joe Lombardi, for 11 of the 13 years. This is for them, too.
"I'm having a lot of fun playing still. I hope there are lots more years."
Normal, Ch. 4: Niners Lose Garoppolo
One of the reasons the NFL is so hell-bent on protecting quarterbacks is because sometimes passers get lost on fluky, freaky, extremely normal plays, and so the NFL simply doesn't want to exacerbate the normal by getting quarterbacks bashed around in the pocket unless it's totally unavoidable. In Kansas City on Sunday afternoon, one of the NextGen's top passing prospects, Jimmy Garoppolo, took off around left end and was striding for the sidelines. He took an awkward step with his left foot. The knee caved. Preliminarily, the Niners think Garoppolo tore his ACL. There will be an MRI this morning in California, but coach Kyle Shanahan is preparing to play the rest of the year with backup C.J. Beathard, beginning Sunday at the Chargers. GM John Lynch's glum voice over the phone when he returned home illustrated the harsh likely reality.
"All indications are that it's torn," Lynch said. "Our [medical] guys say they've been wrong before and so they need to do the MRI, obviously."
Garoppolo, Lynch said, "is heartbroken. His family's heartbroken. You can see it in his eyes, in their eyes. It's tough. Jimmy needs to play, and he wants to play. But Kyle feels strongly about C.J. We all do."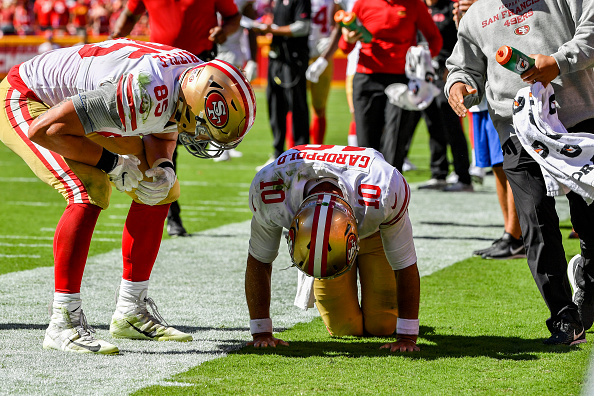 Tough night for the next-man-up mantra. But that's the normal in a brutal league. When Lynch says Garoppolo needs to play, he's not being harsh; he's being real. Carson Wentz was injured 29 games into his career, and the Eagles already knew he was their long-term quarterback—he'd experienced enough highs and lows to have a proven track record, even as a young player. Garoppolo started his 10th game Sunday; the Niners have already signed him to a rich contract, and their confidence in him won't be shaken by a knee injury. But any quarterback, no matter how promising, needs to play at this high level before feeling truly confident, and convincing his mates, that he can be a great quarterback in the NFL. Garoppolo has already had his financial coronation. Now, most likely, the Niners will have to wait for Garoppolo's football coronation.
Normal, Ch. 5: The Madness Continues
• Titans 9, red-hot Jaguars 6. Tennessee's got Jacksonville's number, winning five of the last six in the series. In the last three games, while the Jags were rising offensively, Tennessee held Jacksonville and quarterback Blake Bortles to 32 points and just two touchdowns. "The game plan was to keep Bortles in the pocket," said Titans linebacker Wesley Woodyard. "Don't let him extend drives. In a series like this, you've got to play sound, and that's the way we play defense."
• Ryan Tannehill is 9-1 in his last 10 starts. The win over Oakland was his 80th start. He's 40-40. But he's more efficient than a .500 quarterback should be, at least lately. The faith Miami showed in Tannehill after he missed the team's previous 19 games heading into this year is paying off.
• It's madness in Houston for the 0-3 Texans—one of only three 0-3 teams in the game—after losing to the Giants and their porous offensive line. The Texans have struggled more than I thought they would in the secondary, but the real problem is a poor offensive line. Right tackle Julien Davenport was called for two false starts and two holding penalties against the Giants.
• So what will Seattle GM John Schneider do with problem child (and FMIA Defensive Player of the Week) Earl Thomas? Seattle got its first win, over Dallas, on Sunday, but it's a Band-Aid on a bigger wound. Thomas is going to be disruptive unless he gets his contract re-done, so the Seahawks should deal him for what they can get this week.
This Is The Normal: Epilog
The media parrying with Bill Belichick after the Patriots lost to Detroit 26-10 Sunday night:
Q: "Was Josh Gordon inactive tonight because of an injury?"
Belichick: "I don't know. He wasn't active today."
Q: "How would you describe your conversation with Matt Patricia after the game?"
Belichick: "No."
Q: "Your reaction to being 1-2?"
Belichick: "I don't think anyone can clinch a playoff spot today. I don't think anyone is eliminated today."
So What Exactly Is Roughing The Passer?
The roughing-the-passer controversy continued Sunday, as did the social media outrage over it. Former NFL tight end Martellus Bennett, for instance, had this gem: "Breaking news. NFL just passed a Mississippi rule all pass rushers must count 3 Mississippis before rushing the passer." This came after the Clay Matthews roughing call that sent Green Bay coach Mike McCarthy into orbit.
I hate the rule as much as anyone. But by the letter of the silly law, Matthews did commit a roughing the passer foul Sunday in Washington. In the NFL rules digest, Section 2, Personal Fouls, in Article 9, Roughing the Passer, here is the rule:.
"A defensive player must not unnecessarily or violently throw [the quarterback] down or land on top of him with all or most of the defender's weight. Instead, the defensive player must strive to wrap up the passer with the defensive players' arms and not land on the passer."
NFL officiating consultant Ed Hochuli, who was in the NFL's officiating command center Sunday, believes the Matthews roughing call "was an absolutely textbook full-body-weight roughing call, the best example of it that I've ever seen."
If so, the question is whether the NFL wants players playing this way. Matthews last week (I'll get to that in a moment) certainly did not commit a foul in the eyes of any reasonable football fans and most in the league; I think at least half believe the flag he drew in Washington on Sunday was unjust. How is a man supposed to play if he can't do it the way Matthews played both of these?
Some history from last week. The NFL sends out an officiating video each week to the media and the public, to try to educate and inform about significant plays from the previous week. This week, NFL VP of officiating Al Riveron highlighted six plays from Week 2 in a 5-minute, 15-second video. He explained why two players were ejected in the first two reviews; a fluky two-passes-in-one-play situation; a close call using the new what-is-a-catch rule; a defensive hold off the line of scrimmage; and then explaining the dropkick rule after a drop-kicked kickoff in Chicago.
There was nothing, however, about the most discussed, most controversial plays of the weekend—the roughing-the-passer calls on Minnesota's Eric Kendricks and Green Bay's Clay Matthews in the Vikes-Packers game. (Pro Football Talk's Mike Florio first reported what was on the tape.)
What a lost opportunity. There's an elephant in the room, with a penalty that was hugely controversial and significantly influenced the outcome of a game (the Matthews roughing call that gave Minnesota life, down eight with less than two minutes left in the fourth quarter) that could decide the winner of the NFC North. And Riveron spends the last 62 seconds on a frivolity: Michael Dickson of the Seahawks drop-kicking a kickoff.
The NFL preferred to talk about one of the flags only—the Matthews penalty—in ref Tony Corrente's pool report minutes after the game. And Riveron discussed roughing the passer privately with some teams in the wake of the calls, a league source told me. But not in the one way the league communicates each week with the media and the public. That's at best a tremendous lost opportunity, at worst trying to bury an embarrassing call that was a major factor in the outcome of a game. The league is sticking with what Corrente said post-game: that Matthews "picked the quarterback up and drove him into the ground."
Here is actually what happened: Vikings quarterback Kirk Cousins had released the ball a split-second before Matthews wrapped his right arm around his waist; his left arm first went to the back of Cousins' legs, then to the ground, to brace for the fall. Cousins' right leg was off the ground when Matthews made contact with his head to the left of Cousins' midsection, and the QB's left leg appeared to come an inch or two off the ground for a distance of maybe two feet as Matthews tackled the quarterback backward. As they fell, Matthews stuck his left arm out to cushion the fall, in effect preventing his full body weight from landing on Cousins.
"I don't see where [Matthews] lifted him and drove him down," respected former ref Terry McAulay said on "The Peter King Podcast" this week.
There is nothing else Matthews could have done. The left arm being braced to the ground was almost a gentlemanly act by Matthews, who knows how closely any hits on the quarterback are being watched. Corrente threw the flag. "I'm sure it was probably a generous call, and two or three years ago, it probably doesn't get flagged," Cousins said afterward.
I asked McAulay, now an NBC rules analyst, what he thought when he saw the flag on the Matthews call.
"I thought the NFL just had another self-inflicted crisis that was completely avoidable," McAulay said. "I felt for Tony Corrente. A lot of emotions. If that had been me, I may very have made that call, given the guidance I've heard and would have been sick about it—that I had to make it … This is indeed what Tony in his mind, and his superiors, want him to call."
McAulay said: "I don't know what happens next."
I've got an idea. In my opinion, what should have happened is this: Riveron could have supported the call publicly, and then, in reviewing the call, could have said, It was very close, and we'd have been fine with a no-call here as well. It's a judgment call by the referee, and Tony Corrente erred on the side of protecting the quarterback. Then, in the weekly training tape to officials, Riveron could have cautioned the league's 17 crews to be vigilant about roughing but not overdo it.
I'll be shocked if the league's 17 referees, including four rookie refs (whose heads must be spinning with this mayhem), continue to make this call. It's not roughing the passer. Continuing to call clean plays like this, and like the Kendricks hit of Rodgers, will totally bastardize the ability of defenders to pressure the quarterback. Everyone knows the league is being hyper-vigilant about losing $33-million and $28-million-a-year quarterbacks (Rodgers and Cousins) in Week 2 of a long season; the Packers were an unattractive prime-time team three times after Rodgers was lost last year in Week 6 with a broken clavicle. I appreciate that. But football's football. Protect the quarterbacks. Don't put velcroed flags on them.
"In my opinion," McAulay said, "there are two fundamental principles of rules-making. Number one is player safety. Number two is maintaining a balance between offense and defense. I think college football has lost that number two. And if the NFL's not careful, they're gonna lose it."
'How wonderful life is without the pressure.'
Retired ref Ed Hochuli on life without officiating—and, for now, living in a 45-foot RV—while being an NFL officiating consultant. (He was in New York this weekend working in the officiating command center Sunday.)
"I think the first thing I've learned since I've been out and my wife and I have gotten on the road is how proud people are to be Americans. I have never seen so many flags in my life. We've been on the road now for about eight months—we're based in Couer d'Alene, Idaho right now—but everywhere we go, we see the flag. We had some friends who picked up some hitch-hikers, a couple in their twenties who travel all over the world, and they said, 'Everybody here puts their flag out; we don't see that in other countries.' Forget what's going on in the country right now. But putting out the flag—we've got one in our RV—makes a very loud statement.
"I've also found out how wonderful life is without the pressure of officiating. When I was doing it, I thrived on the pressure. I loved the pressure. I loved the adrenaline of the game. But now that it's gone, I'm able to sit back and enjoy life. I can enjoy the forest and the plants and the water and the beauty. Instead of being a player in life, I am a spectator. And I have to say, that's pretty great.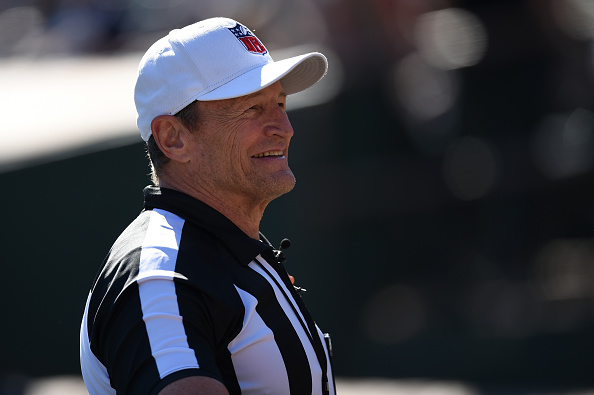 "People see me and they say, 'You gotta be missing being on the field right now.' But I'm not. Not at all. It's incredibly different than I thought, because I thought I'd miss it. But we've traveled a lot now for the last eight months. We sold our house [in Arizona] and got this RV, and we've traveled through Montana, Wyoming, Idaho, California, Oregon, New Mexico, Utah. We're going to go down south in a while. But we drive for a day or two, find a place we like, and we park maybe for a month. My whole life I wanted to learn how to fly-fish. So a friend of mine took me to Snake River in Idaho, two separate trips, about five days, and I learned how to do it. It's the most peaceful thing. No noise, no clutter. Just beauty. Man, that's living. The majestic, beautiful country we've got—the first thing that comes to mind is the parks of Utah. Zion, Bryce Canyon, Arches, Canyonlands. I walked to the edge of Bryce and I did say out loud, 'Wow. That's unbelievable!'
"For me, it was time to quit. It was time. I knew it. You gotta know when it's time. Enough was enough. I didn't want to go when everyone was saying, 'You gotta go.' I wanted to go on my terms, which I did.
"Now there's another guy named Hochuli, and he's better than his old man already. [Shawn Hochuli, Ed's son, was named one of four new NFL referees for the 2018 season.] On the first day of this season, I was in Baltimore. I had to go to his first regular-season game [as a referee]. On the very first play of his career, he had one of the most challenging calls a referee can have, a double foul after a change of possession. It happened during the opening kick return. That's rare—I bet it didn't happen to me three times in 28 years. But he got the crew together, they discussed it, and the interpretation of the enforcement changed three days before the season. And he got it right. Perfect. Then he made a beautiful announcement. Just right. Beautiful."
Offensive Players of the Week
Hate to do this, and I'll keep them brief, but five men deserve a hand.
Jared Goff, quarterback, Los Angeles Rams. Time to start recognizing that Goff is playing really good football under Sean McVay, not just caretaking football. His 29-of-36 day, for 354 yards, with three touchdowns and one pick, keyed a five-touchdown, 521-total-yard day against a good Chargers defense.
Drew Brees, quarterback, New Orleans. On the day he played one of the most scintillating games of his storied Saints career and set the NFL record for career completions (Brees 6,326, Brett Favre 6,300), it was a pair of his touchdown runs that saved the day for the Saints. His seven-yard TD scramble with 1:15 to play sent the game to overtime. Then he drove New Orleans 15 plays for 80 yards in overtime, finishing it with a one-foot sneak for a 43-37 win. Brees has had a lot of great days in New Orleans, but on balance, with everything he did in a huge division game, this has to be one of his proudest moments. He's turns 40 in January, by the way.
Josh Allen, quarterback, Buffalo. Leapt over tall linebackers (Anthony Barr, in this case) in a single bound on a third-and-10 to breathe life into the Bills' last touchdown drive in a 27-6 shocker at Minnesota. Allen's numbers can't match most of his peers' on this day (15-26, 196 yards, one touchdown, no picks), but he and the Bills didn't turn it over in the raucous environment of the Vikings' stadium. In a big and challenging week for a team in semi-crisis, Allen was the steady quarterback force he was drafted to be.
Eli Manning, quarterback, New York Giants. "Eli will be fine," Tom Coughlin told me the other night at his charity function in New York, and I bet he might have even believed it. Coughlin was in the minority after the Giants' 0-2 start. In Houston, even under significant pressure, Manning, who turns 37 in January, was as good as he's been in a long time: 25 of 29 (.862), for 297 yards, two touchdowns and no interceptions. The Giants were desperate for competence across their offense entering this game, and Manning conjured memories of the old days, when he twice beat the Patriots in Super Bowls.
Baker Mayfield, quarterback, Cleveland. In 32 minutes of football Thursday, Mayfield erased a lot of pain for a region, and for a nation of frustrated Browns fans. In his first five series as an NFL quarterback, he led the Browns to a field goal, punt, field goal, touchdown and touchdown. It was more the way Mayfield played—fast, confident, so self-assured—than the numbers he put up. Cleveland's front office had to be thrilled after taking so much heat for drafting him one overall at how well he played to break the long Cleveland schneid.
Defensive Players of the Week
Earl Thomas, safety, Seattle. With so much fodder swirling around Thomas—he is unhappy the Seahawks won't re-do his contract, he mysteriously didn't practice Friday, Chris Mortensen reported the club is considering fining him for undisclosed reasons—was huge in the Seahawks' 24-13 win over Dallas. He had two interceptions—one in a scoreless game stopping the Cowboys near midfield, and the second to snuff out Dallas' final hopes with less than four minutes to play and the Cowboys driving. Thomas made a rookie mistake then, bowing dramatically toward the Dallas sideline, sticking it to the Cowboys for not trading for him when he wanted to go there this offseason.
Xavien Howard, cornerback, Miami. The Dolphins are 3-0, and it's the defense that won Sunday's game against the Raiders. Howard had two picks, both of which prevented points. In the first quarter, he intercepted a Derek Carr pass at his own 4-yard line and returned it 39 yards. In the fourth quarter, with the Raiders driving to try to take the lead in a 21-17 game, Carr threw for the end zone, and Howard picked it off nine yards deep to ice the win.
J.J. Watt, defensive lineman, Houston. After his performance Sunday in the loss to the Giants, it's not a case of "He's back." Watt looked more like HE'S BACK. For the first time in two years and five days, he sacked the quarterback … and then did it again, and again. Three sacks of Eli Manning for 25 yards of losses, plus eight tackles and one forced fumble. Watt has to be sick over the Texans being 0-3, but he has to be personally thrilled to be the kind of impact player—at least for now—that he hasn't been in three years. Watch him whirl around Giants right tackle Chad Wheeler and strip-sack Manning on a play that is virtually unstoppable.
Special Teams Player of the Week
Justin Tucker, kicker, Baltimore. In the rain in Baltimore, Tucker, the NFL's state-of-the-art kicker, booted 52-yard field goals in the first and second quarters in the Ravens' 27-14 win over previously unbeaten Denver. You want the amazing stat about Tucker? Since opening day 2016, he's made 18 of 20 field goals from 50 yards or more.
Coach of the Week
Brian Daboll, offensive coordinator, Buffalo. It was a very anti-2018 offensive game plan for the Bills on Sunday. They called 38 runs and 25 passes, a risky game plan without veteran LeSean McCoy (bruised ribs) and a rookie quarterback making his second start. Funny thing, it worked like a charm, with the Bills winning easily behind 36 minutes in time of possession. Credit to Daboll, who came from Nick Saban's staff at Alabama and inherited a dysfunctional quarterback situation. Didn't faze him or the Bills a bit, at least this Sunday. Smart way to play this game behind the 8-ball.
I
"I told him I would be praying for him and that I love him. He told me to lead these guys."
—San Francisco quarterback C.J. Beathard, speaking of Jimmy Garoppolo after the Niners' franchise quarterback suffered a knee injury Sunday in Kansas City. The initial diagnosis, a possible torn ACL, will be re-checked with an MRI this morning in the Bay Area.
II
"Pre-game, a couple of Cowboys coaches—I don't know if they were trying to play psychological games, but they were like, 'You ready for the trade tomorrow?'"
—Seattle safety Earl Thomas, still engaged in a bitter contract dispute while playing for the Seahawks, after picking off two pass in Seattle's win over Dallas Sunday.
Thomas made it clear he still wants to be paid more or traded … and implied he wasn't going to practice with any semblance of an injury. "If they was invested in me, I'd be out there practicing," he said. "But if I feel like anything, and I don't give a damn if it's small, I got a headache, I'm not practicing."
Well, that's not going to go over well in the Seattle front office today.
III
"No."
—Eagles quarterback Carson Wentz, playing football for the first time in 54 weeks, asked post-game whether he thought about his injury at all during the win over the Colts.
IV
"Anyone willing to fairly assess the NFL knows Davis' decision didn't put anyone's life in jeopardy. And the expectation for loyalty in the big business that is professional football could be described as subjective at best."
—Former NFL defensive back Domonique Foxworth, writing in The Undefeated about Vontae Davis, the Buffalo cornerback who retired at halftime of the Bills-Chargers game eight days ago, empathizing with a decision that Davis' teammates felt was irresponsible … to put it mildly.
V
"It's hard to find a great one. It's hard to find a good one. It's hard to find one."
—Oakland coach Jon Gruden, whose Raiders traded a brilliant pass-rusher, Khalil Mack, to the Bears 23 days ago, on how difficult it is to procure a pass-rusher in the NFL today.
VI
"We're just getting started. And Christian Yelich for N.L. MVP."
—Cleveland quarterback Baker Mayfield, with his parting words at his post-game press conference after his first NFL victory Thursday night. The two became pals after working out at the same California training facility last winter, and Mayfield wore a Yelich jersey to the game Thursday night.
On Labor Day, I walked the turf with Aaron Rodgers at Lambeau Field for an NBC feature. At one point, he looked up at the new seating in the refurbished place—luxury suites and in particular a major expansion of the south end zone, with 7,500 new seats to be added.
"It's helped me," Rodgers said. "I never knew which way the wind was going, and this blocks that swirling wind now. I don't know if you remember, but I always used to throw grass up to see what the wind was doing. This [construction] changed the wind factor."
That construction was completed in time for the 2013 season. I went back and calculated how much the dying of the swirling wind has helped Rodgers, and the answer is some, but probably not as much as he thinks. Maybe he compensated for the wind so well that he doesn't realize how well he was able to throw it in the wind—and he's just kept up the proficient play without having to worry about the wind now. These figures include the two home playoff starts for Rodgers in the era with wind, and the three home playoff starts since the construction was completed in August 2013.
The Windy Era, 2005-12
Games: 41
Comp.-Att., Pct.: 929-1,287, .670
TD-INT: 92-23
Rating: 106.9
The Calm Era, 2013-18
Games: 36
Comp.-Att., Pct.: 822-1,244, .661
TD-INT: 92-10
Rating: 111.6
I
In his first game back after 2017 knee surgery, Carson Wentz, who grew up in North Dakota playing football and basketball and went on to star in football at North Dakota State, threw his first and only touchdown pass to rookie tight end Dallas Goedert, who grew up in South Dakota playing football and basketball and went on to star in football at South Dakota State.
II
You'll probably remember Carl Peterson, the 20-year GM and president of the Kansas City Chiefs. He's 75 now, and he and wife Lori have a residence different than any other NFL retiree. He and wife Lori live for half the year on The World, a gigantic yacht with 165 residences that spends the year sailing the world. When they're not on the ship, they stay either in New York or the Kansas City area, where Lori has family.
The boat's residents, from 19 countries, vote on their destinations every year. In the coming months, the floating city will be in the Indian Ocean to see the island of Madagascar; later, it will traverse the length of northern Canada and Alaska, south of the Arctic Circle.
Six restaurants, yoga classes, a full-size tennis court, an outdoor fitness place, lectures from authors and diplomats and historians who pop aboard during the year.
Life's been good to Carl Peterson.
Yankee Stadium, Tuesday night, men's room.
Standing at a bank of urinals. Hat pulled down low on my forehead. Fairly incognito.
"Eli done?" Urinal Guy to my right says.
"Hard to play if you got no time to throw," I manage, "but he's not helping himself. Too inaccurate."
"Like the Saquon pick?" Urinal Guy says.
"Like him a lot. But not when your quarterback's 37 and declining, though."
Finishing.
"Hey thanks."
"Have a good night."
I hope Urinal Guy sees this somewhere in greater New York today. You're famous, buddy!
Something's happening here. What it is ain't exactly clear.
But I've got a couple of theories.
My question to the brains at Pro Football Focus this week is about the awful offensive-line play we've seen this year, and about whether it's a trend. Now that you mention it, PFF folks say, yes it is.
PFF has an odd statistic it tracks about offensive-line play. I'll loosely title it: "Percentage of offensive-line pass-blocking snaps that an offensive lineman does his job." So this means that on every pass attempt, PFF grades the five offensive linemen on whether they did their jobs well, or whether they allowed leakage/pressure/a sack. So if a team has, say, 40 pass attempts in a game, that would be 200 possible grades given. (Forty passes times five linemen.) And over the last few years, consistently, the quality of pass protection is declining. Let's see the decline, and we'll call the percentage of times each line gets it right "OL Proficiency."
Year: 2009; OL Proficiency: 95.00%
2010: 94.55%
2011: 94.67%
2012: 94.76%
2013: 93.90%
2014: 93.46%
2015: 92.65%
2016: 93.00%
2017: 92.40%
2018: 92.79% (through Week 2)
Interpreting: Last year, each team averaged 34.15 pass attempts per game. We'll round that down to 34. So, multiplying 34 pass-attempt opportunities per game times the five offensive lineman, you get 170 total pass-attempt opportunities for the average offensive line in 2017.
In 2009, with a 95.0 percent pass-blocking proficiency, that means teams averaged 8.50 poor pass-blocking results per game—either in getting the quarterback sacked or significantly pressured. In 2017, with a 92.40 percent pass-blocking efficiency, teams averaged 12.92 poor pass-blocking results per game.
Interpreting further: Teams were allowing 4.42 more negative offensive-line plays last year than in 2009. That seems a significant fall in quality in just eight seasons—basically one bad play per offensive lineman per game more in 2017 than in 2009.
Offensive line is a technician's position. Since the advent of the 2011 CBA, there is less practice time, and that hurts the offensive line as much as any position or more. Plus, so many coaches today shy away from full-contact practice, which is another black mark against offensive linemen learning their craft. "Offensive line is a repetition position," says former NFL lineman Geoff Schwartz. "You rep a play multiple times, you do it at full speed, and you do it when you're tired and sore. But if you don't do that—and most teams don't now—offensive linemen don't get to build up that muscle memory. When you see it in a game, you haven't worked on it the way you used to."
One more factor: College offensive linemen who work exclusively in the spread often come to the NFL having not played much in a three-point stance, the way all NFL offensive lines play. In college, offensive linemen are often fending off rushers defensively, not attacking them offensively.
Joe Thomas, the perennial Browns Pro Bowl tackle, agrees with those factors, but says defensive sophistication is big too. Overloading single tackles or guards with mismatches—Rex Ryan was big on this as Ravens defensive coordinator a decade ago, and others followed—was one thing, and new coaching techniques another. Thomas pointed to several teams (10 at last count, currently the Patriots) hiring martial-arts expert Joe Kim to institute new pass-rush techniques. "The advances in pass-rushing and pass-rush technique have been significant," Thomas said. "Some of the MMA and karate training, I've been surprised, are really making a difference in how some guys get to the quarterback."
The biggest factor, it seems, is the lack of real-time work young offensive linemen get. I don't see that changing soon.
A PFF Elite subscription gives you access to performance metrics the pros use.
I
II
III
IV
Mail call.
I got 25 of these letters if I got one. From Michael M., Maryland: "Ratings will continue to go down not because of kneeling, the commissioner, etc., but because the game is now unwatchable. Clean legal hits are being penalized for no particular reason. Referees now have so much garbage to call and precedent to fall back on that it becomes Machiavellian. I have already started to wean myself off the game. This is only accelerating my action. On the bright side, I'm more productive on Sundays."
I am trying to be open-minded about the protect-the-quarterback craze sweeping the NFL. I really am. MY job is to try to see both sides of the issue. But I continue to say what I said last Monday: If the Matthews/Kendricks Week 2 roughing calls are legitimate penalties (clearly they are not), then the NFL has crossed the Rubicon and it's going to be impossible to play defense fairly in the NFL if you cannot make clean hits on the quarterback when they have possession or when they have released the ball a split-second earlier. Make your voice heard. Write to Roger Goodell and to Al Riveron at: 345 Park Avenue, New York, NY 10154.
Well, I'm sort of adamant. From Chris M.: "I see you're very adamant about Baker Mayfield taking the Carson Palmer/Patrick Mahomes route with a rookie redshirt season, but what about all the success stories of rookie quarterbacks starting and having good first seasons and careers—Cam Newton, Peyton Manning, Andrew Luck, Russell Wilson, Big Ben, Dan Marino and many more. Judging from his first game it seems like Mayfield could have equal chops and be able to persevere. So why so adamant?
You make a good point, Chris, and I realize Mayfield is almost certain to get the job for the rest of the season beginning this week at Oakland. I just believe in an ideal world you treat your rookie franchise quarterback intelligently and give him the year to watch and learn. You see the results with Mahomes, obviously. But with Tyrod Taylor beat up and Mayfield looking so good Thursday night, I get the Browns' decision. And … be careful when you talk about those guys having such great rookie years. Wilson and Roethlisberger hit the ground running, to be sure, but Marino didn't start till Week 6. Manning set the NFL record for rookie passers (still in effect) with 28 interceptions, and Newton and Luck each had passer ratings under 85. It's not impossible a rookie quarterback can be very good, obviously. I just think what you're trying to do when you draft a franchise quarterback is do everything possible to get him ready to have a great career—not a great first year.
A Dane loves Andy Reid. From Nicolai H. of Denmark: "Where do you rank Andy Reid as coach, all time and current? I believe he is underrated. In Philadelphia his record was great and he managed to keep great quarterback play. Then in Kansas City he took a bad team and has gone to the playoffs again with great quarterback play."
With three more victories, Reid will be the ninth coach in history to win 200 games (including playoffs), and it's hard to be consistently good, virtually every year. The knock on Reid will be his playoff record, with two ugly first-round playoff losses in the last two opening playoff games with the Chiefs and 13 playoff losses overall … and no Super Bowl wins. Two other accomplished coaches—Marty Schottenheimer and Dan Reeves—won more than 200 games but are the outside looking in at the Pro Football Hall of Fame. So Reid may have to win a Super Bowl to ensure his spot in Canton. He's 61 and I'm sure plans to coach a few more years. Right now, he's not one of the all-time greats. All-time greats win titles.
My second edition looks a bit like my first.
1. Patrick Mahomes, QB, Kansas City. (Last week: 1.) Thirteen touchdown passes in the first three weeks of the season is an NFL record. The Chiefs will have to run it a little better down the road, but they can sustain the wins if Mahomes keeps up this pace.
2. Ryan Fitzpatrick, QB, Tampa Bay. (Last week: 2.) He can solidify his standing tonight against the Steelers—and he can ensure Dirk Koetter won't be tempted to go back to Jameis Winston anytime soon when Winston returns to the Bucs' facility from his suspension Tuesday.
3. Khalil Mack, DE, Chicago. (Last week: unranked.) Bears are 2-1 and an Aaron Rodgers miracle from 3-0. And Mack has four sacks, three forced fumbles and an interception. Think what he'll be like when he actually knows the defense.
4. Drew Brees, QB, New Orleans. (Last week: unranked.) Might sound hyperbolic, but I don't know if Brees has played better than his current run: 81-percent passing, eight touchdowns, no turnovers … and the offense is averaging 44.7 points a game.
5. Ryan Tannehill, QB, Miami. (Last week: unranked.) Completed 73 percent with a 121.8 rating, after sitting for 19 straight games with injuries entering the season. It helps that the Dolphins are 3-0.
10 Things I Think I Think
1. I think these are my quick-hit thoughts of Week 3:
a. The Bills, in Minnesota, without LeSean McCoy, building a 24-0 lead in the first 18 minutes. Insane. Good chance that will go down as the stunner of the year—even at the end of the year.
b. Very good challenge, Matt Patricia, on the Lions' fumble-turned-touchdown, making it Detroit 10, New England 0 early in the second quarter.
c. Watching Sunday night, I got the strong feeling that the debacle loss to the Jets was a mulligan for the Lions. Great example of how you can't bury a team after one awful loss in Week 1.
d. Falcons have the makings of a second premier receiver from Alabama. On draft night, I sensed the Falcons were in the minority among teams that thought Calvin Ridley could be a dominant NFL wideout. Atlanta was proven correct on this day, at least. He had seven catches for 146 yards and three touchdowns (18, 75 and nine yards), with a fourth touchdown made impossible when he had two Falcons maul him near the goal line and get called for pass interference. Sure-handed and elusive—that was Ridley on Sunday.
e. Maybe the Seattle offensive line isn't hopeless.
f. Maybe the Giants' offensive line isn't hopeless.
g. For the record: When Carson Wentz had knee surgery last December, doctors said his rehab period would be nine to 12 months. When he returned Sunday for his first start since the surgery, it was nine months and 10 days since the procedure.
h. Watching Drew Brees dice up the defense of division-foe Atlanta on the lightning-fast, 75-yard opening drive was art. More where that came from, as it turned out.
i. Ben Watson, 37 and still beating linebackers (and, later, cornerback Isaiah Oliver) down the seam. Great decision by the Saints to ignore his birth certificate and give him a role on important snaps.
j. I thought Boomer Esiason was fantastic at the deception of play-action. Andy Dalton's every bit as good. Just ask the CBS director at Bengals-Panthers, who bought Dalton's fake so much that we barely got to see a second-quarter touchdown pass to tight end C.J. Uzomah.
k. Not something San Francisco fans want to hear the TV analyst, Chris Spielman, say about the team's defensive line after it has used first-round picks on defensive linemen in 2015, 2016 and 2017: "The 49ers are getting manhandled up front."
l. Dolphins rookie Minkah Fitzpatrick has to learn to not fall for every quarterback head fake he sees. Two such quarterback-freezes cost Fitzpatrick dearly versus Derek Carr in Miami.
m. How did any official on the field rule a touchdown on the Adrian Peterson touchdown scrum in Washington? Sure looked shielded on all sides to me—and I'm quite dubious Peterson legitimately had the ball over the line.
n. Having said that, New York made the right call in not overturning the touchdown. There was no indisputable evidence to show Peterson was stopped.
o. Quibble with Kyle Shanahan: Down 35-7 with nine seconds left in the half at the Kansas City 21-yard line, down 35-7 to one of the most explosive offenses we've ever seen. You need four touchdowns, minimum, and almost certainly more than that against the freak who is Patrick Mahomes. And you kick the field goal? Shanahan's really good, but I'd certainly have used the last two plays in the half to try to score a touchdown there, even though the Chiefs were packing the deep secondary.
p. Almost every game you go for the field goal in desperate times before halftime. Not against the 2018 Chiefs.
q. Colts-Eagles. Super Bowl champs on the road. Colts driving to take the lead in the third quarter. Andrew Luck throws a little high for wideout Chester Rogers, but he gets both hands on it … and it slips right through his hands. That's a mistake you cannot make.
r. What a throw by Philip Rivers, the 42-yard touchdown strike in tight coverage, perfectly placed, to tie the Rams in the battle for LA. (Doubt there really is a battle for Los Angeles, by the way.)
s. It's Pat Mahomes' World and We're All Living In It Dept.: He had three touchdown passes in a nine-minute span of the second quarter (his only three of the day on a 24-of-38, 314-yard day) as the Chiefs built up a 35-10 halftime lead. Thirty-five points in one half. Nothing's too much for this young passer and this offense.
t. Sam Bradford, 30, looks 40 out there.
u. Nice gesture, Mike Vrabel giving Marcus Mariota the game ball after Tennessee's upset of Jacksonville. Tennessee didn't want to play Mariota Sunday but had to when Blaine Gabbert went down with a concussion. Mariota had a meh day, but he kept his team in it.
v. Adam Vinatieri tied Morten Andersen the the NFL record for field goals (585) with three Sunday, and he's only 34 points away from breaking Andersen's all-time scoring record. Vinatieri turns 46 in December.
2. I think I hope you enjoyed that electric ballgame in Los Angeles, with 58 points, 877 yards and big momentum turns by the Rams and Chargers. Thanks to the schedule process that I hate—regional rivalries in different conferences meeting once every four years—you won't see the next Chargers-Rams game till 2022. The Raiders and Niners meet Nov. 1, and then not again till 2022. Patriots-Packers in November, and then Brady and Rodgers will never play each other again. (All of these, of course, are true unless the teams meet in a Super Bowl before then.)
3. I think for those who want to wring hands (or rejoice) about the Patriots this morning, remember some prior early-season debacles. Remember Buffalo 31, New England 0 on opening day 2003 … and Kansas City 41, New England 14 in Week 4 2014 … and Buffalo 16, New England 0 in Week 4 2016. And remember New England won the Super Bowl in each of those three seasons. The one difference this year, it seems to me, is the absolutely total lack of a downfield threat, or a threat of any sort in the passing game other than Rob Gronkowski. Even when Julian Edelman returns, unless Josh Gordon suddenly gets his head screwed on straight, this is not an offense with any weapon to scare a defensive coordinator.
4. I think if Le'Veon Bell is truly on the training block, as Adam Schefter reported Sunday, the two teams that should be interested are Indianapolis and San Francisco. Each has more than $40 million in cap room this year.
5. I think Alvin Kamara is going to be the best fantasy-football player in the game for the next three years. And maybe even after Drew Brees is gone. Kamara the receiver is so good, so scary.
6. I think my advice to Eric Dickerson and the other Hall of Famers would be to come up with a reasonable plan for health benefits for retired players—not just for Hall of Famers, and not for $300,000 a year. They didn't get much empathy from players who made a fraction of what they made in their careers and weren't included in the letter the former star players sent to the Pro Football Hall of Fame.
7. I think the clock is ticking for Todd Bowles. He's got to make sure the Jets clean up their messes, and do that against a pretty tough stretch of games coming up in the next six weeks: at Jacksonville, Denver, Indianapolis, Minnesota, at Chicago, at Miami.
8. I think I would love to know what possesses a man—Isaiah Crowell of the New York Jets—to faux rub the football on the crack of his posterior in celebration after scoring a touchdown in Cleveland the other night. Does he, perhaps, lay awake in his hotel the night before the game and think, I know what I'll do if I score in this game. I'll take the football and rub myself with it like it's toilet paper! It's okay—I know we're not that good and the 15-yard unsportsmanlike flag could hurt us, but how great will it be to do that on national TV! It must be fun to be a head coach in the NFL. You have to think to advise your players to not wipe themselves with the football if they score a touchdown.
9. I think it was a good month for good people in the NFL. The Bears committed $500,000 to social-justice issues in Chicagoland, management and players combining on the money to start the program, with the hope that it becomes a consistent initiative in the coming seasons. "I think it's a great issue that was brought up by [Colin] Kaepernick," defensive end Akiem Hicks, one of the team leaders, said. So many people around the NFL doing so many good things, including:
• Julius Peppers of the Panthers, a native of eastern North Carolina, provided $100,000 in seed money for the Julius Peppers Hurricane Relief Fund. "I wanted to do something to help," he said.
• The Raiders donated $250,000 to help save youth athletic programs in the Oakland Unified School District, a desperately needed assist for a community that badly needs after-school programs for its students …
• And on Friday night, Tom Coughlin returned to New York for his annual Tom Coughlin Jay Fund gala. It's amazing to see the reach The Jay Fund had since Coughlin founded it 22 years ago to honor one of his former Boston College football players, safety Jay McGillis, who died of leukemia in 1992. Coughlin was so touched by McGillis and his family dropping everything to care for their sick son that, in 1996, while coaching in Jacksonville, he established a foundation that, mostly, provides money for families who have had to drop everything to care for cancer-stricken children. "Jay's family prayed for a miracle they didn't get," Coughlin said Friday night. "But his life has been a miracle to over 5,000 families he has directly helped."
10. I think these are my other thoughts of the week:
a. Congrats to Paul Simon, on the great career, on the occasion of the last show on the last concert tour of his life—in Queens, where Simon grew up, Saturday night. Two weeks shy of his 77th birthday, Simon finished his last tour two miles from the home of his youth with 24 songs, ending with a song he wrote in the bathroom of his Queens home 53 years ago, "The Sound of Silence." Man, did he sound melancholy on that.
b. Simon highlights: Three times he won the Grammy for Record of the Year—and he won them 19 years apart, for Mrs. Robinson (1969), Bridge Over Troubled Waters (1971) and Graceland (1988) … He made the Rock and Roll Hall of Fame twice, as a solo artist and with Art Garfunkel in Simon and Garfunkel … I was a soph at Ohio University, addicted to "Saturday Night Live," when Simon and George Harrison did Here Comes the Sun one night … He and Garfunkel are estranged. Bummer.
c. New York mayor Bill deBlasio: "He's one of the greatest New York City artists of all time."
d. Movie of the Week: "Science Fair," a fast-moving 90-minute documentary about the 2017 international Science Fair, highlighting high school students from Brazil, Germany, West Virginia, South Dakota (a charming, eminently likeable 16-year-old girl named Kashfia whose parents immigrated from Bangladesh), Jericho, N.Y., and Louisville. I cried twice during this movie, because I was so emotional about 1,700 teenagers from 78 countries so devoted to science and to find solutions to problems of the current human race. I certainly loved it as much as any movie I've seen this year—and there have been some excellent ones, like "RBG."
e. How about this: The Brazilian girl featured, Myllena, lives in a dirt-poor village, Iracema, and is trying to find a cure to the fast-spreading Zika virus. Her family is so devoted to her hopes and dreams … it's beautiful. You really should see this.
f. I walked out of the theater in Manhattan the other day thinking how great these kids are, and how much hope they have about the future, and how much hope we all should have about the future. Thanks to them, and to National Geographic for backing this film, and to Cristina Costantini and Darren Foster for writing it.
g. Football Story of the Week: by Joe Person of The Athletic (feels funny, Joe, to NOT write Joe Person of the Charlotte Observer), on the work ethic and film study habits of Luke Kuechly. The great thing about Kuechly's game is his instinct; that's what I've always thought. And when you read this piece, you'll understand how football instinct can be honed. It's not just something that happens.
h. News Story of the Week (involving football): by Samantha Pell of the Washington Post, about a homeless 18-year-old D.C. student and football player, Jamal Speaks, whose residency and eligibility have been major issues in his life.
i. Read that. And tell me what possible good there is in keeping Jamal Speaks off the field—thus hurting his chances to play football in college and get the kind of education that likely would not be possible without football.
j. Perspective Story of the Week: From Nicole Yang of Boston.com, a look at the sordid drug and discipline history of new Patriot receiver Josh Gordon, who was expelled from two Texas middle schools, expelled from one Texas high school, drank vodka from juice bottles during high school classes, drank before games, used counterfeit money, got arrested for felony credit-card theft, and then, at Baylor, dealt marijuana while in Waco and made as much $10,000 a month doing so, was suspended twice by coach Art Briles, admitted to Uninterrupted that he passed drug tests with the help of an enabling coach at Baylor, and then, in the NFL, has been suspended five times for substance abuse and missed most of another season when he entered a rehab facility on his own, and played in six of the Browns last 51 games before a weird episode last weekend caused the Browns to decide to get rid of him for good. (Plus, according to Jason Cole, Gordon was late for and/or missed some team meetings in Cleveland this season.)
k. Gordon, 27, has fit six lifetimes of debauchery into the last half of his life.
l. It's not a good sign of my modernity that I've never seen any of those shows that won the Emmys.
m. Last week, I didn't know Connect Four. This week, never heard of "Marvelous Mrs. Maisel."
n. Coffeenerdness: You're not going to find a better latte than the one Blue Bottle Coffee sells. You're just not. The espresso is perfect.
o. Beernerdness: You might find a few pilsners better than Victory Prima Pils (Victory Brewing Company, Downingtown, Pa.), but not many. The hallmark of Victory beers is a distinctive and different taste, and there's the faintest hint of honey in this. Cool beer.
p. The Mets might have a lousy ballclub, but they are a fun TV watch. On Saturday, from Washington, the TV crew found two guys in neck-to-toe flannel Mets onesies, in the stands, on the road. Play-by-play guy Gary Cohen asked: "What are they wearing on their feet? Slippers? … Or are there built-in feet?" Investigative reporting found sneakers on their feet. But those guys, including (I'm) Keith Hernandez, have fun.
q. For those who say David Price should not pitch against the Yankees in October, based on a bad history and on the fact that Price gave up three homers and got hit off the field in New York (again) the other day: I would just say the home runs he gave up traveled 343, 349 and 340 feet, and all to right field last week. None would have reached the seats or bullpen at Fenway Park. And Price would be pitching in Game 2 of the series, which would be at Fenway. He should pitch Game 2, whether it's against New York or Oakland.
r. Man, I don't know who in their right mind would want to play the A's right now. Oakland's on fire. Three games against the Angels last week: 38 runs. Then a 10th-inning walkoff homer by Khris Davis, and then a ninth-inning walkoff wild pitch. What a fun team.
s. Khris Davis homers, last three seasons: 42, 43, 45.
t. Bryce Harper homers, last three seasons: 24, 29, 34.
u. Mike Trout homers, last three seasons: 29, 33, 38.
v. Hank Aaron hit 113 home runs at age 28, 29, and 30. Davis, 30, has hit 130 in a similar span.
w. Blake Snell's going to run away with the American League Cy Young Award. Good for him. Good for the Rays.
x. Great career, Victor Martinez. More hits (2,153) than Maury Wills, Yogi Berra, Mike Piazza, Gary Carter and Johnny Bench. Always played the game right, and hard, and got a ton of big hits. His last hit Saturday night was a legged-out infield single against the Royals.
Tampa Bay 33, Pittsburgh 27. Steelers have allowed seven touchdown passes and a league-worst 108.9 passer rating. On deck: Ryan Fitzpatrick, with a league-best 151.5 rating. So the Steelers enter dangerous territory tonight at the Pirate Ship. At halftime, the Bucs will induct Tony Dungy into the team's Ring of Honor at Raymond James Stadium.
• Today … Berea, Ohio. Pretty Simple Prediction of the Week: Hue Jackson steps to the podium at the Browns' complex and says the Browns will play Baker Mayfield in Week 4 at Oakland. The call is made easier by the fact that Tyrod Taylor may still be in concussion protocol this afternoon, and by the fact that fans (and owner Jimmy Haslam) will storm the complex if Mayfield doesn't practice with the first unit this week and start next Sunday.
• Tuesday … Los Angeles. Happy 25th birthday, Brandin Cooks. I find two things rather amazing about Cooks. One: He's a very good player, and he's already on his third NFL team in his fifth NFL season; he was dealt at 23 from New Orleans to New England, and he was dealt at 24 from New England to the Rams. Two: Despite his slight stature (5-10, 183 pounds), he's played all 54 games in his last four seasons (2018 included), and he's produced in every one, with three straight 1,000-yard receiving seasons with at least 110 targets and 65 catches in each. His absence in New England clearly made them have to go fishing, dubiously, for Josh Gordon.
• Thursday … Los Angeles. It's not often the game of the week in the NFL comes on a Thursday night. But Vikes-Rams could be a playoff preview, and it's the best the league has to offer in Week 4. I doubt Minnesota coach Mike Zimmer is real happy about it, though. The Vikings will scurry about to jam in the game plan by Tuesday—and then, traveling early because of the distance, they'll take off Tuesday evening on a three-hour, 50-minute, 1,600-mile flight to LAX. Coaches hate these Thursday nighters anyway, and flying for four hours with a tired team won't make Zimmer happy. At all.
Paul Simon. The end.
Home, where my love lies waiting,
silently for me.