Getty Images
The thing that's surprised me the most about the first month of the season—even more than the fact that Philadelphia is 2-3 and hasn't scored 24 points in any game, more than Atlanta being 1-4, more than Ryan Fitzpatrick being 18 points higher than Tom Brady in passer rating—is the Cleveland Browns. They're fun. They're competitive. They've got a quarterback out to prove the world wrong, and playing like it. They're 2-2-1, they easily could be 4-1, and conceivably could be 5-0.
Scoring margins in the first five Browns games: 0, 3, 4, 3, 3. In the three games they lost or tied, they had the ball in opposing territory in the last minute of the fourth quarter with a chance to win. The whole year: crazytown.
You might remember back in April, when I covered the Browns draft in Cleveland and met a two-decade season-ticket-holder named Dan Adams. So mad at the Browns' ineptitude was this middle-aged operations manager at a hydraulics company that when his ticket invoice came in the mail last spring he photocopied his hand with the middle finger sticking up and folded up the image and sent it to the Browns with these words: 1-31 and I'm done. This one's for you. At the last moment, he relented and bought the tickets again, for one last time he said. He just couldn't quit his Browns.
I called Dan Adams on Sunday night.
"The energy in this city is incredible right now," he said, a few hours after the Browns' ugly but beautiful 12-9 overtime beatdown of Baltimore, their first AFC North home win in four seasons. (Think how incredible that is.) "The Indians are great. The Cavs are great, and God bless LeBron. But there is nothing like this place when the Browns are winning—70,000 people just going nuts for their team. We've really missed that."
When the draft was over, I met Cleveland GM John Dorsey near the Browns' practice facility in Berea. He showed up in one of those funky gray sweatshirts with the block orange CLEVELAND BROWNS on the front. (Dorsey: those sweatshirts. Jim Harbaugh: the khakis.) We had a couple of beers, from Cleveland's Great Lakes Brewing, and Dorsey dissected the draft.
Here's what I remember about that day: Dorsey knew the draft cognoscenti wasn't crazy about quarterback Baker Mayfield at No. 1 overall and cornerback Denzel Ward at 4. Mike Mayock, for instance, had Mayfield as his fourth-rated passer, and thought pass-rusher Bradley Chubb was a surer choice than Ward. USA Today gave the Browns' draft the 25th-best grade out 32 teams. But Dorsey was almost fierce in his regard for both picks. And he made this declaration:
"We will awaken the sleeping giant. I have no doubt."
Five games is too early to say anything about the Browns other than this: They're one of the most compelling and competitive teams in the NFL. Their feisty new leader, wideout Jarvis Landry, told me Sunday he thinks they shouldn't have lost a game yet, and when players say things like that, you just nod and laugh a little bit on the inside. But they tied Pittsburgh when their kicker had a field goal blocked with 13 seconds left in overtime, they lost to the Saints when their kicker missed two field goals and a PAT in the fourth quarter, and they lost to Oakland when a dubious replay reversal gave the Raiders life in the final minute.
Most Sundays, I watch games in some combination on my laptop and the TV, on the RedZone Channel and whatever is the game of the day. In the last two weeks, the 45-42 loss at Oakland and the 12-9 win over Baltimore, I spent most of the second half and overtimes lasered on the Browns. The Cleveland Browns, the Browns Gonna Brown Browns. Dorsey talked about awakening the sleeping giant? He's awake all right, now, and Baker Mayfield is the alarm clock.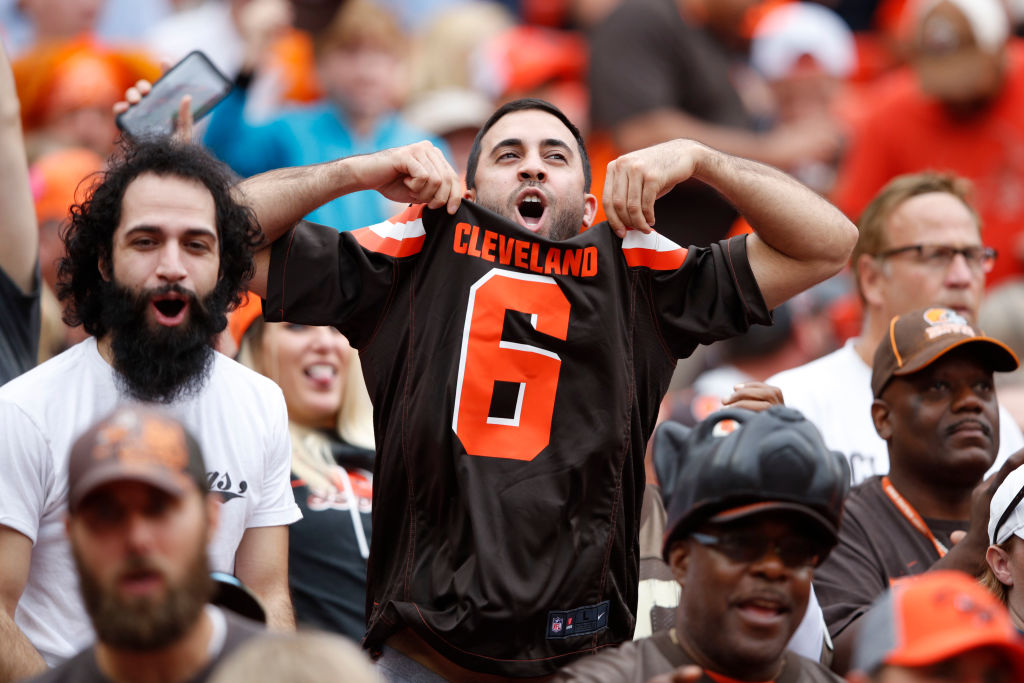 "C'mere Baker!" coach Hue Jackson said in the Browns' post-game locker room Sunday.
"Bake Money!" Jabrill Peppers shouted as Mayfield made his way to the middle of the room, next to Jackson, who wanted to give Mayfield a game ball.
"I ain't been around you a long time, but I know this: You don't flinch," Jackson said. "You keep playing. You gotta keep doing that for this football team."
With 2:12 left in overtime, the Dan Adamses of the world had to be thinking, We'll take a tie. Browns had second-and-21 at their 5, and their four previous plays had gone for zero, zero, zero and minus-11. Mayfield, in the shotgun, took the snap at the goal line, and pressure forced him back to four yards deep in the end zone. Here came Terrell Suggs of the Ravens, rushing from the right and making a strategic error: Instead of penning in Mayfield, Suggs tried to get to him from the middle, forcing the quarterback out to the offensive left side. No Raven was there. So Mayfield took 13 easy yards. "As I continue to get reps with [the linemen], they will realize I'm going to try to extend plays," Mayfield said. Really?
Two-minute warning. Third-and-eight. Three Baltimore rushers surrounded Mayfield in the pocket, but he leaked out to the right, and a total unknown, undrafted wideout Derrick Willies, playing only because of an injury, had a step on his man on a crossing route. Mayfield put it right in Willies' gut. Gain of 39. Three clock-bleeding plays put the Browns in range for a field-goal try, but if you know the Browns' tradition of field-goal follies, you knew something would go wrong.
"I couldn't look," Jarvis Landry told me Sunday night. "I couldn't look."
Greg Joseph, whose wounded duck from 55 yards fell short and way off to the left at the end of the fourth quarter, would find a way to miss this, wouldn't he? His low kick found a Raven's hand going over the line of scrimmage, but instead of dying at the line, the 37-yard kick knuckled downfield and made it over the crossbar with a couple of centimeters to spare.
Mayfield led the charge, and he got some defensive help from Ward. Without Ward's pick at the Browns' three and then his block of a Justin Tucker field goal on the last play of the half, the Browns would never have forced overtime. This would have just been another dispiriting loss. With three interceptions now, Ward has been just the clinging, physical corner defensive coordinator Gregg Williams wanted. It was Williams, among others, who urged the selection of Ward over Chubb—and they're pretty happy about it now.
There's something else I like about this team. It's something Jarvis Landry brought from Miami. When the Browns did "Hard Knocks" this summer, the most memorable scene was Landry, new to the team this year, lighting up the receivers room. He was ticked off (putting it mildly) at the effort and practice habits of the team's young receivers, and he stood in front of the room and said:
"If your hamstring ain't fallin' off the bone, if your leg ain't broke, you should be practicing! Straight up. It's weakness. It's contagious as f—! … It's over with here, bro! If you're not hurt, you gotta f—ing practice! That ain't happenin' here! That don't exist! … It's contagious. It's contagious."
Coming from one of the highest-paid receivers in the league, that tirade got noticed.
"My heart was full," Landry said. "I had no idea it would be as big as it turned out to be. But I was just trying to state the truth and wake some guys up."
Landry thought for a minute. "With me," he said, "what it comes down is I hate losing more than I love winning. I love football, and I just hate to lose."
When the Browns tied Pittsburgh on opening day, Landry thought some players were a little happy to not lose. "There's nothing to celebrate!" he yelled. "We work too hard to tie!"
On the first drive of overtime, Landry stuck his head in the offensive huddle and said, "It's just us. Calls ain't gonna go our way. Can't worry about that. Just play."
After the game, in the raucous Cleveland locker room, Dorsey found Landry. The GM loves this firebrand wideout because of the example he sets and the ethos he brings to practice and games. Dorsey smiled at Landry. "Hey!" Dorsey said. "It ain't always gonna be easy."
But with these Browns, it's always going to be interesting.
For a player who had to pay his way to an NFL combine when he didn't get invited to the real one after his career at Minnesota State, Vikings receiver Adam Thielen sure puts off questions about his big accomplishments. He became the only player in the Super Bowl era (52 years) to start a season with five 100-yard receiving games. He deflected most everything about that after leaving Philadelphia with what he really wanted, a 23-21 victory, some slight revenge for the NFC Championship drubbing nine months ago.
I'll tell you what he was into when we spoke before he left Philadelphia: the onside kick with 1:09 left that came his way on the hands team of the Vikings, produced by Eagles kicker Jake Elliott. Thielen said it's the best one he's ever had to field.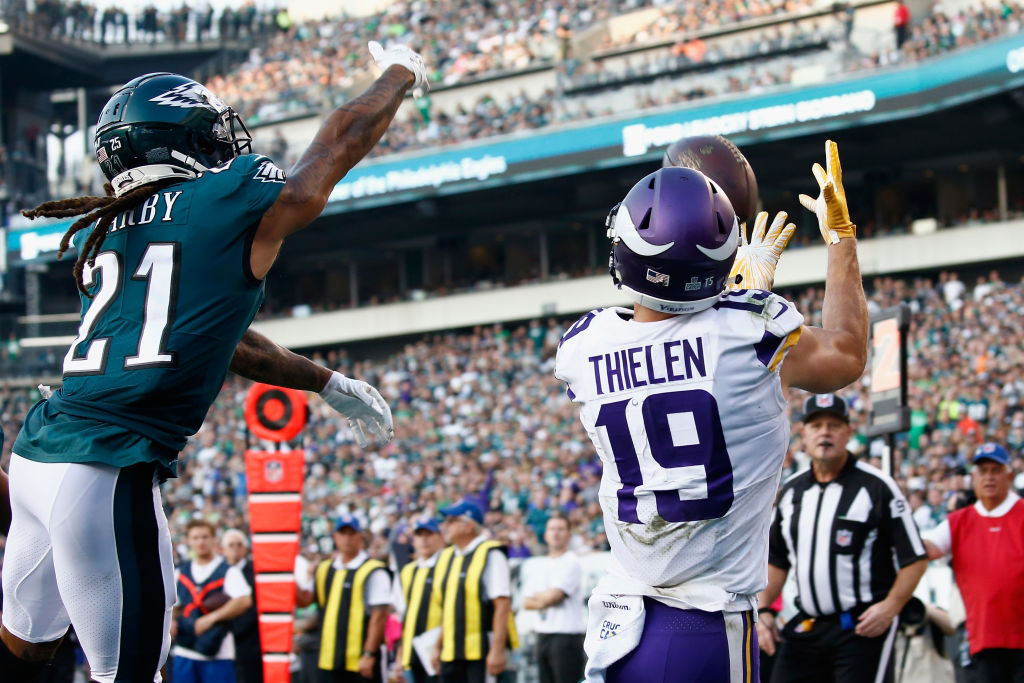 "We knew that was going to be the biggest play of the game," Thielen said. "He kicked a phenomenal kick and it was by far the hardest onside kick of all the onside kicks I've practiced against in college of the pros. It was the nastiest thing I've seen. It was low, with a side spin. It wasn't a normal end-over-end onside kick. It had a nasty spin on it and when I saw it coming at me I just wanted to make sure I could just knock it down then jump on it. Just wanted to get on it and secure it because when it's a bang-bang play like that there's a lot of guys on you—a lot of pinching and hair-pulling. They were trying to pull my hair. Good thing I got my hair cut. It was not fun under there."
For the record, Thielen's got 138 catches for 1,865 yards since opening day 2017. He's one of the league's best, and most reliable, receivers, and Kirk Cousins loves him as much as the Viking fans: His 47 receptions in five games leads the NFL.
• The Eagles don't have much time to fix their ills. Philadelphia, 2-3, isn't too far gone to heal. The Eagles have lost by two, three and six points. The problem, though, is time. The Eagles have to go to the Meadowlands on Thursday night to face the struggling and enigmatic Giants, and then they have the similarly enigmatic Panthers at home, and then a game in London against the Jaguars. Not much time, particularly this week, to get right on offense and in the secondary, which are major issues. In Carson Wentz's three starts since returning from knee reconstruction, the Eagles are 1-2, averaging only 21.3 points a game. In his last nine games last season before getting hurt, Wentz and the Eagles went 8-1 and averaged 33.4 points a game. He's moving in the pocket well and throwing with more precision than last year (67.2 percent this year in a smaller sample size, 60.2 last year), so I it's smart to be patient with the passing game. It should come around. The secondary is a worry, particularly with all the resources GM Howie Roseman added. The Eagles allowed a stingy opposing QB rating of 79.5 last year, which is superb. This year: 96.5, which is not. Philly's lucky the rest of the division is a combined 5-8.
• Confidence game. Graham Gano is 31. Before Sunday, he'd been 18 of 32 on field goals of 50 yards or longer, and he'd never made one from 60 yards or longer in his NFL career. So to win a game the Panthers would have been heartbroken to lose, Gano had to make a field goal the length of which he hadn't made since high school. "I kicked a 68-yarder in high school, but there was a flag and the penalty allowed us to get a first down—so they took that field goal off the board," he said Sunday from Charlotte. "And when I went out there today, I really didn't feel too nervous about it. That could be because I didn't realize it was 63 yards when I went out there." From the Giants' 45, coach Ron Rivera decided to try the field goal, his Panthers down to the Giants 31-30 with six seconds left.
Three points about this kick: Gano's leg-swing seems almost casual; he certainly wasn't trying to kill the ball. "I try to swing the same for short field goal as for a long one," he said. "When you try to hit the ball too hard, you usually kick it wide." … Thinking is optional, so as to avoid nerves. "As soon as the ball is snapped, I try to not think at all," he said … Gano really want to attempt the kick, and didn't want to give Rivera any reason to doubt him. "I kind of just jogged on the field, to let them know I am confident." Gano said. "John Kasay used to do that here. If he felt good about it, he'd just start jogging on the field. On this kick, my first thought when it left my foot was, That felt good." I should hope so. Looked like it'd have been good from 70.
• Behind the McVay call. The league's getting gutsier, it seems. (Except for Jason Garrett.) Intriguing call for Sean McVay on Sunday at Seattle. L.A. ball, fourth and a half-yard, Rams 42, 1:39 left, no timeouts left for Seattle. High stakes here. If the Rams go for it and make it, the game's over; they can run out the clock because Seattle has no timeouts left. If the Rams go for it and fail, Seattle needs 15 yards to be in breezy field-goal range for the winning kick. If the Rams punt, they could likely pin the Seahawks around their 15-yard line. On the bus to the airport Sunday evening, McVay explained the call to go for it thusly: "I think the biggest thing was this: Our offensive linemen had the confidence to be able to get those six inches. I thought Jared [Goff] did an excellent job of mixing up his cadence a little bit, and I felt like he could catch them off guard. We attack success. We don't fear failure. We want to go for the win in that situation. Getting six inches to close it out was something that we felt the percentages were in our favor." Smart move, and not just because it worked. Check out Intelligent Football lower in the column.
You might have heard this: Drew Brees needs 201 passing yards to become the most prolific passer in NFL history. He enters tonight's home game with Washington third, with 71,740 yards, 98 behind number two Brett Favre and 200 behind Peyton Manning. So you knew that. But how up on Brees trivia are you? Let's see. Ten questions and a bonus, with answers below in No. 10 of Ten Things I Think I Think.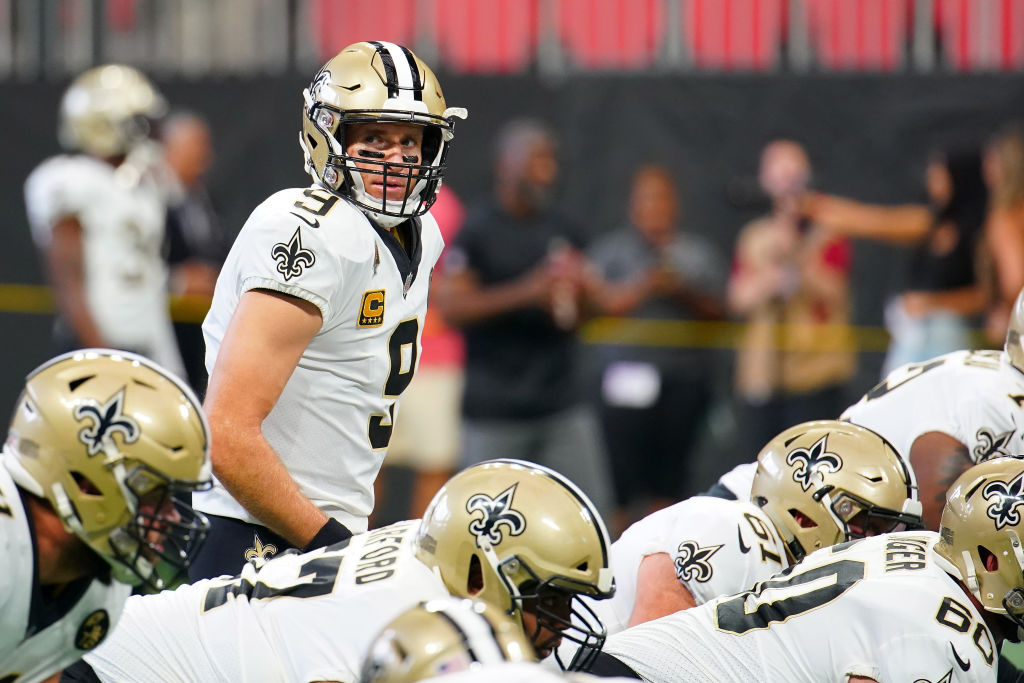 1. Growing up in Texas, Brees never played tackle football until junior high school. True or false?
2. Brees received only two Division I scholarship offers after going 28-0-1 as a high school quarterback in Austin. He chose Purdue over which school?
3. Brees was third in Heisman voting in 2000. Which players were 1-2 that year?
4. Brees' first touchdown pass came in 2001 as a San Diego Charger rookie, off the bench. Whom did Brees relieve that day at quarterback?
5. Brees won his first four NFL starts with the Chargers. In Brees' fourth NFL start, the Chargers beat Tom Brady and the Patriots. Name one of the quarterbacks he beat—the vanquished quarterbacks in any of his first three starts.
6. Once, when I worked for the HBO "Inside the NFL" show, I went to New Orleans to do a Brees feature. We got wired for a walk-and-talk interview in Audubon Park, and as we walked his dog, the dog took a massive dump that Brees insisted he pick up himself. I'll give you credit if you know either the name of the dog or the breed.
7. When Brees won the 2010 Sports Illustrated Sportsman of the Year award, whom did he choose to be his presenter at the event in New York City?
8. Which former Saints teammate and his wife rewrote their will to cede the control and upbringing of their children if they died to Drew and Brittany Brees?
9. Brees wears number 9 because of his respect for which former athlete in another sport?
10. In Super Bowl 44, the Saints trailed the Colts 17-16 with six minutes left in the game. Brees threw his second touchdown pass of the game to put New Orleans ahead for good. Who caught the pass?
BONUS QUESTION: In Brees' first year as a starter (2002 in San Diego), Jim Miller, Chris Chandler, Steve Beuerlein, Jon Kitna, Tommy Maddox, Jay Fiedler and Doug Pederson led Brees in which statistical category?
Jake Butt, 23, worked his way back from his second ACL tear on his last play as a collegian to start the first three games of this season for Denver. Then, two weeks ago in practice, he suffered a third ACL tear, ending a second straight season. What all this misfortune has taught him?
"The second time I tore my ACL [in the bowl game in his last year at Michigan], I got to the locker room and my mind was racing. I felt sorry for myself for about 20 minutes, and then I realized how unproductive it was. My mom was crying, my brother was crying. I said, 'We're done with this; we're not crying anymore.' I put a pen to paper, and it started easing my mind a little bit. What are my options? MRI, surgery, rehab.
"Feeling sorry for yourself is not going to heal your ACL.
"That's how I've been my whole life. I don't know that it's been something that can be taught or learned. I think it's something that you gotta be born with. It's just kind of how I've always been. I've really always been motivated by people doubting me. I was a really skinny kid coming out of high school. I was a good tight end but I was skinny. I had some big-time offers but a kid from Columbus, Ohio, … Ohio State never offered me. I'm 15 minutes from their campus. I remember that pissed me off and still does to this day a little bit, you know? That was great motivation for me. That's something I carry with me every single day. After my second ACL in the bowl game, people were counting me out, saying he'll never be able to do anything. Why even draft this guy? Why take a flyer? I save things like that. I make an imprint in my memory. I don't want to forget that.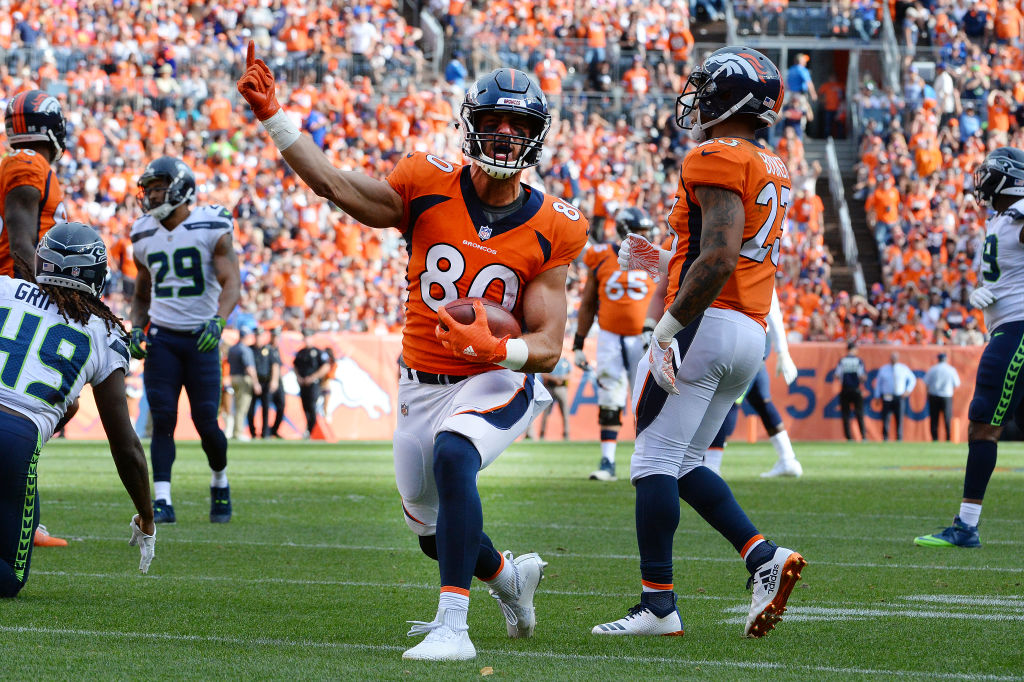 "I know deep down in my heart how motivated I am as a man, as a football player. How much I really, really love this game. I'm blessed because I get paid to do something that I truly, truly love to do. And there's no one out here that can stop me.
"There's a lot of people that claim to be doctors, or claim to be fortune tellers, or claim to know what's best for me. I know me. I know the surgery and how this is going to go. I've talked to the doctors. There's nothing that's saying this can't be a full recovery and won't be a full recovery. So I fully expect to be out there next year.
"I think what gives me such an optimistic view isn't necessarily what I've been able to do in these previous recoveries. I've got a buddy, Kody Kasey, who played college football at Georgetown [Ky.] College. He broke his leg … They put a rod in there that wasn't completely disinfected. Over the course of two years, he's in a wheelchair, crutches. All this for a broken leg, like, 'What's going on man? Why aren't you healing?' Well, he had to make the decision two years after his leg was broken that he had to amputate the lower half of his leg right below his knee. And this is a guy I've known since kindergarten. I've never heard him complain once. I remember we had asked if he was gonna sue the hospital or sue the doctor. He said absolutely not. I'll be okay from this, I know the doctor didn't intend for this to happen and I don't wanna ruin his life. Ends up going on to return kicks for his team that following year … with the prosthetic leg.
"Life goes on. They're gonna fix my knee. I'm gonna be out there playing next fall."
You can hear Butt, along with Jared Goff and Booger McFarland, on "The Peter King Podcast."
I
"Not second-guessing. But we were being outplayed. It's time for risk at that particular time."
—Dallas owner Jerry Jones, indeed second-guessing Jason Garrett after Garrett punted in overtime on fourth-and-one from the Houston 42 with 5:40 to go. Dallas never saw the ball again, and Houston won 19-16.
II
"The mood is we need better refs. That's the mood. Point-blank. Simple. It's bogus calls being made out there."
—Giants safety Landon Collins, after the 33-31 loss in Carolina.
III
"We're starting to change the culture around here."
—Cleveland quarterback Baker Mayfield, after the first home division win in four years Sunday.
IV
"A wise man once told me great quarterbacks are only as good as their kicker."
—Cam Newton, after he and the Panthers were bailed out by Graham Gano's 63-yard field goal with one second left to beat the Giants.
V
"I honestly feel like I've gotten so much better every single game."
—Andrew Luck of the Colts, coming back from his shoulder reconstruction with improving performances, particularly in the past two weeks.
Offensive Players of the Week
Adam Thielen, wide receiver, Minnesota. No receiver in the last half century at least has opened a season with five straight 100-yard receiving games, and even with that target on his back in a tough place to play Sunday, Thielen had seven catches for 116 yards and a touchdown. And he fell on and secured a close-call onside kick that was the final decider in the Vikings' 23-21 victory over the Eagles, the team that beat Minnesota for the NFC title last season.
Isaiah Crowell, running back, New York Jets. He had the best game of his life and the best rushing game in Jets history. How many backs in history can say they had three runs in excess of 35 yards in one game? Crowell had 77, 54 and 36-yard runs, the long one for a first-half touchdown. Crowell's most famous moment this season before this game had been scoring in Detroit and faux wiping his rear end with the football as if it were toilet paper. Maybe this week he can actually be known for his play.
Sony Michel and James White, running backs, New England. In the Patriots' 1-2 start, Michel and White, combined, averaged 17 touches from scrimmage per game for just 72 yards. (Michel did not play in the first game of the season.) Scoring at a typical Patriots pace in the last last two wins (38 against Indy on Thursday night, 38 against Miami the previous Sunday), Michel and White proved how invaluable a balanced offense can be for New England. The two backs, combined, averaged 36 touches from scrimmage per game for 206 yards. In the two decisive victories, Michel's 210 rushing yards, plus White's 145 chains-moving receiving yards, promise to be a good road map for the New England offense the rest of the way.
Defensive Players of the Week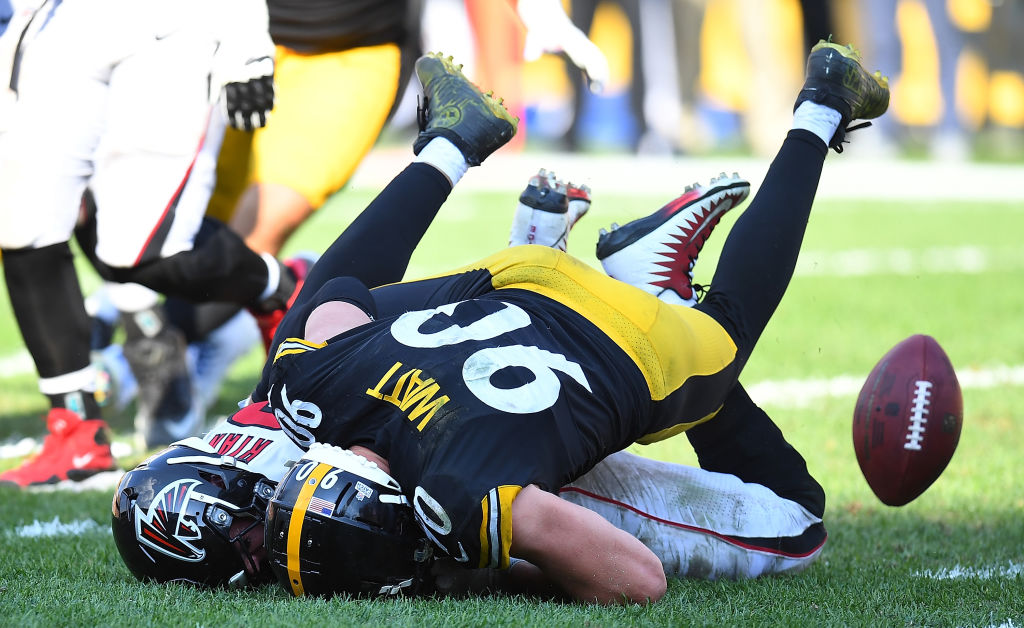 T.J. Watt, pass-rusher, Pittsburgh. Is it possible another Watt will lead the NFL in sacks? He's tied with Geno Atkins atop the league this morning after a three-sack, eight-tackle performance against the defenseless Falcons on Sunday. Watt has the same ferocious and quick-for-his-size elusiveness that made J.J. Watt so great—and consider that T.J. was a tight end for his first two injury-riddled seasons at Wisconsin.
Denzel Ward, cornerback, Cleveland. In a field-position game, Ward continued his brilliant rookie year. He intercepted a Joe Flacco pass at the Cleveland 2-yard line in the second quarter that saved points, either seven or three. And on the last play of the first half, Ward steamed from around the end to block a Justin Tucker field-goal try. Ward deflected two other passes too. Not bad. The Browns won 12-9 in overtime, an extra period that would never have been played without Ward's second-quarter dramatics.
Special Teams Players of the Week
Graham Gano, kicker, Carolina. Picked a fine time for the longest kick of his life. He kicked two 47-yarders in the second quarter, and in the last three minutes of the game, he kicked a 39-yarder to put the Panthers up six. After the Giants went 75 fast yards to go ahead with 1:08 to play in the game, the Panthers stumbled to the Giants' 45 and couldn't get closer. So Gano, whose longest field goal ever had been from 59 yards, creamed a 63-yard field goal to win it.
Britton Colquitt, punter, Cleveland. Easily one of the best games of a good NFL career. Colquitt punted nine times for 50.2-yard average, with a net average of 41.4 yards per punt. Three punts pinned the Ravens inside the 20. The Browns are going to need to play this kind of field-position football while the offense stops-and-starts with so many new players.
Jakeem Grant, wide receiver/punt returner, Miami. Grant is 5-7, 169 pounds, and sometimes you watch him in the return game and just hope he doesn't break. Grant broke the Bengals on Sunday—at least before Miami's second-half collapse. With 22 seconds left in the first half, Grant weaved and sprinted 70 yards down the right side and then survived an oh-so-close replay review about whether he stepped out before scoring. He didn't. Marvelous return for touchdown.
Coach of the Week
Matt Patricia, head coach, Detroit. All the rookie Lions leader has done over the past two games in Detroit is orchestrate strong game plans in wins over Tom Brady and Aaron Rodgers. What Detroit lacks in consistency—it sandwiched a loss to Dallas between wins over New England and Green Bay—it makes up for in rising to the challenge in big games. Patricia's defense got the job done Sunday, forcing three fumbles and taking advantage of sloppy play by the Packers.
Goats of the Week
Ryan Tannehill, quarterback, Miami. After Miami had a 17-0 lead with 24 minutes left, these were the next five Tannehill possessions: three-and-out, pick-six, punt, strip sack returned for a touchdown, interception. This utterly pathetic display by Tannehill followed a worse one last week. He left trailing the Patriots 38-0. The Dolphins, thanks to these two forgettable games by Tannehill and his friends, are the same old Dolphins, despite the 3-2 record.
Blake Bortles, quarterback, Jacksonville. You would hope Bortles had days like this one in his rearview mirror. But he doesn't. This was a stinker, one of the most misleading 400-yard-passing days in NFL history. Bortles had to throw for 400 (430, to be exact, on 33 of 61 passing) because he kept putting the Jaguars in holes with his five turnovers on the day.
Mason Crosby, kicker, Green Bay. Packers lost by eight in Detroit. Crosby left an amazing 13 points off the board with his four missed field goals and one missed PAT. When your offense is beat up and has to score in the high twenties, minimum, to have a chance to win consistently, you can't have an errant kicker. Crosby missed from 41 yards with the Packers down 7-0; then missed from 42 with the Packers down 17-0; then missed from 38 with the Packers down 17-0; then missed the PAT with the Packers down 11; then missed from 56 with the Packers down 11. You've really got to wonder how this game will mentally impact Crosby in the future.
There are so many books out this fall about football that I don't know what to do with them all. I decided that, occasionally between now and the end of the season, I'll write a few notes on a book I've come across and want to bring to your attention.
How 'Bout Them Cowboys?
By Gary Myers (Grand Central Publishing)
Just what we need—another book about the Dallas Cowboys, this one a look at the history of the team. But reading through the galleys first and then the book, I found this to be a valuable and surprisingly cool read, because it tells us things we did not know about one of the most covered enterprises on Earth, with quite a few you-are-there stories. And that's the only way a Cowboys book can work. Some of what Myers unearthed:
• Jerry Jones claims Roger Goodell told him that Ezekiel Elliott would not be suspended in 2017. Then, of course, Elliott was suspended for six weeks. When Myers asked Goodell about it, you could feel the steam rising out of his ears. "N.O. No," Goodell said. "Do you understand that? Would you like me to write it out for you?"
• Never knew exactly how the "America's Team" thing came to be until Myers tells the story of the Cowboys-NFL Films co-naming of it in 1978.
• In the Cowboys' new office and practice facility, The Star, there's an over-the-top draft room, with 15 TVs with 55-inch screens and every digital convenience an NFL team would need to run a draft. It's utilitarian and opulent at the same time. Why? "We spent millions of dollars to create that room," Cowboys EVP Jerry Jones Jr., said. "How do you justify it? You have sponsors do promotions to have fantasy football drafts. Come August, that's a busy place for people having fantasy football drafts." Myers writes: "Can you imagine Bill Belichick ever allowing fans into the Patriots' draft room?" Monetize, monetize, monetize.
• Years after the Jerry Jones-Jimmy Johnson divorce, Myers writes Troy Aikman, still ticked off that Johnson couldn't find a way to live with Jones, was having a beer with Johnson and said, "We could have been Brady and Belichick."
Good reading, no matter where you fall on the love-hate Dallas fan-o-meter. 
I
Times Drew Brees has led the NFL in passing yards in 17 seasons: seven.
Times Peyton Manning, Tom Brady and Ben Roethlisberger, combined, have led the NFL in passing yards in 49 collective seasons: seven. 
II
You'll hear from Baltimore kicker Justin Tucker on my podcast dropping Wednesday, if you so choose. The current (and likely future) state-of-the-art NFL kicker is an interesting guy—and we didn't even get to his opera singing. Anyway, one thing that strikes me about Tucker is not just how good he is, as the only kicker in NFL history to be above 90-percent accurate in career field goals. But his historically unique performance is also a byproduct of the Ravens' respect and regard for special teams. Check out the heart of the Baltimore special teams since Tucker joined the Ravens in May 2012. From that day till today is a span of 107 regular-season and post-season games.
• Coach John Harbaugh, a former special-team coach in Philadelphia, has been the Ravens head coach for all 107 games.
• Special teams coordinator Jerry Rosburg has been the Ravens' kicking-game coach for all 107 games.
• Kicker Justin Tucker has been the Ravens' kicker for all 107 games.
• Holder Sam Koch has been the Ravens' holder for kicks in all 107 games.
• Long-snapper Morgan Cox has been the Ravens' snapper for 98 of the 107 games, missing nine in 2014 with a torn knee ligament.
It's notable that the kicking game got harder in 2015. That's when the extra-point line was moved from the 2 to the 15-yard line, meaning that the PAT would be a 33-yard kick. Let's look at how the Ravens' kicking game has performed since the band—Harbaugh, Rosburg, Tucker, Cox and Koch—has been back together from opening day 2015 to today, with the longer PAT:
Games: 53.
Field goals: 121 made, 134 attempts (90.3 percent).
PATs: 107 made, 107 attempted (100 percent).
Total kicks: 228 made, 241 attempted (94.6 percent).
I
Houston Texans players have two kinds of water they drink around their practice facility and stadium. After workouts and practices and games, they drink Essentia, high-alkaline water that the company claims has been tested and shown to be better for rehydration than regular water. At other times—sitting in meetings, eating meals—the players are provided Smart Water, which Texans nutritionists believe is a healthy water to drink.
Two waters, to drink at different times of a player's life. What a country.
II
Alabama has been ahead by 28, 40, 42, 18, 49 and 27 in their six games this year.
At halftime.
III
This is a little bit of a "wow" to me, maybe because I am so fond of pro football history.
Johnny Unitas threw 63 touchdown passes to Raymond Berry with the Baltimore Colts. They're widely acknowledged as one of the best aerial connections in NFL history.
Ben Roethlisberger just threw his 64th touchdown pass to Antonio Brown.
I suppose there's absolutely nothing to be done when, on a New York-to-San Francisco flight, the fellow behind you in coach spends more than a third of the flight sleeping and emitting occasional thunder-snores, likely caused by the kind of sleep apnea that makes breathing jagged and occasionally cacophonous, and with the side benefit of his open mouth giving off the sort of odor that I guessed could only come from some dinner and drinks late the previous evening that turned rancid overnight and rumbled up, wafting through a few rows for all to enjoy.
I wish I could have done something, anything.
Sorry to adversely affect your morning.
Normally, I'm doing something pretty in-depth here, prodded by the analytics work of Pro Football Focus. But this week, I want to reflect on some Week 4 history. Specifically, the Frank Reich play call on fourth-and-4 in his own territory in overtime of a tie game; Reich chose to go for it, the Colts didn't convert, the Texans took over and kicked a winning field goal in the final seconds.
PFF liked Reich's decision.
Said head data scientist George Chahrouri of PFF: "The chance of converting was 63.4 percent, based on the Colts' offensive ratings and the Texans' defensive ratings. Given that it was Week 4 and the human element of coaching and culture-building, playing for the win was the only move. Even if you don't get it, you still have a good shot at a tie."
The Colts failed to convert when Andrew Luck threw low and incomplete on fourth down. The larger issue, I think, is this: Just because a team failed doesn't mean it was the wrong call. One of the lessons of Doug Pederson's chance-taking last year in Philadelphia is that the result of the decision, of course, matters. But if you're playing a quarterback who'd been a 66-percent passer on the day, who'd completed 40 passes against a tired defense finishing a fifth quarter, getting four yards seemed more likely than not. It would have left the Colts around their own 48 with two timeouts left and 24 seconds to play—again, against a defense at the end of a fifth quarter.
The likelihood of making a play like this, 63.4 percent in this case, should be considered before fixating your position one way or the other on potentially game-changing calls.
A PFF Elite subscription gives you access to performance metrics the pros use.
Five weeks in the books after tonight, and here's my MVP ballot today:
1. Pat Mahomes, QB, Kansas City. Jared Goff has not passed Mahomes through five weeks, but he has made it a ballgame. Latest example of Mahomes' MVP-ness: inclement weather Sunday in KC against Jacksonville, first Chiefs possession, 10 plays, 73 yards, six of seven passing, 4-yard touchdown run by Mahomes. This, against the best defense in football.
2. Jared Goff, QB, Los Angeles Rams. This is not just Sean McVay's influence making Goff a player. You don't make the kind of precise throws into tight coverage the way Goff is doing with a coach pulling strings and making you a robot. Sunday in Seattle was the kind of tough struggle even the best teams are going to have to win regularly in the course of a long season.
3. Drew Brees, QB, New Orleans. Brees turns 40 in three months. His 115.3 passer rating is 5 points higher than in any full season in his career.
4. Khalil Mack, pass rusher, Chicago. He's on this list for what he does in games, but also during the week. Four games as a Bear, four games with a sack and a forced fumble. Might be underpaid. Listen to coach Matt Nagy talking about Mack's influence in his first month in Chicago: "What Khalil does before every defensive period … when the equipment manager sets the ball down, they all sprint out to the ball. He started it. We never did that up until he got here. So now, when the horn blows, during an offensive period, the equipment manager will put the ball down. 'Defense is up!' Before it just used to be like a three-quarter, half-speed jog out onto the field. Now you got all the guys sprinting out to the field and it's the first one to touch the pigskin. This is just a minor thing that goes so far. He's just elevated [the defense]. He helps out our backup tackle when he goes against him. He sees this kid set the wrong way do something with his technique, and he'll tell him, Hey, you might want to think about this as I go ahead with this move. It's every day that this goes on. I've never seen one person helping everyone else around him as much as this guy does."
5. Adam Thielen, WR, Minnesota. Five games, five 100-yard receiving games, the first time in the last 50 years that's happened to start the season. He's here, too, because of his value to the team, as shown by his recovery of the onside kick to ensure the Vikings' 23-21 win at Philadelphia on Sunday. His 47 catches and 589 receiving yards both lead the NFL—though Michael Thomas of the Saints could pass him in one or both categories tonight when he plays his fifth game.
I
II
III
IV
V
To comment on the column, or to say anything about anything, you can reach me by email.
Cowboys fans are not taking the loss to Houston well. From Sean O.: "When does Jerry fire Jason?"
Sean, I like those five-word questions. Barring a complete breakdown (which 2-3 is not), I see Jason Garrett making it to January. But if Dallas doesn't have a winning record, I think there's a good chance Jerry Jones parts with him after the season. Garrett has a respectable record (70-58) and I think the Jones family likes working him. He's a reasonable person who believes in the Cowboy chain of command (starting with the credo that Jerry Jones is the boss), and with Jones, that counts for a lot.
Careful, NFL. You might become the Big 12. From Leslie M.: "I hate that defense is being neutered in today's game, and not from a safety standpoint. I'm all in favor of getting rid of big hits. But cornerbacks should be allowed more contact (not a safety issue) than current rules allow. I watch Big 12 football, and non-stop shootouts get boring eventually.  You start to pray for some good defense. The NFL should worry about their product if that's the type of game they want."
I don't think the NFL wants 58-48, Leslie. But I think they want 38-31. I don't think there's anything wrong with 58-48 once a year, or 38-31 two or three times a week. What I fear—for football—is the issue of constant high scoring and the effect that it will have on a balanced game. Patrick Mahomes' godfather, LaTroy Hawkins, seems convinced that the circus games he played at Texas Tech had an impact on what NFL people thought of his game because it was so hard to judge in such a wide-open environment. Some Texas Tech scores in Mahomes' last year: 69-17, 68-55, 59-45, 66-59, 66-10, 54-35. A balance is better.
You speak the truth. From Lee L.: "Somebody has to address the sack on the Colts first drive against the Patriots on Thursday night. Patrick Chung of the Patriots had Andrew Luck's arms wrapped and fell with his full body weight, plus two other guys came down on him. [Trey Flowers of the Patriots sandwiched Luck to the ground with nearly his full weight.] The consistency of this new rule being called is horrendous. Then Brady gets four fingers to the helmet. That's roughing, but Luck being buried under three guys is a legal play. It makes no sense."
I agree that the call on Brady was a paper-thin overreaction by ref Shawn Hochuli. Not a penalty. The non-call on the three Pats burying Luck—tough one. The Competition Committee clearly wants the officials to not be so ticky-tack on roughing the passer, but that one looked like a clear body-weight-sack infraction. All I can think is that the officials are going to be better later this season than they are now on these calls. They need to be.
10 Things I Think I Think
20
1. I think these are my quick-hit thoughts of Week 5:
a. Russell Wilson was vintage MVP-contender Russell Wilson for much of the 33-31 loss to the Rams, leading five scoring drives in nine possessions and compiling a 132.5 passer rating. But 48 net yards for the Seahawks in the fourth quarter sealed their fate.
b. Miami first three weeks: 3-0 … Dolphins 75, Foes 52.
c. Miami last two weeks: 0-2 … Foes 65, Dolphins 24.
d. DeAndre Hopkins was one of my two all-pro receivers in 2017. Judging by his incredible catch and run in overtime last night against Dallas, I like his chances to repeat.
e. Todd Gurley, at $11.5-million a year average, for the next six years, is a pretty reasonable contract for the Rams. I won't say cheap, but reasonable.
f. By the way, there is no way the Todd Gurley touchdown should have been reversed in Seahawks-Rams. I repeat what the NFL had been doing a good job of until the Cleveland first-down reversal late in last week's game at Oakland: Reverse only the plays that are absolutely shown to be wrong on appeal.
g. The concussion suffered by Brandin Cooks is worrisome, coming on the heels of the serious one he suffered in the Super Bowl. Cooks is only 25. Two concussions in nine months is tough for him.
h. Stephen Weatherly, the Minnesota defensive end getting some playing time with Everson Griffen out, will be a footnote to the Vikings' 23-21 win in Philadelphia. He shouldn't be. He strip-sacked Carson Wentz and allowed Linval Joseph to capitalize and run 64 yards for the touchdown.
i. For as talented as Martavis Bryant is, and he's supremely talented, he's not worth the trouble. His fumble at the Chargers on Sunday … just inexcusable. Never mind all his off-field stuff.
j. Never really thought Josh Allen would be as nimble and good making people miss in the open field as he is.
k. Tremendous job, Mike Adams of Carolina, getting two picks against the Giants, his nearby home-town team. Adams is from nearby Paterson, N.J., the home of Victor Cruz too.
l. Tackling optional for the Giants, obviously.
m. But that was a classic Eli Manning comeback. From the pinnacle to the depths to a comeback in the last couple of minutes when you were sure he had no chance.
n. Play of the Day: The 104-yard interception return by Jets safety Marcus Maye … and the most amazing part of it was Denver rookie Courtland Sutton wrangling Maye down at the half-yard line. Just weird.
o. Catch of the Day: Terrelle Pryor's physical one-hander in the end zone from Sam Darnold in garbage time for the Jets. Brilliant catch.
p. Why oh why would Seattle's Quinton Jefferson shove Jared Goff down significantly after the end of a play, earning the easiest roughing-the-passer call of the 2018 season? Has Jefferson not paid attention to the NFL in 2018? Does he think it's 1988?
q. The great thing about JuJu Smith-Schuster that isn't talked about nearly enough: his physical sure-handedness, illustrated again on his first-quarter touchdown, climbing high in the end zone to pick it out of the air, getting whacked by cornerback Robert Alford and then the ground—and hanging onto the ball.
r. The calendar just turned to October last week, and Patrick Mahomes has 16 touchdowns. Every week it's another stat that blows you away with this guy.
s. Kenny Golladay, with a 60-yard reception, continues to show he's the latest in the line of Mid-American Conference receivers (Golladay went to Northern Illinois) to verge on NFL stardom.
t. Looks bad for the Packers. So hurt, and so reliant on the quarterback who clearly is not whole.
u. Frank Reich knows his offense can't be all Andrew Luck, all the time. But the Colts are just beat up right now, and Reich feels, obviously, like he has no choice.
v. Inexcusable rookie mistake by Luck, throwing the almost panicky quick throw for a pick in the last minute of the first half in New England.
w. This Used to Be a Rivalry Dept.: Since 2010, the Colts have lost eight straight to the Patriots. Average margin: 18.4 points.
2. I think the Giants/Beckham controversy will be deodorized because of the way the Giants came back and the cool touchdown pass Odell Beckham threw. But his selfish comments to Josina Anderson of ESPN have to be making the Giants wonder if he's got the maturity to be a cornerstone player for the team for the long haul. The key moments with Anderson:
Anderson: Is there an issue at quarterback for the Giants?
Beckham: "Uh, I don't know …"
Anderson: Are you unhappy in New York?
Beckham: "That's a tough question."
It continued in Charlotte, where Beckham was totally unaware where a punt was falling, got hit by the ball, and the Panthers recovered it in the end zone for a touchdown. He made some big plays after that, including the clever 57-yard touchdown pass to Saquon Barkley, and caught eight passes for 131 yards. But there's no excusing the comments he made, and coach Pat Shurmur—who Jay Glazer reported was livid over what Beckham said—is going to have to air him out today in East Rutherford, if he didn't on the plane from Charlotte to Newark last night.
3. I think Cincinnati's win over Miami taught me three things: Thou shalt never again take 30-year-old franchise defensive disruptor Geno Atkins (two sacks, six on the year now) for granted … Third-round rookie defensive Sam Hubbard was a steal for the Bengals last April, and he continued to show it with a spry 19-yard game-clinching fumble return for touchdown … And that was a gut-check win, with 24 points in 13 fourth-quarter minutes to embarrass the Dolphins. Glad I picked the Bengals to win the AFC North, because after five weeks, Cincinnati is the team that not only has the division lead but also is the most solid team top to bottom in the division.
4. I think if the NFL Players Association wants a cause for the 2021 negotiations, Thursday night football might be it. I'm like you, probably: The specter of a good game on Thursday night is like an extra scoop of ice cream on the sundae. Tom Brady's on TV tonight? Count me in. But in the last two weeks, here's what you've asked players to do: for the Minnesota Vikings, fly three hours on a Tuesday to Los Angeles without having all of the game plan installed for a game against the hottest team in football, the Rams; and for the Indianapolis Colts, fly to New England and play a game against the defending conference champions four days after a five-quarter OT game against the Texans on a 73-degree sunny day. Here's what the Colts had to deal with Thursday night:
• Normally 45 players of a team's 53-man roster dress for a game. The Colts had only 42 healthy bodies to play.
• Missing for the Colts: both starting tackles (Anthony Castonzo and Denzelle Good), their best wide receiver (T.Y. Hilton) and tight end (Jack Doyle), the NFL's leading tackler (linebacker Darius Leonard). When linebacker Anthony Walker went out with a concussion in the first quarter and safety Clayton Geathers left with a neck injury later, that left the Colts to play the vast majority of the game against the Patriots without their three leading tacklers.
• Ten Colts played 90 or more snaps against Houston. In the span of five days, five Colts (Matt Slauson, Quenton Nelson, Le'Raven Clark, Andrew Luck, Ryan Kelly) played more than 170 snaps. Defensive lineman Margus Hunt played 169.
• The league is more conscious than ever about keeping quarterbacks healthy. One of the biggest quarterback billboards in football, Luck, coming off 20 months away from football with a serious shoulder injury, had to play 174 snaps five days apart. Luck threw 121 passes and took 129 pass-drops or shotgun sets in the span of five days.
5. I think Thursday night is a huge money-maker for the league, and thus for the players; it's very likely not going away, particularly now that the league has made a far better Thursday night schedule to accomodate free-spending FOX. But Thursday night football will always be the yeah-but element to those in the league saying they're doing everything humanly possible about player safety.
However (and this is a big however), I do want to make one last point about these short-week games: Over the years, I have met players and one coach—Mike McCarthy—who have pointed out that the side benefit to the Thursday games is the mini-bye that follows. That cannot be forgotten when discussing the effect of the Thursday games on players' health. Some coaches give their players Friday, Saturday, Sunday, Monday and Tuesday off after the Thursday games, and that five days of rest in midseason can be invaluable to players. So I do not dismiss the Thursday games as altogether bad for player health. But don't tell that to the Colts today. They just had to play the best team this century with half a team.
6. I think it was downright bizarre that commissioner Roger Goodell, who has been invisible to the public since last May, came out last week and praised President Trump for the new joint U.S.-Canada-Mexico trade agreement, which allows Canadian TV to be able to sell ads to Canadian companies to air on the Super Bowl (which will make the NFL more money than if American ads ran on the Super Bowl telecast shown in Canada). The NFL finds some way to make money on this trade deal, and Goodell back-pats Trump thusly:
"We greatly appreciate President Trump's leadership and determination in bringing about a resolution to our intellectual property issue in Canada."
So when the president issues 38 Tweets slamming NFL players (according to USA Today), all we get is a Just ignore him; don't inflame the unhinged president vibe from Goodell. But Trump makes the league some money, and Goodell praises his leadership and determination. What is that?
7. I think if I'm an NFL owner or owner's rep, I'm asking Goodell next week at the fall meetings in New York: "Commissioner, why are you pandering to this president who bashes the league every chance he gets?" Come on, David Tepper or Jed York or Jeffrey Lurie or Steve Tisch or Chris Johnson. You know you want to say something about this.
8. I think Eric Reid is to be commended for his stand alongside Colin Kaepernick, to be sure. But he is not to be commended for criticizing the Players Coalition, which has players around the league working on issues ranging from bail and sentencing reform to working on police and community relations. If Reid wants to effect change the way he sees fit, he should do that. But he backhands players for trying to effect change in another way, and working at it continually for a year, apparently because the coalition is taking $90 million over seven years from the league as part of its work?
Last year, after a Monday night game, three Eagles players got on an early-morning Tuesday train to the state capital in Harrisburg to appeal to legislators about criminal-justice reform. Reid and Kaepernick have been done wrong by the league; I get that, and Reid is likely angry that the Players Coalition has not done more for Kaepernick in particular. But minimizing the efforts of the Players Coalition is small.
9. I think the Rams basically won the NFC West with the win in Seattle, barring some major injuries. The Rams have a three-game lead over Seattle with the tiebreaker over the Seahawks, which means they've got a three-and-a-half game lead in effect. And L.A. has Denver and San Francisco in the next two weeks, so 7-0 seems quite possible. All those years the Rams were finished by Dec. 1, and now they could clinch by then.
10. I think these are my other thoughts of the week:
a. Journalists of the Week: David Barstow, Susanne Craig and Russ Buettner of the New York Times, with an 18-month investigation into the Trump family finances, showing how the family profited by millions from fraudulent tax schemes.
b. Put away your partisan hats and read their work. It's well-sourced and exceedingly well-reported.
c. Journalism classes in colleges across the United States should be using this story as a teaching tool.
d. Football Story of the Week: by Mike Vorel of the Seattle Times, on the time kicker Sebastian Janikowski kicked an 82-yard field goal. In high school. What a tale, Mike. Nice work.
e. So sorry to hear of the death of Pulitzer-winning sports columnist Dave Anderson, 89, of the New York Times. He was the epitome of so many things: class, concise and smart writing, excellent reporting, and how helpful he was to generations (plural) of reporters and columnists to come after him.
f. Please read this column, "The Food on a Table at an Execution," in a package of columns in 1980 that won Anderson the Pulitzer for distinguished commentary, this for the removal of Dick Howser as Yankee manager.
g. Anderson never calls George Steinbrenner a liar for saying "Dick has decided" that he would not be back as manager after a stunning Yankee playoff exit. Anderson never questions Howser's story when Howser no-comments a question about whether he'd actually been fired. Nothing of the sort. See, Anderson didn't have to. All he had to do was write what he saw and what he heard that day in Yankee offices, and frame it with a delicious narrative about uneaten sandwiches. It's so good, and such a smart way to tell a nefarious story.
h. Anderson covered the Giants most Sundays when I was on the beat in the mid-eighties, and he was around the team during the week too. You'd never have known, ever, he was the biggest fish in the pond, the columnist for the Old Gray Lady. Anderson was treated with deference by Bill Parcells—and that's really saying something. "I still quote him," John Branch of the Times tweeted the other day, recalling the first game he and Anderson covered together. "The office called at halftime and asked what he was writing. 'It hasn't happened yet,' Anderson replied." RIP, Dave.
i. Column of the Week: Andrew Marchand of the New York Post on how Alex Rodriguez is trying to do too much in his baseball telecasting, including tweeting during the NL wild-card game Tuesday. Great line: "Twitter went crazy killing A-Rod for his mistakes, and we don't want to beat a dead centaur here, so let's cut A-Rod a little slack."
j. Don't recall the A-Rod/centaur story? A former girlfriend in 2009 said Rodriguez has two pictures of himself as a centaur—half man, half horse—in his apartment. Now that was a good few days to get the Post and Daily News.
k. Five days in the life of the Rockies last week:
• Sunday: At Denver, Rockies close the regular season by beating the Nats, 12-0 … Fly 862 miles to Los Angeles, from Mountain Time to Pacific Time.
• Monday: At Los Angeles, Rockies lose the NL West one-game tiebreaker to the Dodgers, 5-2 … Fly 1,745 miles to Chicago, from Pacific Time to Central Time.
• Tuesday: At Chicago, Rockies win the NL wild-card game in 12 innings, 2-1, over the Cubs … Bus 88 miles to Milwaukee. (Same time zone.)
• Thursday: At Milwaukee, Rockies lose Game 1 of the NL Division Series, 3-2, to the Brewers.
l. Coffeenerdness: All airlines should follow Delta's lead and use Starbucks coffee and real half-and-half for their coach passengers. It's legit Starbucks coffee—a milder roast, but better than the coffee-flavored water on most airlines.
m. Beernerdness: It's Sober October again. I hesitate to write, "It's Sober October again!" because it's not exactly a barrel of fun. I do like beer and wine. But this is your big chance. You can write this section of the column for the next four Mondays, and maybe longer. Send your name, where you live and a beer you love, with a no-more-than-50-word review. Put "Beer" in the subject line. Thanks.
n. Was I wrong about David Price. I thought not pitching in Yankee Stadium would be good for him. Turns out the playoffs continue to be his kryptonite. Via Dan Shaughnessy: Price has started 10 playoff games, his teams are 0-10 in these games, his record is 0-9, and his ERA is 6.03.
o. Lots of dangerous players this October. Christian Yelich makes an out about once every three weeks. But to me, Aaron Judge is the most fearsome player right now.
p. Loved seeing Kershaw being Kershaw again.
q. Still: I see a Houston-Milwaukee World Series.
r. Interview of the Week: Questioner at a pre-ALDS press conference to Boston pitcher Chris Sale: "Talk about your success against the Yankees this year."
Sale: "Uh, no."
Pause.
Next question.
s. Great note from the communications manager of the Astros about the player who, if I had my druthers, would be one of my five choices (Judge, Altuve, Betts, Trout the others) to start a franchise with tomorrow: Alex Bregman has five postseason home runs—off Chris Sale (two), Clayton Kershaw, Kenley Jansen and Corey Kluber. That is downright amazing—and all have come in the past 53 weeks.
t. But here's a that's-baseball addendum: Bregman's a combined 0-for-48 against Marcus Stroman, Yovani Gallardo, Adam Warren, Erasmo Ramirez, Yusmiero Petit and Jose Leclerc.
u. Brees quiz answers: 1: False. He never played tackle football till high school … 2: Kentucky … 3: Chris Weinke, Josh Heupel … 4: Doug Flutie. 5: Cincinnati's Gus Frerotte, Houston's David Carr, Arizona's Jake Plummer … 6: An Akita named Alexis … 7: Katie Couric … 8: Tight end Bill Miller … 9: Ted Williams … 10: Tight end Jeremy Shockey. Bonus question: Quarterback rating.
v. Some happy news from the King family: Mary Beth King, our Seattle-based daughter, was engaged Saturday to her boyfriend, Nick Burek. It was a cute engagement trick—Nick got both of their dogs involved, his Cooper and Mary Beth's Elliot, and Mary Beth was totally blown away. Cool. Nick's a great guy, and we've grown very fond of him in our time together. We couldn't be happier for them, because they've got what you want to see in a young couple: respect and unselfish love for each other. It's great to see. It's hard having both daughters on the West Coast sometimes, but it's wonderful to see both of them so happy in their relationships. Many of you may remember Mary Beth from her softball and field hockey days in Montclair, N.J., and it's hard to believe those days were 15-plus years ago. Man, life moves on. Good luck on a great life together, Mary Beth and Nick.
New Orleans 30, Washington 23. "I'm hungry," says running back Mark Ingram, back from his four-game PED suspension. The Saints averaged 34 points a game without him, but Ingram (1,540 scrimmage yards, 12 TDs last year) sharing the job with Alvin Kamara should mean survival for Kamara, who'd been on pace for a 364-touch season. That's not sustainable.
Thursday … East Rutherford, N.J. Not sure which franchise will implode first, but the Eagles travel to the Giants in this edition of the Short-Week Bowl. Combined record: 3-7. Combined attitude: discordant.
Sunday … Foxboro. Great Sunday night game: Chiefs (5-0) at the revived Patriots (3-2). In the last six seasons, the Chiefs and Patriots have met only twice in the regular season, and Kansas City has won decisively both times. In 2014, in the famous game that made Bill Belichick repeat over and over again in the week that followed, "We're on to Cincinnati." And in 2017, on opening night, when the Chiefs pasted the Pats in the opening night Coronation Bowl in Foxboro. Those two games (41-14 and 42-27 KC wins) are bad enough; now New England has to prep for the most explosive young player in the game, Patrick Mahomes.
Falcons. August faves.
One and four. Half the D hurt.
Ouch. Wait till next year.